Good Morning,
I am going to stay with what I know and that is a rangebound USD/CAD. We moved halfway back into the range yesterday during the American equity session as equities went down and the USD went up.
Last night, we received positive news out of Europe and US futures were flat to positive and now, most equity markets are heading higher. As a result, oil got a bit of a pop and additionally, not sure if you can throw in any weekend risk bid to oil prices.
But, overall, that means higher equity prices, higher oil prices and a higher CAD. But, even more interesting is the comparison between equity moves and the USD/CAD. Look first at yesterday's post for a chart of the USD/CAD and the just under 2 penny range it is has been in for over 3 months (.9830 to 1.000). Now look at yesterday's trade and today's. As I described above, we moved halfway up and now are coming back down towards the lows. The Fibonacci shows yesterday's rally and the percentage we have retraced today as the USD has gotten weaker: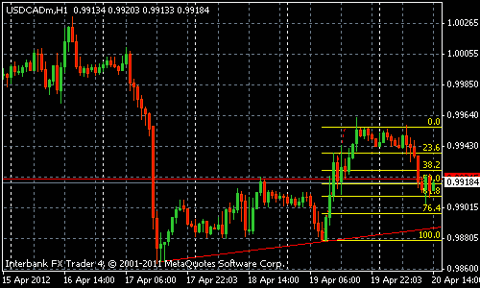 Past performance is not indicative of future results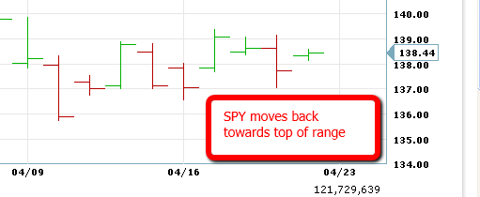 Past performance is not indicative of future results
Overall, the USD is really weak against all majors today. That has been another underlying theme as of late. When equities go down, the USD barely gets stronger. When the equity markets go up, the USD gets absolutely creamed, hammered, stepped on, thrown down, you get the picture!
Eventually, some fundamental or technical event will get the USD/CAD to break out of its range. Until then, use it to your advantage by understanding support and resistance!
Looking at the remainder of today's and the week's trading, as I said, we have a seriously weak USD. With this being the case, we always have the opportunity for BUFFALO BOUNCES to show up. We don't have any USD data today, so be careful of trading ranges that decrease as the day goes on. If for some reason we get a Friday selloff in equities, that 61.8 line in the USD/CAD could continue to be support.
Speaking of USD data, let's look ahead so you have an idea what to watch out for on the economic calendar next week:
**durable goods
**FOMC STATEMENT
**weekly claims
**Advance GDP
**earnings
**smattering of international interest rate talks
**the usual "surprises" from various regional central banks
That is quite a lot, so keep your trading plans in tact for each and every trade you put on. This data also affects your investment portfolio that you are trying to generate income on as well as protect its downside risk. For now though, the goldilocks scenario is in place. A president trying to get re-elected and a president who can lean on the Fed to QE his way to another 4 years!
Happy Trading and Be Environmentally Cool
Coach Brian
Forex trading is one of the riskiest forms of investment available in the financial markets and suitable for sophisticated individuals and institutions. The possibility exists that you could sustain a substantial loss of funds and therefore you should not invest money that you cannot afford to lose.