Apple (NASDAQ:AAPL) is projected to release earnings on Monday, October 20th in the morning. Similar to our analysis on Goldman Sachs, the Wall Street consensus has routinely underestimated their earnings and revenue numbers. We intend to exploit this inefficiency by buying either stock or calls prior to their release and benefiting from the expected post-earnings move. The first section of this article will look at a couple of predictive metrics that have been historically shown to predict earnings results. Next, we'll look at how we can utilize SanDisk Corporation's earnings results to predict Apple's results. SanDisk (SNDK) is the first company within the computer hardware group to report, and we've found an extremely high correlation (0.95) between SanDisk revenue surprises and Apple revenue surprises.
Apple Earning Projections
We've found from our historical backtest of +3000 stocks over 12 years that the three most important metrics in predicting earning surprises are a company's historical earnings surprise record, growth rate, and recent price performance before their release. Thus, the ideal candidate to beat Wall St. estimates are stocks with a history of beating Wall St. estimates, high EPS & revenue growth rates, and price momentum heading into their release. Apple's results within these categories is shown below: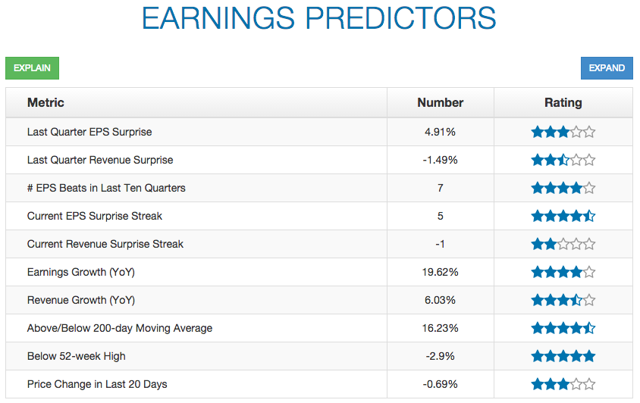 Source: Quantified Alpha
First off, Apple has a very solid record of beating Wall St. consensus EPS numbers with five consecutive beats, seven beats in the last ten quarters, and a 5% beat last quarter. Apple's revenue results are solid as well with seven beats in the last ten quarters (not shown on table), although they did miss last quarter consensus by 1.5%. Analysts have a habit of underestimating growth companies, which is good news for Apple as their 20% YoY EPS growth and 6% revenue growth firmly puts Apple in said category.
Apple has had very solid price performance over the last 20 days, losing only 0.69% while the NASDAQ has lost 6.1% over the same stretch. Apple has impressively managed to stay within 3% of it's 52-week high while similar big name tech companies have sold off heavily. Clearly, Apple investors have been more unwilling than others to dump their stock in the recent sell-off and our backtests have shown this to be a good indication of an upcoming earnings beat. Obviously, this can change in the upcoming week so we will be monitoring their price action over the next week prior to the release.
Our algorithm weighs each of these factors to come up with an overall projection. These projected probabilities are based off historical rates of estimate beats from stocks in the same sector and adjusted for the strength of the stock's individual ratings. Apple's projections are shown below: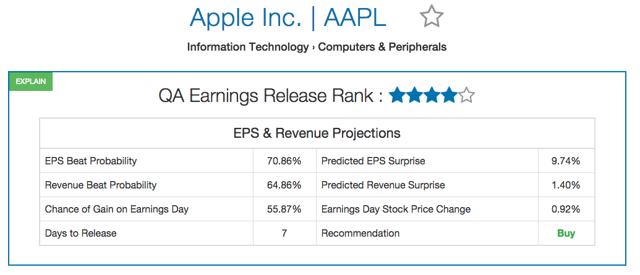 Source: QuantifiedAlpha.com
Thus, we believe Apple has a 71% chance of beating EPS estimates and 65% chance of beating revenue estimates. We expect a 10% EPS beat and 1.4% revenue beat (from the Wall Street Consensus). On average over the last 10 years, technology stocks that beat estimates by this much gain an average of 0.92% on earnings day. Next, we'll explore the correlation between SanDisk's earnings results and Apple's.
SanDisk Results Matter to Apple Investors
SanDisk is usually the first major stock within the computer hardware group to release earnings, and we've found a remarkable correlation between how their earnings stack up to estimates and how Apple's stack up later on. This relationship is especially prevalent in their revenue surprises, shown below: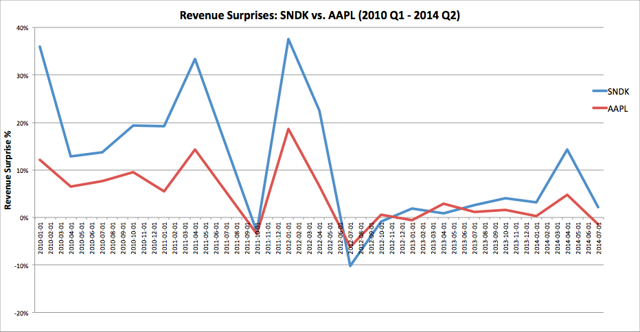 Revenue surprises (measured by % from Wall St. consensus) between Apple and SanDisk have an extremely high correlation of 0.95 and follow the same visual pattern on the chart above. EPS surprise numbers are much more volatile in nature, but they have produced a moderately strong correlation over the last three quarters between the stocks. Thus, if SanDisk blows out earnings on Thursday, we will add even more to our Apple position in the expectation that their results provide a signal of Apple's upcoming results.
Our current forecast for SanDisk is provided below: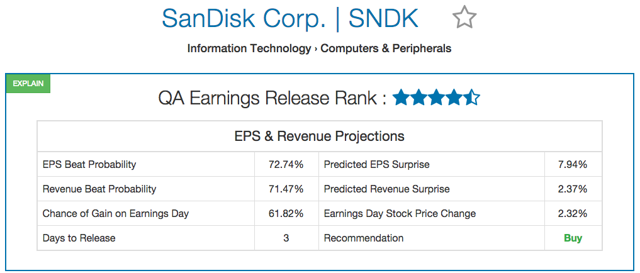 Source: QuantifiedAlpha.com
Similar to Apple, we are very bullish on SanDisk's earnings results as well, mostly owing to their outstanding streak of nine consecutive EPS beats and strong EPS & revenue growth rates. We are also looking to take a position in SanDisk before their release. Though they have a mixed track record of actually gaining in stock price off their earnings historically, over the last 4 quarters they've gained an average of 1.12% on earnings day. We've provided a side-by-side comparison of SanDisk and Apple's price reaction to their earnings results over the last 18 quarters, shown below: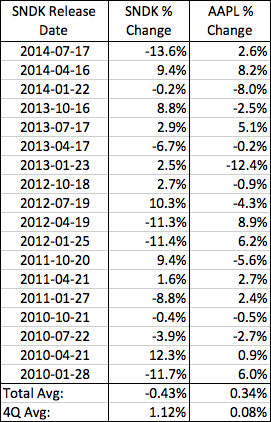 As you can see, Apple has been the better performer historically in terms of gaining on the day of earnings release while SanDisk has had better performance over the last 4 quarters. It's important to not look too deep into these numbers though, as they don't tend to have much predictive value i.e. companies that gap-up 20% off earnings are not necessarily more likely to gain the next release.
We will be looking to take small positions in both stocks before their earnings release and will add aggressively to our Apple position if SanDisk blows out results. This is a short-term play (1-5 day holding period) as we are mainly looking to exploit the post-earnings drift of each stock.
Disclosure: The author has no positions in any stocks mentioned, and no plans to initiate any positions within the next 72 hours.
The author wrote this article themselves, and it expresses their own opinions. The author is not receiving compensation for it (other than from Seeking Alpha). The author has no business relationship with any company whose stock is mentioned in this article.