A) Introduction
After Apple's (NASDAQ:AAPL) recent price run, investors may be worried that the stock has run its course. This article will be a comprehensive bottom-up analysis of the stock, looking at how Apple measures up in a variety of different metrics that have been academically shown to predict stock returns. By looking at certain value & growth factors that have predicted returns in the past, our algorithms can estimate how the stock will perform versus the market in the future. Besides valuation and growth, we will also look at how the "smart money" on the street (i.e. company insiders, institutions, and shorts) is transacting the stock, as their activity tends to predict returns as well. Lastly, we'll take a look at how Apple's earnings have been measuring up to analyst expectations, as we've found that stocks that beat estimates keep beating estimates.
B) Growth
Let us first start with an analysis of Apple's overall growth profile, looking at five growth metrics that have been repeatedly shown to predict stock returns. This is shown below:
Source: Quantified Alpha
In terms of momentum, Apple's six month (20%) and twelve month (40%) price performance are both in the top 20% of the market. Apple is a benefactor of favorable sector tailwinds as the average technology stock has vastly outperformed the market over the last six months (2.6% vs. -2.3%) and twelve months (11.3% vs. 6.6%). On an annual EPS growth basis, Apple managed to grow 13.6% despite an average decline of -13% from its 'Computers & Peripherals' industry group. Surprisingly, the technology sector as a whole has been lagging the general market in terms of annual EPS growth (+3.8% vs. +16.5%). Profit efficiency is where Apple truly shines; with it's return on equity (33%) and return on assets (18%) far higher than the industry group, sector, and overall market averages. Our algorithms give Apple a "Strong Growth" rank, and project Apple to generate 5.35% of alpha attributable to growth over the upcoming 12 months.
C) Value
Next, we'll see if there is any outperformance to be generated by Apple's valuation profile, again comparing them on an absolute and relative basis. Similar to the growth breakdown, we again look at five metrics that have been repeatedly shown to predict stock returns. These are shown below: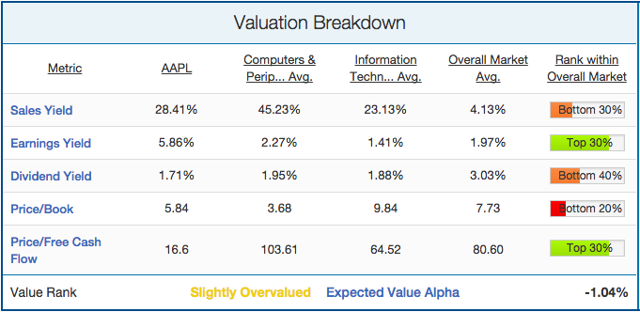 Source: QuantifiedAlpha.com
Apple's valuation gives mixed signals. On an revenue basis, the company is relatively overvalued with a sales yield (inverse of Price/Sales ratio) of 28.4% being much lower than it's industry group average (45.2%). On an earnings basis, the company is undervalued with its earnings yield of 5.9% being much higher than the industry group average (2.3%), sector average (1.4%), and overall market average (2%). This is true on a cash flow basis as well, with Apple's Price-FCF (16.6) far lower than the group average (103.6), technology average (64.5), and overall market average (80.6). Apple's dividend yield looks mediocre at 1.7% and their book value valuation is very high at 5.8 (although Apple's price-to-book value tends to be high). Overall, our algorithms believe Apple is "Slightly overvalued", and expect the stock's valuation profile to lead to -1.04% in alpha over the next 12 months.
D) Earnings
Next, we'll look at how Apple's earnings have been performing relative to analyst expectations. We've found through extensive back testing that stocks that beat analyst estimates, are much more likely to keep beating analyst estimates. This is key for investors that plan to hold stocks through quarterly earning releases, as stocks experience massive swings in price depending on their results. Apple's earnings history is shown below: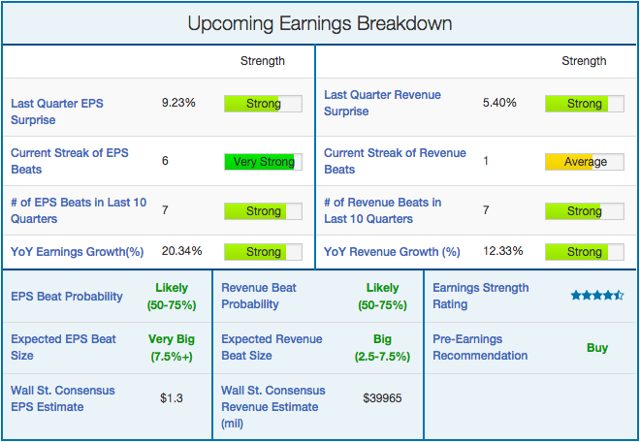 Source: QuantifiedAlpha.com
As we can see above, Apple has been demolishing analyst expectations for a long time. Apple beat Wall Street consensus EPS estimates by 9% last quarter, extending its streak of EPS beats to six in a row. Apple beat last quarter revenue estimates by 5.4%; it's seventh beat in last in the last ten quarters. We also look at quarterly growth rates, as high-growth stocks tend to beat estimates at high rate. Apple has that covered as well, growing quarter YoY EPS by 20% and revenue by 12% off the back of its new iphone 6 release. Overall, our algorithms are expecting a very big EPS surprise (>7.5%) and a moderately big revenue surprise (2.5 - 7.5%) next quarter, giving it a strong 4.5 star rating and advising investors to buy stock before the earnings release. Apple is expected to release next quarter earnings on January 26th, with analysts expecting $1.3 for EPS and $39.965 billion in sales.
E) Other Key Metrics to Watch
Although our algorithms do not factor the following metrics into our overall alpha predictions, there is academic evidence showing that they predict stock returns as well. They are shown below: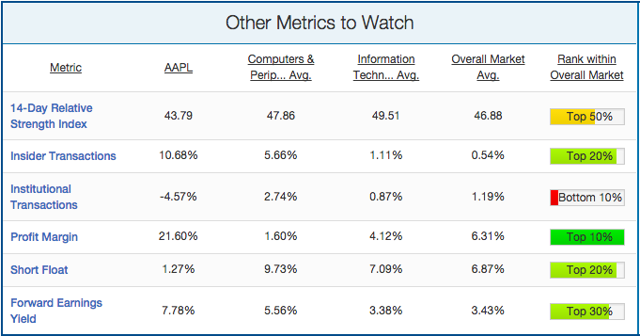 Source: QuantifiedAlpha.com
There seems to be a real divide in opinion on Apple's stock the last few months, as institutions have been dumping the stock (-5% in institutional ownership) while company insiders have been buying (+11% in insider ownership). Short selling has been non-existent (only 1.3% of float), far below the sector (7%) and overall market average (6.9%). Thus, it seems fair to conclude that the "smart money" on the street is mostly bullish on the stock. Other things to note are Apple's forward earnings yield of 7.8%, which once again reaffirms the undervaluation of the stock on an earnings basis. Lastly, profit margin is extremely high at 22%, reflecting how much of a cash cow Apple truly is, especially when compared to industry group (1.6%) and sector (4%) averages.
F) Conclusion
Apple's strong price momentum and profit efficiency are weighed down by its slightly expensive valuation. Overall, our algorithms expect the stock to generate 4.31% of outperformance over the market, with +5.35% owing to its growth profile and -1.04% coming from it's relative overvaluation. To come up with a price target, we need to analyze market-based returns (i.e. beta) as well. Apple's current beta is 0.91, so if one assumes the market returns 7.5% over the next year (it's historical average), then you get an expected market-based return of 6.83% (0.91 * 7.5%). Finally, we times the current price by the sum of the market-based return (beta) and expected 12-month outperformance (alpha):
$112.65 * (1 + 4.31% + 6.83%) = $125.20
This represents upside of 11.15% from its current price, and is $3.68 ahead of the average Wall St. price target
We feel the Computer & Peripherals industry group is not very enticing as a whole, though there are a few other names we cover that are worthy of further research:
1. Hewlett-Packard Company (NYSE:HPQ) - Soon to be split into two. Research shows recently split apart companies tend to outperform the market.
2. Lexmark International (NYSE:LXK) - Attractively valued on a revenue basis.
3. BlackBerry (BBRY) - Expect CEO John Chen to continue the turnaround, with their earnings release on Friday.
4. Celestica (NYSE:CLS) - Attractively valued on a revenue and book value basis.
5. Seagate Technology (NASDAQ:STX) - Strong momentum & profit efficiency.
6. Western Digital Corp. (NYSE:WDC) - Has been crushing analyst estimates consistently and benefiting from very strong growth rates.
Disclosure: The author has no positions in any stocks mentioned, and no plans to initiate any positions within the next 72 hours.
The author wrote this article themselves, and it expresses their own opinions. The author is not receiving compensation for it. The author has no business relationship with any company whose stock is mentioned in this article.