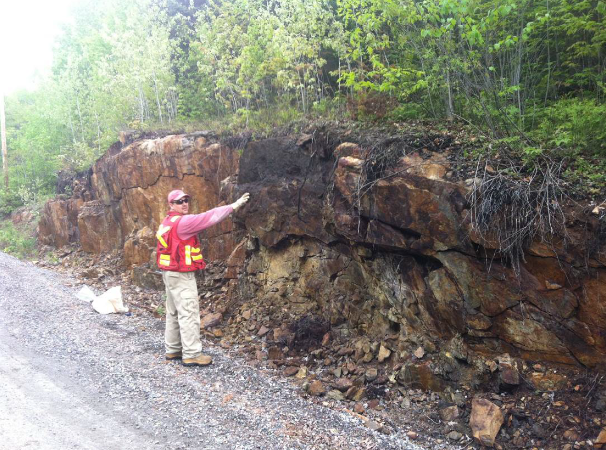 Outcropping large flake graphite mineralization on the L.A.B. Property in Quebec
Rockstone is initiating coverage on NRG Metals Inc. (TSX.V: NGZ) (GPOFF) and will provide a more detailed review shortly after the closing of the ongoing financing and the potential announcement of exploration start at its high-grade graphite project in Quebec. As the corporate name suggests, other "energy metals" projects may get acquired in the future. With 29 million shares currently issued and a market capitalization of $3 million, the company recently announced a non-brokered private placement of up to 5 million units at 5 cents per unit, as well as 5 million flow-through units at 7.5 cents per unit (total of 10 million warrants exercisable at 10 cents for 3 years). The flow-through money ($375,000) may get invested into the L.A.B. Graphite Project in Quebec, which is immediately south of, and within the same geological environment as North America's largest producing graphite mine, the Timcal Lac des Iles Mine, which may run out of open-pitable ore within the next few years. Highly interesting as well: Renowned Canadian commodities investor, Robert Hirschberg, recently mentioned NRG Metals as one of his top stock picks.
The L.A.B. ("Lac aux Bouleaux") Graphite Property (738 hectares) is located near the town of Mont-Laurier in southern Quebec.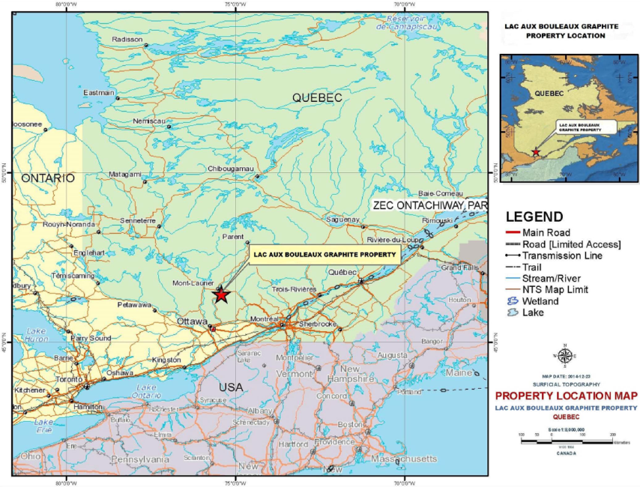 The property has historically produced graphite within an open-pit and lies adjacent to the south of the Timcal Lac des Iles Graphite Mine - a world-class deposit producing 25,000 tonnes of graphite annually. Its open-pit has been in operation since 1989 with an onsite plant ranked 5th in the world production of graphite. The mine is operated by Timcal Graphite & Carbon, which is a subsidiary of French multinational Imersys S.A. The mine has an average grade of 7.5% Cg (graphite carbon) and has been producing 50 different graphite products for various graphite end users around the globe (source). View of the Timcal Graphite Mine: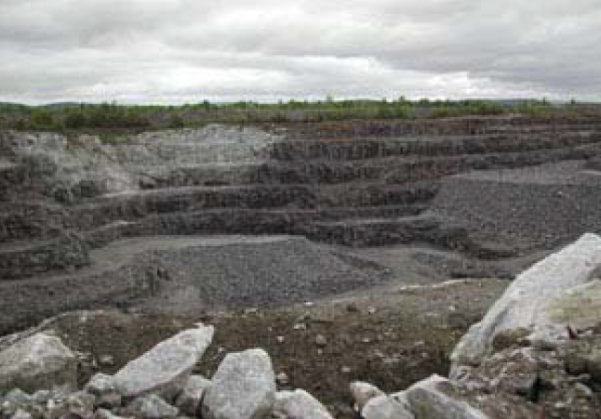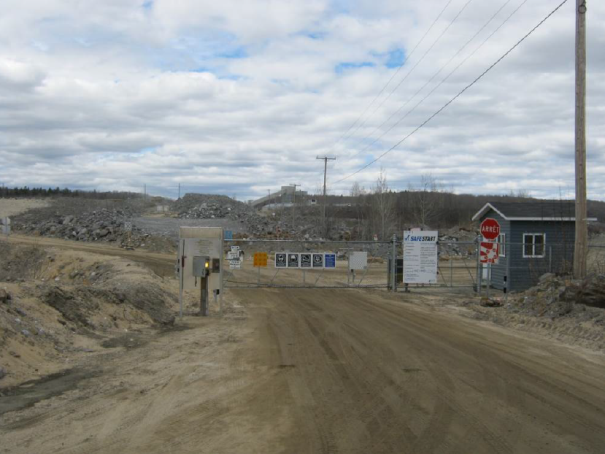 The Timcal Mine entrance gate (see above picture) is located on the L.A.B. Property, just at the edge of the northern claims. An onsite mill structure from the early 1990s, a tailings dam facility, and a historical open-pit is also on the L.A.B. property. Based on the size of the open-pit, the author of the latest NI43-101 Technical Report estimated that over 100,000 tonnes of rocks were removed for processing at the property's mill facility. The existing tailings dam facility was observed to be in good condition. Drill hole casings and drill locations from historical exploration work are also located on the property, out of which 2 bore hole locations were from 2012 drilling. There are no environmental liabilities associated on the property.
Historic graphite mill on the L.A.B. Property: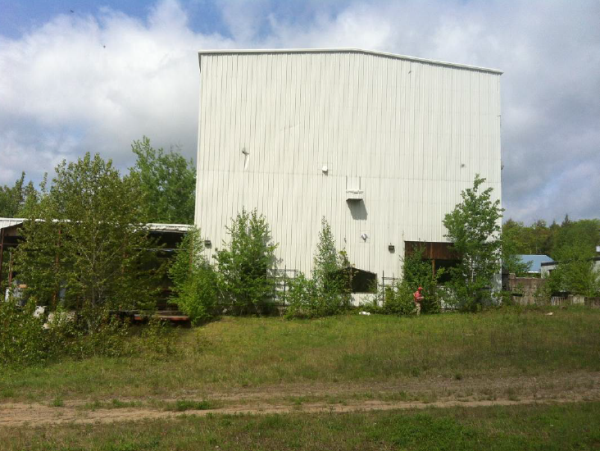 Historic mine tailings pond located on the L.A.B. Property: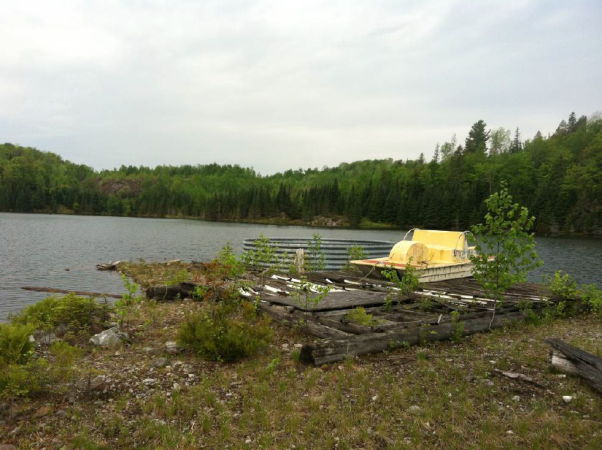 Historic drill hole collar on the L.A.B. Property: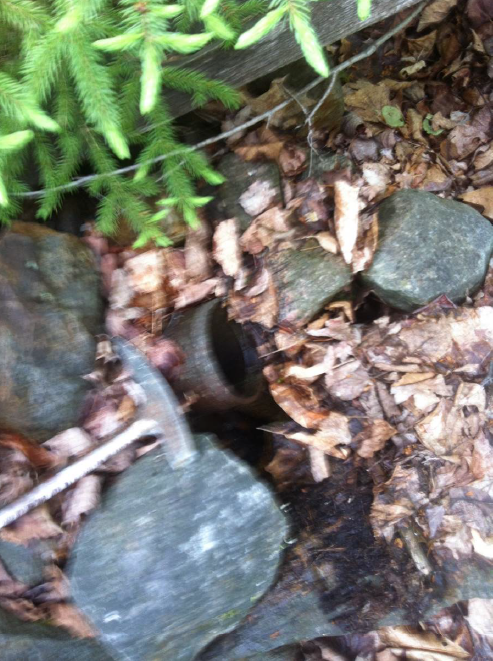 The above and below shown pictures, tables and screenshots are sourced from the latest NI43-101 Technical Report on the L.A.B. Graphite Property, prepared by Martin Ethier (P.Geo.) for NRG Metals Inc. on September 8, 2015.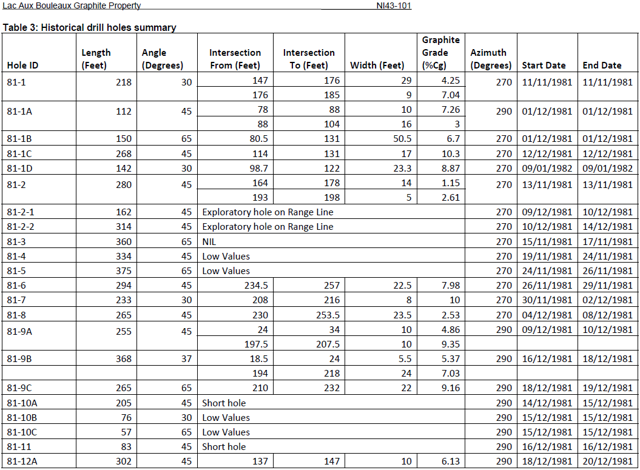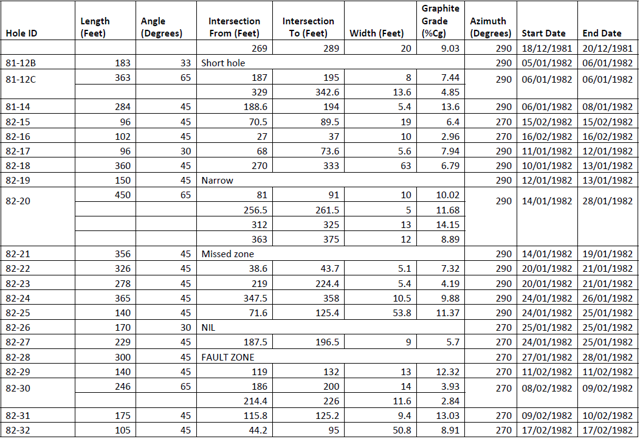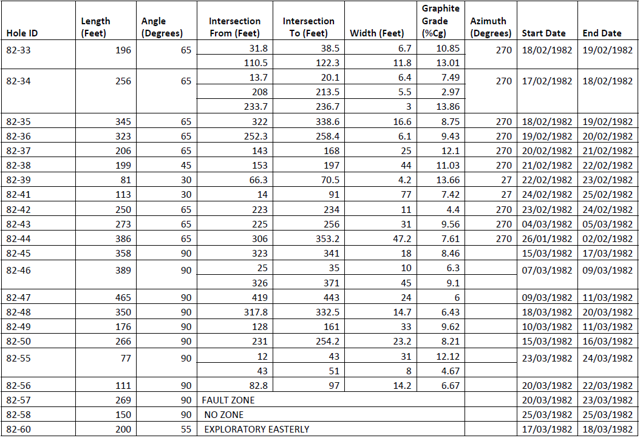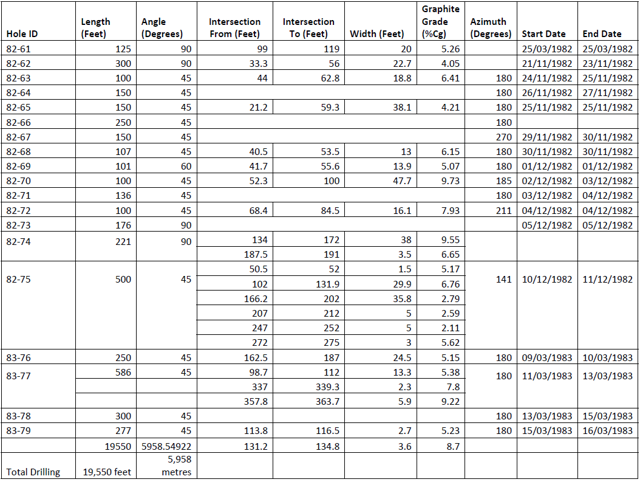 The latest NI43-101 Technical Report (September 2015) recommeds a phase-1 exploration program, including drilling to confirm historic grades and potentially expand historic zones, whereas recent airborne geophysics have identified additional targets outside the historically known zones of mineralization.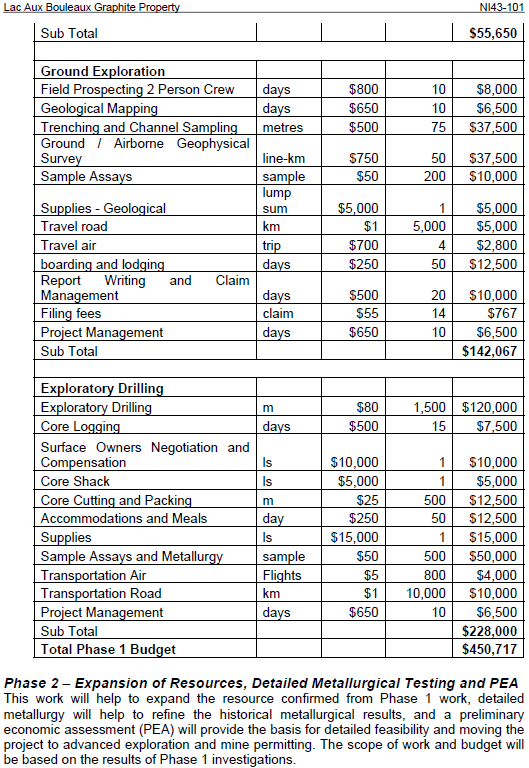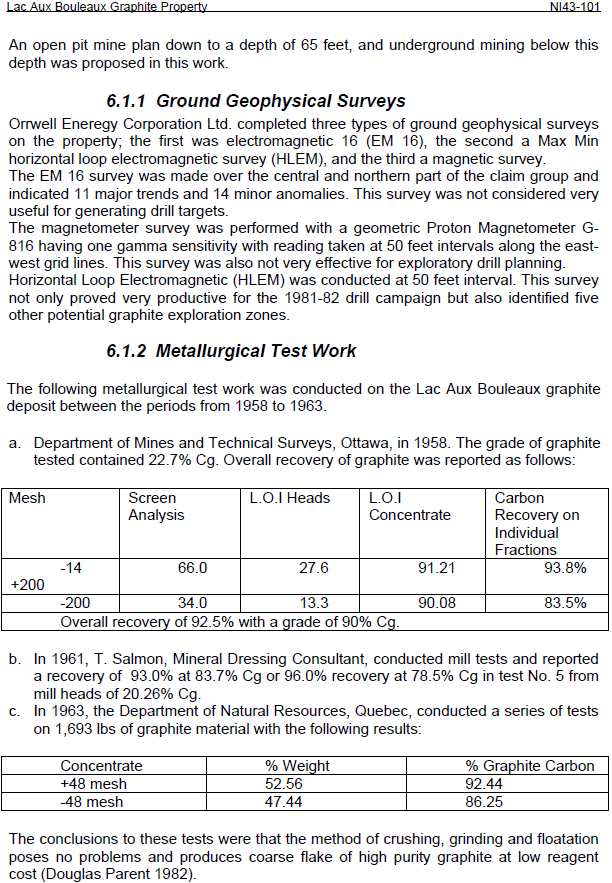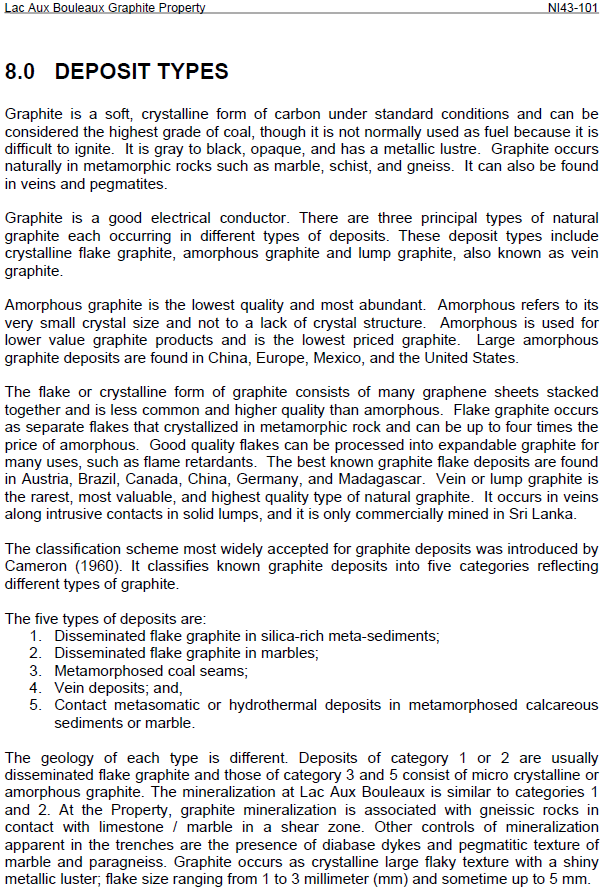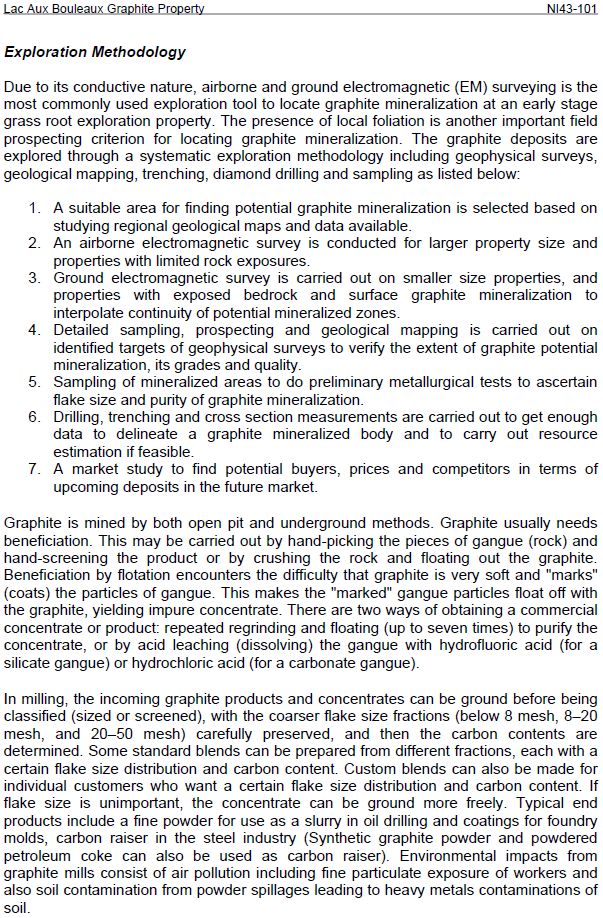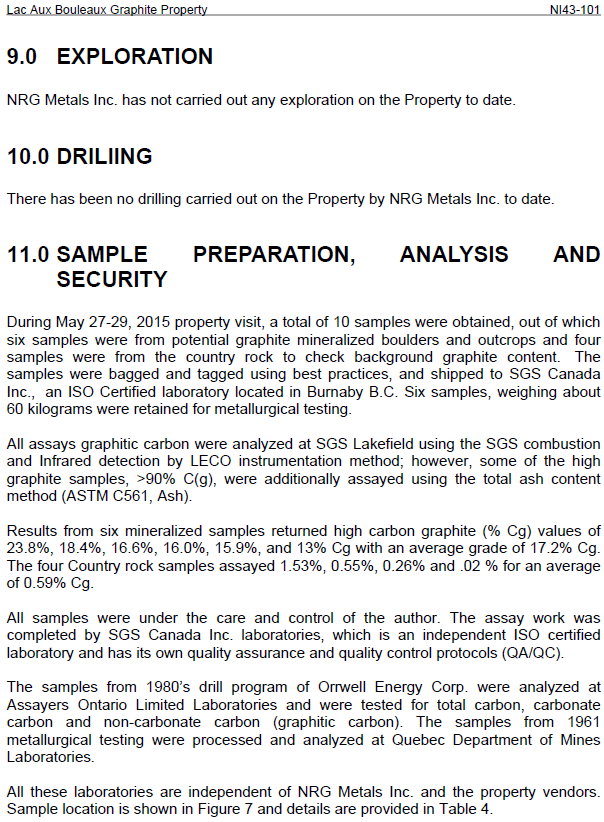 ---
MANAGEMENT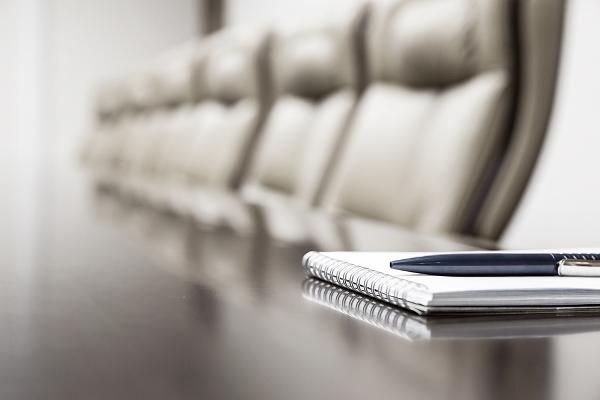 Adrian F.C. Hobkirk (President & CEO, Director)
Mr. Hobkirk has 26 years of experience in the mining and venture capital industry, beginnign with Norgold Resources in 1990, which was ultimately purchased by BEMA Gold. Mr. Hobkirk has been involved in Guyana for over 20 years, and founded the company to develop the Groete Gold Copper Deposit in 2006. He has worked in many countries including Canada, Mongolia, Venezuela, Guyana, Chile, Colombia, the United States and Mexico. He has been involved in mineral exploration, and technology ventures and has extensive public company experience. He holds a B.A. Economics from Simon Fraser University, and is the largest single individual shareholder of the company.
Allen V. Ambrose (Director)
Mr. Ambrose has nearly 3 decades of experience in the mining industry, including work with large companies as well as junior exploration companies. He was a director of Minera Andes from November 1995 until its combination with McEwen Mining in January 2012. Mr. Ambrose also served as President and Chief Executive Officer of Minera Andes from 1995 until June 2008. Mr. Ambrose has extensive experience in all phases of exploration, project evaluation and project management, and has worked as a geologic consultant in the US, Venezuela, and Argentina. As a consultant, he was a co-discoverer of a Venezuelan auriferous massive sulfide deposit acquired by Gold Reserve Corporation, and known generally as the Brisas deposit. He holds a BS in Geology from Eastern Washington University.
Dr. A.D. Drummond (P. Eng., Director)
Dr. Drummond is a Ph D. and a professional engineer. He was a director of Minera Andes from June 1996 until 2008. He graduated from the University of British Columbia with a B.A.Sc. in Geological Engineering in 1959 and with a M.A.Sc in 1961. He obtained his Doctorate degree in 1966 from the University of California at Berkeley. As an undergraduate and graduate, he worked with Kennco Explorations (Western) during the period of 1958 to 1961. He has been associated with the Placer Development Group of Companies since 1963, first with Craigmont Mines Ltd, then Endako Mines and Gibraltar Mines. Since 1981 he has been a consulting professional engineer, concentrating on all aspects of mineral deposit evaluation covering precious metal, base metal, and industrial mineral types in such countries as Argentina, Canada, Chile, China, Costa Rica, Ecuador, Guyana, Mexico, Philippines, USA and Venezuela. He is a member of the Society of Economic Geology and a member of the Geology Section of the Canadian Institute of Mining and Metallurgy.
Christopher P. Cherry (NASDAQ:CFO)
Mr. Cherry has over 14 years of corporate accounting and audit experience. Mr. Cherry has extensive corporate experience and has held senior-level positions for several public mining companies, including director, CFO and secretary. Mr. Cherry has been a chartered accountant since February, 2009, and a certified general accountant since 2004. In his former experience as an auditor, he held positions with KPMG and Davidson and Co. LLP in Vancouver, where he gained experience as an auditor for junior public companies and as an initial public offering specialist. Mr. Cherry served as CFO of the Company in 2012 and 2013, and has extensive knowledge of business in Guyana.
Jan Urata (Corporate Secretary)
Ms. Urata brings over 20 years' experience in public company corporate finance and securities related matters including her years as a paralegal at McMillan. She also serves as Corporate Secretary of other TSX Venture issuers.
---
ME AND MY MONEY: Investor in junior resource stocks rides commodity market's swings
By Larry Macdonald on March 4, 2016, special to The Globe and Mail
Robert Hirschberg
Occupation
Owner/manufacturer of promotional-clothing company.
The portfolio
More than a dozen junior resource companies, including Lithium X Energy Corp., Pure Gold Mining Inc. and NRG Metals Inc.
The investor
The book Reminiscences of a Stock Operator describes how the legendary Jesse Livermore made and lost fortunes in the stock market. Toronto resident Robert Hirschberg has a similar story. And the trading slips to go with it, as he told Me and My Money.
His market adventure first came to light in a 2015 interview by CEO.ca. There was also a mention in the investment book, Market Masters (ECW Press, 2016). Here is a timeline for Robert Hirschberg's story.
Beginning in 1981, a commodities boom sweeps his $20,000 in junior-mining stocks to a value of $850,000 in five years. But this is zapped by a margin call during the market plunge in October, 1987. (The value of his stocks fell below the loan value so the brokerage that had lent him money asked him to put in more or it would do a forced sale - which it did, at a loss to him).
In 2001, he put $20,000 of his wife's money into Noront Resources Ltd. and Waseco Resources Inc. They, and some other trades, surge to $1.1-million by 2007 - thanks to another commodities bull market.The crash of 2008 slashes the portfolio to $350,000. He takes $200,000 out and leaves the rest in the market because there are no bid-ask quotations for the remaining stocks. The market roars back and by 2011, the "worthless $150,000 portfolio" has skyrocketed to a "magical" $15-million. Then a correction drives the portfolio down 70 per cent by 2014.
Currently, he is biding his time, waiting for the next upswing.
How he invests
Mr. Hirschberg looks for four things in a company: 1) executives with successful track records building up junior companies; 2) good assets; 3) access to funding; and 4) lots of upside ("blue sky potential").
Lithium X Energy is headed by Paul Matysek, a geologist with a solid track record of developing junior miners over the past 30 years; lithium demand is rising due to new technologies such as electric cars.
Pure Gold Mining has properties close to a large, proven deposit; several million dollars are in the bank.
NRG Metals has property near a graphite producer, and small-scale production on a Guyana gold property with a potential for expansion.
Mr. Hirschberg monitors newsletters and websites (his favourite is CEO.ca). He also talks on the phone several times a day with people in the industry. And he attends industry conventions, such as the one run by the Prospectors & Developers Association of Canada.
Best move
It was getting in early on discoveries made by junior resource companies, such as when Diamond Fields Resources Inc. found the Voisey Bay nickel deposit.
Worst move
"Not getting out at the height of bull resource markets."
Advice
"Play with money you can afford to lose."
Want to be in Me and My Money? Contact Larry MacDonald at mccolumn@yahoo.com or hiswebsite.
---
Tesla will need a lot of Graphite & Lithium (but China will need more)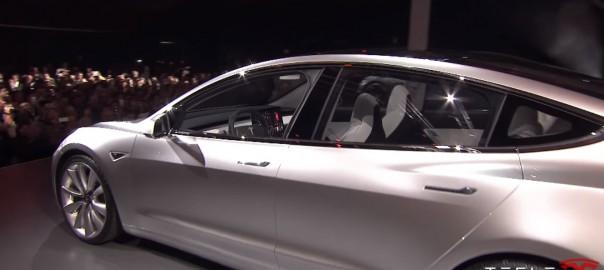 By Benchmark Mineral Intelligence on April 7, 2016
Battery grade graphite and lithium demand could surge if pre-orders of Tesla Motors' Model 3 are any indicator of sales between 2017 and 2021.
Orders for Model 3 - which there is very little information on at the present, including the battery size - today reached 325,000 units.
Analysts expected Tesla to secure between 30,000 to 60,000 orders on day one of Model 3 availability, however expectations were comfortably beaten when Elon Musk revealed 115,000 orders at the end of the official launch.
As a comparison, in the first 24 hours of the Model S launch, Tesla received 300 reservations while the Model X reached 8,000 pre-orders in its opening day.
It is important to note that pre-orders of this nature are not sales. However, the Model 3 numbers are significant as it addresses whether the wider public are prepared to buy pure electric vehicles and focuses the question on whether Tesla can deliver.
How much lithium and graphite?
There are many assumptions that are made when estimating Tesla's raw material demand as it ramps up to becoming a mainstream vehicle manufacturer.
These include: the size of Model 3's battery, whether Tesla will use an NCA cathode, ramp up rate of the Gigafactory, bottlenecks in car manufacturing, and drop off in pre-orders versus the new ones that come in.
Benchmark Mineral Intelligence estimates for Model 3 raw material consumption between now and 2021 are as follows:
In 2021, based on Tesla manufacturing 150,000 Model 3 units, Benchmark estimates that the company will consume 10,800 tonnes of spherical graphite for its anodes and 7,200 tonnes of lithium hydroxide as a cathode raw material.
In terms of battery raw materials: this is the equivalent of 44% of the world's battery grade lithium hydroxide and 15% of the world's spherical graphite consumption in 2015.
Cumulatively, assuming today's 325,000 Model 3 pre-orders convert into sales, over the next 5 years - a conservative number considering there is still 18 months before it is launched - the product line will consume a total of 23,400 tonnes of spherical graphite and 15,600 tonnes of lithium hydroxide.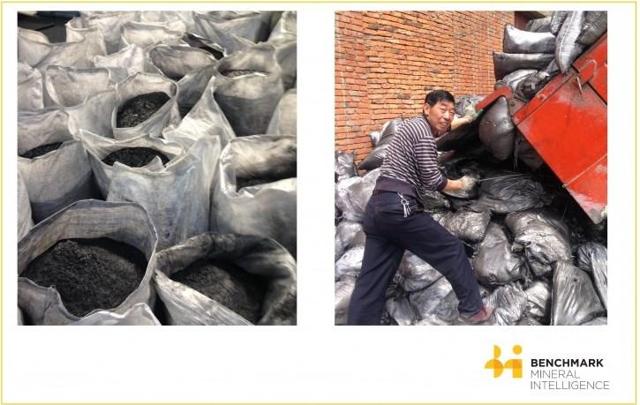 In 2015, 100% of the world's battery-grade spherical graphite is sourced in China (Benchmark Mineral Intelligence)
What will Tesla's average annual demand for vehicles be?
Of course, this demand will not hit the market all at once.
Tesla expects to produce 80-90,000 Model S and Model X vehicles in 2016, a significant increase on the 50,580 units it made in 2015.
If Tesla is able to reach a production total 300,000 vehicles a year all with batteries ranging from 60kWh to 90kWh in capacity, its annual demand for spherical graphite in vehicles in 2021 will be over 26,000 tonnes a year.
In the same period, the company's lithium hydroxide consumption will be over 17,000 tonnes a year.
This does not take into account Tesla Energy's raw material consumption for its Powerwall and Powerpack utility batteries, which could be up an additional 40%.
Then there is a question of stockpiling: how much will Tesla wish to stockpile?
Lithium hydroxide would pose a problem if stored longer than 6 months; however spherical graphite can be stockpiled for some time.
It would be fair to assume Tesla will require at least one year's worth of stockpiled material where possible which could further increase its purchases by 25% a year from 2018-2021.
Will Tesla have to compete with China's megafactories?
One thing is for certain, Tesla will become one of the largest purchasers of niche raw materials in the world. But with 70% of expected lithium ion battery demand coming from China, securing the necessary volumes will not be an easy feat.
As of April 2015, Benchmark estimates that at least 12 lithium ion battery megafactories are in the pipeline between now and 2020. These are classified as new or existing plants being planned, constructed or expanded to gigawatt hour capacity.
Of these 12 operations, only two are located in the US (Nevada and Michigan), while 7 are located in China. Europe, Taiwan and Korea are the three other locations expecting significant new battery capacity.
Not all of these plants will be built to full capacity, but even if only 25% of this new capacity enters the market in the expected timeframe, there will be serious competition for the same raw material supplies.
• Hear about the battery supply chain for free on our World Tour 2016
> sign up here
• Registered for our inaugural Graphite Supply Chain 2016
> here
• For subscription or advertising enquiries, please contact:
info@benchmarkminerals.com
Watch the Model 3 launch here (click on below image or here to watch video):
---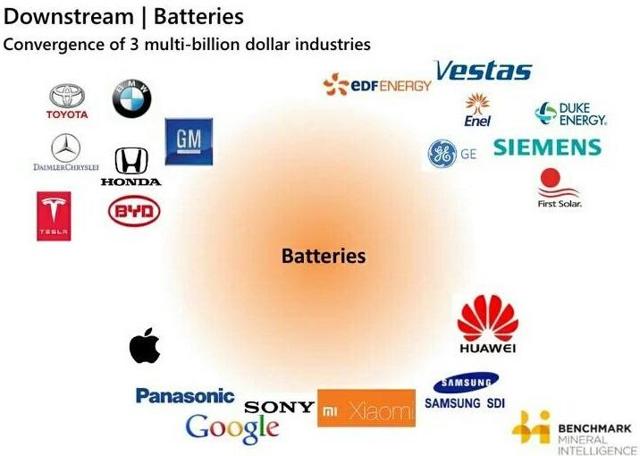 Tesla's Gigafactory alone is expected to require numerous new graphite mines, with a preference for North American graphite sources. China is not a viable supply alternative due to environmental issues and rising costs. Currently, there is only limited graphite production in North America (USA imports 100% of its natural graphite; Canada's only producing mine is expected to be depleted by 2020. Graphite is a "Critical Mineral" according to the US Department of Defense.
Brandon Hill Capital:
"Depending on one's assumption, [...] between 6 and 9 new graphite mines will be required just to supply the Tesla battery plant."
Dundee Capital Markets:
"Tesla had said in the past that it would like to receive supply of all raw materials from North America."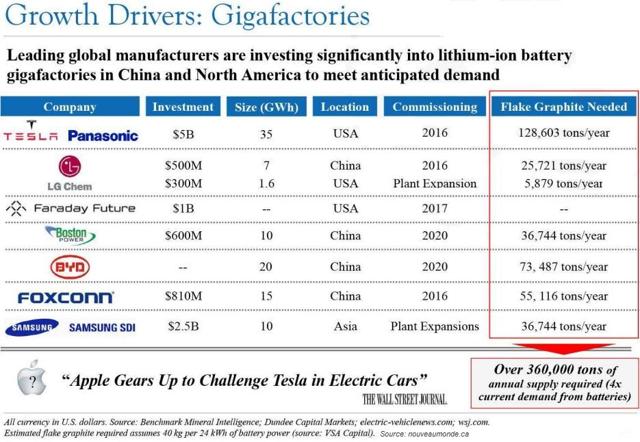 ---
Company Details
NRG Metals Inc.
Suite 804 - 750 West Pender Street
Vancouver, BC, V6C2T7 Canada
Phone: +1 604 682 2929
Web: www.nrgmetalsinc.com
Shares Issued & Outstanding: 28,697,885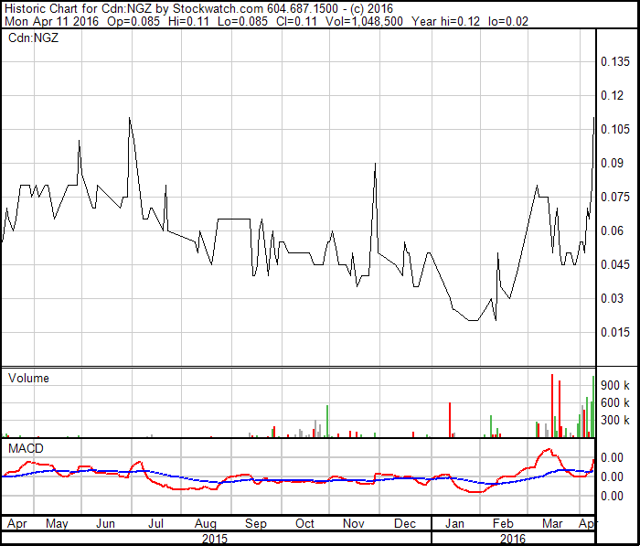 Canadian Symbol (TSX.V): NGZ
Current Price: $0.11 CAD (April 11, 2016)
Market Capitalization: $3 million CAD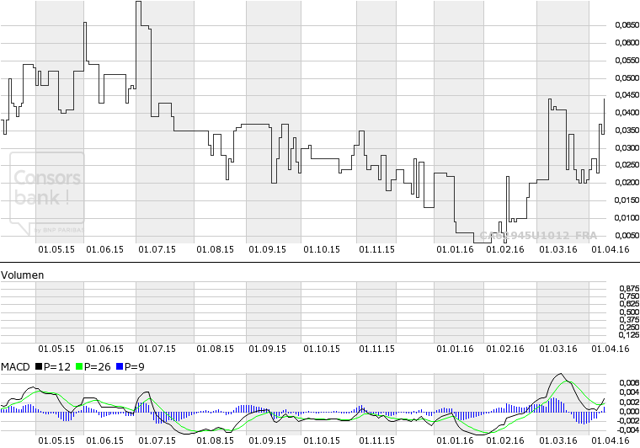 German Symbol / WKN (Frankfurt): OGPN / A144FB
Current Price: €0.044 EUR (April 11, 2016)
Market Capitalization: €1 million EUR
Disclaimer: Please read the full disclaimer within the full research report as a PDF (here) as fundamental risks and conflicts of interest exist.
Disclosure: I/we have no positions in any stocks mentioned, but may initiate a long position in GPOFF over the next 72 hours.