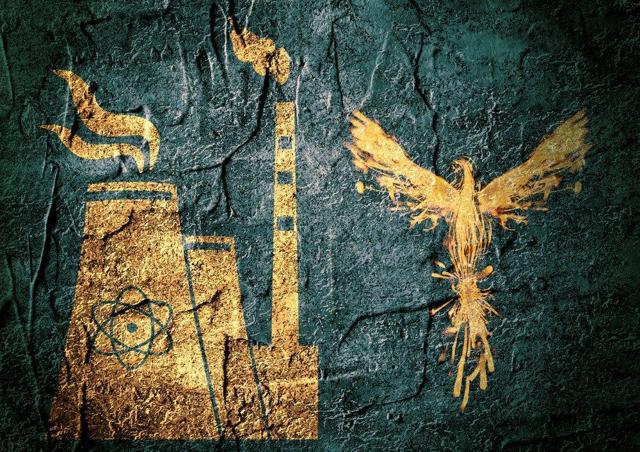 "The best place to discover a new deposit is in the shadow of a recently discovered one, and this could very well be true for ALX Uranium." (Thibaut Lepouttre)
Despite dull uranium prices, a bull is raging in the uranium space as state-of-the-art exploration technologies continue to make jaw-dropping discoveries in the Athabasca Basin of Sasketchewan. NexGen Energy Ltd. (NXGEF) is up 200% this year, thanks to proof through the drill bit and release of larger-than-expected resource estimates. When looking at the share price of its neighbor, Fission Uranium Corp. (OTCQX:FCUUF), one may come to the conclusion to better get in before a discovery is made. ALX Uranium Corp. (OTCPK:ALXEF) is one of the few juniors active next to NexGen's latest high-grade discoveries, whereas latest geophysics have defined 4 top-notch, drill-ready targets.
In March, ALX announced a strategic investment with Holystone Energy Company Ltd. for a 3 year strategic partnership. According to the agreement, Holystone is subscribing 12.5 million ALX shares at $0.06 and is granted the right for 3 years to participate in future financings to maintain their 19.9% pro-rata ownership interest in ALX. Holystone gets to appoint one representative to ALX's Board of Directors based on its intent to form a strategic funding partnership with ALX going forward. According to ALX's press-release (March 8):
"This partnership will be the foundation for ALX to pursue a 3 year exploration strategy in the Athabasca Basin based on its current portfolio of properties, including its position in the Patterson Lake South district. It will also be the foundation to pursue new opportunities. The Company is pleased that Holystone will appoint Dr. Howard Haugom to the Board of Directors, as Holystone's representative. Howard Haugom is co-owner of Quilts Etc., a national linen retail chain and a partner at Burkehill Capital Corp, a Vancouver based private equity firm. He has taught extensively at Simon Fraser University, worked for both the private (Canadian Pacific) and public sectors (BC Treasury Board) as an Economist, and has been a consultant to the gold resource sector. Mr. Haugom received Economic degrees (specializing in international trade/finance and Resource Economics from the University of Victoria - BA and MA, 1984) and a PhD ( 1991) from Simon Fraser University."
On March 23, ALX announced the completion of a geophysical program at its Hook-Carter Property (16,461 hectares) in the Patterson Lake South ("PLS") area. Most interestingly, the property covers the northeastern extensions of 3 known conductive trends and host to 4 recent significant uranium discoveries (Triple R from Fission; Arrow and Bow from NexGen; Spitfire from Cameco (CCJ), AREVA (OTCPK:ARVCF) and Purepoint Uranium Group (OTC:PUMGF)):
1. Patterson Lake Corridor
2. Derkson Corridor
3. Carter Corridor
The recent uranium discoveries in the PLS area occur along a ~14 km long portion of the Patterson Lake Corridor and lie 8.5 to 22 km southwest of ALX's Hook-Carter Property. To date, exploration within the Patterson Lake Corridor has identified predominately basement-hosted uranium mineralization associated with gravity low or resistivity geophysical anomalies, electromagnetic (NYSE:EM) conductors, and in some cases highly anomalous radon geochemistry. These features provide a unique context that can help guide future exploration within the region. Most recently, the HeliSAM TEM geophysical survey over the Patterson Lake and Carter Corridors within the Hook-Carter Property has confirmed the presence of multiple basement conductive units. A complex model consisting of 6 or more conductors within a 2.5 km width is estimated in the W1/W2 area and a complex model of 3 or more conductors within a 1.5 km width in the A1 area. The data are currently under review for final interpretation and reporting. The complexity of the conductors precludes uniqueness and accurate locations of individual conductors. Alternate methods such as DC Resistivity and Gravity are recommended to help establish drill targets in these areas.
Numerous drill-ready targets are present on the Hook-Carter Property based on historic and recent exploration. Dependent on weather conditions for access and drilling, up to 2 drill holes will be completed to test a group of targets along the Patterson Corridor. 2 additional drill holes will also be completed to test targets along the Derkson Corridor, which remains the most advanced exploration target at Hook Lake.
Conclusion
Considering the recent strategic partnership with Holystone, ALX appears to be in the enviable position to have gained a strong partner to finance future exploration activities in the Athabasca Basin, which is the only spot in the world where an exploration boom is being fueled by continued discoveries and expansions of high-grade deposits despite weakening uranium prices. This is largely due to the extreme high grades being discovered in this safe and established mining jurisdiction, where more discoveries are most likely.
Today`s update presents recent publications on ALX, the Athabasca Basin and the general state of the uranium market. With ALX getting ready to drill its highly prospective Hook-Carter Property, its share price is experiencing a sharp revival: +120% in 2016 shows how potentially undervalued ALX is at the very moment and how much upside is provided to investors brave enough to get into probably the most prospective junior active in the Athabasca Basin before a discovery is made. Certainly, the early bird catches the worm yet ALX appears like a soaring eagle getting ready to dive into the next major catch right next to other bullseyes.
---
How Saskatchewan remade uranium mining
String of high-grade high-tonnage discoveries reestablishes Canadian province as the world's richest uranium jurisdiction

Drilling at Fission Uranium Patterson lake project
By Vladimir Basov on April 1, 2016, for Mining.com
It's a fact that new high-grade high-tonnage metal deposits are becoming extremely scarce, with falling grades and a lack of new world-class deposit discoveries.
While it is next to impossible to imagine, for example, discovery of a new 200 g/tonne 25 million ozt gold deposit, it is just has become a routine process for one particular commodity in one particular jurisdiction.
Athabasca sedimentary basin, located mainly in Canada's Saskatchewan province, contains both high-grade and high-tonnage unique, a.k.a "unconformity" bonanza-type uranium deposits.
Just for comparison, Priargunsky underground uranium mine in Trans-Baikal region of Russia has approximately 0.15% grade of uranium in resources, while in Saskatchewan the world's highest-grade and second-biggest Cigar Lake underground uranium mine boasts an average 15% grade of uranium in resources. And this is a mind-blowing 100-times difference.
In addition, Rio Tinto's struggling Rossing open-pit uranium mine in Namibia has ~0.03% grade of uranium in resources, while recently calculated open-pit portion of Fission Uranium's Patterson Lake South deposit has yielded 19% grade of uranium in resources, and this is a fantastic 630-times difference!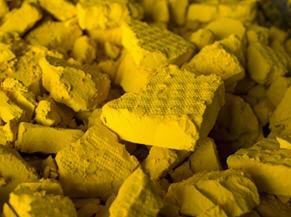 This is how a common sterotype of uranium as the "yellow" metal looks. Source:http://resourceclips.com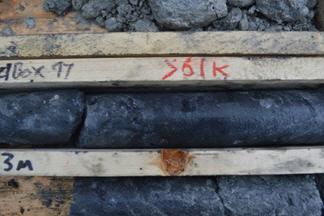 … and this is the reality. Black-coloured is the mineral called pitchblende, extremely enriched with primary uranium (contains >50% of uranium). Caution: highly radioactive! Source: NexGen Energy's drill core from its Rook 1 deposit, Saskatchewan
What is that unique about Athabasca? The first Athabasca uranium deposits were discovered in the early 1950s and Eldorado (now Cameco Corp.) began mining at Beaverlodge Mine in 1953. But nothing was special about first deposits discovered there, which had ordinary uranium grades in ores and located out of Athabasca Basin borders.
In 1967, a consortium of companies, the Dynamic Group, seized the opportunity to obtain the state financing provided by the Saskatchewan Government to boost exploration activities, and decided to fly a systematic radiometric survey of the unexplored sandstones of the Athabasca Basin.
In October 1968, as a result of following up airborne anomalies, a consortium drilled the first hole into the Rabbit Lake deposit. An exploration model which had been designed to find sandstone hosted deposits actually led to the discovery of an orebody in the underlying basement rocks. These highest-grade uranium deposits in the world, located on the contact between the overlying Athabasca sandstones and basement crystalline rock, later became known as the "unconformity" bonanza-type uranium deposits.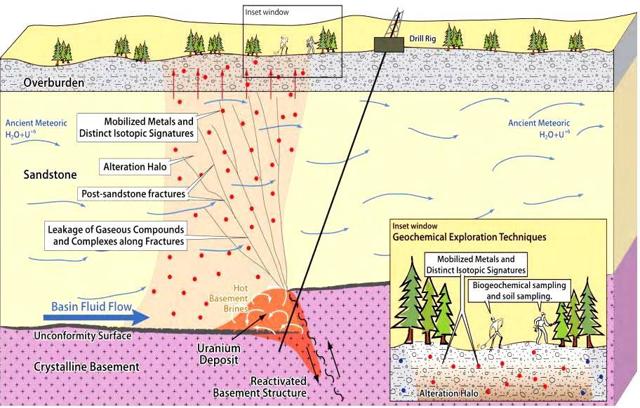 A cross-section of typical inconformity uranium deposit and its traces on the surface. Source: Uravan Minerals Inc.
Discovery of the Rabbit Lake deposit, which is still being exploited by Cameco unveiled one amazing thing about unconformity type deposits. It turns out that simple radioactive boulder found on the surface could be a reliable precursor of the richest uranium deposits rested at the depths of much more than 500 meters. Nearly all subsequent discoveries were accompanied with mineralized boulders and boulder fields. Later on, scientists also confirmed that those believed-to-be "blind" deep deposits in fact leave traces on the surface with the radon emanation and different geochemical processes and alterations.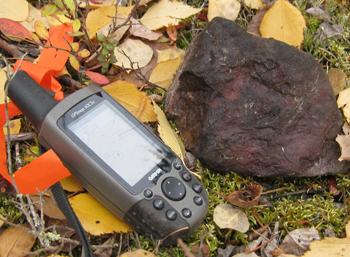 A radioactive sandstone boulder found on Lakeland´s Gibbon´s Creek property. Source: Lakeland Resources [now ALX Uranium Corp.]
Next year, in 1969, Cluff Lake deposit with high-grade ore (up to 6% of Uranium oxide) was discovered, and the same year almost all of northern Saskatchewan had been claimed by mineral permits. By 1972, due to fruitless prospecting by many participants, many exploration permits in the area were dropped, but work undertaken at this time provided clues that further expanded understanding and bolstered development of geological, prospecting and exploration models of this type of U deposits.
In 1975, as an important outcome of the Key Lake deposit discovery, geologists figured out that graphitic politic gneisses forming the basal unit of the Athabasca unconformity are firmly controlling the locations of unconformity deposits. Since these graphitic units are recognizable on surface as electromagnetic conductors, a new important step has been added to the exploration model, magnetic and electro-magnetic geophysical surveys.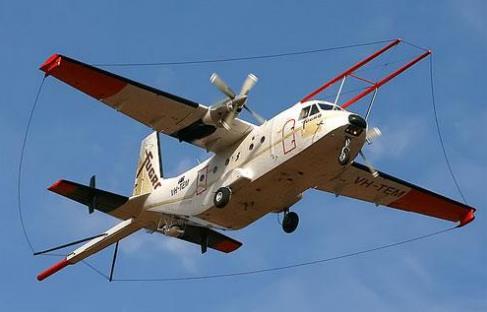 Airborne magnetic survey aircraft. Source: Saskatchewan Ministry of the Economy.
In 1968-1977 exploration activities in Athabasca was primarily aimed at discovery of the near-surface deposits amenable for open-pit mining method. In 1977, curious prospectors drilled a zone of radioactive boulders deeper underground and discovered Midwest deposit at the depths exceeded 300 meters from surface. The Midwest discovery demonstrated that the deeper parts of the Athabasca Basin are very prospective for rich uranium deposits. And immediately after it, much of the Athabasca was staked again and a new era of massive high-grade underground uranium discoveries began.
After the discovery of Dawn Lake (1978) and McClean Lake (1979) deposits, geologists uncovered the "uranium gem", the Cigar Lake deposit (1981), currently being recognized as the world's highest-grade and second-biggest uranium mine.
In 1988, another massive deposit, McArthur River, was discovered and now this is the world's biggest uranium mine and second highest-grade deposit after Cigar Lake.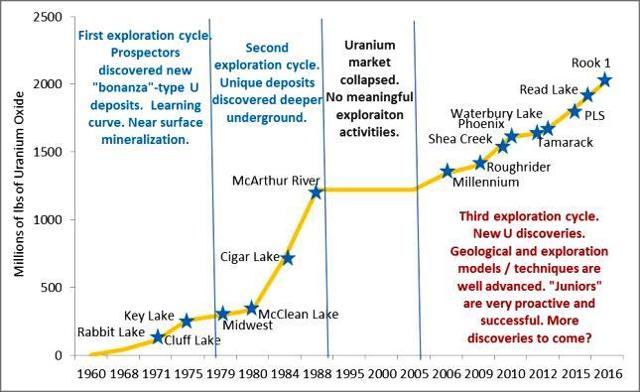 History of unconformity-type uranium deposits discovery in Athabasca. Millions of cumulative pounds of uranium oxide. Source: IntelligenceMine.
In 1990-2005, because of uranium market collapse, no meaningful exploration activities occurred in Athabasca. In this period, only major companies like Cameco and Areva kept spending their significantly reduced exploration budgets in this area, mainly within or around existing deposits.
In 2006, their efforts were crowned with the Millennium deposit discovery, intercepted at the depths below 600 meters.
Simultaneously, third major exploration period commissioned in Athabasca, triggered by the Nuclear Renaissance promises and revived uranium market.
This period is still ongoing and characterizes by the following factors:
- huge injection of the private capital into a small and medium junior exploration companies that ended up with real results and discovery of a number of new high-grade deposits,
- dozens and dozens of juniors and majors are proactively exploring new bonanza-type uranium deposits, making Saskatchewan the only region in the world where uranium exploration is still active and even expanding, despite lasting uranium market uncertainties,
- all geological and exploration concepts in relation to the Athabasca Basin have finally been converted into the common knowledge and practical technologies and techniques, available not only for big corporations,
- Saskatchewan is one of the world's best mining jurisdictions in terms of ease of doing business - a big factor behind the uranium exploration boom in the province.
As a result of third exploration cycle, there were a number of high-grade high-tonnage discoveries in Athabasca announced to date:
- in 2009, Hathor Exploration (later acquired by Rio Tinto) discovered Roughrider deposit with uranium grades in ore of up to 17%,
- in 2010, Denison Mines and Cameco first revealed resource evaluation for their recently discovered Phoenix deposit at the Wheeler River Project, with uranium grades exceed 19%,
- the same 2010 year, Areva and UEX Uranium Exploration released an initial mineral resource estimate for the Kianna, Anne and Colette deposits on the Shea Creek property,
- in 2012, Cameco and Areva reported resources at Tamarack deposit and Denison reported resources for Waterbury Lake deposit,
- In 2015, Fission Uranium Corp. discovered Patterson Lake South deposit with uranium grades of up to 23%, and Cameco released its first resource estimate for the Read Lake deposit,
- the most recent uranium discovery in Athabasca is NexGen Energy's Rook 1 deposit with high-grade resources reported January this year.
Currently, a total of 2691 claims and 21 permits are in and around Athabasca held by 122 companies and individuals, with 15 additional claims that are still pending.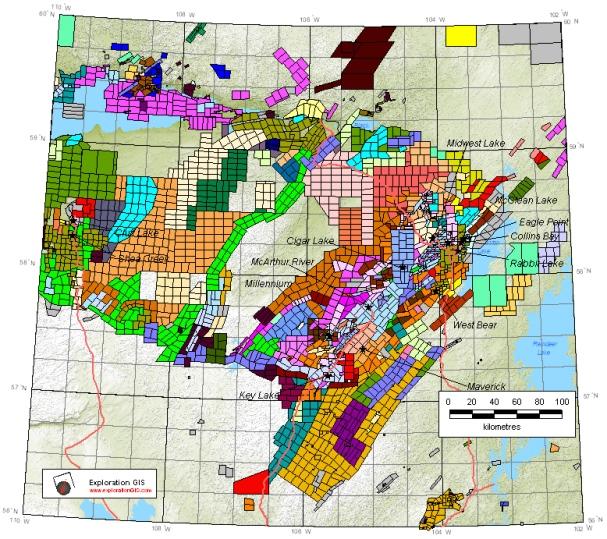 Map of exploration claims and permits in Northern Saskatchewan, as of January 2016. Source: Exploration GIS.
Keeping in mind that only a small portion of the Athabasca Basin's deep horizons been explored to date, there are certainly more discoveries to come.
To learn more about uranium exploration companies in Saskatchewan and their recent drill results, please visit the IntelligenceMine database, which provides researchers, investors and suppliers with up to date global mining market intelligence - mining and mineral exploration company reports; mine, project and processing facility reports; securities filings; an interactive mapper and much more.
Learn more about IntelligenceMine.
---
Interview with Dr. Michael Gunning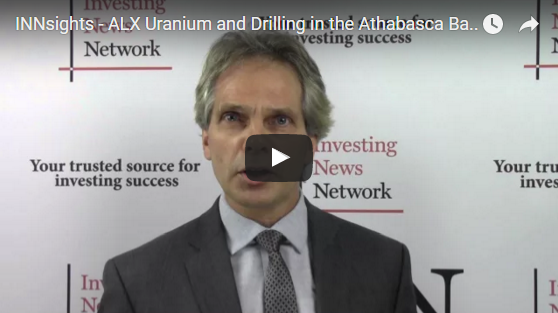 Click here or on image to watch the video interview
Michael Gunning
BSc (Hons), MSc, PhD, P.Geo.
Executive Chairman and Director of ALX Uranium Corp.
Dr. Gunning brings a very diverse and valuable range of experience and proven leadership to ALX from his 25 years in the mineral exploration and geological research sectors. As former Executive Chairman at Alpha Minerals, the precursor to Alpha Exploration, he led equity financings of more than $20 million which funded exploration at the Patterson Lake South uranium discovery, and he steered the eventual sale of the company in an all-share transaction valued at $189 million, while retaining working capital and non-core assets for the successor company Alpha Exploration. As former President and CEO of Hathor Exploration Ltd., he successfully transitioned the company from the grass roots discovery to the delineation and economic evaluation of the Roughrider Uranium Deposit, and he steered the eventual sale of the company to Rio Tinto Plc. in an all-cash transaction valued at $654 million.Dr. Gunning attained an Honours BSc degree in geology from UBC, followed by a time in the junior gold exploration sector, and onto mineral deposit research and regional mapping with the BC Geological Survey and Geological Survey of Canada, all towards completing MSc and PhD degrees at the University of Western Ontario. Following nearly 10 years of work with Teck Resources in base metal exploration in North and South America, he joined the Saskatchewan Geology Survey as lead Mineral Deposits Research Geologist. Dr. Gunning is extensively published, has presented at numerous technical and investor conferences, and is past-President of the SEG Student Chapter at Western, and Geological Society of Saskatchewan. Industry awards include the 2011 Dave Barr Award for leadership in safety, and the 2012 AMEBC Colin Spence Award for Excellence in Global Mineral Exploration. Dr. Gunning is Qualified and registered as a Professional Geologist in Saskatchewan and ALX's Executive Chairman.
---
ALX Uranium - A nearology play in Canada's Athabasca Basin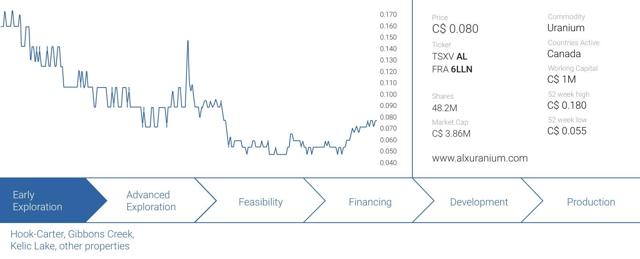 By Thibaut Lepouttre on March 30, 2016, for CaesarsReport.com
Here at Caesars we love the so-called "nearology" plays, and we have had some pretty good successes with that. Very few people will remember we added a C$6.8M market cap uranium company to our Mining Top 25 for 2010 and we think we were the very first one to highlight that small company which was subsequently bought out for C$70M and a stake in a SpinCo. That SpinCo has a market capitalization of C$400M as of today. Yes, indeed, we were backing the very first Fission Energywhen its market capitalization was less than C$70M, and there's no doubtFission Uranium (FCU.TO) is now one of the hottest exploration stories in the Athabasca Basin.
Does history repeat itself? Maybe. We had a closer look at ALX Uranium (AL.V) as its Hook Carter project is located in the Southwestern Athabasca Basin, on the Patterson Lake Corridor. The best place to discover a new deposit is in the shadow of a recently discovered one, and this could very well be true for ALX Uranium. It's obviously still very early days, but the risk/reward ratio for the sub-C$5M company could be attractive.
In this report we'd like to focus on ALX' Hook-Carter property which consists of a 16,500 hectare land package within the Patterson Lake South camp and has three different corridors running over the property. The three conductive trends (Patterson Lake, Derkson and Carter) are clearly visible on the next map: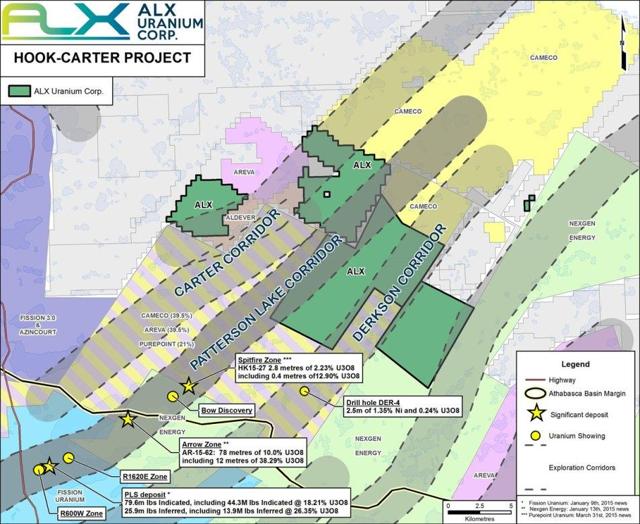 What's interesting here is the fact that ALX' Hook-Carter property is located towards the northeast of no less than three exciting discoveries of uranium mineralization. Fission Uranium (FCU.TO) owns the Triple-R project which will very likely shape up to be a 150M lbs+ project whilst NexGen Energy (NGE.V) recently released a maiden resource estimate containing in excess of 200 million pounds of uranium, whilst the mineralized zones remain open for expansion. Throw in the recently-discovered mineralization at Purepoint Uranium's (PTU.V)Spitfire zone with intercepts of 7.2 meters of 1.3% U3O8 and in excess of 18 meters at almost 0.7% U3O8, and you indeed understand ALX' land package is situation right next to existing 'hot spots' in the uranium landscape!
Does this mean ALX' exploration success is guaranteed? No, not at all. Exploring for uranium can take a long time, and drilling in the Athabasca Basin isn't too cheap either, so ALX will have to make sure it's drilling its holes on the most promising spots.
That's why the company has sent out a geophysical team to two of the three corridors on the Hook-Carter property. ALX Uranium plans to complete an airborne and ground SAM TEM (Sub-Audio Magnetic Transient ElectroMagnetic) exploration program. A total of 115 kilometers of helicopter-based SAM TEM has been completed and according to the company, it confirmed the existence of several basement conductive units. That's quite interesting, and we're looking forward to see the final report on this geophysical exploration program.
Additionally, ALX would like to drill four drill holes, of which two will be testing a group of targets in the Patterson Corridor, whilst another two holes will be focusing on the Derkson Corridor. This 50/50 split is a little bit surprising considering the Derkson Corridor is the most advanced part of the company's land package, but ALX obviously wants to find out what's underneath the surface at several 'areas of interest'.
ALX Uranium recently signed an important agreement with a strategic partner. The company has formed a three year partnership with Holystone Energy, whereby the latter will invest C$750,000 in ALX by purchasing 12.5M new shares at a price of C$0.06 per share (there will be no warrants attached). As Holystone will become a major shareholder of ALX after this deal closes (Holystone will own approximately 20% of ALX' share capital), it will also be allowed to nominate one person to ALX' board of directors.
That's an interesting vote of confidence as it does look like Holystone is convinced ALX Uranium might be the best horse to gain exposure to the Patterson Lake South zone. Holystone could have invested in either Fission Uranium, NexGen Energy or even Purepoint Uranium, but Holystone preferred to bet on ALX Uranium. Very likely because this company doesn't just own the Hook-Carter property on trend with the Triple R and Arrow deposits, but because ALX also owns several other exploration-stage projects in the Athabasca Basin.
2015 drilling campaign at Gibbons Creek: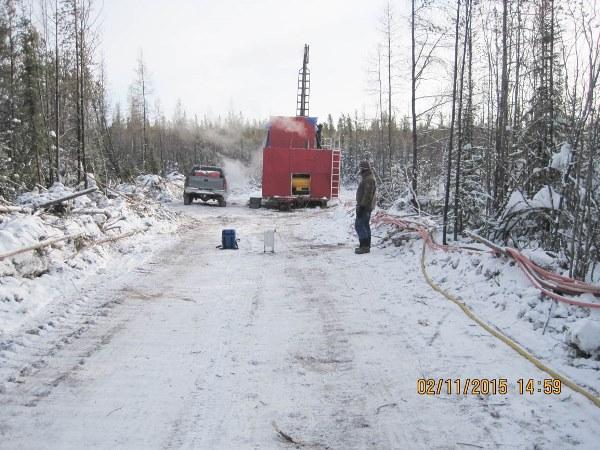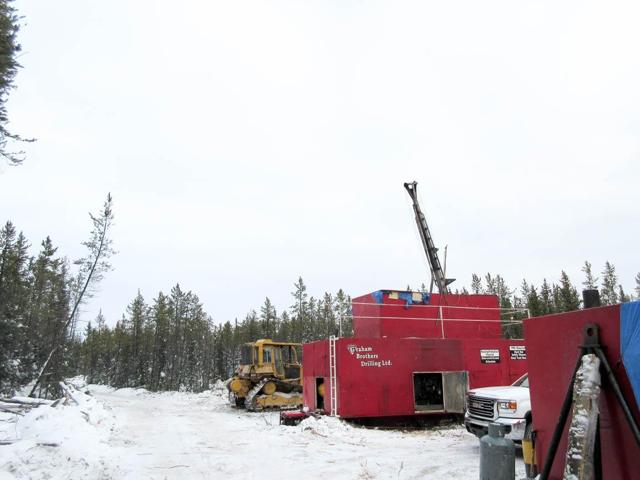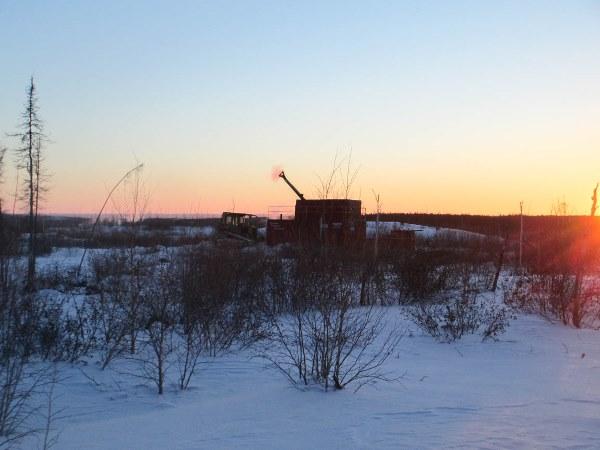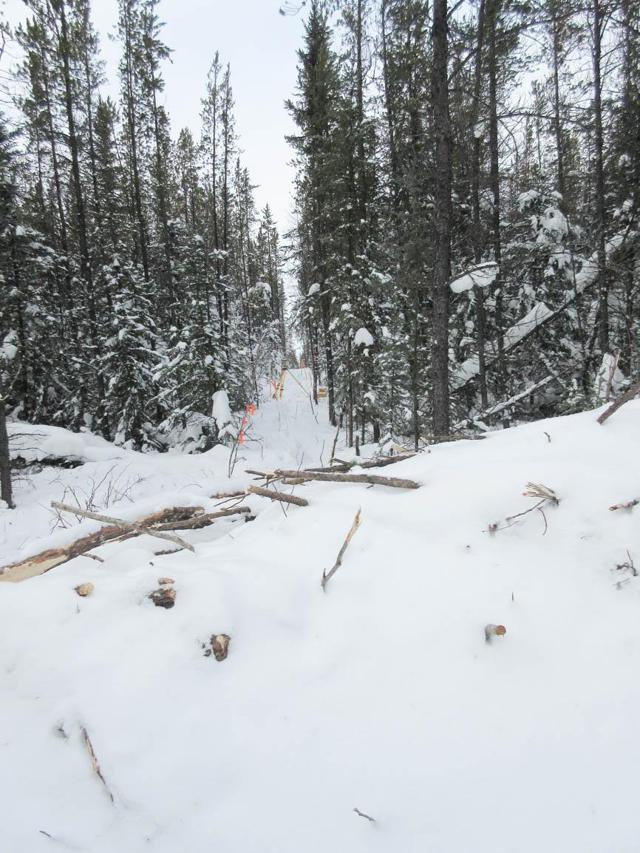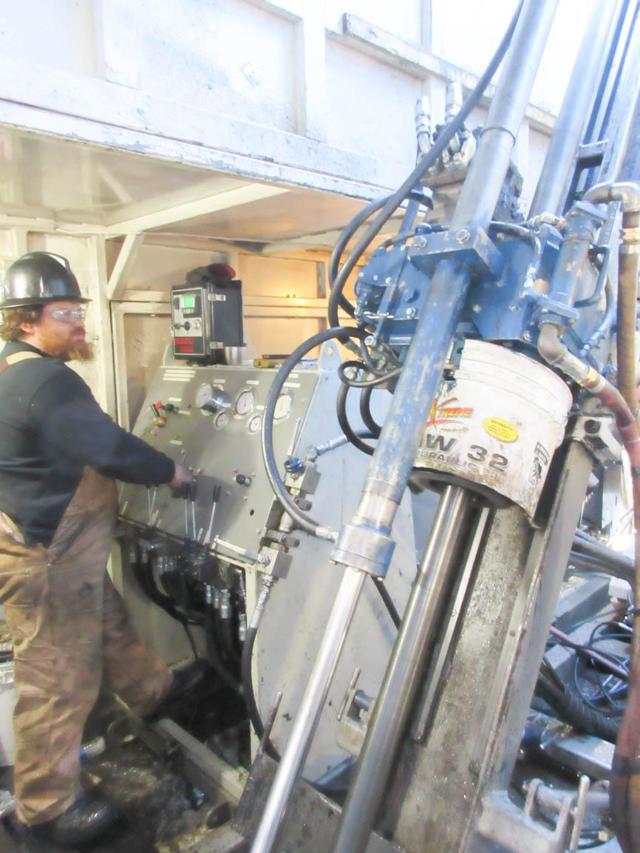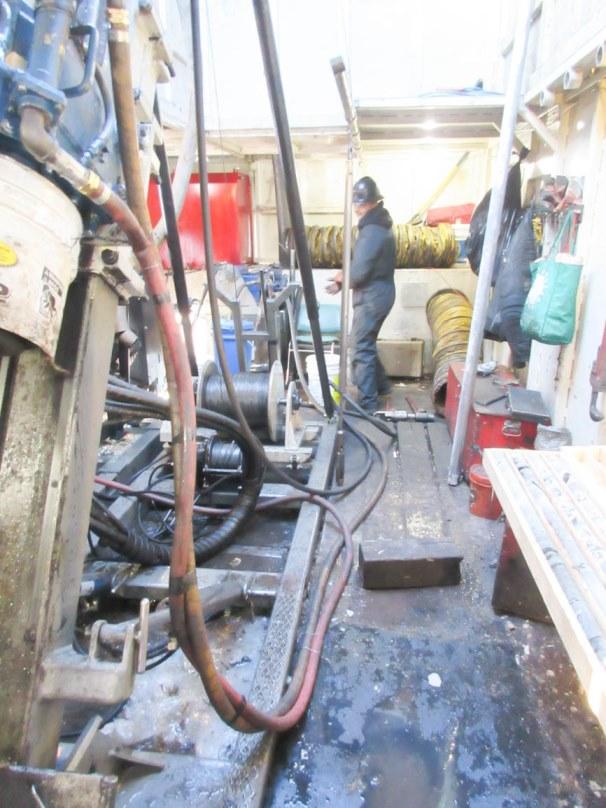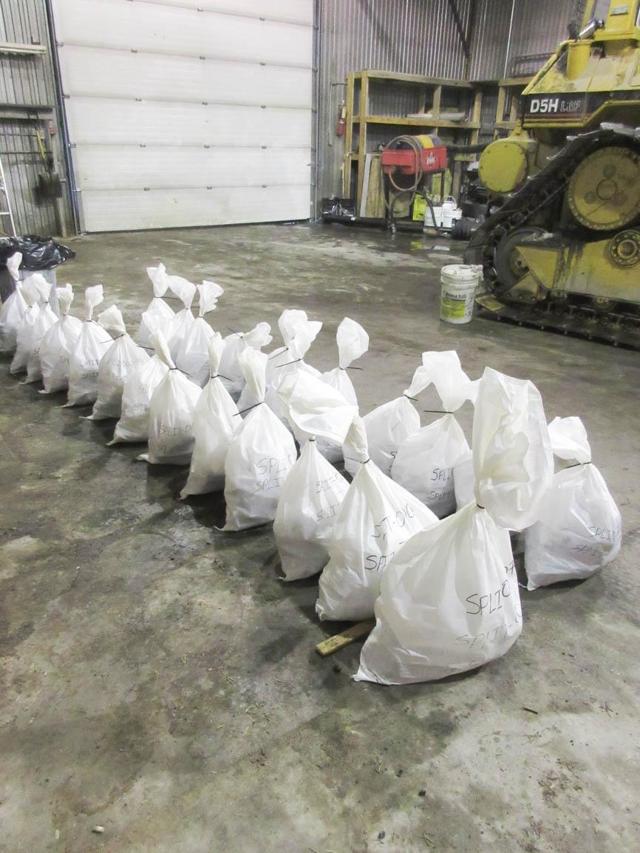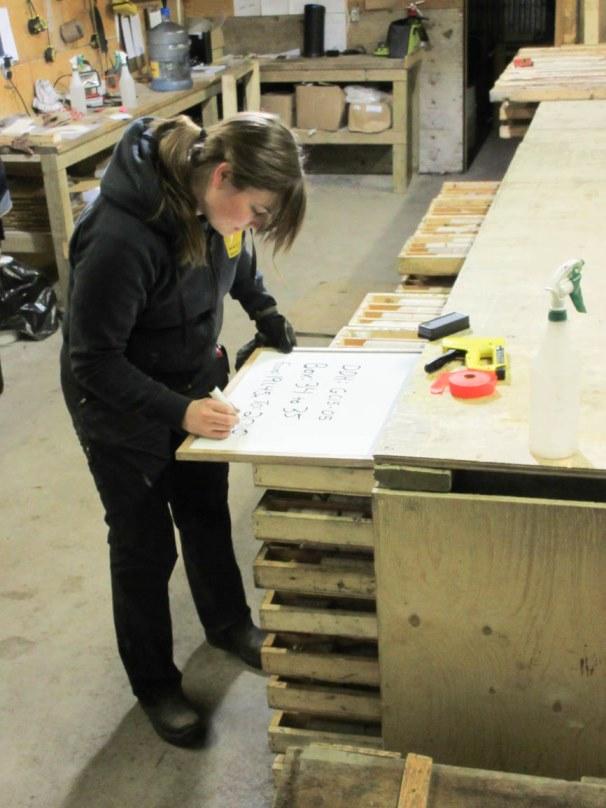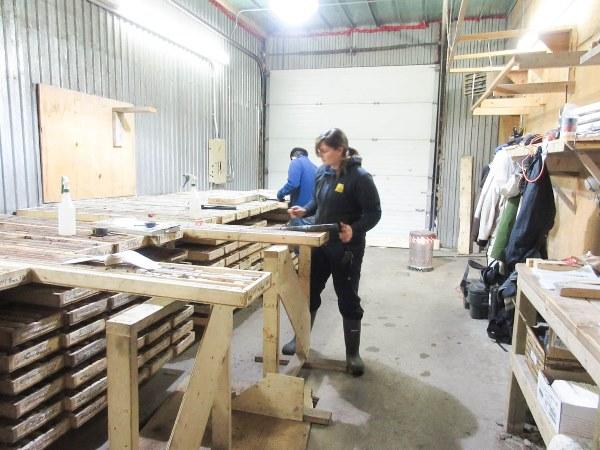 The financial situation and the management team
ALX' financial situation also is quite a bit better than a lot of other companies out there. The company hasn't published its year-end financials yet, but as of at the end of September last year, ALX Uranium had a positive working capital position of C$1.2M and it subsequently raised C$350,000 in financings in December and January.
This was followed by closing the first tranche of the financing deal with Holystone Energy for a total value of C$318,000, so ALX was definitely able to raise quite a bit of cash in the past few months. We're unsure about how much cash the company has been spending on exploration in the past few months, but the annual statements which should be filed in the next few weeks will obviously provide some clarity.
We also think ALX' management team is one of the main reasons why Holystone was so interested in getting involved in this company.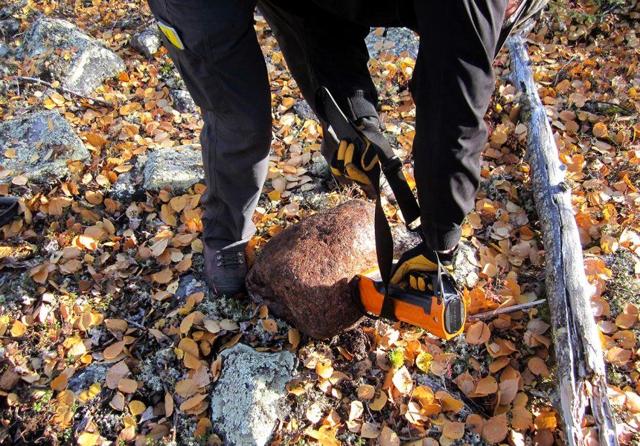 Radioactive Granite
Management
Michael Gunning
BSc (Hons), MSc, PhD, Pgeo - EXECUTIVE CHAIRMAN, DIRECTOR
Dr. Gunning brings a very diverse and valuable range of experience and proven leadership to Alpha from his 25 years in the mineral exploration and geological research sectors.
As active Executive Chairman at Alpha Minerals, the precursor to Alpha Exploration, he led equity financings of more than $20M which funded exploration at the Patterson Lake South uranium discovery, and he steered the eventual sale of the Company in an all-share transaction valued at $189M, while retaining working capital and non-core assets for the successor company Alpha Exploration.
Most recently as former President and CEO of Hathor Exploration Ltd, he successfully transitioned the Company from the grass roots discovery to the delineation and economic evaluation of the Roughrider uranium deposit, and he steered the eventual sale of the Company to Rio Tinto Plc. in an all-cash transaction valued at $654M.
Jon Armes
B.A.Sc. - PRESIDENT, CEO & DIRECTOR
Mr. Armes has been President, CEO and Director of Lakeland since 2010 and has stewarded the Company's move into uranium and the Athabasca Basin. Prior to joining Lakeland, Mr. Armes provided corporate development, finance and management services to mining exploration companies for over 15 years including Band-Ore Resources Ltd. (now part of Lake Shore Gold Corp.) and Trelawney Mining and Exploration Inc. (acquired by IamGold in 2012).
R. Sierd Eriks
P. Geo - VP EXPLORATION
Sierd Eriks, B.A (Geology), has worked in mineral exploration for over thirty-five years with a focus on uranium exploration for the past two decades. From 1979 to 1998, he gained geological and managerial experience with major mining companies, including SMDC (now Cameco Corporation), Falconbridge Limited, Noranda Exploration Co. Ltd. and Cogema Resources Inc. (now AREVA Resources Canada Inc.) in base metals, gold, PGE and uranium exploration. In 1999, he became a consulting geologist and worked as a consultant on numerous uranium and PGE exploration programs. Prior to joining Alpha, he was Vice-President, Exploration with UEX Corporation from 2007 to 2014.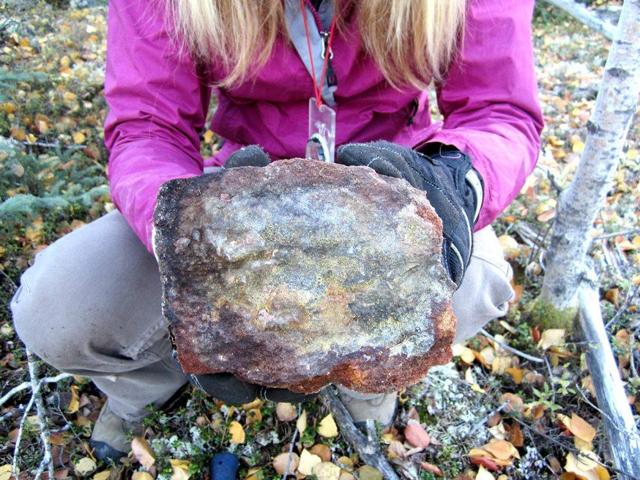 Highly Radioactive SST Boulder
Conclusion
Does this mean you should run out and immediately buy ALX Uranium? No. We just wanted to point out this small company owns a substantial land package in the Athabasca basin (in excess of 240,000 hectares), which is the real epicenter of Canada's uranium exploration and production scene.
Keep an eye out on ALX Uranium, as we expect the company will be quite active in the next few months and quarters to prepare for a winter drill program at Hook-Carter, Gibbons Creek and Kelic Lake. With a working capital position of in excess of C$1M (our own estimate) and an additional C$400,000 on its way from its strategic partner, ALX can advance its properties in 2016 without having to go back to the market before a potential winter drill program.
We hold no position in ALX Uranium, Zimtu Capital is a sponsor of the website, we do not hold a position in any of the companies. Please read the disclaimer.
---
ALX Uranium Corp is Positioning to Explore and Produce Uranium in the High Grade Uranium Athabasca Basin in Canada
By Dr. Allen Alper (PhD Economic Geology & Petrology, Columbia University, NYY) on April 1, 2016, for MetalsNewsUranium.com
ALX Uranium (TSXV: AL), a premier uranium explorer in Canada's Athabasca Basin, is currently working on exploring more of their newly held projects after a merger that gives them better access to -- high grade uranium resources. Jon Armes, President and CEO of ALX Uranium, believes that the main reasons people should invest in his company is the amazing synergy of projects, people and money. With drill ready targets on multiple properties the company is in the process of raising additional funding to meet their exploration needs.
Jon Armes, President and CEO of ALX Uranium updated investors on the progress that his company has made on exploration and advancement after a merger between Lakeland Resources and Alpha Exploration. The company works in the Athabasca Basin in Saskatchewan, Canada, which is known to have high grade uranium resources and deposits. Recently, ALX Uranium is the merger of Alpha Exploration and Lakeland Resources; which allowed them to consolidate their holdings and teams.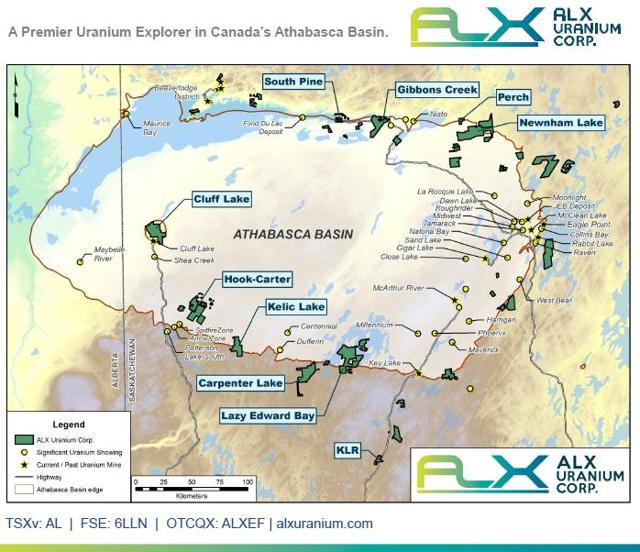 Mr. Armes said, "So last year, with the markets being as grim as they were, we started to have some discussions with some other uranium companies active in the basin. The Alpha group had a lot of synergies with our people, our projects and our treasuries so we decided to bring the two companies together in a strategic merger and focus on six or eight high profile type projects that resulted from our merger."
The uranium markets have not improved too much, but ALX Uranium has continued to move forward. Mr. Armes said, "The market has continued to be tough, however recently we have managed to secure a strategic partner in Holystone Energy, who has taken a 19.9% interest in our company and has representation on the Advisory Board in the interim, and at our next annual meeting they will gain a seat on the Board of Directors."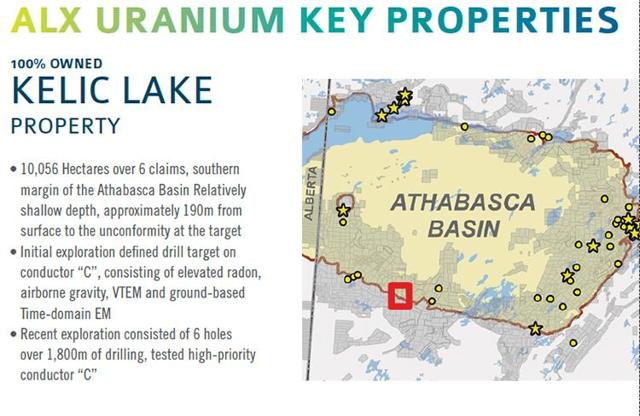 ALX Uranium is focused on a specific area of the Athabasca Basin where high grade uranium has been found in the past. Mr. Armes said, "There have been significant developments along the Patterson Lake trend which is where Alpha and Fission first made their PLS discovery in 2012. NexGen has now just come out with a resource of 202 million pounds to the northeast of PLS and one of our key projects is just a few kilometers to the northeast of these discoveries. That is where we are going to be focusing our attention on some exploration to define high priority drill targets. We will raise the necessary funds to take it to the drill stage. That, combined with a few other projects, means we will be busy this year on the exploration front."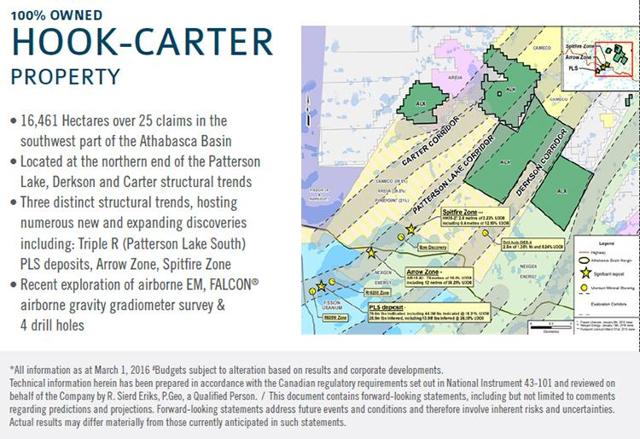 Why choose to work in the Athabasca Basin? For Armes and his team, the answer lies in the grades that are possible to find there. Mr. Armes said, "So the Athabasca Basin, as compared to anywhere else in the world, has the highest grade deposits. There are deposits there that have 20%, 22%, 24% and your worldwide grades are .1% to .15%, so we are talking about hundreds of times higher grade. Even the combined average grade of all known deposits in the Athabasca Basin are still 20 to 30 times higher than the grades you will find elsewhere in the world. It is a very safe jurisdiction to work in, Saskatchewan currently being the second most-friendly jurisdiction in the world to explore in. As well as being in Canada, it has a lot of mining history. Mining for uranium in Saskatchewan dates back to the 1940s and 1950s. It is an ideal place to work. With the deposits being the grade and nature they are, I think the future of uranium will be coming from the Athabasca Basin."
Mr. Armes feels the company has benefitted from the expertise of the two merged teams. He said, "With the merger with Alpha their Board members were with Hathor's Roughrider project that Rio Tinto bought out for $654 million. The same group was part of the Alpha discovery which Fission purchased in an all share transaction valued at $189 million. Combined, it is almost a billion dollars in takeover transactions in arguably one of the worst uranium markets."
The company has money in the treasury at this time, though they will be looking to add funds in the short term to meet their exploration needs. Mr. Armes said, "We have just over one million in the bank. We are looking to raise some money to do some drilling uptrend. We will look for additional funds so that we can carry out further work on these projects. The Company has approximately 48 million shares outstanding which offers tremendous leverage to our investors in the event of a new discovery."
Mr. Armes himself has a great deal of knowledge working the mining space, including uranium, from prospecting all the way through to working on the management end of mining operations. He said, "I have been in mining since 1993 and I have spent time prospecting, staking claims, managing drill programs and understand how things run in the office. That experience lends itself well to managing a company like ours."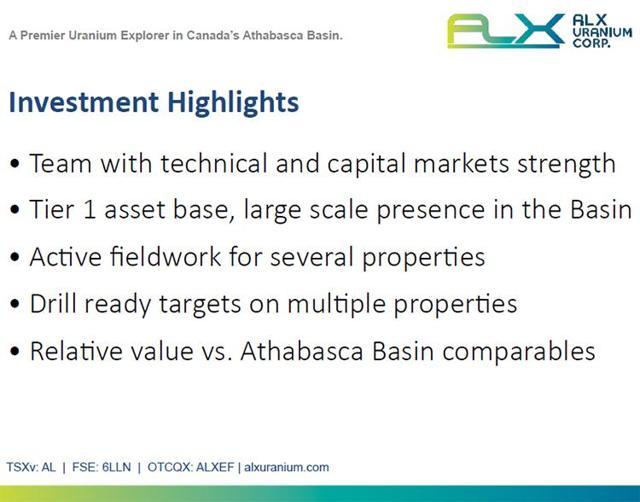 Mr. Armes believes that there are many reasons investors should take a close look at investing in ALX Uranium. He said, "We have an amazing synergy of projects, people and money. We have the support of financial/brokerage community, which allows us to maintain the projects that we have, along with the significant leverage we have with our share structure. Any of the targets in the portfolio could be the next big one in the Basin."
For more information about ALX Uranium, their projects and management team, you can visit their website at
Head Office
Suite 1450 - 789 West Pender Street
Vancouver, BC
Canada V6C 1H2
Email: info@alxuranium.com
Tel: 604 681-1568604 681-1568
Toll Free: 1 877 377-62221 877 377-6222 FREE
Disclaimer | Terms Of Use And Privacy Statement
---
ALX Uranium confirms multiple conductors at PLS-region Hook-Carter Project
By Greg Klein on March 23, 2016, for ResourceClips.com
Initial geophysical results verify multiple basement conductors on the Hook-Carter project, ALX Uranium TSXV:AL reported March 23. Analysis shows one area (W1/W2 on the map) hosting at least six conductors within a 2.5-kilometre width and another area (A1) of at least three conductors within a 1.5-kilometre width.
Results come from an airborne and ground sub-audio magnetic transient electromagnetic (HeliSAM TEM) survey over two of the project's three conductive corridors.
The complexity of the conductors calls for additional surveys such as DC resistivity and gravity to better define drill targets, ALX noted. Meanwhile study continues on the current data for final interpretation. The 16,461-hectares property covers northeastern extensions of three known conductive trends, the Carter, Derkson and Patterson corridors.
Historic and recent exploration has already identified drill targets on two of them. Depending on weather, ALX plans up to two holes on the Patterson corridor and two more along Derkson, still the project's most advanced exploration target.
Patterson hosts Fission Uranium's (TSX:FCU) Triple R deposit and three additional zones now stretching 2.58 kilometres along strike at Patterson Lake South.
That prolific corridor also hosts the Athabasca Basin's largest undeveloped resource at NexGen Energy's (TSXV:NXE) Arrow deposit, as well as NexGen's Bow zone and the Spitfire discovery at the Hook Lake JV of Purepoint Uranium TSXV:PTU, Cameco Corp TSX:CCO and AREVA Resources Canada.
The discoveries took place along an approximately 14-kilometre-long section of the Patterson corridor, about 8.5 kilometres to 22 kilometres southwest of Hook-Carter.
Last week ALX closed a $318,000 private placement first tranche, part of a strategic partnership with Holystone Energy.
Pending approvals, Holystone will buy a total of 12.5 million shares for $750,000 and retain the right to participate in future financings for three years to maintain its ownership level. Holystone's nominee to the board of directors, Howard Haugom, has been appointed an ALX adviser until the company's AGM.
A former economics professor at Vancouver's Simon Fraser University, Haugom co-owns a national retail chain and is a partner in the private equity firm Burkehill Capital.
In January ALX announced winter/summer exploration plans for four other Basin properties, as well as Hook-Carter.
Last month Cameco signed a purchase agreement for ALX claims peripheral to Hook-Carter.
---
Arrow hits uranium bullseye: But NexGen Energy's already pushing for an H2 resource update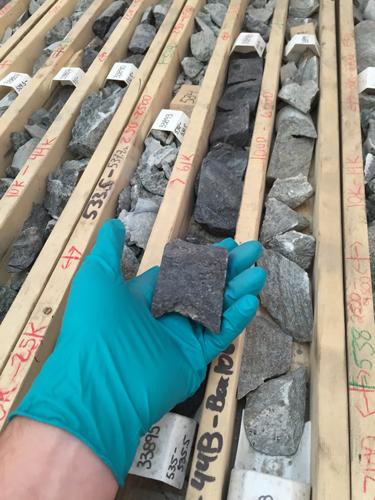 NexGen claims "some of the best drill intercepts on a grade/thickness basis ever publicly recorded."
By Greg Klein on March 3, 2016, for ResourceClips.com
A maiden resource showing the Athabasca Basin's largest undeveloped uranium deposit comes barely two years after NexGen Energy TSXV:NXE discovered the Arrow zone on its Rook 1 property.
And CEO Leigh Curyer anticipates more good news as soon as this winter's assays arrive.
Hence an update's anticipated later this year and a further milestone-possibly going straight to pre-feasibility-seems likely for 2017.
With an inferred 201.9 million pounds U3O8, a grade 26 times the global average and $31 million to spend, this company's not wasting any time.
Although considerably deeper and so far limited to the inferred category, Arrow outnumbers Fission Uranium's (TSX:FCU) neighbouring Patterson Lake South for tonnage, grade and pounds.
With a 0.25% cutoff, NexGen provided separate numbers for four stacked shear structures, one of them bursting with a stupendous high-grade area.
• A1 shear: 380,000 tonnes averaging 0.5% for 4.2 million pounds U3O8
• A2: 1.48 million tonnes averaging 0.85% for 27.6 million pounds
• A2 high grade: 410,000 tonnes averaging 13.26% for 120.5 million pounds
• A3: 1.13 million tonnes averaging 1.9% for 47.3 million pounds
• A4: 80,000 tonnes averaging 1.35% for 2.3 million pounds
• Total: 3.48 million tonnes averaging 2.63% for 201.9 million pounds
The report bases its numbers on 59,796 metres completed by last October, in which 80 of 82 holes hit mineralization.
Currently 645 metres in strike, the resource has a lateral width of 235 metres. It begins 100 metres below surface, just below the unconformity, and extends 820 metres vertically.
The deposit remains open in all directions. The 0.25% cutoff compares to a global average mine grade of 0.1% and, as Curyer emphasized in his March 3 conference call, remains "incredibly robust under any measure of analysis."
Even at a 10% cutoff, Arrow would have 101.3 million pounds, according to data provided. By comparison, Fission's January 2015 PLS resource used a 0.1% cutoff, showing:
• indicated: 2.29 million tonnes averaging 1.58% for 79.61 million pounds U3O8
• inferred: 901,000 tonnes averaging 1.3% for 25.88 million pounds
The first and most advanced of the discoveries, PLS reached a preliminary economic assessmentlast September. But Curyer boasts of having the southwestern Basin's "most dominant land position … covering all nine uranium-bearing conductive corridors in the region." Running through Arrow are nine kilometres of the Patterson corridor, which also hosts Rook 1's Bow discovery, 3.7 kilometres northeast along strike of Arrow, and Fission's PLS. Some other companies working the corridor include Cameco Corp TSX:CCO, ALX Uranium TSXV:AL and a joint venture of Cameco, AREVA Resources Canada and Purepoint Uranium TSXV:PTU, which discovered the Spitfire zone. Like PLS, Arrow sits within basement rock, where development would presumably avoid any Cigar Lake-type adventures. But Arrow's "uniquely 100% land-based," Curyer points out. Although obviously proud of this achievement, Curyer repeatedly emphasized there's more to come. Preliminary results from the 30,000-metre winter program show some of Arrow's highest radioactivity and have already added another 25 metres in strike. The resource is "effectively going to be out of date as soon as those assays are returned," he enthuses.
"It's blown that high-grade domain wide open and that's why we're already expecting to do an updated resource in the latter half of 2016." The property's currently under attack by six rigs. Three focus on delineation, two others seek possible Arrow extensions to the northeast and southwest, while another searches for separate zones along the northeast-southwest corridor.
Apart from the "unprecedented speed" of just two years to build the Basin's third-largest deposit (after the McArthur River and Cigar Lake operations), NexGen said the resource "truly sets one for the record books in terms of cost of discovery"-about 13 cents a pound U3O8. "Throughout history there have been a discrete number of Tier 1 discoveries across the various commodities worldwide which have occurred during downturns or flat commodity price environments," Curyer said. "These discoveries have demonstrated significant value creation and kick-started a sustained quality of investment environment for the entire resources sector." Rook 1, he maintains, holds "potential to join that exclusive club."
---
The high-grade camp
Cameco bolsters its PLS presence as ALX Uranium tightens its land position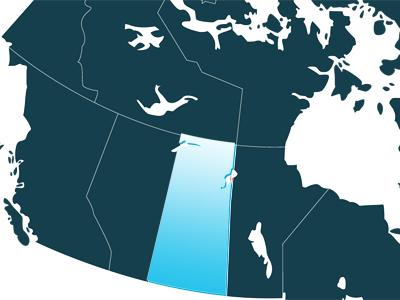 By Greg Klein on February 25, 2016, for ResourceClips.com
Renewed interest in the southwestern Athabasca Basin area's Patterson Lake South camp comes from Cameco Corp TSX:CCO, as the giant signs a purchase agreement with ALX Uranium TSXV:AL.
The merchandise consists of 27 claims totalling 7,064 hectares peripheral to ALX's Hook-Carter property.
That leaves ALX with a more closely consolidated PLS camp position of 16,461 hectares.
Most of the vended claims are isolated from Hook-Carter's main contiguous block, states ALX's February 25 announcement.
They also "include a small, northeastern portion of the main block, covering ground with depths to the unconformity much deeper than the main parts of the property where ALX intends to focus its exploration."
The development might portray Cameco in an acquisitive mood, following the previous day's news that the company had optioned 60% of CanAlaska Uranium's (NASDAQ:CVV) West McArthur project in the eastern Basin.
ALX president/CEO Jon Armes says the Hook-Carter transaction benefits both parties. ALX gets $170,000 and, on some claims, a 1% net refining returns royalty that can be reduced to 0.25% by paying ALX $750,000. Other claims have a 2% NRR reducible to 1% for $500,000.
Cameco, he says, gets to "tidy up its land position" in the PLS area, making concerted exploration more viable.
"A lot of that ground is 600-plus metres to the unconformity," Armes points out. "When you start drilling 1,000-metre holes at $400 a metre, that's quite a costly endeavour for a junior. When you've got little bits and pieces, you're not typically going to drill a 16-hectare piece when you're surrounded by Cameco."
The sale "provides ALX with some significant hard dollars, certainly more than we paid in our staking and other costs, and we maintain a small underlying royalty," he adds.
"The chance of Cameco making a discovery northeast of us would only benefit us."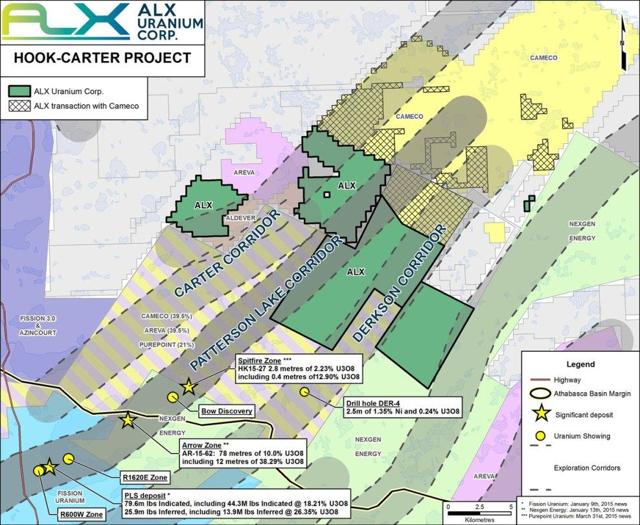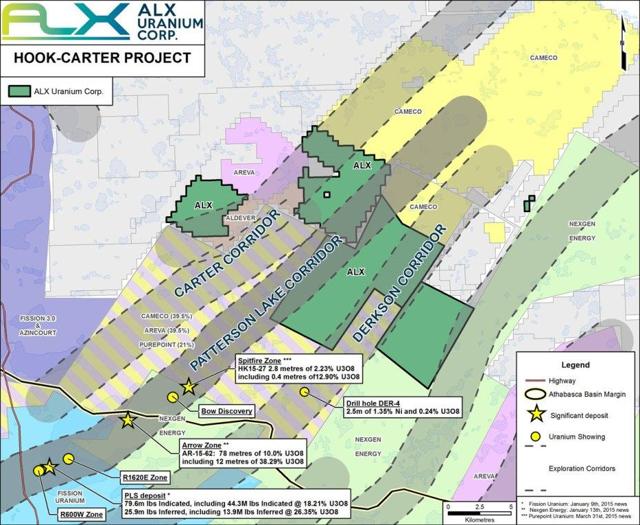 ALX retains land covering the Patterson corridor, hosting three attention-grabbing projects, as well as the parallel Carter and Derkson corridors. Winter plans currently under evaluation include ground electromagnetics to define deep conductors and possibly drilling, Armes says.
Encouraging news continues from the camp's standouts, Fission Uranium's (TSX:FCU) Patterson Lake South, NexGen Energy's (TSXV:NXE) Arrow zone and Bow discovery, and the Cameco/AREVA Resources Canada/Purepoint Uranium TSXV:PTU Spitfire zone.
Fission's $7.9-million, 39-hole, 13,000-metre winter program aims to expand the Triple R deposit and do some exploration too. On the latter front, one hole recently added 135 metres to the project's potential strike, now consisting of five zones along a 2.47-kilometre trend. Three of the zones lie outside Triple R's January 2015 resource. That estimate, showing 79.61 million pounds indicated and another 25.88 million pounds inferred at shallow depths, formed the basis of a September preliminary economic assessment envisioning PLS as potentially one of the world's lowest-cost uranium mines.
In January Fission closed an $82.2-million strategic investment, giving a Chinese uranium trader nearly 20% of the company.
Next-door neighbour NexGen has six rigs drilling a 30,000-metre winter program on the Rook 1 project's Arrow zone. Last month the company announced its best assay so far, 10% U3O8 over 78 metres, including 38.29% over 12 metres. The project's previous record-holder was 9.72% over 35.5 metres.
Earlier this month came more superlatives-Arrow's "most significant accumulations of massive pitchblende" and scintillometer results showing the project's "most intense mineralization to date."
More recently NexGen added 25 metres to Arrow's strike, now 670 metres with a lateral width of up to 235 metres and mineralization ranging from depths of 100 metres to 920 metres. The zone remains open in all directions and at depth. NexGen plans Arrow's maiden resource for H1 release.
The company closed a $21-million bought deal in December, following last May's $23.74-million private placement.
At Spitfire, project operator Purepoint announced an expansion to the mineralized area early this month with a 130-metre stepout that returned 0.67% eU3O8 over 10.1 metres, including 9.2% over 0.6 metres. Results came from a downhole probe that measures uranium oxide-equivalent. The winter schedule calls for at least 14 holes and 6,000 metres. Purepoint holds a 21% stake in the joint venture, with big guys Cameco and AREVA sharing the rest. Purepoint ended last year by closing a $204,000 private placement.
Looking at the Basin's opposite side, ALX also announced assay results from last fall's seven-hole, 1,005-metre campaign at Gibbon's Creek. Although significant radioactivity failed to materialize, anomalous uranium (up to 297 ppm), nickel, copper and boron came from the basement near a previous hole that showed strongly anomalous geochemical pathfinders.
ALX will evaluate further exploration after integrating drill results with regional and property-scale data.
With Hook-Carter now under consideration for ground EM and a possible drill program, the company last month announced exploration plans for four other projects. On the agenda are ground gravity for Gorilla Lake and Perch, a radon-in-lake survey for Lazy Edward Bay and ground EM for Newnham Lake. ALX holds one of the Basin's largest uranium portfolios.
Late last month the company closed tranche two of a private placement totalling $358,500.
---
5 years after Fukushima, where are the world's nuclear powerhouses?
By Rosamond Hutt on March 11, 2016, for WEForum.org
On 11 March 2011, a magnitude nine earthquake off Japan's north-east coast triggered a massive tsunami that crashed into the Fukushima Daiichi power plant, causing the worst nuclear disaster since Chernobyl in 1986.
The tsunami paralysed Fukushima and led to meltdowns in three reactors, which leaked radiation into the sea and surrounding area, contaminating water, food and air.
Five years on, as Japan remembers the 19,000 people who were killed or left missing and the 160,000 who lost their homes and livelihoods, Fukushima remains an exclusion zone.
In the wake of the disaster, Japan shut down its 43 nuclear reactors, and has since reopened only two.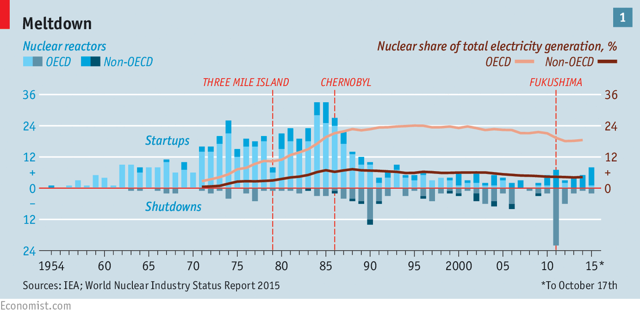 The accident at Fukushima also prompted other countries to review their nuclear energy policies. The German government vowed to phase out nuclear within 10 years and replace it with renewables. Switzerland also decided not to build any new reactors and to stop producing nuclear power by 2034.
France, which gets 75% of its electricity from nuclear power and has the second-highest number of reactors after the United States, is planning to cut this figure to 50% within 10 years.
Today, 442 nuclear power reactors in 30 countries are operational.
Many countries are not backing away from nuclear power. China, under pressure to cut its pollution levels and dependence on coal, aims to more than double its nuclear capacity by 2020. Meanwhile, India's delayed nuclear power programme has just received a boost following a deal with Électricité de France (NYSE:EDF), the world's biggest electricity company, to set up six nuclear plants.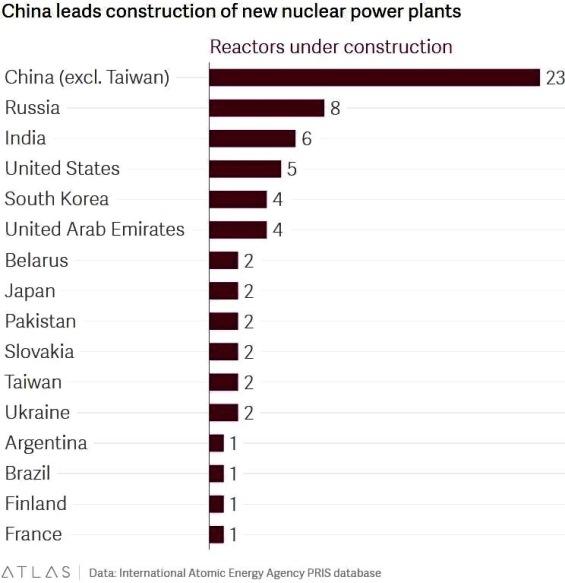 The Economist has produced an interactive map that shows the operational reactors in 30 countries, as well as those under construction and currently being planned, the amount of electricity they produce and the uranium required to run them.
---
These Countries Have The Most Nuclear Power Reactors
By Paul Muggeridge on August 11, 2015, for WEForum.org
Japan has restarted its first nuclear reactor since the Fukushima disaster of 2011.
The number one reactor at Sendai Nuclear Power Plant was brought back online under stringent new safety guidelines - the cost of these new safety systems exceeded US$100m at Sendai alone.
Whilst the majority of Japan's reactors remain offline, which country in the world has the most nuclear power reactors?
The USA tops the list, with nearly 100 operational nuclear reactors, providing a total net electricity capacity of 98,708 megawatts.
Next on the list is France, with 58 reactors, and Japan is in third place, though, as of 11 August, only one reactor out of 43 is online.
Worldwide there are currently 438 operational nuclear reactors, with a further 67 under construction.
This data is taken from the International Atomic Energy Agency's Power Reactor Information System, which was last updated on 8 August 2015. To keep up with the Agenda subscribe to our weekly newsletter.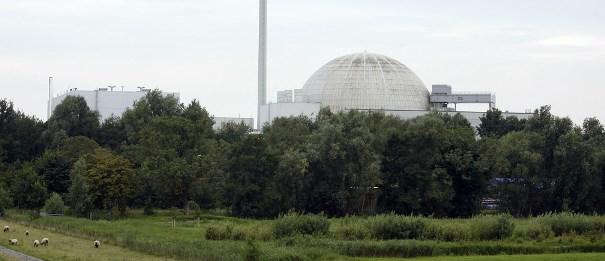 Image: The Unterweser nuclear power plant is pictured in Stadland (Rodenkirchen) near Bremerhaven July, 23 2007. REUTERS/Morris Mac Matzen
Have you read?
These countries have the most nuclear reactors
Humans or nuclear disasters: which are more damaging?
6 countries leading on renewable energy
---
Tomorrow's nuclear reactors are closer than you think
By Laura Scheele (Idaho National Laboratory) on March 1, 2016, for Energy.gov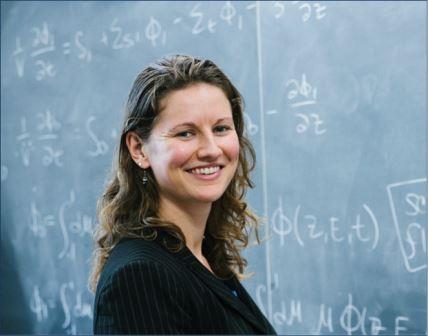 Dr. Rachel Slaybaugh is among the new generation of scientists seeking to revolutionize nuclear energy. She is an assistant professor of nuclear engineering at the University of California-Berkeley. Photo: UC Berkeley
A new generation of innovators is pioneering the future of nuclear energy in partnership with our National Labs. Citizens and policymakers leading the global transition to a low-carbon economy are focusing efforts on developing -- and building -- advanced nuclear reactors. To support these efforts, the Department of Energy is working to forge key partnerships and support a culture of nuclear innovation driven by this new generation of scientists, university researchers, entrepreneurs and investors.
"Nobody told today's students that nuclear innovation is supposed to be slow. They chose nuclear because they want to save the world." - Dr. Rachel Slaybaugh
The current nuclear reactor fleet is the low-carbon workhorse of the electricity world. In 2014, nuclear power generated about 60 percent of the carbon-free electricity in the United States. Today's light-water reactor designs provide a safe, effective and affordable bridge to new nuclear reactor technologies -- promising increased flexibility and the ability to match electricity generation with demand.
First across that bridge may be small modular reactors (SMRs), which vary in size from 50 to 300 megawatts (about one-fourth the size of current reactors). With lower initial capital investments and shorter construction timelines than traditional-sized reactors, SMRs are progressing toward commercialization. They could replace aging, carbon-emitting coal power plants, and their smaller size provides more flexibility in where they can be located.
Tomorrow´s fission reactors will broaden our energy options by using innovative fuels and, potentially, alternative coolants such as high-temperature gas and liquid metal or molten salt instead of water. Since many advanced reactor designs operate at a higher temperature than light-water reactors, they are ideally suited to replace fossil fuels for industrial applications that require high temperature process heat (such as oil refining and biofuel production) with nuclear-generated heat at an enormous savings in carbon emissions.
Nuclear innovation doesn´t stop at fission. Companies large and small, along with labs such as Princeton Plasma Physics Laboratory are studying nuclear fusion -- the energy source of the sun and stars -- in the hopes of someday harnessing fusion for power on Earth.
Nuclear innovators are also reshaping the federal government's role in nuclear energy. The Department of Energy recently established the Gateway for Accelerated Innovation in Nuclear (NASDAQ:GAIN) to provide the new nuclear energy community with access to the technical, regulatory and financial support necessary to move new nuclear reactor designs toward commercialization. GAIN is based on feedback from the nuclear community and provides a single point of access to the broad range of capabilities -- people, facilities, infrastructure, materials and data -- across the Energy Department and its national laboratories.
Led by Idaho National Laboratory in partnership with Argonne National Laboratory and Oak Ridge National Laboratory, GAIN integrates and facilitates efforts by private industry, universities and national laboratories to test, develop and demonstrate innovative nuclear technologies to accelerate the licensing and commercialization of these systems. Focused research opportunities and dedicated industry engagement ensures that Energy Department-sponsored activities make a difference for companies working to bring new reactor designs to market.
University of California-Berkeley professor Rachel Slaybaugh summed up the buzz around nuclear technology innovation during a recent roundtable on advanced nuclear power: "Now is an exciting time to be in nuclear energy," she said. "Nobody told today's students that nuclear innovation is supposed to be slow. They chose nuclear because they want to save the world. Defining how the universities facilitate collaboration between students and industry will be key to our success."
Editor´s Note: This post was authored by writer at Idaho National Laboratory, one of the Department of Energy´s 17 National Laboratories.
---
Thoughts on uranium
By Gwen Preston on March 14, 2016, for Sprott Global Resource Investment
There is only one topic being discussed amongst the mining crowd today: gold. And fair enough, since the yellow metal has shot up to start the New Year, busting through resistance levels and bringing miners along for the ride.
Don't get me wrong - I am very pleased to see gold gain. But rather than join that crowded discussion, I thought I'd talk about the other commodity that has my attention this year:uranium.
Let's start at the beginning:

Between 2005 and 2007 uranium prices spiked. The move was sparked by a legitimate supply crunch, but the mining markets were hot and so a uranium price bubble was born. The spot price should never have reached such heights - but contracts signed during that run-up still in effect today are helping to keep many producers alive, so yay for bubbles (more on those contracts later).
The problem, of course, is that bubbles burst, and so mid-2007 the uranium price turned down of its own accord. The turn might have been just a correction, but then the global economic crisis hit and amplified the slide.
By 2010 uranium had bottomed just below US$40 per lb. It started to creep back up, searching for a reasonable level after such an intense spike-and-correct. That's when the Fukushima Daiichi disaster happened.
The fallout from that has lasted years. For 3.5 years the price ebbed, bottoming at just US$27 per lb. in mid-2014. (It has gained 28% since then to sit near US$34.60 per lb. U3O8.)
Fair enough. Nuclear reactors are discomforting to most and scary to many; nuclear disasters are terrifying. In the face of a meltdown, all of the logic that backs nuclear power is forgotten. And it simply takes time for such reactions to calm.
But now they have. Today there are more reactors operating and in the pipeline (meaning under construction, planned, or proposed) than there were before Fukushima.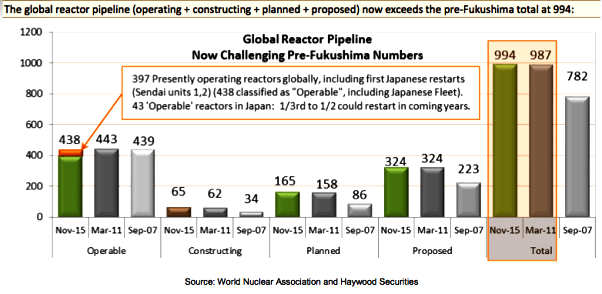 Where are all these reactors coming from? China certainly leads the pack: if all of China's planned, proposed, and under construction reactors are built, that country alone would boost the global reactor count by 51%.
But China actually only represents 36% of the global pipeline. Other biggies on the nuclear build list include India, South Korea, Russia, the UAE, and the US. To expand on just one of those, India just ratified a new nuclear liability law that addresses an issue that has been stymieing deals for new reactors. The old law put liability in the event of an accident on reactor vendors, rather than operators as is the norm, and that liability had deterred foreign vendors from signing up to sell reactors to India for decades.
Now, with that rule changed, there should be a flood of new Indian reactor deals. That matters, because India is right behind China in terms of planned reactors over the next decade, with plans to construct about 60 reactors.
Around the world, not every reactor in the pipeline will happen. However, those already under construction will most likely get finished - and they on their own boosted uranium demand 8% last year and will probably lift it another 14% this year.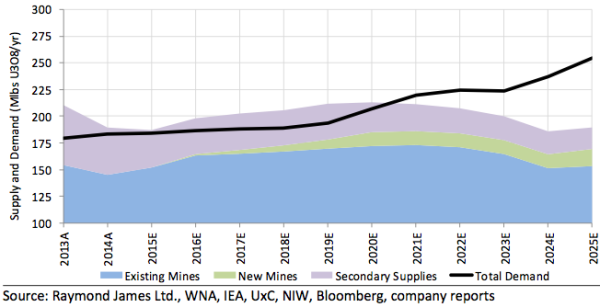 As this nice chart from Raymond James shows, uranium demand is going to gap way above supply - but the gap is not going to appear until 2020. So why am I so bullish today?
Because of who uses uranium and how they secure it. The people who operate nuclear reactors don't mess around with running out of fuel, because that would cause a meltdown. And they can't just put U3O8into their reactors - they need fuel rods, which are made from U3O8 in a process that takes between a year and a year and a half.
To provide a buffer, operators cover their uranium needs at least three years out - and often as much as a decade out.
Three years from now is 2019, right before the shortfall hits, according to Raymond James chart.
That's not all. Remember that 2007 price spike? When that was happening, operators raced to sign supply deals out of fear prices would stay sky high and they would go broke. Of course they were wrong; prices quickly reversed. Nevertheless, those deals were binding - and many of them were ten-year terms.
That means that whole raft of supply contracts will run out next year.
As a result, nuclear operators are uncomfortably uncovered three years out. They haven't signed new contracts to replace those about to expire because they have been able to pick up cheap uranium on the spot market for years.
But time is running out for this easy come, easy go setup. Operators are looking at supply and demand data, at contract timelines and price predictions, and they know the market is set to tighten.
New contracts are imminent. And those new contracts will support higher prices because producers will demand it. Why? Because they need higher prices if they want to build new mines.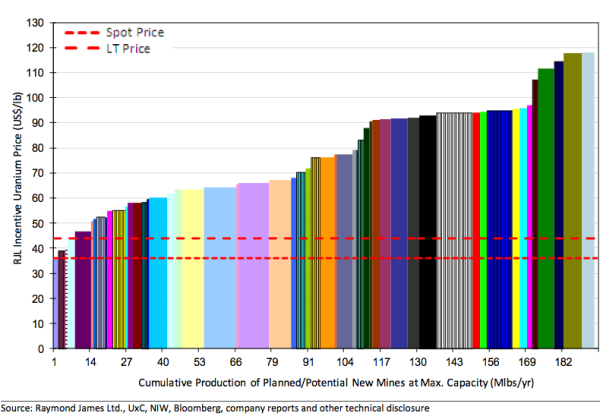 This great chart from David Sadowski at Raymond James shows all the advanced uranium assets around. Sadowski's team modeled each project and determined what uranium price would be needed to incent development by generating a baseline rate of return.
The lower dashed line is the spot price; the upper line is the contract price (still buoyed by those 2007 ten-year contracts). The point is that almost no new production can be built economically at current prices.
Producers know a supply gap is coming. They want to start building projects now, to be ready to pour new supply into that gap. The only thing they need are higher prices - and utilities will agree to higher prices, because (1) they know new production is needed and (2) uranium represents a very small part of their operating costs, so higher prices are not that significant to them.
The summary: we could expect the prices to rise soon, based on contract timing, lack of new supply, and rising demand.
Uranium equities cannot wait. Even as the price of uranium has recovered some in the last 18 months, uranium stocks have continued to languish. I blame that on fatigue: even die-hard contrarian investors are tired of waiting for the uranium turnaround!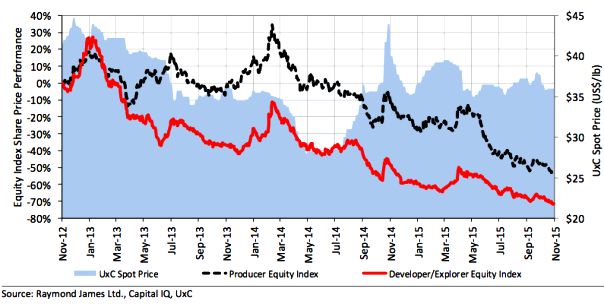 As the uranium price starts to strengthen this year, we could expect uranium stocks to respond.
This information is for information purposes only and is not intended to be an offer or solicitation for the sale of any financial product or service or a recommendation or determination by Sprott Global Resource Investments Ltd. that any investment strategy is suitable for a specific investor. Investors should seek financial advice regarding the suitability of any investment strategy based on the objectives of the investor, financial situation, investment horizon, and their particular needs. This information is not intended to provide financial, tax, legal, accounting or other professional advice since such advice always requires consideration of individual circumstances. The products discussed herein are not insured by the FDIC or any other governmental agency, are subject to risks, including a possible loss of the principal amount invested. Generally, natural resources investments are more volatile on a daily basis and have higher headline risk than other sectors as they tend to be more sensitive to economic data, political and regulatory events as well as underlying commodity prices. Natural resource investments are influenced by the price of underlying commodities like oil, gas, metals, coal, etc.; several of which trade on various exchanges and have price fluctuations based on short-term dynamics partly driven by demand/supply and nowadays also by investment flows. Natural resource investments tend to react more sensitively to global events and economic data than other sectors, whether it is a natural disaster like an earthquake, political upheaval in the Middle East or release of employment data in the U.S. Low priced securities can be very risky and may result in the loss of part or all of your investment. Because of significant volatility, large dealer spreads and very limited market liquidity, typically you will not be able to sell a low priced security immediately back to the dealer at the same price it sold the stock to you. In some cases, the stock may fall quickly in value. Investing in foreign markets may entail greater risks than those normally associated with domestic markets, such as political, currency, economic and market risks. You should carefully consider whether trading in low priced and international securities is suitable for you in light of your circumstances and financial resources. Past performance is no guarantee of future returns. Sprott Global, entities that it controls, family, friends, employees, associates, and others may hold positions in the securities it recommends to clients, and may sell the same at any time.
---
Is Uranium the New Gold?
KITCO NEWS - Energy metals are garnering much investor attention and one analyst familiar to the space remains optimistic.
Commenting on uranium prices, which have yet to move higher, Chris Berry of House Mountain Partners said he still sees a case for the metal.
'In the wake of recent climate agreements, countries loosely agree to decarbonize their energy source and uranium is going to have to play a significant role in that mix,' he told Kitco News.
'In the next 18-24 months, you can see uranium prices 30 percent higher from where they are today.'
Berry is also optimistic on lithium, although he advises investors to remain cautious over the shorter term.
'The price has absolutely gone parabolic and from my experience in energy metals, any time you see prices go parabolic, it usually ends in tears,' he says.
'So you want to be careful...it's a good long-term story but it's been on a huge run over the few months.'
Berry also shared his thoughts on gold prices, which he sees moving to $1,300 an ounce.
Click on above image or here to watch the interview
---
A CLOSER LOOK AT URANIUM
Is this Dog About to Have its Day?
Click on above image or here to read Chris Berry´s analysis on the uranium market.
---
Interview with Hans Peter Zihlmann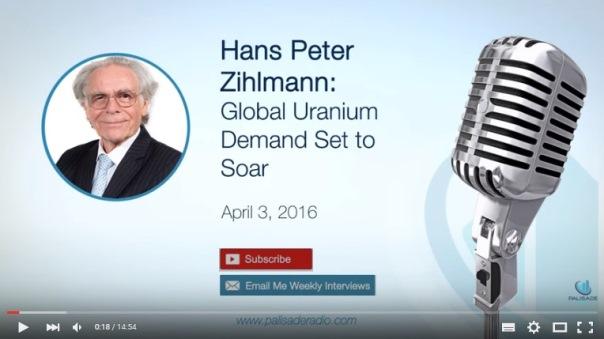 Click on above image or here to hear the interview.
By Collin Kettell on April 3, 2016, for PalisadeRadio.com
There are not many options when it comes to investing in uranium stocks but Timeless Funds has built a vehicle that acts as a diversified portfolio of everything uranium. The future of uranium is looking very bright with 66 reactors under construction globally, particularly in China, India and the U.A.E. Saudi Arabia has signed agreements to build 16 reactors by 2032. So the demand for uranium will keep rising.
As more time passes the negative sentiment about nuclear energy generated by the Fukushima disaster is slowly changing. The alternatives to nuclear power, coal and oil, are both heavy carbon emitters and polluters and so there is growing environmental pressure to switch to nuclear power.
Fears over Japan dumping a lot of uranium on the market due to the shut down of their nuclear power plants have receded as they put reactors back into operation. Before Fukishima the company Cameco Uranium had its stock rise by significantly between 2000 to 2008 then it adjusted down by 70% then rose again by 160% until Fukishima happened. Other uranium mining stock are capable of multi-bagger rises as well.
Talking points from this weeks interview:
• The demand for uranium will keep rising
• Japan is starting its reactors back up
• Is nuclear energy clean energy ?
• Multi-baggers possible in uranium stocks
Mr. Peter Zihlmann serves as Chief Executive Officer at Central Asian Minerals and Resources PLC. Mr. Zihlmann served as an Executive of Teryl Resources Corp. Mr. Zihlmann served as Executive at Linux Gold Corp. He has over 30 years' experience as an Investment Manager in Switzerland and abroad, including as Head of the Portfolio Management Department at Commerzbank (Switzerland) Ltd and Head of the Zurich branch of Banque Scandinave en Suisse. In 1994 Mr. Zihlmann established his own investment company, P. Zihlmann Investment Management AG. He serves as a Director of The Timeless Precious Metal Fund ("Timeless"), The Timeless Energy Fund and The Sierra Madre Gold & Silver Venture Capital Fund. He has been a Director of Central Asian Minerals and Resources PLC since July 1, 2013. Mr. Peter Zihlmann served as a Non-executive Director of Central Asian Minerals and Resources PLC from May 3, 2011 to July 1, 2012. He is a member of the Swiss Association of Asset Managers.
---
About ALX Uranium Corp.

ALX Uranium Corp. was formed as the result of a business combination between Lakeland Resources Inc. and Alpha Exploration Inc. ALX Uranium Corp. is a uranium and mineral exploration company focused on the Athabasca Basin in Saskatchewan, Canada; a leading district in global production for 40 years, and home to some of the world´s largest and richest high-grade uranium deposits. ALX continually and proactively reviews opportunities for new properties, whether by staking, joint venture or acquisition. The newly combined Boardof Directors and management of ALX brings to the junior exploration sector an unusual depth of expertise and track record of success.
---
Company Details
ALX Uranium Corp.
1450 - 789 W Pender Street
Vancouver, BC, Canada V6C 1H2
Phone: +1 604 681 1568
Email: rleschuk@alxuranium.com
www.alxuranium.com
Shares Issued & Outstanding: 53,570,232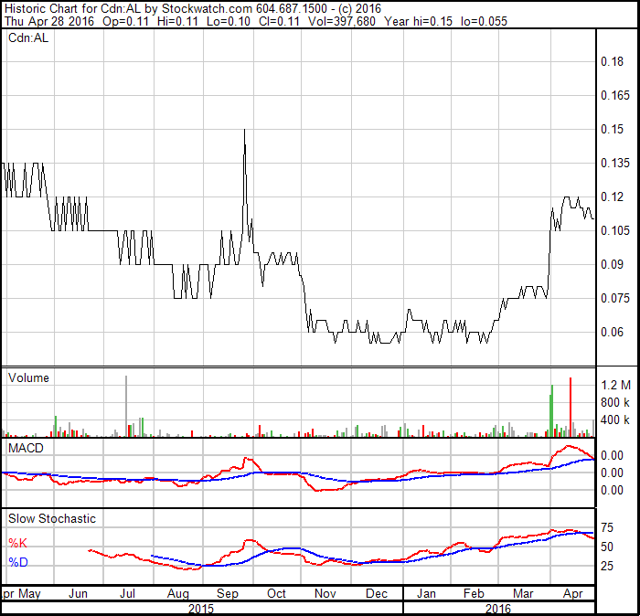 Canadian Symbol (TSX.V): AL
Current Price: $0.11 CAD (April 28, 2016)
Market Capitalization: $6 million CAD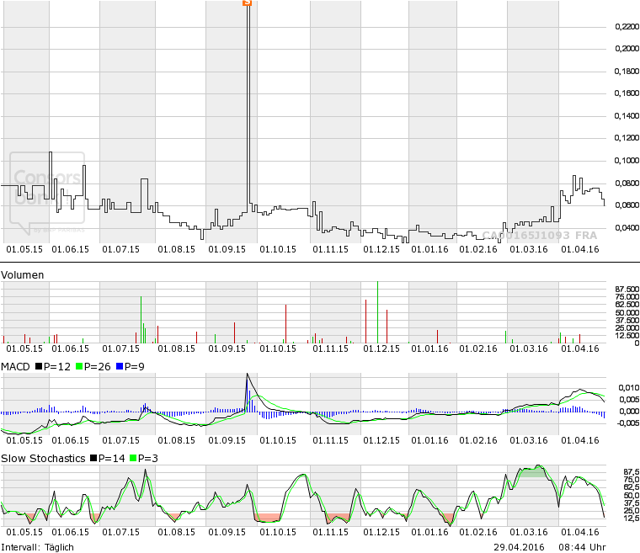 German Symbol / WKN (Frankfurt): 6LLN / A1402P
Current Price: €0.06 EUR (April 28, 2016)
Market Capitalization: €3 million EUR
---
Analyst Coverage
Research #8 "Emergence of the most prospective explorer in the Athabasca Uranium Basin" (October 8, 2016)
Research #7 "Lakeland Resources and Alpha Exploration Propose Strategic Merger" (July 23, 2015)
Research #6 "Historic Turnaround in Uranium Prices and Equities in the Making" (incl. interview with geologist Neil McCallum; November 27, 2014)
Research #5 "Gibbons is getting drilled finally" (November 5, 2014)
Research #4 "Bright Stars in the Athabasca Basin Uranium Hunt" (incl. interview with geologist Neil McCallum; February 27, 2014)
Research #3 "Highest Radon Values Ever Detected in the Athabasca Basin" (January 9, 2014)
Research #2 "No Dead-Cat Bounce: A Dead-Serious Warning From Uranium" (December 5, 2013)
Research #1 "Athabasca Basin: The Place To Be For The Upcoming Uranium Boom" (November 4, 2013)
Disclaimer: Please read the full disclaimer within the above mentioned full research report as a PDF (here), because fundamental risks and conflicts of interest exist.
Disclosure: I am/we are long ALXEF.