Umbral Energy Acquires Gerlach Lithium Brine Project in Nevada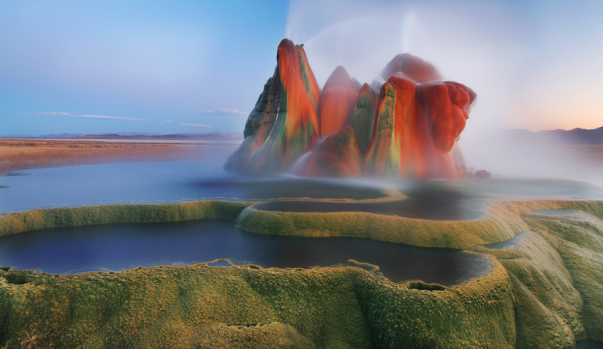 The Fly Geyser aka "Mountain of Minerals": Well drilling in 1916 and 1964 accidentally created a geothermal hot spring located 32 km north of Gerlach in Nevada, where dissolved minerals created a travertine on which the geyser continues to grow. The large variety of expelled gases and minerals react differently to the sun and oxygen, creating constantly changing colors.
Two weeks ago, Umbral Energy Corp. (CSE: UMB) announced the acquisition of the Tule Valley Brine Project in Utah with lithium grades of up to 1,690 ppm from a 2009 surface sampling program. Today, the company announced a second acquisition - the Gerlach Lithium Brine Project near Gerlach in Nevada, only 120 km north of Tesla's Gigafactory. This new acquisition has key characteristics for hosting lithium bearing brines in an acquifer: (1) nearby geothermal clusters with hot springs; (2) large, closed basin; (3) gravity low / basin low with pleistocene lake bottom; (4) within ashfall deposition; (5) potential lithium source rocks in vicinity; (6) ideal desert evaporation climate. With 2 new lithium assets in hand, Rockstone expects the start of multi-phased exploration programs, potentially creating vast shareholder value as the company is valued at less than $3 million at the moment.
According to today's press-release:
"The exploration target is strategically placed in an underexplored closed basin. The basin sits structurally in an area comparable to that of Clayton valley, being bounded by normal faults to the east and west of the property and surrounded by volcanics such as rhyolitic flows and tuffs. The company plans to immediately execute an exploration program to determine the potential of a mass Lithium brine. The exploration program will consist of surface sampling, along with shallow aquifer fluid analysis. The preliminary sampling with be followed by a high resolution geophysical program to better define potential drill targets. The Gerlach Lithium Project is one of the closest Li brine projects to the construction of Teslas GigaFactory. The Gelach property is located only 120km to the north, this would allow feasible transportation of lithium brine."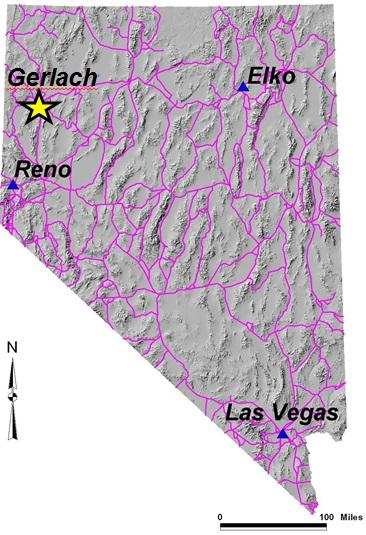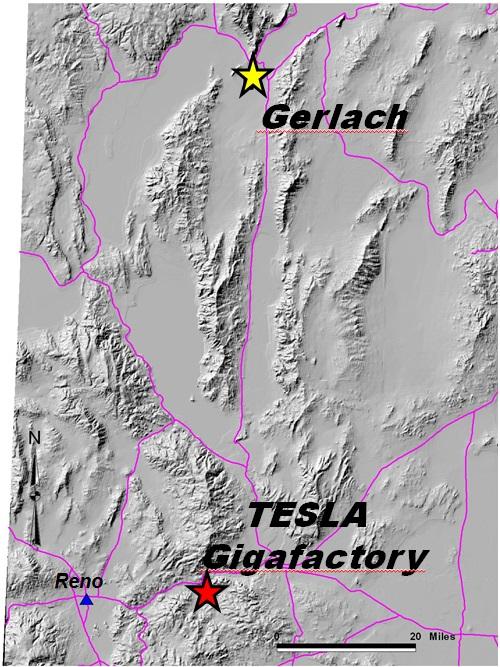 The Gerlach Property fulfills key characteristics for lithium bearing brines in an acquifer:
(1) nearby geothermal clusters with hot springs;
(2) large, closed basin;
(3) gravity low / basin low with pleistocene lake bottom;
(4) within ashfall deposition;
(5) potential lithium source rocks in vicinity;
(6) ideal desert evaporation climate.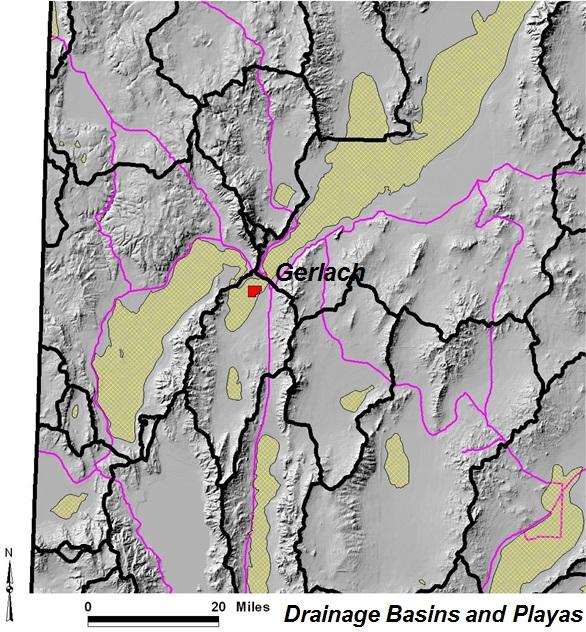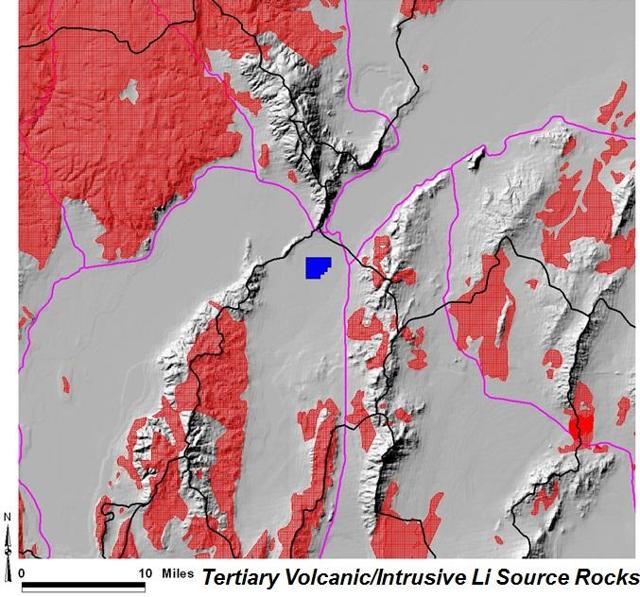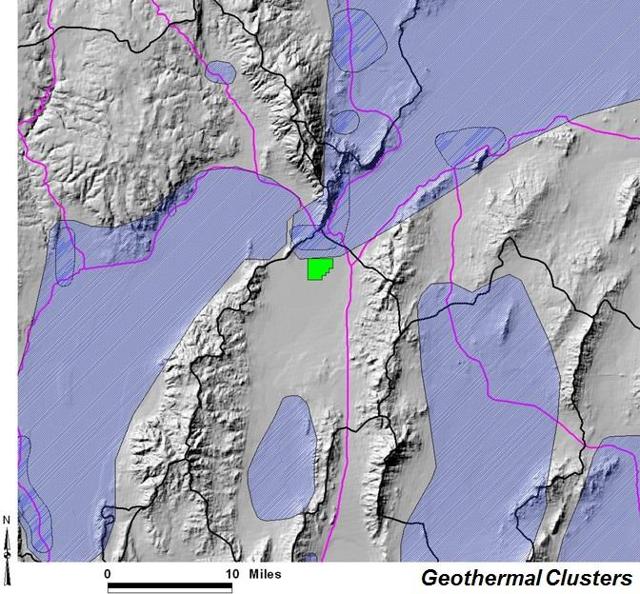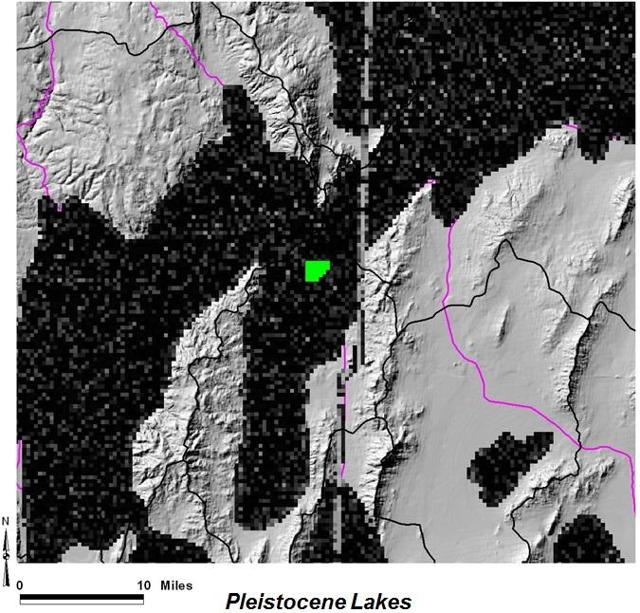 Looking north: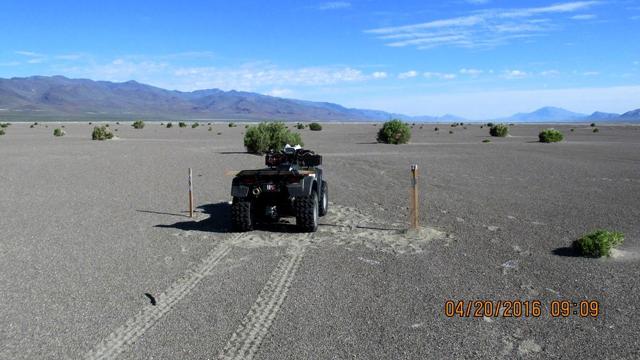 The Gerlach Property lies in the middle of a potential "endorheic basin" (i.e. it retains water but does not allow any external outflow; any element that mobilizes into the basin can enter but not leave), which poses the possibility that the buried aquifer may have upgraded into a mineralized brine over millions of years.
Looking south: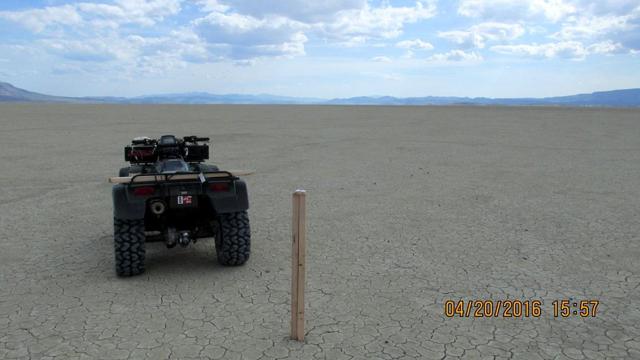 Looking east: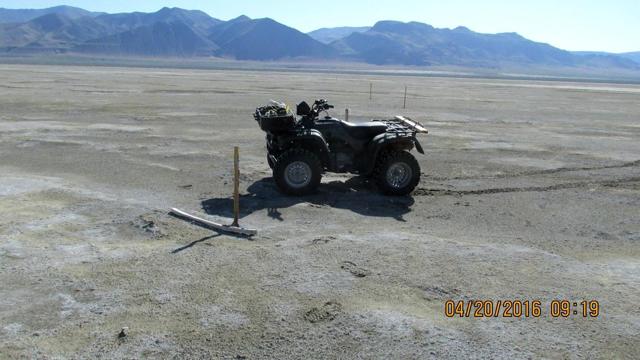 Possible fluid mobilization from hard-rock lithium sources (rhyolite flows and tuffs in mountainous background) down into the Gerlach Basin.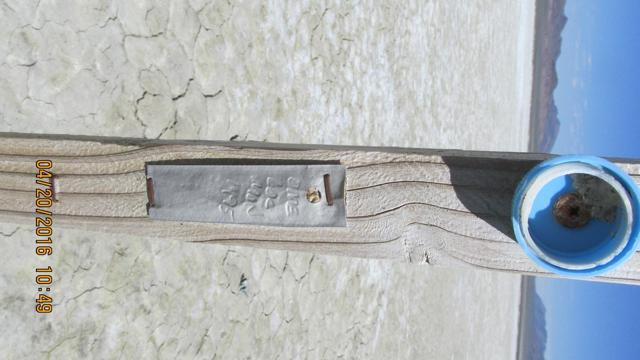 Gerlach Property Agreement
Umbral Energy Corp. can earn a 100% interest in both the previously acquired Tule Valley Project and the Gerlach Project by completing the following:
• Issuing 3 million common shares upon regulatory approval, and paying cash considerations totalling $160,000 over the next 2 years.
• A 2% Net-Smelter-Royalty (NYSE:NSR) has also been granted to the vendors, which half (50%) of the NSR can be purchased by Umbral Energy at any time for $1 million.
The Gerlach property vendor, Zimtu Capital Corp., (TSX-V: ZC) along with its prospecting partners, continues to evaluate and acquire prospective resource properties for sale or joint venture. As part of the company´s business, Zimtu provides mineral property project generation and advisory services and helps to connect companies with mineral properties of interest. Zimtu is a public investment issuer that invests in, creates and grows natural resource companies. The Company also provides mineral property project generation and advisory services helping to connect companies to properties of interest. www.zimtu.com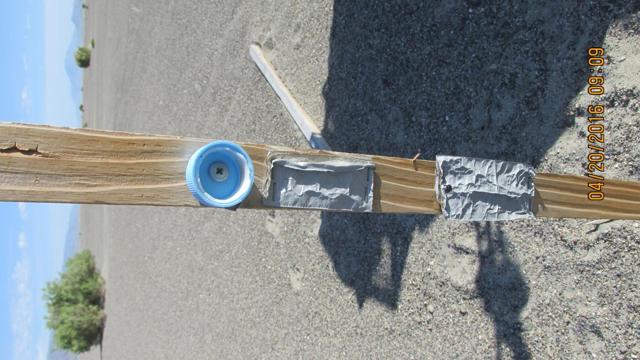 About Umbral Energy Corp.
Jag Bal, President & CEO of Umbral Energy, commented in today's press-release:
"The acquisition of the Gerlach project has quickly moved Umbral into one of the hottest sectors in the resource and energy space. The company believes that due to growing world demand for lithium, the Gerlach project, located in Nevada near Tesla's Gigafactory, has the potential to deliver strong returns for our shareholders over the short and long term. We look forward to aggressively advancing work on both of our projects."
The company is currently listed as a junior resource issuer having mineral exploration projects. It is listed on the TSX.V (Toronto Venture Exchange) under the symbol UMB and in Germany under 2UE.Umbral Energy is considering other activities to increase shareholder value, including non-resource projects. The company has a mineral exploration project in Quebec (Canada) as well as an interest in oil and gas property in Alberta (Canada). In addition, the company is conducting diligence in regards to the commercial cultivation of marijuana under the newly established Health Canada regulations, through its subsidiary PhyeinMed. While it is the intention of Umbral and PhyeinMed to obtain a MMPR License, there can be no assurances that it will receive the necessary permits to operate.
Hot Springs in Gerlach (Great Boiling Spring Park):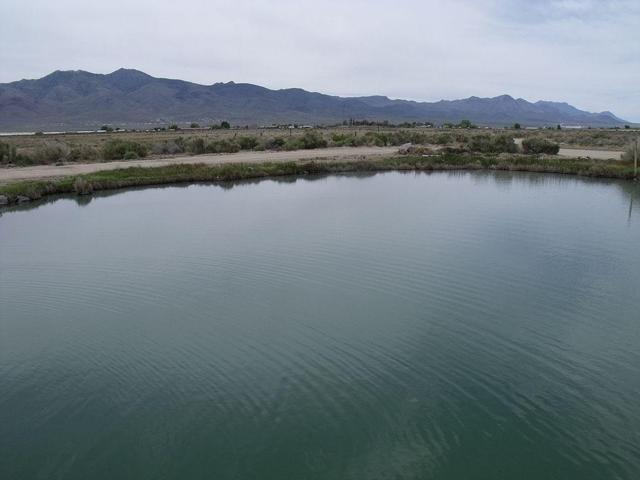 The Great Boiling Spring Park is a historical name for a former park that was on private property near Gerlach in Nevada, in a region known as the Black Rock Desert. The spring is not currently accessible by the public and has not been so since the 1990s. The park is on top of one of Nevada's most geothermically active regions, and contains dozens of hot springs and thermal pools. Great Boiling Spring is fenced off to keep swimmers out. In the 1960s and 1970s, the park was a popular weekend destination for Nevada residents.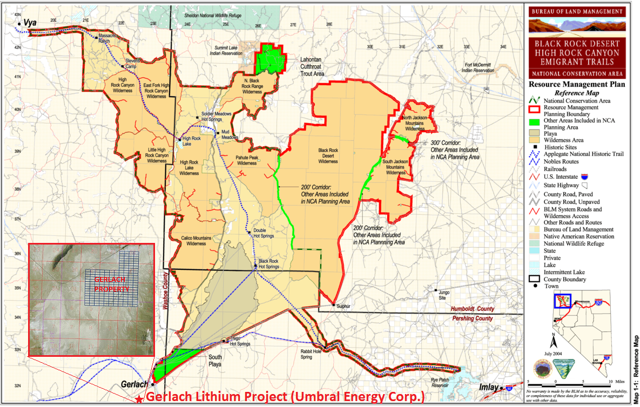 The Black Rock Desert is a semi-arid region (in the Great Basin shrub steppe eco-region), of lava beds and playa, or alkali flats, situated in the Black Rock Desert-High Rock Canyon Emigrant Trails National Conservation Area, a silt playa 160 km north of Reno that encompasses more than 120,000 ha of land and contains more than 200 km of historic trails. It is in the northern Nevada section of the Great Basin with a lakebed that is a dry remnant of Pleistocene Lake Lahontan. The average annual precipitation (years 1971-2000) at Gerlach (extreme south-west of the desert) is 7.90 inches (200 mm). The Great Basin, named for the geography in which water is unable to flow out and remains in the basin, is a rugged land serrated by hundreds of mountain ranges, dried by wind and sun, with spectacular skies and scenic landscapes.
The region is notable for its paleogeologic features, as an area of 19th-century Emigrant Trails to California, as a venue for rocketry, and as an alternative to the Bonneville Salt Flats in northwestern Utah, for setting land speed records (Mach 1.02 in 1997)... It is a unique combination of desert playa, narrow canyons, and mountainous areas. The large black rock formation was used as a landmark by the Paiute and later emigrants crossing the area. The landmark is a conical outcrop composed of interbedded Permian marine limestone and volcanic rocks. At its base is a large hot spring and grassy meadow, which was an important place for those crossing the desert headed for California and Oregon.
The Black Rock Desert region is in northwestern Nevada and the northwestern Great Basin. The playa extends for approximately 160 km northeast from the towns of Gerlach and Empire, between the Jackson Mountains to the east and the Calico Hills to the west.
The desert has numerous volcanic and geothermal features of the northwest Nevada volcanic region, including two Black Rock Points (west and east) at the southern end of the Black Rock Range and which have dark Permian volcanic rocks similar to another Permian black diabase dike formation in Nevada. The portion of the Lake Lahontan lakebed in the Black Rock Desert is generally flat with Lahontan salt shrub vegetation, widely scattered hot springs, and a playa. In areas of the lakebed along mountains, rain shadow results in desert precipitation levels.
The playa of the Black Rock Desert lakebed is 520 km2 within an area bounded by the Calico Mountains Wilderness (north), Gerlach (OTC:WEST), the Applegate National Historic Trail and the Union Pacific Railroad (south).
Prospecting and mining has occurred in the Black Rock region since the mid-19th century. US Gypsum Corporation operated a gypsum mine and drywall (brand named Sheetrock) manufacturing plant in Empire, which employed 107 people and produced 266,300 tons of gypsum in 2008. Allied Nevada Gold Corporation re-opened the Hycroft Gold Mine in 2008 after acquiring it from Vista Gold Corp. Hycroft is a strip-mining operation in the Kamma Mountains near Sulphur on the east side of the Black Rock Desert. An opal mine is in the base of the Calico Hills on the west side of the desert.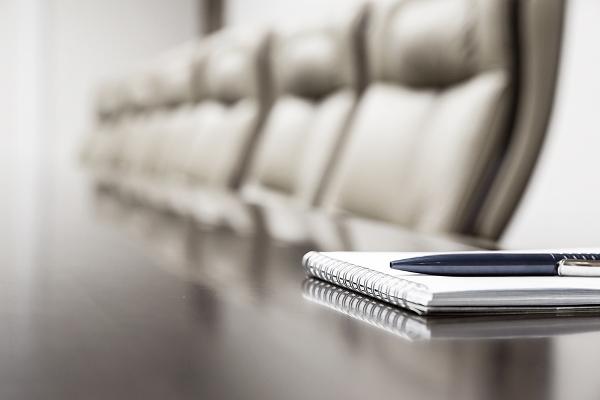 Management
Jag Bal
President, CEO, Director
Mr. Bal is President of Infinity Alliance Corp, a private company that invests in growth companies and provides consulting services for investor relations, corporate finance, business development, mergers and acquisitions for companies listed in Canada.
Brad Culver (B.Sc. Hons., P.Geoph.)
Director
Mr. Culver is a Senior Exploration Geophysicist with Birchcliff Energy Ltd., a successful public Oil and Gas company based in Alberta. Previously, Brad worked with Encana for 10 years. He obtained his degree in Geological Sciences from Queens University in 1988.
Kristina Khersonski (CPA, CGA)
Corporate Secretary & CFO
Ms. Khersonski is an accountant with 13 years experience providing consulting and financial services to public companies in various industries.
Clint Sharples
Chairman, Director
Mr. Sharples is a partner in First Growth Management (NASDAQ:FGM), a small private equity management company formed in 2005. Clint's primary roles for FGM include President and CEO of Modu-Loc Fence Rentals since 2009 (his role is to lead the overall corporate development and implementation of the strategic direction). In addition, Mr. Sharples is the Chairman of other companies in which FGM has invested, including Strategic Aviation Services Ltd., Sky Café Ltd., US Pressure Test Inc. and US Casing Services Inc. Clint currently sits on the board of CBM Asia Development Corp., a TSX Venture listed company where he chairs the Governance and Audit Committees. Clint's executive career began in 1995 when he was made Executive Vice President of Superior Management Group, a national wood pallet company, and was instrumental in its growth, until its sale in 1998 to IFCO Systems. Clint became President of IFCO Canada in 2002 and led a management buyout in 2005, creating Paramount Pallet Inc. Clint served as CEO of Paramount until its sale in 2011.

Management from Umbral Energy Corp. can be met in person and seen in presentations at Zimtu Capital´s Vancouver Commodity Forum on June 14 at the Hyatt Regency Hotel in Vancouver. Key Speakers include John Kaiser, Chris Berry and Stephan Bogner.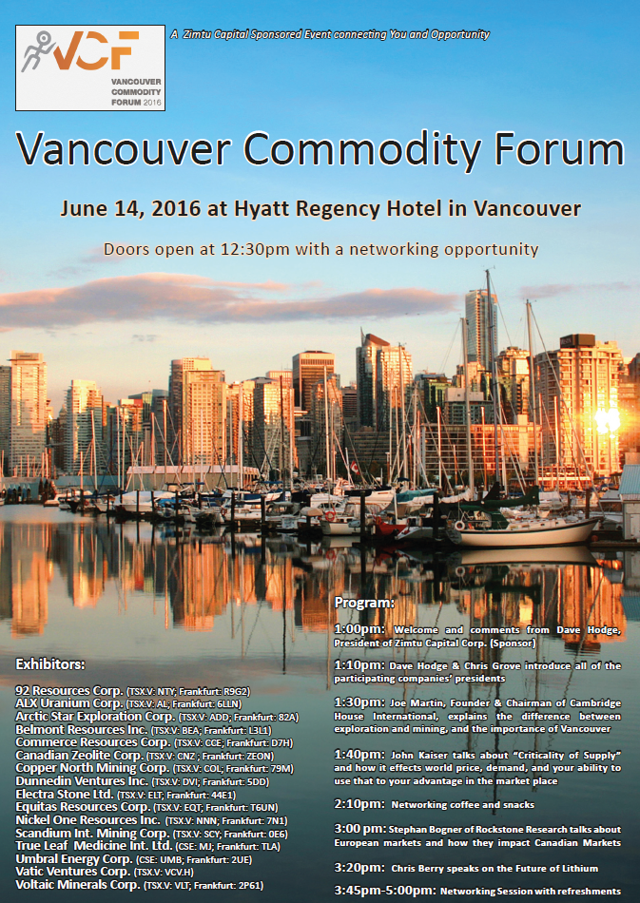 ---
Company Details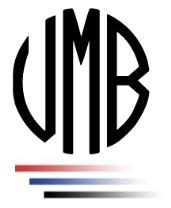 Umbral Energy Corp.
929 Mainland Street
Vancouver, BC, V6B 1S3 Canada
Phone: +1 604 628 1767
Email: jbal@umbralenergy.com
www.umbralenergy.com
Shares Issued & Outstanding: 54,004,972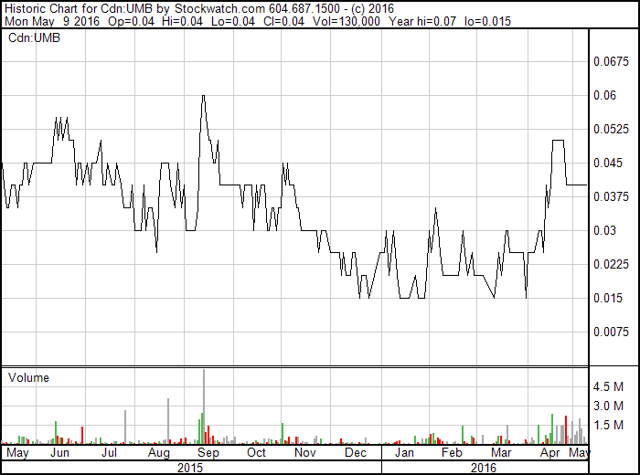 Canadian Symbol (CSE): UMB
Current Price: $0.04 CAD (May 9, 2016)
Market Capitalization: $2 million CAD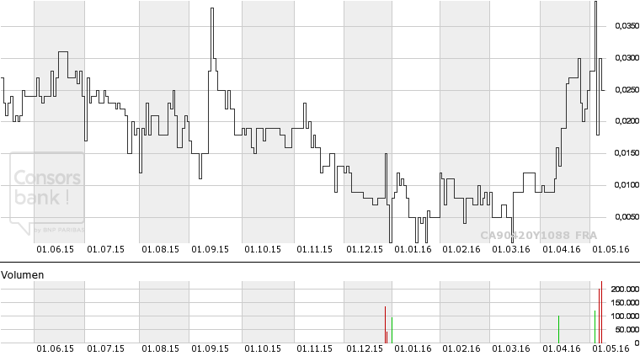 German Symbol / WKN (Frankfurt): 2UE / A118T0
Current Price: €0.025 EUR (May 9, 2016)
Market Capitalization: €1 million EUR
---
Analyst Coverage
Research #1: "Umbral Energy to explore for lithium brines in Utah" (April 26, 2016)
Disclaimer: Please read the full disclaimer within the above mentioned full research report as a PDF (here), because fundamental risks and conflicts of interest exist.
Disclosure: I/we have no positions in any stocks mentioned, but may initiate a long position in CSE:UMB over the next 72 hours.