The San Emidio Desert in northern Nevada is a geothermal active area (source: Steve Chandler)
Today, Stephan Bogner from Rockstone Research published an update on Umbral Energy Corp. (CSE: UMB) as the company provided an update on exploration activities at its Gerlach Lithium Brine Project in the San Emidio Desert near Gerlach, Washoe County, Nevada. It was also stated that assays from its second project, Tule in Utah, are pending and expected shortly. Rockstone is looking forward to these results as favorable lithium values may create significant shareholder value since the company is currently valued at $2 million. However Umbral's Gerlach Project in Nevada looks also very promising: Nevada Energy Metals Inc. (SSMLF) (market capitalization: $13 million CAD) states that previous work on their San Emidio Lithium Project has detected the presence of up to 312 ppm lithium (average 250 ppm) in the playa sediments, located in the southern lobe of the San Emidio playa (26 km south of Umbral's property) and adjacent to US Geothermals' plant. Furthermore, they state that US Geothermal has reported "anomalous" lithium content from brine samples at their facility. Thus, the San Emidio desert playa offers great potential for Umbral's upcoming geophysics and drilling program to discover highly elevated lithium values in subsurface brine aquifers.
The San Emidio Desert is the name given to the playa extending south from Gerlach and it is the southern "tongue" of the largest dry lake bed in North America (Black Rock Desert). Umbral's 89 claims cover an area of 720 hectares and it is less than 5 km from Gerlach. The property is located within the southern lobe of the Black Rock Desert, a graben feature of the Basin and Range geological province which dominates throughout Nevada. San Emidio is a dry lake bed (playa), its edges are covered with a thin veneer (up to 3 m) of wind-blown sand dunes and mounds. In this respect, San Emidio is not a pure evaporite basin, such as Great Salt Lake, Sevier Lake, or the Bolivian and Chilean salars, where active evaporation and salt/phosphate-deposition (±Li) is on-going.
Above: Shaded relief image of northwestern Nevada and surrounding areas showing a series of geothermal systems referred to as the Black Rock Desert (BRD) geothermal belt (modified from Faulds et al., 2004). Yellow circles are geothermal systems with temperatures of 100-160C; red circles are geothermal systems with temperatures >160C; PLFZ-Pyramid Lake Fault Zone (source).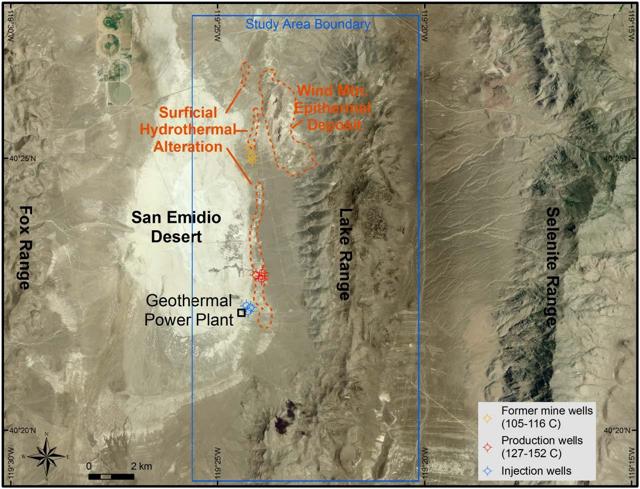 Above: NAIP image showing surficial hydrothermal alteration and the Wind Mountain epithermal deposit in orange, and the geothermal power plant in black. The San Emidio Desert is bounded to the west by the Fox Range and to the east by the northern Lake Range (source).
Although composed of dried mud/silt/ash, the compacted playa mud is salty (indicating some form of evaporation during the life of the playa). In this respect, the San Emidio playa may be more appropriately compared to Clayton Valley. Country rock along the eastern margin of the playa has been hydrothermally altered (e.g. Empire Gypsum deposit, Wind Mountain epithermal Au/Ag deposit), suggesting high heat flow and intense groundwater flow. This activity would have leached lithium where present.
All well-known natural hot springs in the region occur to the north and northeast of the town of Gerlach. These springs are located adjacent to the Black Rock Desert, and may feed its groundwaters, and those of the San Emidio basin. More important for Umbral's property is the presence of US Geothermals' electro-generation plant located 27 km south of the G01-89 claims on the eastern edge of the southern lobe of the San Emidio playa. This confirms the presence of geothermal activity (hence brines) in the San Emidio playa, which appears to be a closed valley, may have lithium-bearing clays and/or ash in its sediments, has active, hot, lithium bearing groundwater flow along its eastern margin (US Geothermal, gypsum mine, etc), and has been affected by evaporite-style processes. The San Emidio property may therefore be conducive to the presence of lithium-bearing groundwater.
Upcoming Exploration
San Emidio exploration is expected to focus initially on geophysical surveying, particularly IP, to detect conductive layers beneath the playa floor. Brines are salty, and are therefore strongly conductive. The thicker and strongest conductive zones can subsequently be drill-tested for lithium content. Further research into the distribution of active hydrothermal activity along its eastern edge is also required.
Today, Jag Bal (President of Umbral) commented:
"Our company is focused on evaluating the potential for development of lithium in Utah and Nevada. The lithium industry is growing very quickly, and Umbral is eager to be part of this. We strongly believe in the properties we have acquired, and we are looking forward to further exploration on our Tule Valley project."
Staking of Umbral's Gerlach Property in April 2016: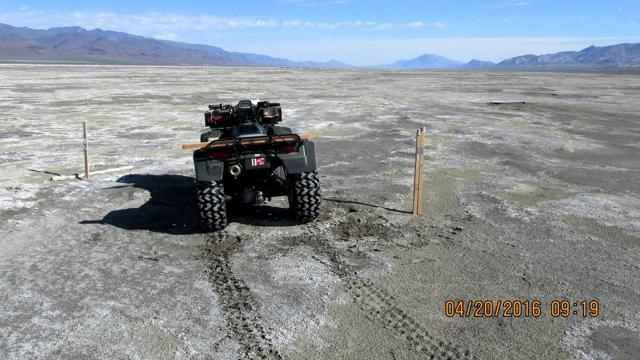 ---
About Umbral Energy Corp.
Umbral Energy Corp. is currently listed as a junior resource issuer having mineral exploration projects. It is listed on the TSX.V (Toronto Venture Exchange) under the symbol UMB and in Germany under 2UE. Recently, 2 lithium brine projects were acquired in Nevada (Gerlach Property; only 120 km north of Tesla's Gigafactory #1) and Utah (Tule Valley Property). Both properties have key characteristics for hosting lithium bearing brines in an acquifer: (1) nearby geothermal clusters with hot springs; (2) large, closed basin; (3) gravity low / basin low with pleistocene lake bottom; (4) within ashfall deposition; (5) potential lithium source rocks in vicinity; (6) ideal desert evaporation climate. The company also has a mineral exploration project in Quebec (Canada) as well as an interest in oil and gas property in Alberta (Canada). In addition, the company is conducting diligence in regards to the commercial cultivation of marijuana under the newly established Health Canada regulations, through its subsidiary PhyeinMed.
---
Company Details
Umbral Energy Corp.
929 Mainland Street
Vancouver, BC, V6B 1S3 Canada
Phone: +1 604 628 1767
Email: jbal@umbralenergy.com
www.umbralenergy.com
Shares Issued & Outstanding: 58,016,972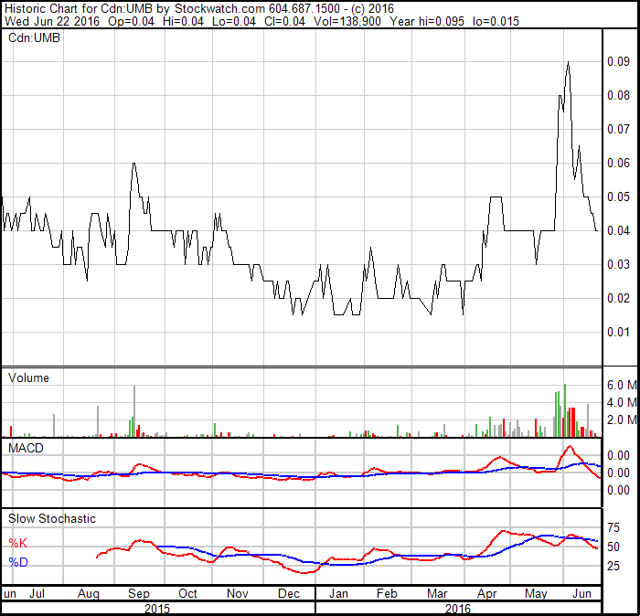 Canadian Symbol (CSE): UMB
Current Price: $0.04 CAD (June 22, 2016)
Market Capitalization: $2 million CAD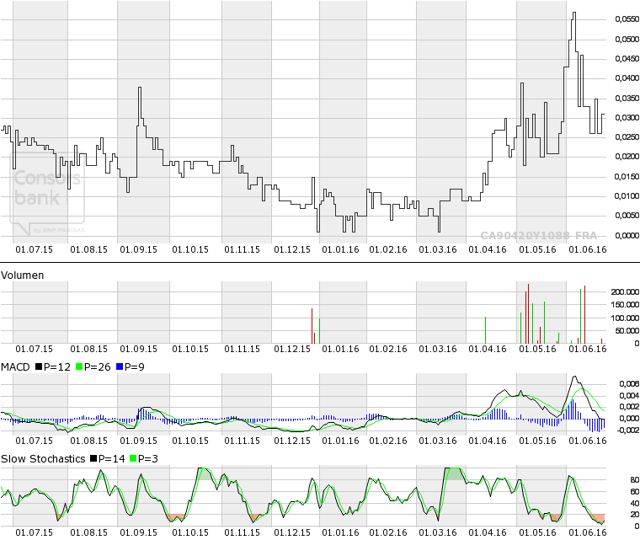 German Symbol / WKN (Frankfurt): 2UE / A118T0
Current Price: €0.031 EUR (June 22, 2016)
Market Capitalization: €2 million EUR
---
Analyst Coverage
Research #4: "On the right lithium brine track" (June 6, 2016)
Research #3: "Umbral Energy starts lithium exploration at Tule Valley in Utah" (May 19, 2016)
Research #2: "Umbral Energy Acquires Gerlach Lithium Brine Project in Nevada" (May 10, 2016)
Research #1: "Umbral Energy to explore for lithium brines in Utah" (April 26, 2016)
Disclaimer: Please read the full disclaimer within the above mentioned full research report as a PDF (here), because fundamental risks and conflicts of interest exist.
Disclosure: I am/we are long CSE:UMB.