Research #3

Today, the software company RewardStream Solutions Inc. (TSX.V: REW) has announced that First West Credit Union is expanding its business relations with RewardStream. With more than 1,700 employees, First West administrates assets worth nearly $11 billion for its 250,000 clients and is the third largest credit union in British Columbia, operating the most geographically expansive credit union branch network in the province. Its division Island Savings, which was merged with First West in 2015, has now implemented the referral marketing technology from RewardStream as well, after the program has been implemented successfully by both its other divisionsEnvision Financial and Valley First. Island Savings members can now refer their friends and families to become new members of First West, and can earn up to $250 per year for successful referrals thanks to RewardStream's second-to-none technology.
August 18 News: RewardStream reported interesting personnel news, which reinforce the company as attractive and engaged along with a strong growth potential, notwithstanding that it was publicly listed a few days ago and has a current market capitalization of $15 million. The former Apple and Amazon executive, Ian Klassen, has been added to RewardStream's newly formed Advisory Board (see full press-release here).
August 16 News: RewardStream announced the full release of its software on the popular and leading eCommerce platform Magento, making its easy-to-install plug-in available to more than 230,000 online retailers. Strong revenue growth is anticipated over the next months (see full press-release here).
Initiating Coverage from Erenik Yzeiraj, analyst with RAMPartners S.A.: The Geneva/Switzerland-based asset managing firm initiated coverage (see valuation and research report here).
---
Today's full press-release:
RewardStream Launches Third Program for First West Credit Union
RewardStream Launches third Program for First West Credit Union New program further expands RewardStream's position in financial services
Vancouver BC - August 24, 2016 - RewardStream Solutions Inc., ("RewardStream" or the "Company"), (TSX-V: REW and Frankfurt: JL4L, WKN Number A2APX1) a world leader in automated referral marketing solutions has announced the launch of the Referral Perks program for members of First West Credit Union doing business through the Island Savings division.
First West Credit Union operates the most geographically expansive credit union branch network in British Columbia, Canada, and has nearly $11 billion in assets under administration.
"We're very pleased to be continuing to grow our relationship with First West and their divisions, including Envision Financial, Valley First, and now Island Savings," said Rob Goehring, Chief Executive Officer of RewardStream. "Credit unions are enjoying their highest rates of customer satisfaction ever, and as a result are ideally positioned to generate membership growth through referrals. We are proud to support Island Savings and their commitment to growing First West's member base by having their happy First West members share the message."
Island Savings members can refer their friends and family members to become new members of First West credit union through the Referral Perks program on the Island Savings web site. Members can refer more than once, and can earn up to $250 in a calendar year for successful referrals, all powered by RewardStream's highly successful referral marketing platform.
"First West, through our Island Savings division, is pleased to be able to offer these rewards to our members," said Ashok Gupta, VP of Marketing Strategy at First West. "We've enjoyed great success with our Referral Perks programs for both our Envision Financial and Valley First divisions, and we're now pleased to extend the program to our valued First West members at Island Savings."
RewardStream is the leading provider of automated referral marketing software for telecommunication, financial services and e-commerce organizations and delivers one of the lowest cost methods for acquiring new customers. First West members served by the Island Savings division can find more information about Referral Perks at the Island Savings websitehere.
About First West
First West Credit Union offers members the financial strength, comprehensive product selection and extended branch network of a large financial institution while maintaining local brand identities and a unique grassroots approach to service. Led by Launi Skinner, First West is British Columbia's third-largest credit union with nearly $11 billion in assets under administration, nearly 250,000 members and more than 1,700 employees. It operates 54 branches throughout the province under the
Envision Financial, Valley First, Enderby & District Financial and Island Savings divisions. Visit firstwestcu.ca for more information.
About RewardStream Solutions Inc.
RewardStream specializes in the execution of automated referral marketing programs that help brands to acquire, engage, and retain their most valuable stakeholders - customers. By utilizing an innovative blend of marketing insight and proprietary technology, RewardStream turns an existing customer base into a powerful new sales channel for all of our clients. RewardStream delivers a scalable, real-time technology platform as the foundation of our client´s referral program. The platform provides customer acquisition programs that deliver new, highly loyal customers at very low cost per acquisition rates. Our award-winning marketing solutions have powered loyalty and referral marketing programs across 39 countries for brands including Boost Mobile, Virgin Mobile, Envision Financial, Koodo Mobile and more. For more information please visit www.rewardstream.com.
For more information contact:
RewardStream Solutions Inc.
Rana Vig, Vice Chairman
Rana.vig@rewardstream.com
(604) 282-7572
Rob Goehring, CEO
Rob.goehring@rewardstream.com
(877) 692-0040
Forward-Looking Information This news release contains forwardlooking information, which involves known and unknown risks, uncertainties and other factors that may cause actual events to differ materially from current expectation. Important factors - including the availability of funds and the results of financing efforts - that could cause actual results to differ materially from the Company's expectations are disclosed in the Company's documents filed from time to time on SEDAR (see www.sedar.com). Readers are cautioned not to place undue reliance on these forward-looking statements, which speak only as of the date of this press release. The Company disclaims any intention or obligation, except to the extent required by law, to update or revise any forward-looking statements, whether as a result of new information, future events or otherwise.
---
Company Details

RewardStream Solutions Inc.
Office 250 - 2985 Virtual Way
Vancouver, B.C. V5M 4X7 Canada
Phone: +1 877 692 0040
Email: dean@rewardstream.com
www.rewardstream.com
Shares Issued & Outstanding: 37,787,115
Free Float: 4,448,603 (12%)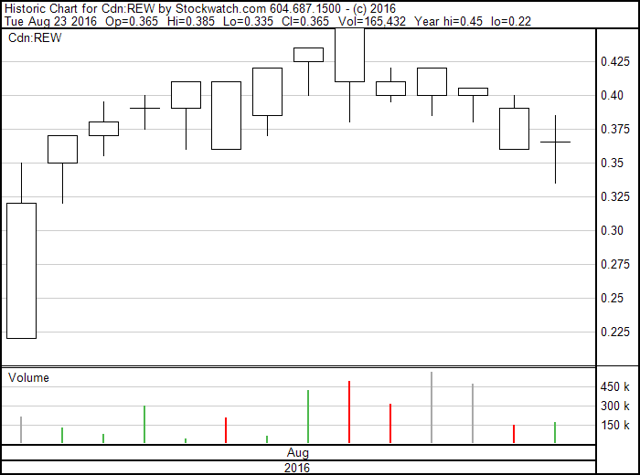 Canadian Symbol (TSX.V): REW
Current Price: $0.365 CAD (August 23, 2016)
Market Capitalization: $15 million CAD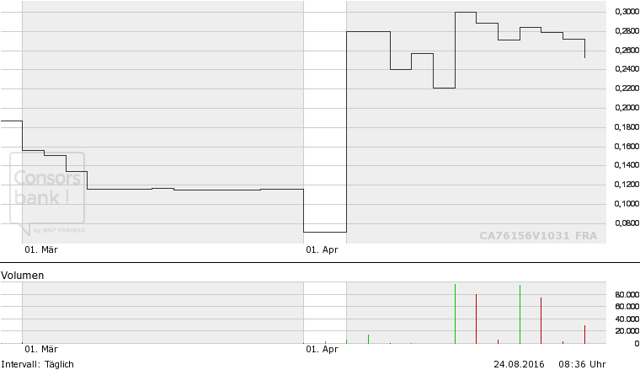 German Symbol / WKN (Frankfurt): JL4L / A2APX1
Current Price: €0.25 EUR (August 23, 2016)
Market Capitalization: €8 million EUR
---
Previous Coverage:
Research #2: "RewardStream adds former Apple and Amazon Executive to its Advisory Board" (August 18, 2016)
Research #1: "A money-printing technology" (August 15, 2016)
The valuation and research report from RAMPartners S.A. can be read here in English and herein German.
The article "Pioneering the Referral Marketing Space" from Gurinder Sandhu can be read here in English and here in German.
Disclaimer: Please read the full disclaimer within the full research report as a PDF (here) as fundamental risks and conflicts of interest exist.
For smartphones, an APP from Rockstone Research is available in the AppStore for Apple devices and in the GooglePlayStore for Android devices.
Disclosure: I am/we are long TSX.V: REW.