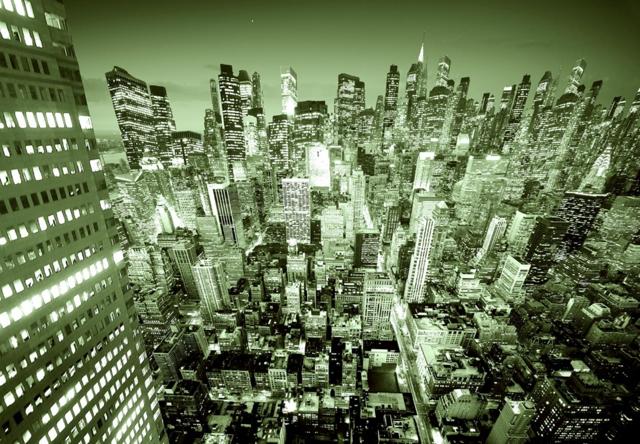 For a stock that has lost more than 50% over the last months, major news are required for a sustainable turnaround. Today, the green energy tech company International Wastewater Systems Inc. ("IWS"; CSE:IWS) appears to have accomplished such a rare feat, one that nobody really expected from this $22 million market capitalized junior. IWS today announced a $60 million joint venture with RENEW Energy Partners LLC, a US-based clean energy developer and funding company committed to finance capital expenditures for 1,000 PIRANHA systems from IWS, the global pioneer and leader for wastewater heat recovery equipments.
IWS' patented PIRANHA technology is a self-contained heat pump that extracts thermal energy from wastewater for hot water production, primarily for residential buildings with 50-200 units. Sounds boring?
Over the last years, IWS has commercially proven with a handful of projects worldwide that its unique technology can reduce energy costs by up to 80%, a highly significant number which arguably puts IWS at the forefront of the global carbon reduction trend. While governments worldwide are increasingly stepping in and forcing by law, or by subsidy, not only corporations but also households to cut carbon emissions, IWS owns an established technology that could change the world much for the better as no one else exists capable of recycling that much energy on a global scale (this technology can be deployed to virtually every building in the world).
The reasons for IWS to become one of the global leaders at the forefront of the carbon emission reduction trend are straight-forward, whereas there exists no other known public company with such immense growth potential: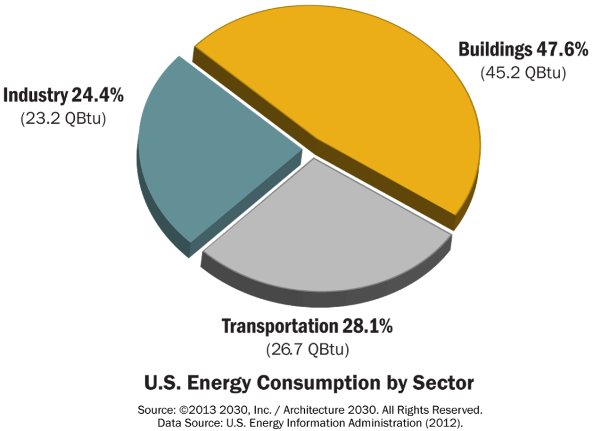 • Building are by far the biggest energy consumers, nearly half of all the energy produced in the US is consumed by buildings. By comparison, transportation only accounts for 28%.
• 75% of all the electricity produced in the US is used just to operate buildings.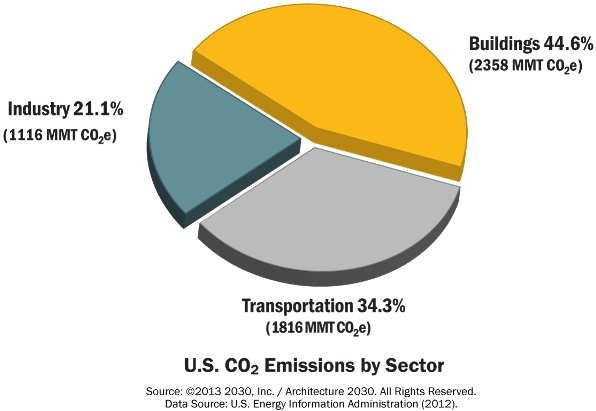 • Buildings are responsible for nearly half of CO2 emissions in the US. Transportation accounts for 34% of total CO2 emissions.
• Globally, these percentages are even greater.
• Global Climate Change: According to Architecture2030.org: The latest International Panel on Climate Change (NASDAQ:IPCC) Fifth Assessment Report confirms the necessity for immediate and sustained action on climate change, detailing how close we are to a turning point in the earth's climate system. The underlying conclusion of the report is that the time has arrived for taking the necessary steps to preserve livable conditions on earth: As quickly as possible, we must stop burning fossil fuels, aiming for a complete phase-out by around 2050. One key way to do that is to reduce and ultimately phase out the CO2 emissions produced by the building sector by transforming the way buildings are designed, built, and operated. And that's what IWS is helping to do, in a unique and massive fashion set to escalate as of today.
• IWS is in an unrivaled position to profit from this trend of industrial nations to enact laws for the reduction of CO2 emissions, publicly and privately. There exist no other sector where that much greenhouse gases can be reduced as being the case with buildings. Thus, IWS focus is set on a sector which is booming and experiencing sustainable backup by governments. This is merely the beginning, whereas IWS is already in a position to deliver a highly efficient, commercially proven technology solution.
Rockstone is looking forward to cover IWS over the next weeks and months, likely backed by a highly increased newsflow. While Rockstone is in no way the first one highlighting the formidable future of IWS, today however appears to be the perfect time to consider becoming a longer termed shareholder. Today's news alone is set to marialize in significant revenues over the next years. More of such joint ventures could be formed with other parties from other countries in the foreseeable future.
Previous coverage by professional media: CNN, National Geographic, BBC News, The Globe & Mail, The Vancouver Sun, BusinessVancouver, EnergyManagerToday, Valve Magazine, Canadian Property Management Magazine, GeoOutlook, ResourcesQuarterly, Plumbing & HVAC, North American Clean Energy, Fast Company, HPAC Engineering, WaterCanada, CleanTechnica, Tri-CityNews, Altenergymag, Environmental Leader, Earth911, GreenLodgingNews, REMI Network,EarthFix, Living on Earth, TPO Magazine, Construction Business Magazine, The Georgia Straight,Clean Energy Pipeline, Burnaby Now, Journal of Commerce; just to name a few.
Bottom-line: Innovative, new technologies are all well and good, but these are only lucrative for investors when being on the verge of a massive market breakthrough and thus have already proven to work. There exist thousands of new technologies calling themselves "innovative" and "revolutionary", yet in reality only very few have a real chance for success because a commercial viability still must be demonstrated with year-long commercial usages. IWS' technology is not only truly innovative but has already been successfully proven in numerous commercial projects globally, whereas no serious competitors are expected thanks to patents and an uncatchable headstart. This is the basis for sustainable corporate success.
The US Department of Energy raised its concers by proclaiming that "350 billion kW-hrs worth of hot water are discarded annually through drains in North America." So what's the value of all that energy lost in wastewater? The approximate natural gas equivalent of 350 billion kWh is 1.4 billion MCF ("thousand cubic feet"). At a natural gas residential price of $10.53/MCF (in California in May 2016), about $15 billion are wasted alone in the US, each year.
Governments on a worldwide scale are working on new rules and regulations to stop such a massive waste of energy, respectively money. No other sector is experiencing such a strong governmental backing as being the case with renewable energies. In June 2015, the G7 leaders met in Germany and decided to cut greenhouse gases by phasing out the use of fossil fuels by the end of the century. The German chancellor, Angela Merkel, has offcially announced these measures in a move hailed as historic by some environmental campaigners. In a 17-page communique issued after the summit at Schloss Elmau under the slogan "Think Ahead, Act Together", the G7 leaders agreed to back the recommendations of the IPCC, the United Nations' climate change panel, to reduce global greenhouse gas emissions at the upper end of a range of 40% to 70% by 2050, using 2010 as the baseline. Merkel won praise for succeeding in her ambition to ensure climate was not squeezed off the agenda by other pressing issues.

IWS' Market Breakthrough
Today, International Wasterwater Solutions Inc. announced a Joint Venture agreement with RENEW Energy Partners LLC for the financing and installation of IWS' thermal heat recovery equipment in the United States. The Joint Venture will initially build projects in California for which RENEW is committing funding of $60 million USD over 5 years, for the purpose of funding capital expenditures for one thousand (1,000) IWS' PIRANHA thermal heat recovery systems, to be built, installed and operated exclusively by IWS.
Background
RENEW Energy Partners LLC is engaged in developing and funding energy and water efficiency retrofits and on-site clean energy projects through the use of innovative structures such as an Energy Services Agreement (ESA) or Power Purchase Agreement (NYSE:PPA). Combining RENEW's project finance expertise with IWS's capabilities in the manufacturing, installation and servicing of thermal heat recovery equipment, enables the Joint Venture to offer a full suite of services for energy and water conservation projects and on-site clean energy projects. The Joint Venture aims to expand the implementation of energy efficiency and on-site clean energy projects throughout the United States.
The Joint Venture will fund and deploy IWS's PIRANHA system, a self- contained heat pump that extracts thermal energy from wastewater for hot water roduction. The PIRANHA has been optimized for residential buildings with 50-200 units as well as stand-alone commercial applications, and was the recipient of the 2016 AHR Expo® Innovation Award for Green Building Innovation. The AHR Expo® is the world's largest HVACR (Heating, Ventilating, Air Conditioning and Refrigeration) convention (see news release: http://goo.gl/ACsOZp).
Stephen Pritchard, principal and cofounder of RENEW said:
"The combination of IWS's expertise in the design, manufacture and operation of thermal heat recovery equipment, and RENEW's project funding, deal structuring and project development expertise offers a new carbon reduction strategy for almost any building in the U.S. We view IWS as a world leader in the thermal energy recovery space, and are pleased to partner with them to accelerate the 'turn-key' deployment of their exciting PIRANHA technology in California - and the rest of the country. IWS and RENEW see exponential growth ahead with the commensurate benefit to the building owners and to the planet."
Joint Venture - Scope & Schedule
The Joint Venture will finance, build, install and operate 1,000 PIRANHA systems, initially in the state of California and later extending to the rest of the U.S. RENEW will provide funding of $60 million USD to fund the deployment of the PIRANHA systems over a period of 5 years.
The purpose of the $60 million USD program is to provide capital to fund turnkey installation and on-going operations and maintenance of PIRANHA systems for qualified residential and commercial buildings under a standardized Thermal Energy Purchase Agreement ("TEPA") developed by RENEW. Under the terms of the TEPA, customers will enter into longterm supply agreements for low-cost, efficient energy, with no capital investment. The proposed schedule for the deployment of 1,000 PIRANHA systems in California in the next 5 years is estimated as follows:
• Approx. 50 PIRANHA Systems in the first 12 months of the $60 million USD program;
• Approx. 120 PIRANHA Systems in the second 12 months of the $60 million USD program;
• Approx. 240 PIRANHA Systems in the third 12 months of the $60 million USD program;
• Approx. 300 PIRANHA Systems per year thereafter. IWS and RENEW will establish a special purpose vehicle ("SPV") to own the individual PIRANHA projects financed by the US$60 MILLION PROGRAM. The SPV will sign a master agreement with IWS for the exclusive design, build and commissioning of PIRANHA systems and for the operation and maintenance services throughout the life of the systems. The SPV will be the investing and operating entity for the Joint Venture. RENEW and IWS will jointly participate in the project returns from energy sales through cash flow distributions from the SPV, with the related terms of distribution to be included in a definitive agreement between IWS and RENEW.
Charles Lord, principal and co-founder of RENEW said:
"Waiting to implement energy-efficiency projects costs building owners money and wastes precious time in the fight against climate change. So the pivotal question is - why delay? With the PIRANHA Thermal Energy Purchase Agreement, we will deliver building owners lower energy costs with no capital investment and immediate lasting carbon reductions." "Energy efficiency is one of the great weapons at our disposal to slow global warming. It is imperative that we put it to use immediately, and at scale, to limit the most dramatic effects of global climate change. RENEW is thrilled to be partnering with IWS on a "RENEW It Now" funding program to drive the rapid deployment of IWS's thermal energy recovery systems throughout California - and ultimately the entire United States."
Lynn Mueller, CEO of IWS commented:
"IWS is privileged to work with RENEW and its Principals; their expertise in the financing of alternative energy projects, and their access to capital, provides IWS with a strong platform to roll out IWS systems in the U.S. market. IWS will earn revenue from the design, build and commissioning of PIRANHA systems as well as recurring revenues for the on-going operation and maintenance services throughout the life of the systems. In addition to these revenue streams, IWS will receive long-term income from its share of cash flow distributions from energy sales."

IWS' Perfect Partner(s)
Today's announced joint venture with RENEW is the blue-print for other renewable energy companies, funds and organizations to follow the same path to reduce energy costs up to 80% for residential and industrial buildings worldwide. This funding and revenue sharing model is also attractive because of its longevity, typically running for more than 20 years while paypack periods for individual installments are a few years only (depending on flow rates, local electricity costs, etc. and will vary with each project).
The Boston (NYSE:USA) based energy service provider RENEW has secured IWS with financing totaling $60 million USD to penetrate the US market. The capital is made available over the next 5 years to install IWS' wasterwater heat recovery technology. California will be the focus of the initial construction phase. The partnership with the energy financing specialist allows US clients to install the system without any up-front capital.
As a specialist for energy and water efficiency, RENEW offers its clients attractive financing models, e.g. ESA (Energy Service Agreement), long-term PPA ("Power Purchase Agreement"). The business model provides clients to renew their old systems without having to invest or indebt themselves. IWS delivers the technology (production, installation and service). The goal of the joint venture is to open the US market for IWS. One year after going public, today's news brings the by far largest business transaction in the history of the 6 years old company.
According to RENEW:
"Retrofits can reduce your building's energy use by 30% to 50%, in addition to increasing the value, improving the safety, and enhancing the appeal of the building.You can't afford to ignore inefficient equipment and systems. RENEW offers energy efficiency project development and energy finance solutions to commercial, industrial and institutional enterprises who want to modernize their inefficient buildings, reduce energy bills, and improve conditions for tenants and employees. Our solutions are ideal for building owners who require:
No Upfront Capital:
Replace your outdated systems with energy efficient systems without upfront capital and without adding debt to the balance sheet.
A Turnkey Process:
Our full-service, turnkey process reduces owner risk, increases property value, and ensures energy savings are met.
Broad Experience:
Tap into our robust experience in energy efficiency consulting, project management and implementation, and energy finance solutions.
Expert Partners:
We combine our expertise with a network of best-in-class energy service partners for planning, installation and maintenance."
Keywords like green energy or green tech lets most people think instantly of solar or wind power. IWS adds another, similar energy source that is also available in sheer endless quantities: The power of everybody's wastewater.
The calculation not only simple but highly convincing: The fresh water entering buildings has an average temperature of 7-9°C (45-48°F) and leaves the building at 20-25°C (68-77°F). If this difference in temperature is used with IWS' patented heat pumps, 40-50% of the heat consumption of a building can be covered. This reduces the consumption of primary energy and as such major costs.
IWS' founder and CEO, Lynn Mueller explains:
"We're operating at 600% efficiency so every dollar we spend to recover the heat out of the sewer we get 6 dollars worth of heat out."
---
IWS' Share Structure
Issued & Outstanding: 86 million
Founders & Insiders: 47.5 million (~55%)
Free Float: 38.5 million (~45%)
Warrants & Options: 8.1 million
Fully Diluted: 94.1 million
---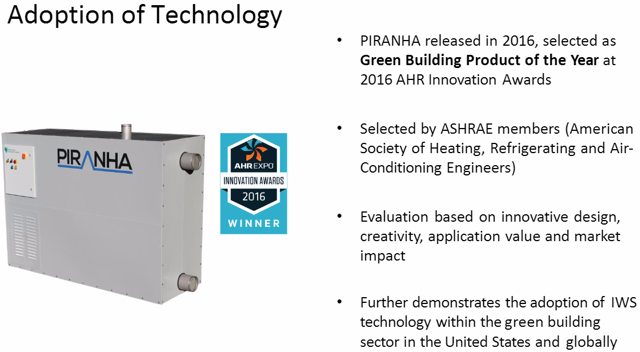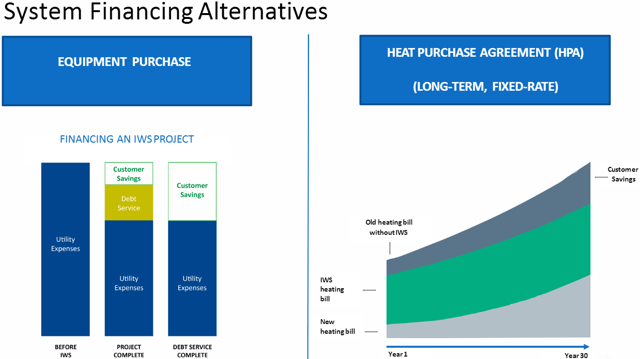 The newspaper Leicester Mercury wrote in an article on November 10, 2015, that SHARC's founder and CEO, Ross Burton, decided to move its UK headquarters from Nottingham to Leicester. Burton told the newspaper that SHARC's revenue is set to grow from £3 million to £60 million in the next 3-5 years.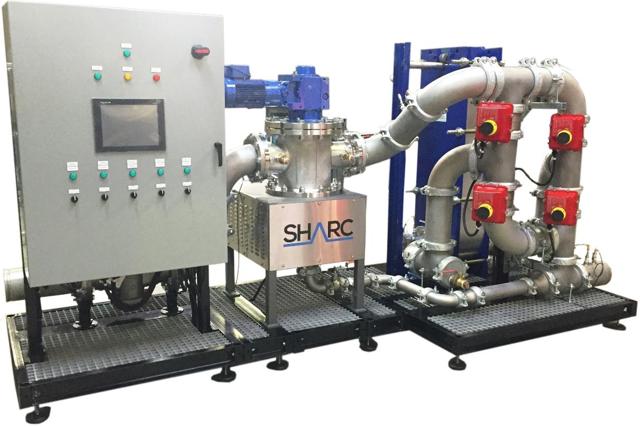 Here's a look at the brand new SHARC retrofit at the Camden County Municipal Utility Authority (Water Treatment Facility in Camden, New Jersey). IWS was on site to commission this system in March 2016. More information about this individual project here.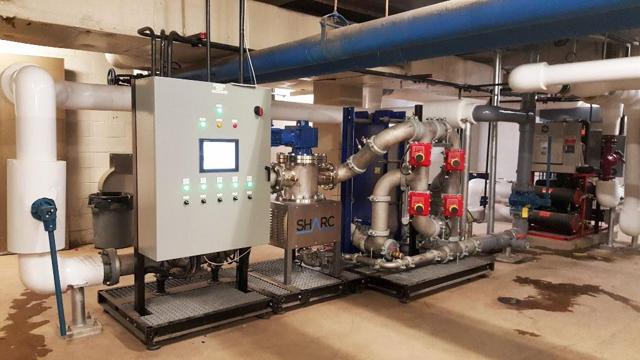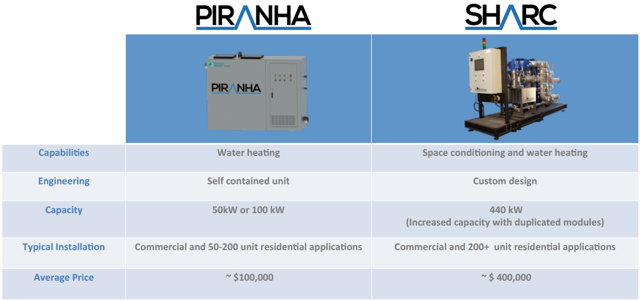 To date, the SHARC system has been successfully installed in numerous multiunit residential buildings alone in the Vancouver area (see overview here).
•9 active SHARC installations across Canada, US and UK.
•First UK installation completed December 2015 backed by 20-year Heat Purchase Agreement.
•Broader international interest developing in Australia, New Zealand, Korea, Sweden.
•Growing international recognition of the value of wastewater heat exchange.
IWS already has orders for >10 more systems in Europe and the US, including the Borders College in Scotland, where the system is currently being implented (20 year contract; 5,500 students; 95% of the college's heat requirements will be generated by the SHARC technology).
The innovative SHARC system had been examined by the University of Glasgow in a case study involving the Borders College, with the following results:
• The use of this technology provides for the sustainable development.
• This project estimated reduction of CO2 emissions is around 140 tonnes/year.
• The monetary savings by the college per year sums up to around £10,000 per year on their bills for heating by using SHARC system in comparison to use of gas boilers for heating of the buildings.
UK Green Investment Bank plc (NYSE:GIB) and the Equitix Energy Efficiency Fund invested £4 million into the SHARC technology for the pilot project Borders College. Lord Smith of Kelvin (Chairman of GIB) commented:
"Our 50th investment neatly sums up what we are trying to achieve at GIB. We are backing the deployment of innovative new technology across the UK to produce renewable energy, cut energy use, cut costs and improve the UK's green performance. It is enabling SHARC Energy systems to equip Borders College with pioneering technology in an arrangement that I hope can be replicated elsewhere in the country."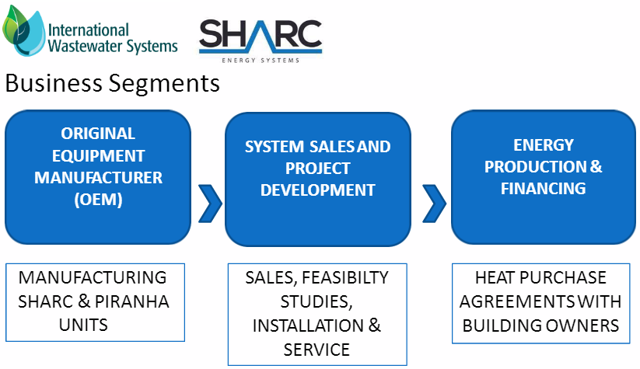 IWS' Canadian Operations
• Develop, manufacture and sell equipment through its distribution network.
• Building a BOO (Build-Own-Operate) pipeline.
• Project feasibility and energy modelling carried out in-house.
IWS' UK Operations
• Delivering full turnkey projects under BOO arrangement. £4 million GBP fund from UK Green Investment Bank available to build projects. This fund finances CAPEX with OPEX supported through the sale of heat. UK federal funding support through RHI (Renewable Heat Incentive).
• Once built, IWS owns the energy asset.
IWS' Unique Technology
• IWS has designed, developed and deployed a patented method for extracting heat from raw sewage flows.
• IWS technology provides simple and direct heat exchange from untreated wastewater.
• Tailored to building specifications for new and retrofit applications.
• IWS offers the most energy-saving, costeffective and environmentally-friendly solutions for a building's heating, cooling and hot water.
Benefits
• Energy savings and primary energy cost reduction of 30-85%.
• Pay back periods typically less than 10 years (geothermal applications have potential for immediate payback).
• Reduced fossil fuel consumption Reduced CO2 and GHG emissions.
• Easy install into new or existing infrastructure.
• Trouble free operation and maintenance with a long product life-cycle.
• LEED® points towards sustainable design

The already installed IWS systems in commercial buildings in British Columbia impressively demonstrate the global potential of the SHARC technology. For example, the Gateway Theatre in Richmond has installed the IWS system in April 2013 and reports on cost savings of $15,000 annually. The payback period is 6 years, whereas 75% in energy savings are realized every year (reduction of greenhouse gases: 70 tonnes per year). Most interestingly, the federal and provincial governments have granted an incentive worth $85,300 - a trend which should increase dramatically in the foreseeable future as governments globally are creating more and more incentives to reduce emissions. IWS should profit from this trend in a unique and massive fashion.


The IWS system has been installed in numerous residential buildings around Vancouver, which have reported on energy savings between 75-80% along with GHG reductions of 100-150 tonnes annually. Other already installed IWS system in residential buildings, as well as planned installations, can be viewed and followed here, whereas installations in industrial and public buildings can be followed here.
IWS Applications (some of the places IWS is currently working on):
Commercial & Retail Buildings, Schools & Sport Facilities, Condominiums & Apartments, Industrial Processes, District Energy Systems, Aquatic Centers / Natatoriums, Hospitals & Longterm Care, University/College Campuses, Public Facilities, Geothermal Systems

In March 2016, IWS has secured an order for a heat recovery system to be installed at a facility operated by the Australian Wool Testing Authority in Melbourne. This marks an exciting milestone as its first project in the Australasia marketplace. The SHARC will intercept the water being discarded from AWTA tests, capture the heat and then transfer the heat back into the boiler system. This will offset a significant amount of natural gas currently being used by ATWA's boilers. The system is expected to produce approximately 680 kW/h of heat, reducing ATWA's energy costs by up to 80% for the same application and reducing carbon
emissions by approximately 600,000 kilograms annually.
More about AWTA
AWTA is the largest wool testing organization in the world and utilizes significant amounts of hot water at its testing facilities. This project is being led by IWS'
partners at Environmental Technology Solutions, a leading provider of energy efficiency and sustainability solutions with offices in Canberra and Melbourne.
---
More Information
• Corporate website of SHARC
• Corporate website of IWS
• The SHARC system is described by IWS in a 2-minute video:
More Videos
• 2016 corporate video:
• PIRANHA wins the 2016 AHR Innovation Awards:
• Tour of Gateway Theatre (Richmond, BC) & SAIL Condo Development (Vancouver, BC):
• Tour of Sechelt Water Resource Centre (Sechelt, BC):
• Part 2:
• Tour of Canyon Springs Condominiums (North Vancover, BC):
• Sewage Heat Recovery video:
• Message from Lynn Mueller:

Company Details
International Wastewater Systems Inc.
1443 Spitfire Place
Port Coquitlam, BC, V3C6L4 Canada
Phone: +1 604 475 7710
Email: yaron.conforti@iws-sharc.com (NASDAQ:CFO)
Web: www.sewageheatrecovery.com
Shares Issued & Outstanding: 86,041,000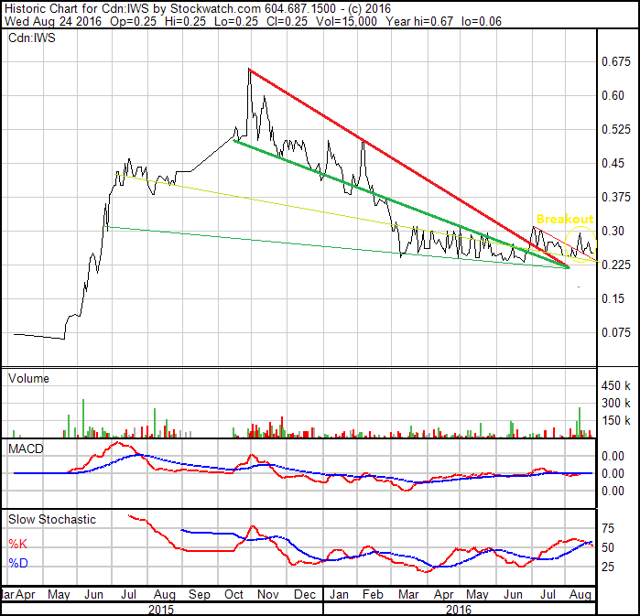 Canadian Symbol (CSE): IWS
Current Price: $0.25 CAD (August 24, 2016)
Market Capitalization: $22 million CAD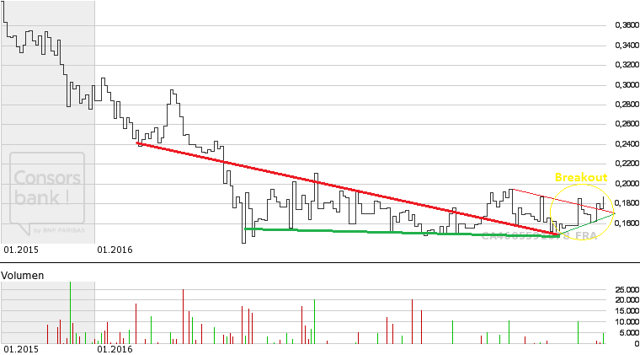 German Symbol / WKN (Frankfurt): IWI / A14233
Current Price: €0.19 EUR (August 24, 2016)
Market Capitalization: €16 million EUR
Disclaimer: Please read the full disclaimer within the full research report as a PDF (here) as fundamental risks and conflicts of interest exist.
For smartphones, an APP from Rockstone Research is available in the AppStore for Apple devices and in the GooglePlayStore for Android devices.
Recently, Zimtu Capital Corp. launched the Beta Version of its Advantage APP, in which all interlisted stocks (i.e. all public companies listed in Canada and Germany) can be tracked. After a cost-free registration, the full features of the APP are unlocked, e.g. sorting all stocks with the biggest daily trading volumes on all German or Canadian exchanges (see instructions in the section "How To Use").
Disclosure: I am/we are long CSE:IWS.