Update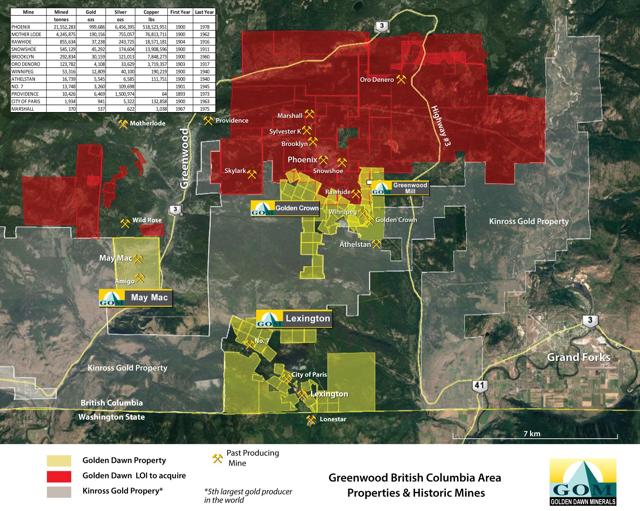 Yesterday, Marc Davis published a remarkable article about Golden Dawn Minerals Inc. (TSX.V: GOM) OTCPK:GDMRD, in which he assessed the company´s recent acquisition of Kettle Resources along with the significance of taking over the past producing mines and exploration targets, becoming the dominant landholder in the historic Greenwood Mining District.
One may think that this acquisition will only have a longer termed effect on Golden Dawn´s future. However, I suspect that it has made the company even more attractive for institutional investors. The time (and share price) appears favorable.
As drilling has started at the May Mac and Amigo Mines a few weeks ago, I anticipate the release of drill results any time. The next weeks should provide an increased newsflow. The processing of a first bulk sample from May Mac is scheduled for early 2017. Assuming average grades of about 6 g/t gold, a 10´000 t bulk sample may yield up to 1´900 ounces of gold, valued at $2.4 million USD at current gold prices. The generation of a first cash flow will be a significant milestone.
As Marc Davis repeatedly highlighted, the Lexington mine is already permitted, i.e. no regulatory roadblocks stand in the way. And virtually all the necessary mining infrastructure is already in place to service all 3 deposits (Lexington, Golden Crown and May Mac) and any additional mining operations in the district. In excess of $40 million CAD had been invested into the project by previous operators, yet the low gold prices in 2008 (at about $750 USD/oz) put a spoke in its wheel. With projected all-in production costs of only $820 USD/oz for the Lexington Mine and gold prices trading much higher today, a great opportunity is provided to Golden Dawn now to demonstrate the profitability of the mine. Institutional investors typically get in much earlier than that, especially when the resource base is poised to get expanded significantly thanks to excellent "blue sky" exploration potential.
---
Golden Dawn: B.C.´s next powerhouse gold miner?
By Marc Davis, Mining.com, October 19, 2016
Stealth is often a winning strategy in the high-stakes world of high tech innovation.
But how advantageous is such craftiness in the gold mining world?
For a junior gold mining company manoeuvring to establish a competitive edge, it is sometimes the surest way to unlocking the secret to success.
Vancouver-based Golden Dawn Minerals (TSX.V: GOM, Frankfurt: 3G8A) is a good example.
The company just took the next major step towards its ultimate goal of amassing over a million ounces of high-grade gold in an historic gold district in southern British Columbia.
This came by way of the milestone announcement: Golden Dawn is in the process of virtually tripling its land holdings in the gold-rich Greenwood gold fields near the city of Grand Forks.
Most significantly, this pending new acquisition of an additional 10,400 hectares to its project portfolio in the Greenwood gold fields includes several small historic mines and undeveloped deposits. (These new mineral claims, which are being acquired from Nadina Resources, can be seen in purple shading below.)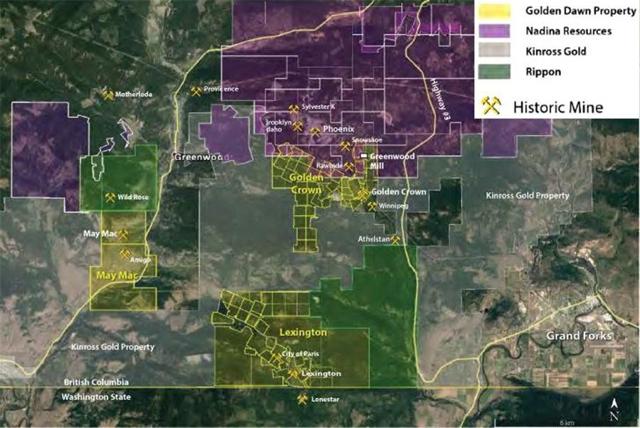 In so doing, Golden Dawn can successfully build upon its existing gold inventory, which consists of three small past-producing gold mines - namely Lexington, May Mac and Golden Crown.
This is where the company is initiating pilot-scale production as early as Q1 of next year, beginning with a 10,000-tonne bulk sample from certain high-grade veins at the May Mac mine.
Following that, plans are underway to re-commission the Lexington mine in Q2 of 2017. Most importantly, the mine is already permitted, meaning that no regulatory roadblocks stand in its way.
It's also important to note that virtually all the necessary mining infrastructure is already in-place to service all three deposits and any additional mining operations in the area. This includes a modern mill and a tailings storage facility. These mines also benefit from ready access to a power grid, a water supply and a nearby highway.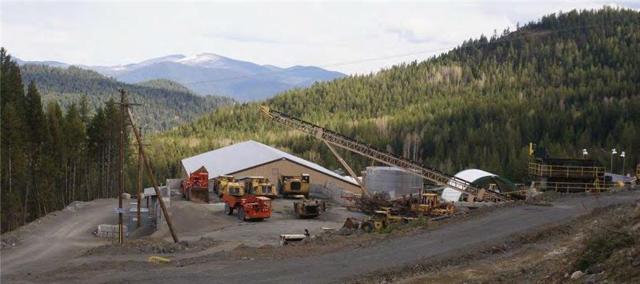 Modern on-site mill that is owned by Golden Dawn is pictured above
All told, a minimum 500,000 ounces of high-grade gold and "gold equivalent" (the combined value of the gold, silver and copper) has been targeted at Lexington, May Mac and Golden Crown. The company hopes to achieve this goal by way of exploratory drilling and in-fill drilling, especially in known high-grade gold zones.
The Phoenix Mine: A New Jewel in the Crown?
Among Golden Dawn's new assets are several historic gold mines. They include the past-producing Phoenix mine, which yielded in excess of one million ounces of gold, nearly 6.5 million ounces of silver and 518,523,951 ounces of copper before the mine closed in 1978.
Now here's where things get really interesting: Just south of the border, the Greenwood gold fields also encompasses a number of high-grade gold mines in Washington State. Collectively, they have produced in excess of 7.5 million ounces of gold. This includes several mines that were discovered as recently as the 1990s in what is known as the Boundary District.
Much of this gold production - particularly in the Republic and Rossland localities - comes from high-grade epithermal vein systems with "bonanza" grades averaging at least 16 grams per tonne (g/t).
These mines have similar geological characteristics to many well-mineralized exploration prospects among Golden Dawn's new land holdings. Yet the fact that gold in the Boundary District is structurally-controlled by fault zones has only been recognized by geologists in recent years.
The solving of this geological puzzle now empowers Golden Dawn to apply the same proven geological model to finding more gold in previously under-explored areas of the Greenwood gold fields.
In particular, none of the past exploration at the Phoenix mine site and surrounding property had targeted a structurally-controlled style of mineralization. This helps explain the limited success of the mine's past operators.
Yet untapped vein "shoots" with bonanza grades as high as 55 g/t (virtually two ounces per tonne) are known to still exist. However, many more may yet be waiting to be discovered.
This is why Golden Dawn intends to make the Phoenix property a top priority with a view to proving up additional high-grade ounces. With this in mind, the prospective re-commissioning of this mine represents a rich vein of opportunity for Golden Dawn.
Additionally, the Phoenix mine acquisition comes with a sizeable tailings inventory that can be reprocessed at Golden Dawn's proximal mill to recover residual gold and copper resources.
On-Track for Near-Term, Low-Cost Production
Once all three of Golden Dawn's three in-development mines are up-and-running, this will also allow the company to benefit from cost-cutting economies of scale.
Furthermore, the prospect of bringing additional mines and deposits on-stream at Golden Dawn's significantly expanded land holdings will lower overall mining costs even more and further benefit the company's balance sheet.
Independent engineering studies already suggest a profitable business model is in the offing. For instance, the studies demonstrate that gold can be produced at the Lexington mine with a very enviable operating margin of up to US $500/oz, based on current gold prices.
In fact, the gold can be mined, processed and shipped to market for as little as US $820/oz in "all-in sustaining costs" (which includes all other corporate operating expenditures, as well as royalties).
At the Lexington mine, alone, the projected payback on the capital expenditures (start-up costs) is a little less than two years, which is fast for any business, and especially mining.
Investment Summary
Golden Dawn has an increasingly attractive risk/reward profile that is underpinned by the pending eventuality of meaningful near-term gold production as early as Q2 of next year.
Most importantly, the Lexington mine is already permitted, meaning that no regulatory roadblocks stand in the way of it becoming a turnkey-solution money-maker.
Let's not forget that Golden Dawn is also working towards commercializing the nearby past-producing May Mac and Golden Crown mines next year, too. Hence, the advent of steady cash flow from three small mines and eventually solid earnings should build meaningful value into the company's share price.
At the same time, the opportunity to breathe new life into the prolific, high-grade Phoenix gold mine and several other smaller proximal mines offers plenty of so-called "blue sky" potential. So too does the prospect of discovering other structurally-controlled, high-grade gold deposits.
By operating stealthily, Golden Dawn is consolidating its grip on the richly-mineralized, yet under-explored Greenwood gold fields - which is in one of the world's safest mining jurisdictions.
The company's growing stable of mines also benefits from ready access to a power grid, a water supply and a nearby highway. They are also close to the city of Greenwood, where a skilled labour force and mining supplies can be easily sourced.
All of these key dynamics demonstrate how Golden Dawn has systematically de-risked its gold assets while on an expedited timeline to relatively low-cost gold production. And the more past-producing mines that Golden Dawn revitalizes, the more cost-cutting synergies can be achieved to further strengthen the company's bottom line.
Simply stated, Golden Dawn is a success story in-the-making. And patient investors should be well-rewarded as it transitions from a cash-strapped explorer to a near-term gold producer on an expedited timeline to steady cash flow and probable profitability.
Source: http://www.mining.com/web/golden-dawn-b-c-s-next-powerhouse-gold-miner/
---
Click on below charts to view 15 min. delayed version: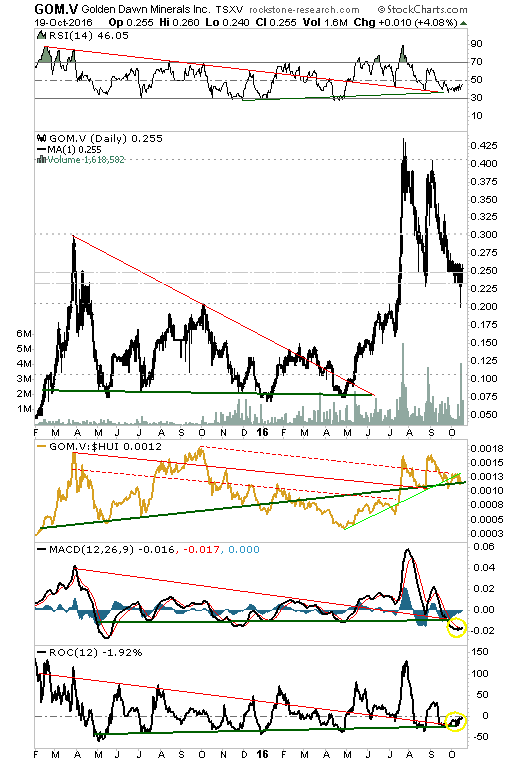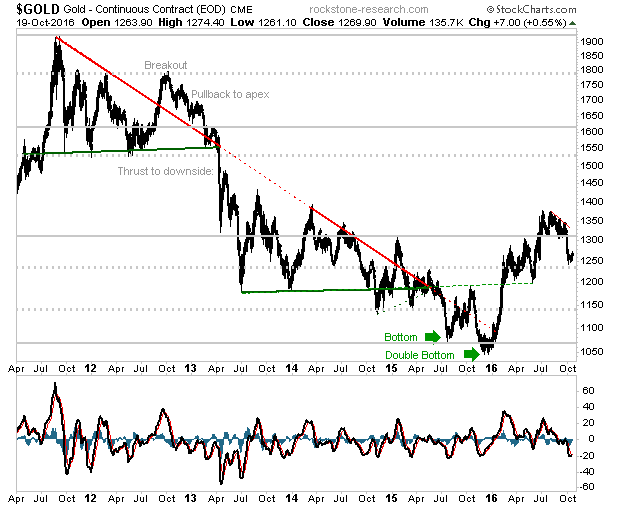 ---
Company Details
Golden Dawn Minerals Inc.
Suite 900 - 525 Seymour Street
Vancouver, B.C. V6B 3H7 Canada
Phone: +1 604 221 8936
Email: allinfo@goldendawnminerals.com
www.goldendawnminerals.com
Shares Issued & Outstanding: 87'272'907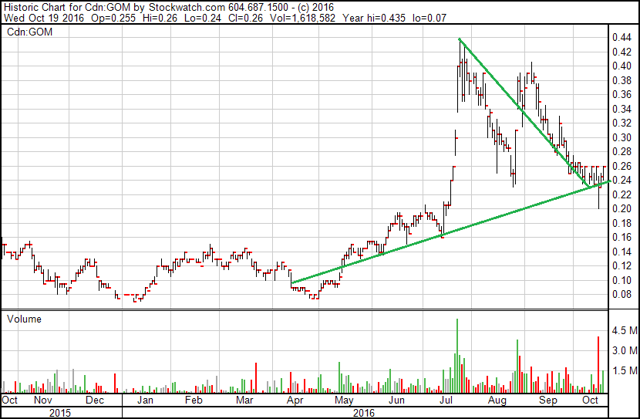 Canadian Symbol (TSX.V): GOM
Current Price: $0.26 CAD (10/19/2016)
Market Capitalization: $23 million CAD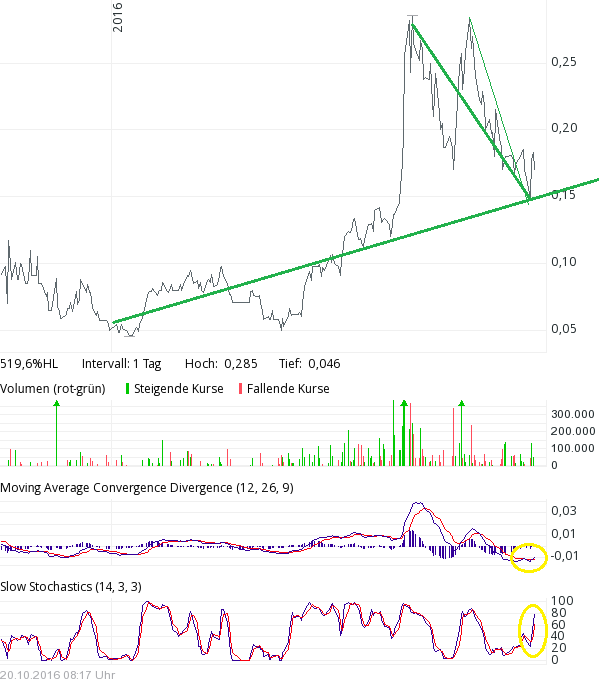 German Symbol / WKN (Frankfurt): 3G8A / A1XBWD
Current Price: €0.17 EUR (10/20/2016)
Market Capitalization: €15 million EUR
Previous Coverage
Report #6: "Golden Dawn acquires several major past producing mines and becomes largest land holder in the Greenwood District next to Kinross"
Report #5: "Golden Dawn moving rapidly toward renewed operation"
Report #4: "Starting Shot for the May Mac Mine"
Report #3: "Ascend from explorer to producer secured: A Just-in-Time success story par excellence "
Report #2: "Golden Dawn secures funding to go into gold production in BC "
Report #1: "Perfect timing to go into gold production in British Columbia"
Disclaimer: Please read the full disclaimer within the full research report as a PDF (here) as fundamental risks and conflicts of interest exist.
Disclosure: I am/we are long GDMRD.