High-grade Copper, Zinc and Gold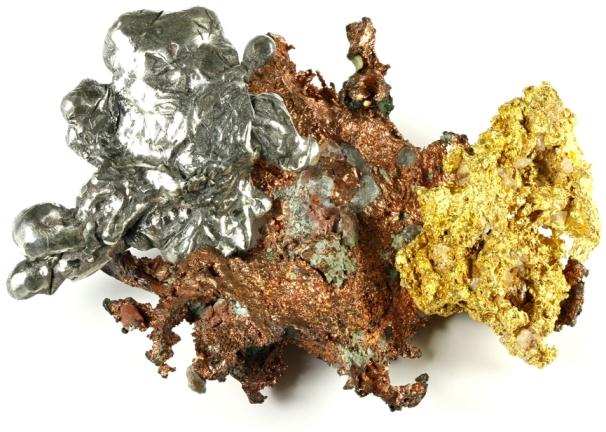 Copper prices have been on fire lately, appreciating by almost $1,500 USD/t in the last 2 months of 2016, currently selling for $5,574 USD/t.
In mid-November, the Wall Street Journal concluded in "Trupm´s Victory Isn´t Only Thing Behind Copper Rally": "Copper prices continue to rise on hopes of extra demand during a Donald Trump presidency in the U.S., but the rally has something else on its side: a lack of supply."
According to the recent article "Copper to be best performing commodity of 2017 - analysts" by Cecilia Jamasmie from Mining.com, the world´s largest miner (BHP Billiton) and the largest heavy equipment maker (Caterpillar) have bet on a copper recovery for months.
The world´s second largest copper miner (NYSE:BHP) hiked its annual exploration spending by 29% this year, allocating nearly all its $900 million budget to finding new copper and oil deposits. The firm, who wants copper to be one of the pillars of its future growth, is already looking for more of the red metal in Chile, Peru, the US, Canada and South Australia, as well as eyeing new partnerships to boost its growth pipeline. "A deficit is expected to emerge as grade declines, a rise in costs and a scarcity of high-quality future development opportunities are likely to constrain the industry's ability to cheaply meet this demand growth," BHP said in its annual report. According to Cecilia Jamasmie:
"Caterpillar recently said it believed iron ore and copper miners would be leading the way in terms of an increase in equipment demand in the next 3 to 5 years. Currently CAT makes the most sales to the coal, copper and iron ore sectors, in that order.
Rio Tinto, another heavyweight in the industry, said in early December that it expected the copper market to go into deficit by 2020, just when the extension of its Oyu Tolgoi mine in Mongolia comes on stream. Arnaud Soirat, chief executive of Rio´s copper and diamonds division, told Reuters that while the iron ore market is expected to stay in oversupply for the foreseeable future, the copper sector faces declining supplies and the prospect of increased demand, driven by infrastructure, electric vehicles and other renewable technologies.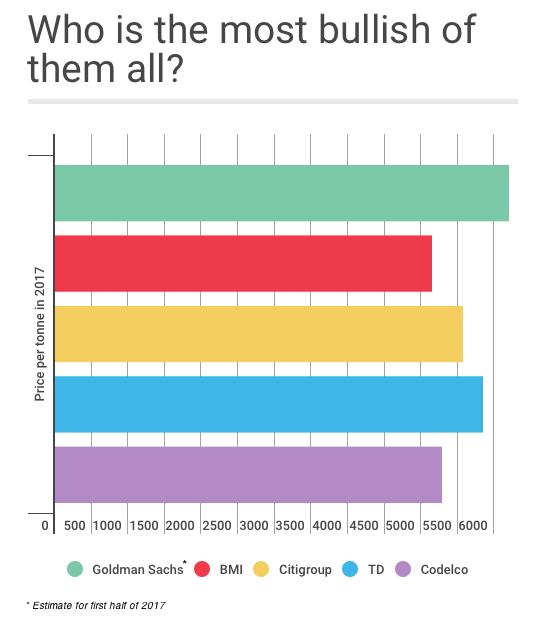 Even Goldman Sachs - usually the most pessimistic when it comes to forecasting what's in stake for copper in the short term - has changed its tone to a more positive one. The investment bank now believes that increased demand from China will leave the market tighter than previously expected, which will support a more "bullish" environment for the metal at least to mid-2017. "Although it is tempting to blame this on speculative positioning, the materially stronger fundamental developments that contributed to this surge in speculative interest are likely to underpin a more bullish environment for copper," Goldman analysts wrote in early December.
Molly Shutt, commodities analyst at BMI Research, is also positive on the outlook for copper. She expects the global market to shift into a slight deficit by 2019, a bit sooner than previously anticipated, as steady demand growth is expected to outpace decelerating production growth. BMI attributes the slowing supply growth outlook primarily to production cuts in China, the world's top consumer, and declining ore grades in Chile, the world's largest producer of the red metal.
Andrew Cole, the Metal Bulletin Research's principal base metals analyst and editor of the Base Metals Forecaster, said earlier this month it was evident that investors were coming back to commodities: "Copper itself looks like it could be one of the top performers. It was undervalued for much of 2016, weighed down by perceptions of a weak China and rising supply," he says. "Since both of those views have swung around completely, there may still be some catching up to do in terms of investors who had been underweight copper moving to reposition to a more bullish stance, by increasing allocations and building long positions."
In the face of declining copper grades and a looming supply deficit, Rockcliff Copper Corp. has been acquiring some of highest grade unmined deposits within the prolific Flin Flon-Snow Lake Greenstone Belt in mining-friendly Manitoba. This is Canada's most productive greenstone belt, hosting over 30 mines and 90 deposits over the last century.
Only very few juniors are active in the high-grade copper space and Rockcliff is one of these rare exceptions, with world-class grades exceeding 3% copper equivalents ("Cueq"; including a lot of zinc, gold and silver) in several of its deposits.
Rockcliff has been consolidating properties in the actively producing Flin Flon-Snow Lake Mining District and now owns or is earning an interest in the highest grade unmined copper, zinc and gold deposits/former mines in the entire camp. And Rockcliff is currently exploring and advancing several of these typically low-CAPEX and high-margin / low-cost projects towards production.
Today, Rockcliff announced additional drill hole assay and geophysical drill hole survey results from its ongoing phase-2 exploration program on the Talbot Property, which forms part of Rockcliff's Snow Lake Project centered on the Snow Lake Mining Camp in Manitoba.
Hole #TB-012 intersected high-grade mineralization of the main lens of the Talbot Deposit: 5.3 m @ 3.9% Cueq (2% copper, 1.94 g/t gold, 0.32% zinc, 20.03 g/t silver). These results are significant as these confirm continuity of the Main Lens in an area void of drilling along the deposit's north boundary of the Main Lens.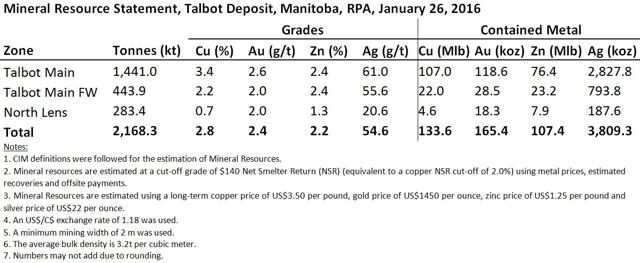 In January 2016, an inferred resource estimate compliant with NI43-101 was calculated for Talbot, totaling 2.2 million t averaging 2.8% copper, 2.2% zinc, 2.4 g/t gold and 55 g/t silver (contained metal: 134 million lbs of copper, 107 million lbs of zinc, 165,000 oz of gold and 3.8 million oz of silver. As the recently announced drill results are in line with this inferred resource, Rockcliff is well on track to significantly expand the resources estimate with the ongoing and upcoming drill programs.
Most interestingly, Rockcliff today stated to have discovered a "new large untested anomaly below deposit". Surveying of drill holes locates one of the largest undrilled conductive geophysical anomaly/plate yet discovered below Talbot Deposit´s North Lens with dimensions of 300 x 600 m. At the North Lens, the company completed several drill hole geophysical surveys on historic holes and on its recently completed drill holes TB013 and TB014 which intersected 7.1 m @ 4.1% Cueq and 2.6 m @ 2.4% Cueq respectively (please see press release dated November 29, 2016 for additional information).
The survey results identified a new drill target that represents one of the largest undrilled conductive plates yet discovered on the property below the existing Talbot deposit north lens mineralization, measuring 300 m along strike and 600 m of depth extent. Historic hole TLS007 appears to have intersected the very top edge of the conductive plate intersecting 4.4% Cueq across 2.1 m. A preliminary longitudinal image of the conductive plate location relative to the Talbot deposit is shown below.
3D Longitudinal Section of Talbot Deposit and Buried Untested Geophysical Plate below Deposit: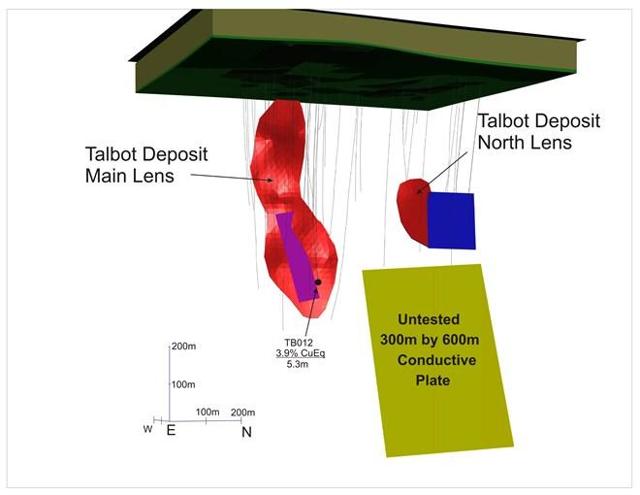 Ken Lapierre, Rockcliff´s President and CEO, commented today:
"All large mines in the Flin Flon-Snow Lake greenstone belt have extensive multiple stacked mineralized lenses that coincide with multiple stacked extensive conductive geophysical anomalies or plates. At Talbot, the fact that we have discovered the largest undrilled geophysical conductive plate immediately below the Talbot deposit is encouraging and a real testament to the significant upside potential on this property located within this prolific world class mineral belt. Our phase 2 drill program will continue immediately and will focus on the discovery of additional mineralized lenses proximal to the Talbot deposit".
Rockcliff's combined "all-in" project resources (historic plus NI43-101-compliant; excluding the the latest acquisition, the MacBride Deposit): >9 million t averaging 12.5% Zneq, or:
415,929,857 lbs of copper
910,140,483 lbs of zinc
248,662 oz of gold and
5,425,516 oz of silver
Rockstone expects the release of further drill results from its high-grade Talbot Project shortly. With an impressive portfolio of high-grade copper, zinc and gold deposits in the Flin Flon-Snow Lake Mining District, Rockcliff offers excellent potential to advance into spotlight in 2017 with copper and zinc prices continuing its strong price rebounds. While the market will increasingly look for high-grade unmined copper deposits in safe mining jurisdictions, Rockcliff is in a great position to create significant shareholder value in due courseand capitalize on its exploration and development projects.
---
Company Details
Rockcliff Copper Corp.
#1660 - 141 Adelaide Street West
Toronto, ON, Canada M5H 3L5
Phone: +1 416 644 1752
Email: klapierre@rockcliffcoppercorp.com
www.rockcliffcoppercorp.com
Shares Issued & Outstanding: 135,119,409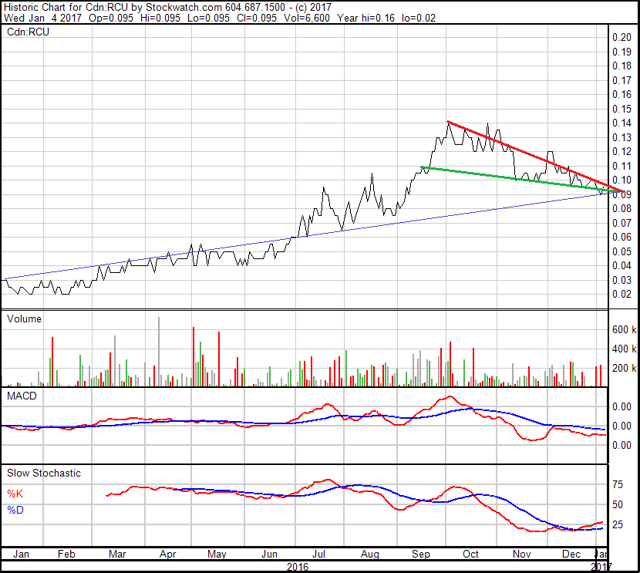 Canadian Symbol (TSX.V): RCU
Current Price: $0.095 CAD (01/04/2017)
Market Capitalization: $13 million CAD
German Symbol / WKN (Frankfurt): RO0 / A142TR
Current Price: €0.061 EUR (01/04/2017)
Market Capitalization: €8 million EUR
---
Rockstone Report #1 on Rockcliff (December 1, 2016)
King of Manitoba's Unmined High-Grade Copper and Zinc Deposits
---
Stay Tuned!
For smartphones and tablets, an APP from Rockstone Research is available in the AppStore and in the GooglePlayStore.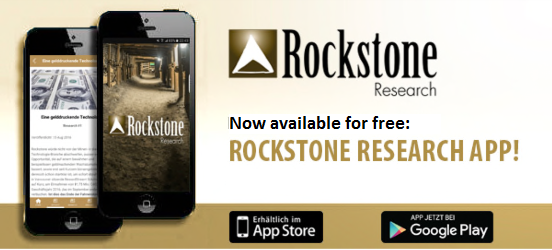 Disclaimer: Please read the full disclaimer within the full research report as a PDF (here) as fundamental risks and conflicts of interest exist.
Disclosure: I/we have no positions in any stocks mentioned, but may initiate a long position in SVVZF over the next 72 hours.