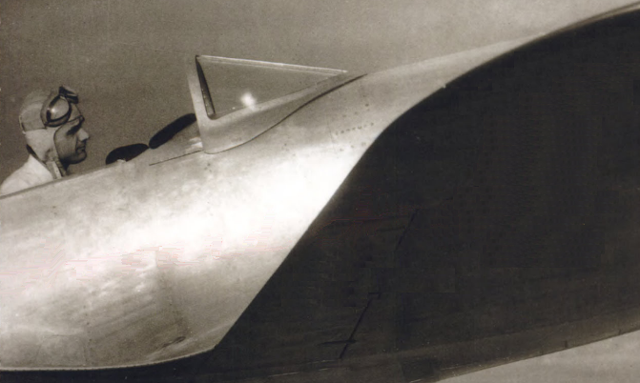 In the footsteps of his father, Howard Hughes Jr. invented the tricone drill bit and patented it in 1934, whereafter he became the world's richest man (picture from the book "Howard Hughes: The Untold Story")
Today, MGX Minerals Inc. announced the appointment of Marc Bruner to serve as Chairman of the MGX Board and as Head of Lithium & Oil Acquisitions for its newly founded US subsidiary PetroLithium Corp. CEO Jared Lazerson envisioned:
"It is with great pleasure that we welcome Mr. Bruner to the Company and position of Chairman of the Board of MGX as well as Director of Lithium and Oil acquisitions for PetroLithium Corporation of America. Mr. Bruner is one of the original developers of the unconventional oil and gas business and is a rare breed of visionary businessmen able to recognize and advance fundamental paradigm shifts in the energy industry. Among many other assets, in the past 20 years Mr. Bruner built Ultra, Falcon, and Pennaco, an unrivaled achievement in the unconventional energy industry."
Marc Bruner is one of the most compelling success stories in the history of the oil and gas industry. His last 2 winning ventures, Ultra Petroleum and Pennaco, both skyrocketed from pennies to a combined market value exceeding $10 billion (Ultra peaked at $100/share).
Like Howard Hughes, J. Paul Getty, and all other great entrepreneurial visionaries, Bruner's talent is detecting major untapped opportunities and transforming these into viable, multi-billion-dollar businesses. With its disruptive, patent-pending method of "sucessfully extracting lithium from oilfield wastewater", MGX has all the ingredients in place for Bruner to take it to the next level, and beyond. He stated:
"MGX is the first Company to separate lithium from oil well wastewater. I am excited about bringing my experience in the unconventional oil and gas business into a new industry where creative thinking is required. Being first positions MGX to be the growth leader in this energy industry paradigm shift."
As this technology could be one of the most important developments in the energy sectors, shareholders of MGX are betting on Jared Lazerson and his team becoming the modern day Howard Hughes; this time not only changing the face of the energy industry but bridging the gap between the old and new energy sectors to transform, hand in hand, into the era of electrification. That'd be history in the making.
What paved the way for the era of the automobile, the age of the jet plane, and eventually, the exploration of space?
A newfangled tool.
More than a dozen inventors were racing to build a bedrock-piercing drill bit when Howard Hughes Sr. struck gold. Until his innovation, when oilmen attempted to reach the truly vast reservoirs of black gold, they were stymied by the unyielding granite shelf that lay underneath 2,000 square miles of Texas and Louisiana. Their drills were usually ground into nubbins as soon as they chewed into the granite. Yet just beneath lay an underground sea of petroleum that would pave the way for the era of the combustion engine.
While some of the highest-paid engineers in America were searching for the perfect drill bit, Hughes Sr. realized that a series of bits, working off a single shaft, was the answer.
Hughes Sr. and his crew took their odd-looking metal device and attached it to a drill stem at Goose Creek, not far from Houston, and let it rip. For 11 hours, it bore through 14 feet of solid rock, cutting a 1,000 foot well at a location given up as hopeless by all the major oil companies. Their discovery would change the nature of oil exploration the world over.
Within 10 years, the Hughes rock bit - also known as the Hughes rollerbit - would be used in 75% of the world's oil wells. This drill bit would be the foundation of the Hughes family fortune, for a time the richest in Texas history. To broaden the base of his wealth even further, Hughes refused to sell the drill bits. Oil explorers large and small had to lease them for $30,000 per well (Standard Oil would use 15,000 of these drills in its first decade). Once a well was gushing, the bits were retunred to the Sharp-Hughes Tool Company, where they were cleaned, sharpened, and leased again to other corporations. "Sheer genius," proclaimed William Stamps Farish, president of Standard Oil. "It was high-way robbery, of course, but genius all the same." (source)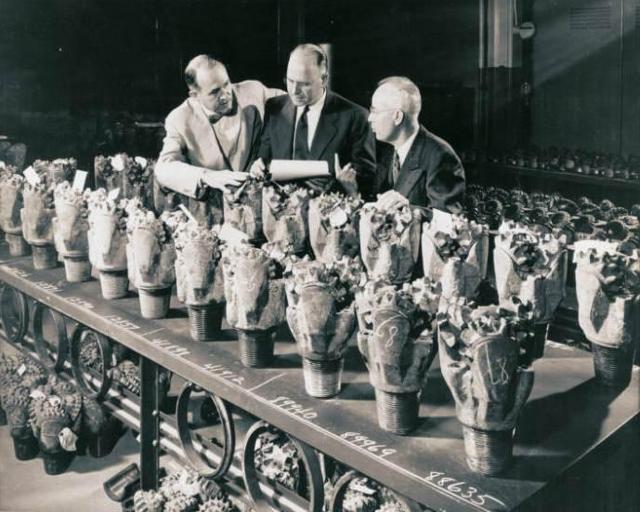 Men inspecting drill bits at the Hughes Tool Company in Houston (source). "The secret of Hughes Tool's success was that everybody who drills an oil well wants the best possible bit - running a rig is extremely expensive ($250 or more an hour), and the better the bit, the faster it goes. Hughes Tool made the best possible bit. In 1933 two Hughes engineers invented the tricone bit, which drilled holes straighter and faster, and for the seventeen years that the patent on it ran - 1934 through 1951 - Hughes's market share approached 100 per cent. The bit found virtually all the oil discovered in the glory days of wildcatting, and Howard Junior got to be the richest man in the world. In 1972 he took the tool company public and made $150 million in cash the day it went on sale. The money from the drill bit made dozens of movies, took over Trans World Airways, and built a good chunk of Las Vegas, among other things." (source)
Striking Resemblance
What may re-pave the way for the era of the electric automobile?
A newfangled tool.
By 2017, more than a dozen companies were racing to the remote and high altitudes of the "Lithium Triangle" in South America and likewise to Nevada's Clayton Valley, North America's only lithium brine operation, close to where Tesla Motors is building Gigafactory #1.
Gigafactory #2 in Arkansas or Texas? Every single day, the oil industry in Texas and Arkansas is pumping to surface millions of barrels of oil, and with it comes an "oilfield brine" rich in lithium, which is considered as wastewater resulting in high disposal/treatment costs and a threat to the environment.
In some areas of Texas and Arkansas, the lithium concentrations are higher than in the overappropriated and almost depleted Clayton Valley, but what really makes the difference is sheer quantity. Every day, there is so much lithium-rich brine being pumped to surface, and pumped back into the formation after treating it expensively, that an economically viable method of extracting the lithium would change the nature of several industries and even bridging the historic gap between the traditional and new energy industries.
The US would no longer be dependent on foreign lithium sources and processing capacities. The US could continue to lead into the era of global electrification. However, there would be no way around MGX and PetroLithium. Howard Hughes would be impressed. Genius all the same, when it all comes together.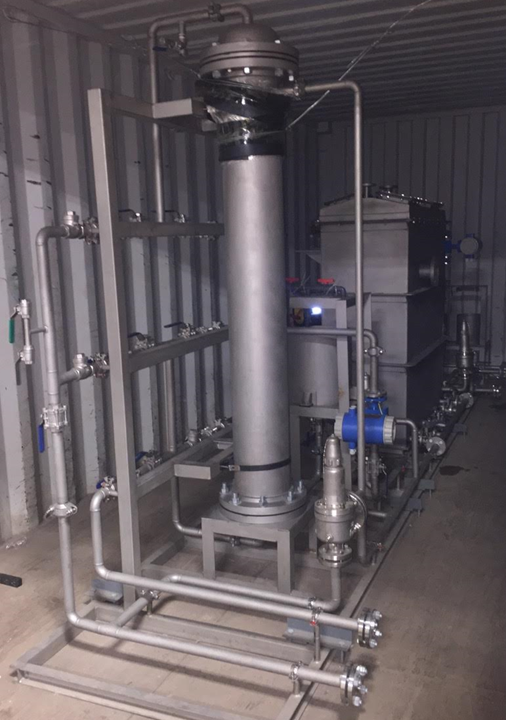 PurLucid's pilot plant unit for water purification and pre-treatment has arrived in mid-November 2016 (shown above) and it has been integrated with MGX's lithium extraction process, which potentially reduces recovery times of lithium and other valuable minerals from 18 months to 1 day, compared with conventional lithium extraction. Process optimization is ongoing. PurLucid's patented water purification technology removes particulate and dissolved material including dissolved and emulsified oil, colloids and heavy metals. Collectively, this new method could become one of the most important developments in the energy industry. As of January 3, 2017, lithium was extracted successfully from oil sands wastewater. As of January 30, 2017, MGX and PurLucid are now preparing for deployment of the pilot plant shortly with commercial scale deployment expected during the second half of 2017.
---
About Marc Bruner
Over the past 30 years, Mr. Bruner has founded and held directorships with numerous oil and gas companies, making him a leading expert in unconventional oil and gas development in North America and internationally.
Mr. Bruner was previously the Chairman and CEO of Falcon Oil & Gas Ltd. and served as Ultra Petroleum's founding Chairman where he was involved in developing the Pinedale Anticline in Wyoming, which is now recognized as one of the largest unconventional natural gas fields in the United States.
While serving these companies, Mr. Bruner oversaw negotiations and contracts with global oil and gas companies including Halliburton, Exxon Mobil, Questar Gas and Hess Corporation.
Previously, Mr. Bruner founded Pennaco Energy Inc. to explore and develop coal bed methane properties in the Powder River Basin of Wyoming and Montana. In March 2000, the company was sold to Marathon Oil for $550 million USD.
Mr. Bruner established Ultra Petroleum in 1996 to develop the unconventional oil and gas project in Wyoming known as the Pinedale Anticline, one of the largest natural gas fields in the United States. During his tenure as Chairman of the Board, Bruner conceived and negotiated 37 different contracts that formed the core value and principal asset base of Ultra Petroleum Corp. During his tenure Mr. Bruner grew Ultra to a market capitalization in excess of $7 billion USD and completed deals with global oil and gas companies including Halliburton Corporation, Burlington Northern, and Questar Gas.
Mr. Bruner founded Pennaco Energy Inc. to explore and develop coal bed methane properties in the Powder River Basin of Wyoming and Montana in 1997. In March 2000, the company was sold to Marathon Oil for $550 million USD, having grown from an initial capitalization of $1 million USD.
After founding Falcon Oil & Gas Ltd. in 2005, Marc Bruner served as the company's President and Chief Executive Officer until 2010 and oversaw its market capitalization rise to in excess of $3.7 billion USD.
In 2011, Mr. Bruner established Australian-based Paltar Petroleum. The unconventional oil and gas exploration and development company is focused on exploiting its assets in the Beetaloo Basin undeveloped shale deposits.
Marc Bruner attended Tulane University in New Orleans, Louisiana, where he studied geology.
Mr. Bruner joins Dr. Larry Marks (Geophysics), formerly of Royal Dutch Shell and Shell Oil Canada, as well as Mr. Claudio Manissero, formerly of FMC Lithium and Dr. Preston McEachern, Chief Scientist, on the PetroLithium Corporate Team.
As compensation Mr. Bruner has the right to acquire up to 17% of the company over a 2 year period, based on current outstanding shares, by achievement of milestones and maintenance of responsibilities. The initial stock vesting will occur in May 2017 and thereafter every 3 months.
The PetroLithium Corporation
On January 23, 2017, MGX Minerals Inc. announced to have formed PetroLithium Corporation to enter significant mineral, oil, and environmental markets in the United States. MGX has filed a trademark application with the United States Patent & Trademark Office for the name Petrolithium for future use in commerce, and if granted will give MGX exclusive right to its use in trade. Appointment of management positions is underway.
The oilfield technical and acquisition team will be headed by Dr. Larry Marks. Dr. Marks, a Professional Geophysicist, was with Royal Dutch Shell for 30 years and held Project Director positions at The Hague, which covered the Middle East and Africa. Dr. Marks currently leads the oilfield technical and acquisitions team for the MGX's Alberta Lithium Exploration. He will be primarily responsible for acquisition of lithium-bearing brine and oil wells for PetroLithium Corporation.
Product development and sales will be overseen by Mr. Claudio Manissero. Mr. Manissero was formerly Director of Sales at FMC Lithium. Mr. Manissero has had an extensive career with FMC Corp. spanning over 20 years.
The scientific team will be led by Dr. Preston McEachern, a leader in water management in the oil and gas industry, Dr. McEachern has 23 years' experience in solving water challenges. He holds three faculty appointments with Canadian Universities and was previously Vice President of Research and Development at Tervita. Dr. McEachern is the CEO of Purlucid Treatment Solutions Inc., MGX's engineering partner.
The Lamar Corporation
The Lamar Corporation is led by Dr. Larry Marks, a 35-year industry veteran of the oil and gas sector. Dr. Marks spent 30 years in various executive roles for Shell Canada Ltd. and various Shell Group companies, including General Manager and Vice President of Marketing and Transportation for Shell Canada. He has experience in all facets of the oil and gas business, having worked extensively throughout Canada, Asia, Africa and the Middle East in his career. While at Shell Canada, Dr. Marks implemented strategies for marketing, sales and transportation of energy and co-products in excess of more than $3 billion in annual revenue.
Claudio Manissero
Mr. Manissero holds over 40 years of global experience in the chemical industry, including significant involvement in the mining, environmental and oilfield industries. He previously spent 21 years at FMC Corporation ("FMC") where he served as Sales and Marketing Manager as well as directed a technical team on new technology developments that resulted in a number of patents and government and industry approvals. Mr. Manissero obtained a B.S. Degree from Duke University and a M.S. Degree in Organic Chemistry/Biochemistry from Marshall University.
Roy Eccles
Mr. Eccles obtained his B.Sc. and M.Sc. from the universities of Manitoba and Alberta. He completed his thesis on The Petrogenesis of the Northern Alberta Kimberlite Province. Mr. Eccles is a practicing professional geologist with the Association of Professional Engineers and Geoscientists of Alberta. He has over 26 years of mineral exploration experience encompassing a wide range of geological processes and commodities. Mr. Eccles has published over 70 manuscripts and 75 presentations. He is internationally recognized for his knowledge of the geology and economic potential of the Canadian Shield and the Western Sedimentary Basin.
Derek Stonehouse
Mr. Derek Stonehouse Mr. Stonehouse has over 26 years of experience in the oil and gas industry in western Canada, including the identification and drilling of over 140 horizontal wells. In particular, his experience with Northern Blizzard Resources, involving the re-development of an existing oil pool thought to be previously exhausted, and grass roots development of the Montney gas/condensate exploration target for Storm Resources, currently producing 10,000 BOE/D, are highly relevant to the development of MGX's lithium fields.
Cementation AG
Cementation AG (Above Ground Division) holds expertise in the handling and processing of industrial and energy minerals from scoping study through construction, operations, and maintenance. The lithium plant engineering team is being led by Cementation AG's process engineers with extensive experience in process design, metallurgy and operations. Cementation AG process engineers have supported projects with Suncor, Intrepid Potash, Copper Mountain, Rio Tinto, Phelps Dodge, HudBay Minerals and others.
Curt Maxwell
Mr. Maxwell is a professional Landman with over 36 years of industry experience in the Western Canadian basin, NWT, offshore Canada and the northern USA. He obtained a Bachelor of Social Work from the University of Calgary before a career change into the oil and gas business. Mr. Maxwell began his Landman career at Petro-Canada and has held progressively more senior roles with General American Oils, Phillips Petroleum and EOG Resources. For the past 16 years Mr. Maxwell has worked in all aspects of Land as a Consulting Landman with more than 20 junior companies. Hel has been involved in the exploration, development and A&D of several significant properties. He currently continues to be involved in several operating management teams.
Jared Lazerson (President, CEO and Director)
Mr. Lazerson has worked in the mining and technology industries since 1994 with companies including Osprey Systems (GPS and Digital Mapping), United Helicopters, Copper Island Mines and Manto Resources. Mr. Lazerson holds a BA in International Relations from the University of Pennsylvania.
---
The History of Oil climaxed when the salt dome gusher, known as Spindletop, spewed Black Gold 150' in the air!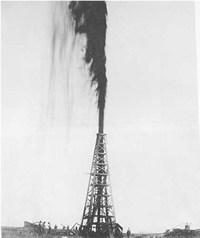 Spindletop is renown in the history of oil as the first oil well of any real significance. Why? Because this discovery of black gold changed Texas history as well as global history.
Before 1901, Texas history was merely one of rural, agricultural roots. However, the discovery of mass amounts of petroleum combined with drilling advances made by Howard Hughes to more efficiently remove it from the ground, thrust Texas history suddenly into the petroleum and industrial age...
Spindletop gushed for nine days before it could be capped and spewed black gold 150 feet in the air. Three months later, five more gushers had been drilled. These six wells produced more than oil in a day than the entire world and changed man's perception of petroleum more than any other even in the history of oil...
Salt domes attracted the attention of speculators worldwide. Companies were formed to seize and capitalize on the stampede to obscene wealth and riches. Most of the major oil companies today were flung into existence with the news of Spindletop: Texaco, Exxon, Mobil and Sun are a few. Amongst all these entrepreneurs and businessmen, one man cannot be left out of the history of oil and drilling - the infamous Howard Hughes. Thanks to this man, today's world of oil and gas exploration includes sophisticated advances like directional drilling and offshore oil drilling.
The fishtail bit (or drag bit) was successfully used on the Lucas well at Spindletop but was unable to drill loose formations and those prone to caving. Thus, drilling was limited to reservoirs near the surface. Not only were fishtail bits limited to shallow drilling, they were also slow, drilling at rates as low as 2' per day. In 1908 Mr. Hughes and his partner, Walter Sharp, built a wooden model of a roller type bit and tested it in Goose Creek, TX.
Their concept was not to rely on scraping the rock like a fishtail bit but to chip, crush and powder hard rock formations utilizing cones that rolled in a true circle. The cutting edges were designed to prevent the cuttings from falling into previous cuttings, thereby preventing tracking. This rolling motion enabled the bit to constantly crush and grind new rock with each turn.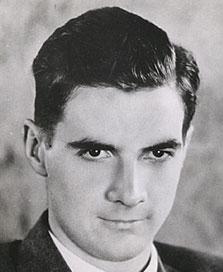 The experiment was a huge success! They immediately founded Sharp-Hughes Tool Company in 1909, with Howard Hughes ending up with complete ownership in 1915. The company then became known as Hughes Tool Company.
With Howard's death in 1924, his son, Howard Robard Hughes dropped out of Rice University to manage Hughes Tool Company. Howard Hughes, Jr., sold Hughes Tool Company in an initial public offering in 1972. In 1987, Hughes Tool Co. merged with Baker International and became known as Baker Hughes. With the acquisition of Eastman Christensen, Baker Hughes merged Eastman Christensen with Hughes Tool Company. This became known as Hughes Christensen Company in 1992.
Not enough can be said about contributions to drilling made by Howard Hughes.His contributions forever changed the history of oil and drilling as mankind has become completely dependent on crude...
One hundred years later, all major drill bit manufacturers still follow the basic concept of the Sharp-Hughes two cone drill bit. The contributions of the two-cone drill bit has been so immense that The American Society of Mechanical Engineers has designated the Hughes Two Cone Drill Bit a Historic Mechanical Engineering Landmark. (source)
---
Company Details
MGX Minerals Inc.
#303 - 1080 Howe Street
Vancouver, BC, Canada V6C 2T1
Phone: +1 604 681 7735
Email: jared@mgxminerals.com
www.mgxminerals.com
Shares Issued & Outstanding: 58,051,866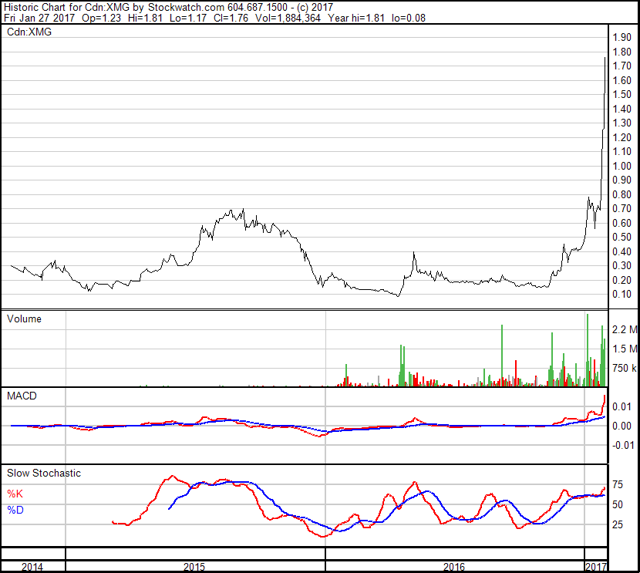 Canadian Symbol (CSE): XMG
Current Price: $1.76 CAD (01/27/2017)
Market Capitalization: $102 million CAD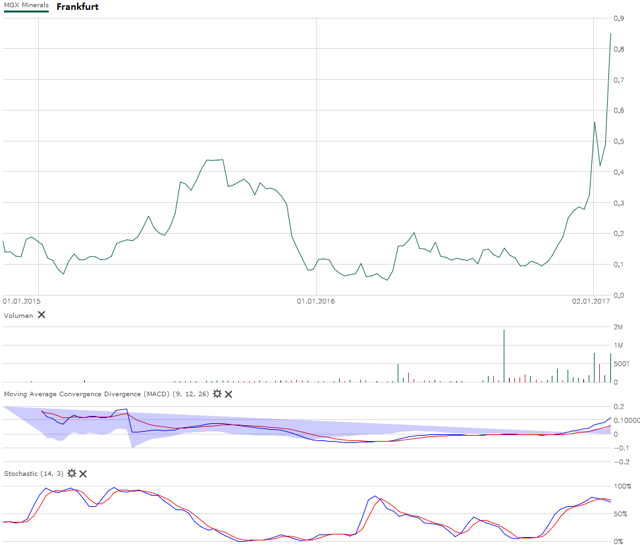 German Symbol / WKN (Frankfurt): 1MG / A12E3P
Current Price: €0.996 EUR (01/27/2017)
Market Capitalization: €58 million EUR
---
Previous Coverage
Report #15 "Total Conviction: MGX forms PetroLithium Corp. to expand into the US oilfield brine markets"
Report #14: "MGX Extracts Lithium from Oil Wastewater - Begins Monumental Integration with Big Oil"
Report #13 "MGX Partners with Oil Major on Lithium Brine, New Energy Industry Facing Fundamental Shift"
Report #12 "Game Changing Potential: MGX Minerals' Pilot Plant for Rapid Production of Lithium Nears Completion"
Report #11 "MGX assays 34 g/t gold from surface sampling in British Columbia"
Report #10 "Official: MGX owns magnesium worth multi-billions of dollars and starts pilot plant shortly"
Report #9 "One of the world's largest lithium resources on the horizon?"
Report #8 "Ready for significant lithium brine work in Alberta"
Report #7 "At the forefront of Alberta's lithium brine riches"
Report #6 "Pioneering Lithium in Alberta: MGX Minerals Teams Up"
Report #5 "Time to Put a Lithium Production Process in Place"
Report #4 "MGX Minerals Taps Into Canada's Potentially Largest High-Grade Lithium Resources"
Report #3 "MGX Minerals Receives Mining Lease for 20 years (in British Columbia!)"
Report #2 "MGX Minerals Accelerates Towards Production"
Report #1 "MGX Minerals Plans To Enter The Magnesium Market"
---
Stay Tuned!
For smartphones and tablets, an APP from Rockstone Research is available in the AppStore and in the GooglePlayStore.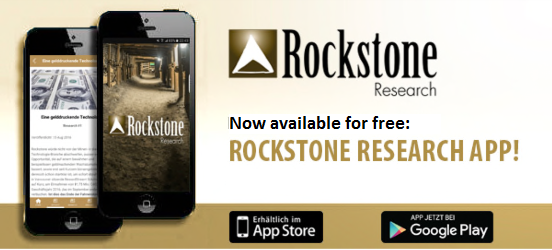 Disclaimer: Please read the full disclaimer within the full research report as a PDF (here) as fundamental risks and conflicts of interest exist.
Disclosure: I am/we are long CSE:XMG.