And acquires 100% of the advanced platinum palladium copper nickel project in Finland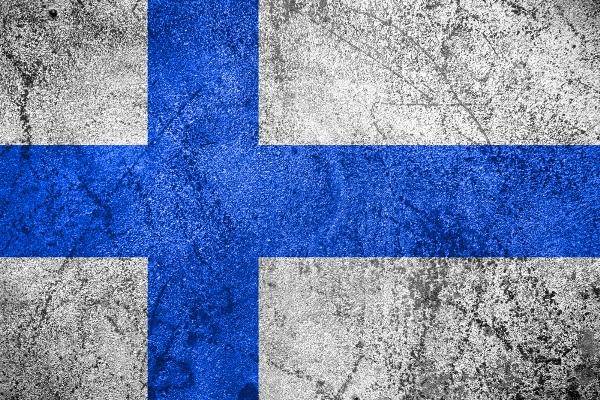 With almost 2 million shares traded yesterday and a 64% surge in share price, Nickel One Resources Inc. announced the signing of a definitive agreement to acquire 100% of the Lantinen Koillismaa ("LK") Platinum-Palladium-Copper-Nickel Project in Finland. Vance Loeber, President & CEO, commented:
"The LK Project provides us with an excellent opportunity to build on a substantial platinum, palladium, gold, copper, and nickel resource in a mining friendly jurisdiction with some of the best infrastructure in the world. Building on more than $10M in previous exploration expenditures that outlined two deposits, and our in-depth understanding of the geology and mineralization style, we are in a position to rapidly advance the project toward a very large tonnage and potentially economic precious metals deposit, with the added bonus of copper and nickel based on a current 43-101 compliant resopurce. In addition, the LK Project provides us with a foothold in Finland from which we will be taking a hard look at other opportunities to continue to build a strong portfolio of projects in Nickel One."
Thom Calandra´s investment letter, The Calandra Report, commented as follows yesterday:
"Nickel One finally put the pen to paper with Finore Mining and now owns all of the Lantinen Koillismaa Platinum Group Element-Copper-Nickel (PGE-Cu-Ni) project (in North-central Finland. Price: 5 million common shares (bout $250,000 USD) and 2.5 million warrants exercisable at $0.12. The company is a Vancouver set-up that looks to re-classify elements in the deposit so that it shows higher grades -- possibly for ore shipment to three area smelters. I own NNN and have for 11 months. Abraham Drost, a TCR Network trusted geologist and investment-oriented company maker from Thunder Bay, Ontario, is still listed as chairman and a director on the Nickel One web site. Mr. Drost, who favors the company´s other nickel project, in Ontario, stepped down in mid-December and sits on the advisory board. As it turns out Wednesday, NNN saw more than 1 million shares change hands in Canada, some of it from European trading and most of it FROM individuals and not banks or asset managers. That is probably a good sign."
Nickel One's management is of the opinion that the purchase of this advanced project provides its shareholders with exposure to a promising PGE-Cu-Ni deposit in an area of the world populated by several large scale producers and 3 smelters. Management is highly experienced in the exploration and development of ultramafic intrusion-hosted PGE-Cu-Ni projects. In November 2016, Nickel One appointed Lawrence Roulston to its Advisory Board. This is the first time that distinguished Roulston is joing a public company´s Advisory Board and as such, he must be convinced not only of Nickel One´s established management team but also of the great potential of the company´s exploration projects. Roulston commented:
"I was attracted to Nickel One by their planned acquisition of an exceptional PGE-copper-nickel project in Finland, and by their vision to further capitalize on the multitude of opportunities available in northern Europe. The enormous geological potential of that region is largely unrecognized and Finland is one of the highest rated countries in the world for mining investment."
In August 2016, Rockstone presented Nickel One´s newly acquired PGE-Nickel-Copper Project in Finland (commodity price charts updated as of yesterday):
Opportunity Knocks and Nickel One Answers
Major Advanced PGE-Nickel-Copper Deposit in Finland acquired by Nickel One
With a market capitalization of $2 million CAD, Nickel One Resources Inc. todayannounced the acquisition of the advanced stage Läntinen Koillismaa ("LK") Project in Finland, where over 33 km of drilling delineated a large indicated and inferred resource: 46 million tonnes with palladium, platinum, gold, nickel and copper grades similar to operating mines and advanced projects in Finland. This NI43-101-compliant resource estimate was prepared in 2013, at a time when metal prices were slumping dramatically.
Now - with metal prices on the rise again - Nickel One intends to advance this project in a new way; amongst others applying a higher cut-off grade in order to increase grades and shrink to be mined tonnage to 12 million t initially. That's how to potentially make this project viable within today's market conditions.
Prevalent labour issues in South Africa have been creating supply problems for PGE ("Platinum Group Elements") commodities; as many as 75,000 workers have gone on permanent strike over the last years. Recent upturn in sales for the global automotive industry and strong forecasts for future automotive production are benefiting PGE prices; increased M&A activity may start to accelerate again. Reports are in circulation that the Russian government has completely depleted its palladium stockpiles, strongly pressurizing global supply. The global trend for improving environmental standards in widespread products and engineering methods, particularly those in the automotive sector, is likely to support robust PGE demand for the long haul.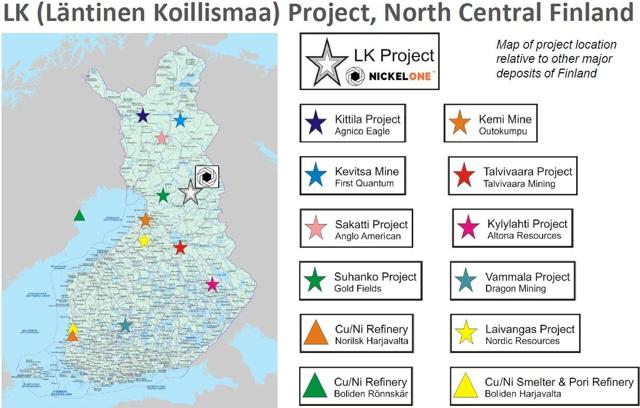 The Läntinen Koillismaa (LK) property is located in north-central Finland and has outstanding location and infrastructure advantages. Power is available in the property area as there is a history of mining in the region. The elements platinum, palladium, gold, copper, cobaltandnickel are known to be present and have been analysed in drilling and surface sampling on the property, resulting in a NI43-101 compliant resource. The LK property is divided into 4 target areas: Haukiaho, Kaukua, Murtolampi and Lipeavaara.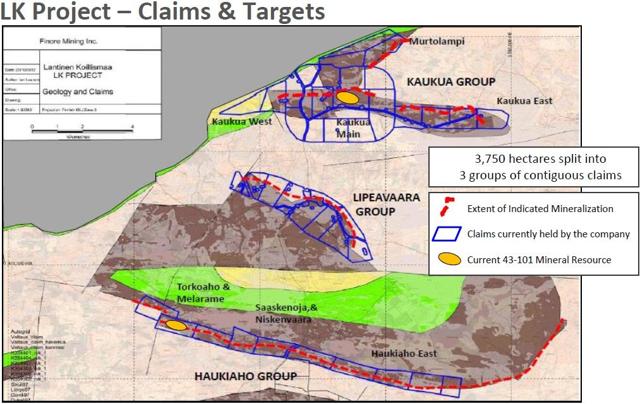 LK Project Highlights
• Finland is a low-risk, mining-friendly country with active companies such as Agnico Eagle, First Quantum, and Gold Fields; ranked as world's best mining jurisdiction (Fraser Institute's World Survey 2012/13).
• The project offers access to PGE commodities without the geopolitical risks associated with South Africa and Russia (these 2 nations produce 85% of the world's platinum and 79% of palladium; according to US Platinum Summary 2012).
• Finland offers lower operating costs compared to North America (the 3rd largest platinum and palladium supplier).
• The project has strong support from the regional chamber of commerce and local community.
• Excellent proximity to infrastructure and smelters: Only 40 km north of existing rail network; existing all weather road directly to project site; maintenance of road up to property boundary undertaken by local government; 160 km west by rail to the major port of Oulu.
• A NI43-101 Report was completed in 2013, showing an indicated and inferred resource of 46 million tonnes with palldium, platinum, gold, nickel and copper grades similar to operating mines and advanced projects in Finland.
• The 46 million t resource outlined to date is potentially amenable to low-cost open-pit mining, as employed at the Lac des Iles Project in Canada when it first commenced operation.
• A test mine pit exists at Haukiaho (operated by Outokumpu Oy in 1960s). The minerals mined here were brought to a concentrator 7 km south. Several trenches made by Outokumpu (1960-1990) exist on the property.
• Metallurgical test work (conventional rougher flotation) yields greater than 80% recovery of PGE + gold, 93% for copper and 51% for nickel.
• Concentrate produced (16% copper + nickel and 60 g/t PGE + Gold with low 4% MgO) is likely marketable to smelters located in Finland and Sweden. Metallurgical testwork indicates suitability of LK concentrate to a number of smelters including the Boliden smelter located in Harjavalta, Finland.
• Based on latest testwork: A 12% copper, 4% nickel, 50 g/t PGE concentrate is believed to be marketable to up to 7 of the world's 18 major smelting facilities. The anticipated conventional milling and flotation process demonstrated a saleable 26% copper concentrate and a 6% nickel concentrate with >50 g/t PGE + gold (likely to be marketable, but value would improve substantially at higher grades).
• A total of 33,486 m of core drilling has been completed, including over 1,000 m on strike on the Kaukua zone with 83 holes and 1,800 m on the Haukiaho zone with 90 holes.
• The Koillismaa Ultramafic Layered Complex (KULC) is exposed along a mapped 38 km strike length on the Kaukua, Haukiaho, Lipeavaara and Murtolampi zones. Only 3 km have been drilled on the Kaukua and Haukiaho zones. Approximately 35 km of the KULC has been prospect drilled by the Geological Survey of Finland, outlining many anomalous Pd/Pt/Au/Ni/Cu targets.
• "Blue sky" exploration potential: Only 10% of identified mineralization is included in the current resource estimate, whereas an considerable area (identified by geophysics and historical drilling) remains unexplored. Exploration has identified 3 other targets not included in current resource estimate: Haukiaho East, Lipeävaara and Murtolampi.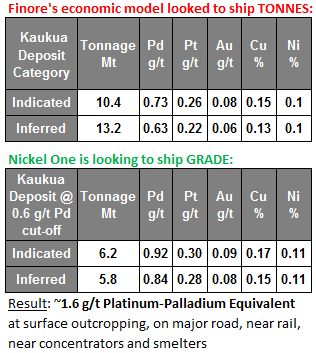 Bottom-line: The advanced staged LK Project needs to be looked at again with metal prices on the rise again, whereas the 2013 resource should be updated again using different metrics, first and foremost a higher cut-off grade in order to increase average grades while decreasing tonnage to make this deposit viable and attractive for today's markets. And LK is open to expansion through shallow drilling on strike of the exisiting resource.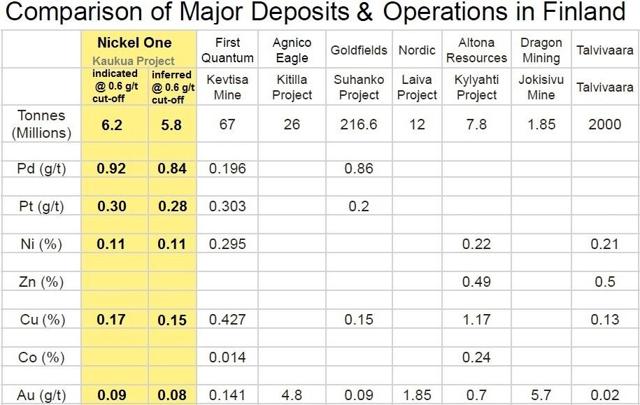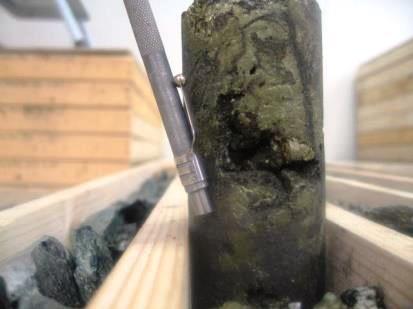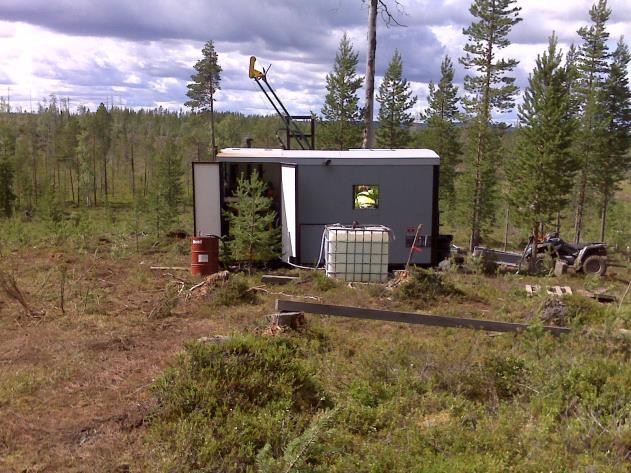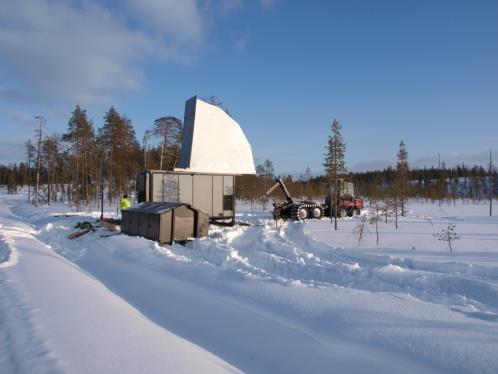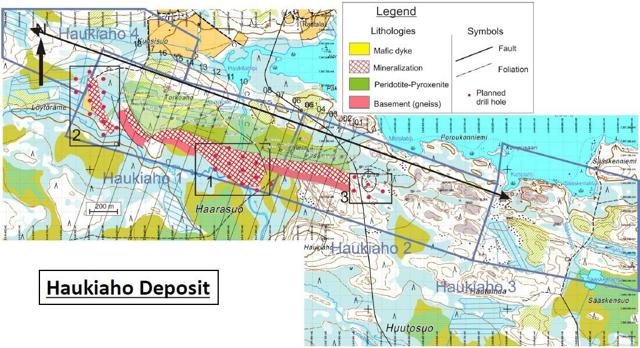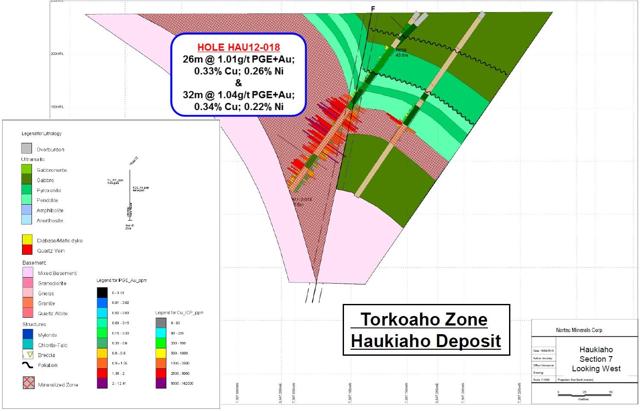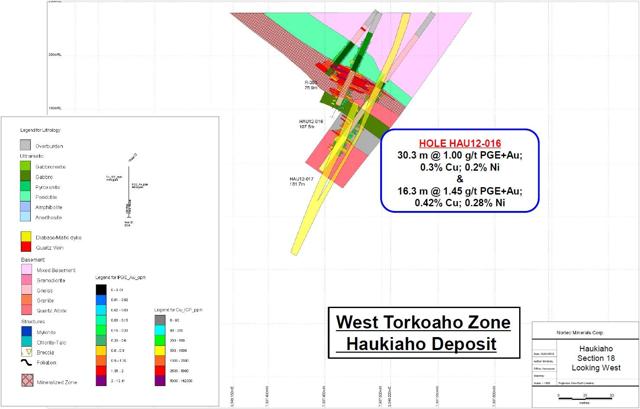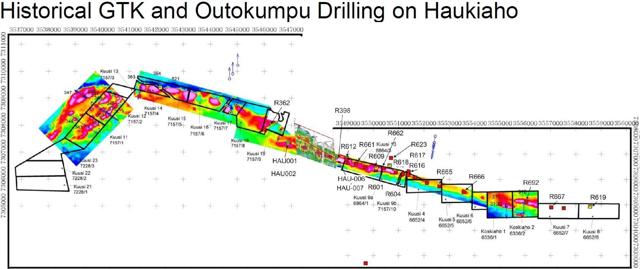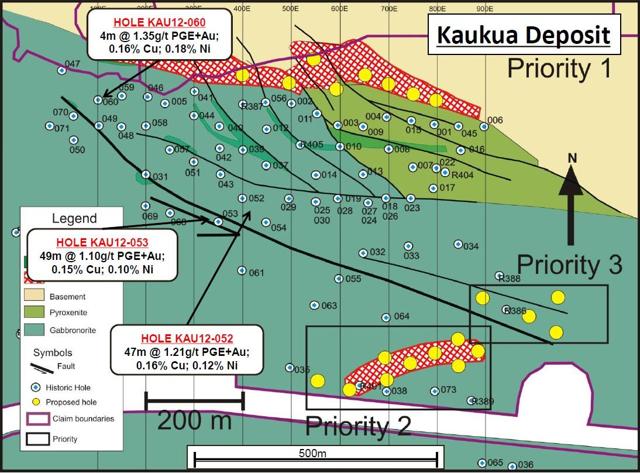 Some of the highest grades yet encountered at Kaukua.
Latest drilling at Kaukua further extended the known mineralized strike length; intercepts include:
• 58 m @ 1.28 g/t PGE + Au, 0.17% Cu, 0.13% Ni
• 31 m @ 2.30 g/t PGE + Au, 0.12% Cu, 0.21% Ni
• 65 m @ 1.57 g/t PGE + Au, 0.18% Cu, 0.10% Ni
• 37.6 m @ 1.25 g/t PGE + Au, 0.18% Cu, 0.12% Ni
• 3.4 m @ 5.24 g/t PGE + Au, 0.84% Cu, 0.35% Ni
• 49.5 m @ 1.10 g/t PGE + Au, 0.15% Cu, 0.10% Ni
• 47 m @ 1.21 g/t PGE + Au, 0.16% Cu, 0.12% Ni
• 18.8 m @ 1.85 g/t PGE + Au, 0.23% Cu, 0.14% Ni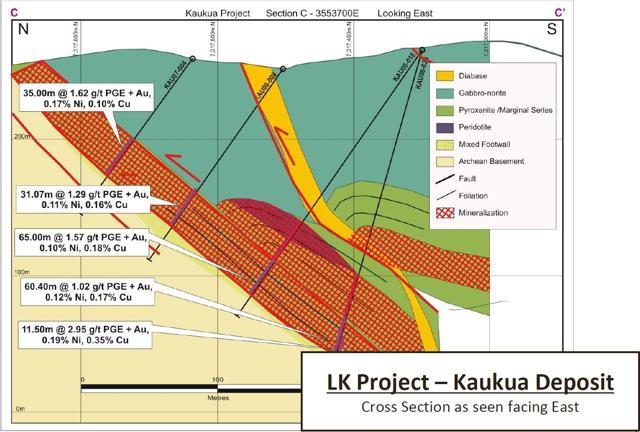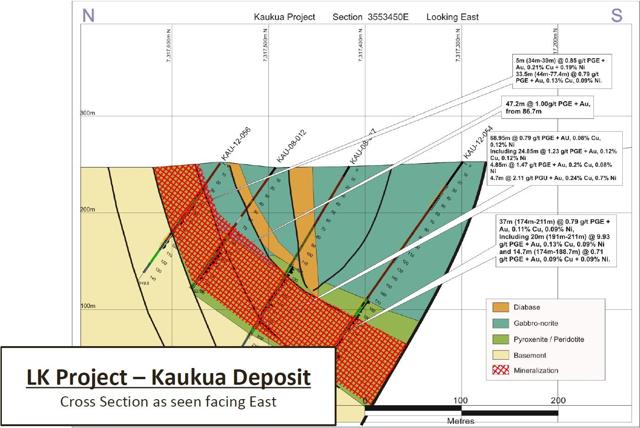 ---
"Is it a bird? Is it a plane? No, it's a metal of steel. Well, stainless steel that is. Known for mixing well with others, nickel is often combined with different metals to make incredibly strong alloys. It's this strength - along with a resistance to heat and corrosion - that make it the perfect ingredient for stainless steel. And with 65 per cent of the world's nickel used in stainless steel production, that's a lot of shiny products." (Source)
Click on below charts to view 15 min. delayed versions: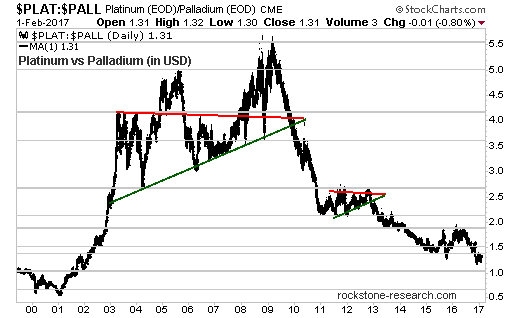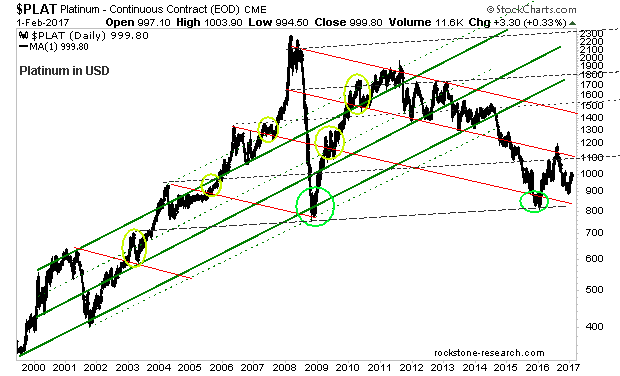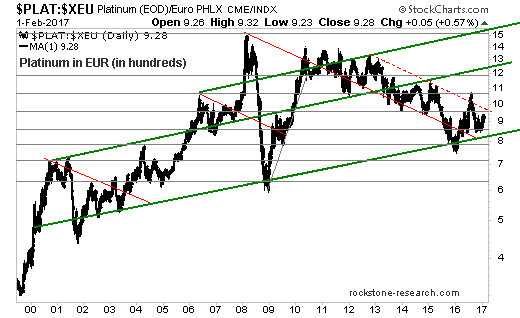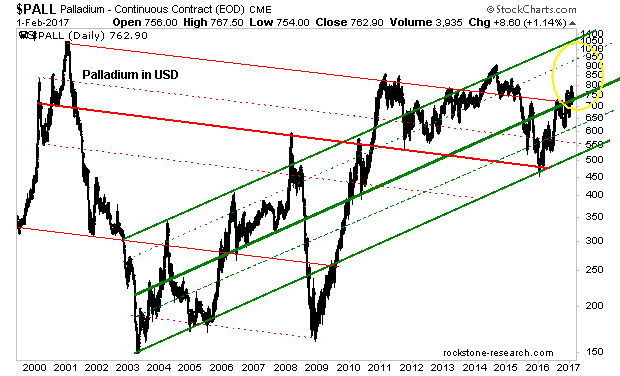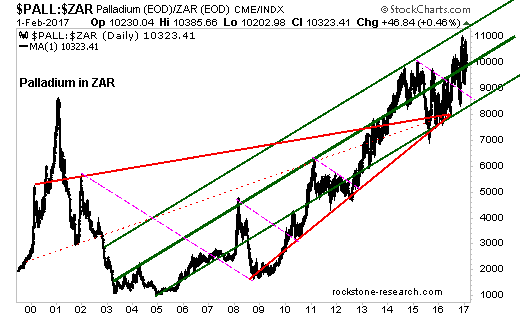 ---
About Nickel One
Nickel One Resources Inc. is a new base metal (copper, nickel) and precious metal (platinum, palladium, gold) exploration and development company evaluating the Tyko Property near Marathon, Ontario, Canada, as well as the newly acquired LK Project in Finland, hosting significant grades of palladium, platinum, gold, nickel and copper. Nickel One's objective is to efficiently advance both projects hrough exploration and development. The company intends to build additional shareholder value through accretive acquisition of additional promising assets.
Management & Directors
Vance Loeber
CEO, President & Director
Loeber is President of Tydewell Consulting Inc. and has +30 years of international business experience. Loeber has been involved in the financing of early stage through to production level resource companies for +20 years. Loeber was one of the founders of U.S. Silver Corp. (TSX: USA), currently the largest pure silver mine in the US. He was also one of the founders of Sandspring Resources Ltd. (TSX.V: SSP), which raised over $60 million CAD and took the Toro Paru Gold Deposit in British Guyana to +6 million ounces. Loeber was also one of the founders of Carlisle Goldfields Ltd., recently bought by Alamos Gold Inc. (TSX: AGI). His extensive network is focused on Europe, Asia and North America, where he matches these investors with the capital requirements of public companies.
Abraham P. Drost (P.Geo.)
Chairman & Director
Drost is a registered Professional Geoscientist (Ontario). He obtained the B.SC. in Earth Sciences from the University of Waterloo in 1984 and the M.Sc. in Mineral Exploration from Queen's University in 1987. He has +30 years experience in the Canadian mining industry. Until recently, Drost was CEO, President and a Director of Carlisle Goldfields Ltd. (TSX: CGJ), is currently a Director of Mega Precious Metals Inc. (TSXV: MGP), former CEO of Premier Royalty Inc. (TSX: NSR) which was bought by Sandstorm Gpold Ltd. (TSX: SSL), former President of Sandspring Resources Inc., former President of Sabina Gold and Silver Corp. and a former Director of Tyko Resources Inc., a private Ontario corporation and party to the recent transaction.
Scott Jobin-Bevans (Ph.D., PMP, P.Geo.)
Director
Jobin-Bevans is a Co-Founder of Caracle Creek International Consulting and was Managing Director from 2001 to 2008 and Director of Corporate Development since April 2011. In 2008, Scott stepped down as MD and to be a co-founder of TSX listed Treasury Metals Inc., where he served as President, CEO & Director until April 2011. Dr. Jobin-Bevans has +20 years in mineral exploration with public company experience as a director, officer and technical advisor. Scott is a member of the board of directors for a number of public and private companies and holds the volunteer positions of President and Director of the Prospectors and Developers Association of Canada.
Raymond Strafehl
Director
Strafehl has +30 years' experience in the investment and venture capital finance industry in Canada; and in corporate relations for public mining companies. He is a registered Commodity Trading Advisor with the National Futures Association in Canada (since 1998); and founded Venture BC in 1998. He is a co-founder of International Liaison for the International Institute for Sustainable Regional Economies. Strafehl is currently CEO of Redline Resources and has previously served as a director of a number of public companies in Canada.
Roderick W. Johansen
Director
Johansen is a lawyer with Johansen Law Firm of Thunder Bay. He practices exclusively in Corporate Commercial matters including transactions and litigation. He holds a Honours Bachelor of Science from Lakehead University and a Law Degree from McGill University. He regularly provides advice to public companies on transactions, financing and other matters.
Robert J. Scott (CPA, CA, CFA)
CFO
Scott is a chartered accountant with +20 years of professional experience in corporate finance, accounting, merchant and commercial banking. He has served in management and on the boards of a number of Canadian companies. He is currently CFO of Riverside Resources (TSXV: RRI) and Northair Silver (TSXV: INM). Scott is a co-founder and a director of Pan American Hydro Corp., a private company involved in developing small hydro projects in Latin America. Scott earned his CA designation in 1998, his CFA designation in 2002 and has a B.Sc. from the University of British Columbia.
Glenn J. Mullan (P.Geo.)
Advisory Board
Mullan holds a B.Sc. (Geology) from Concordia University and has +35 years of experience in the mining and exploration industries. Mullan is also the President, CEO, and Chairman of Golden Valley Mines. As an independent prospector, Mullan has assembled and acquired many mining prospects ranging from grass-roots ventures through advanced-stage projects. Glenn also is a member of the Board of the Prospectors and Developers Association of Canada (PDAC).
John Ternowesk (Prospector & Project Founder)
Advisory Board
John has been a mining entrepreneur and prospector for over 35 years. Co-discoverer of the Harte gold mine.
---
Company Details
Nickel One Resources Inc.
Suite 1110 - 1111 West Georgia Street
Vancouver, BC, V6E 4M3 Canada
Phone: +1 604 805 3530
Email: info@nickeloneinc.com
Web: www.nickeloneinc.com
Shares Issued & Outstanding: 31,941,226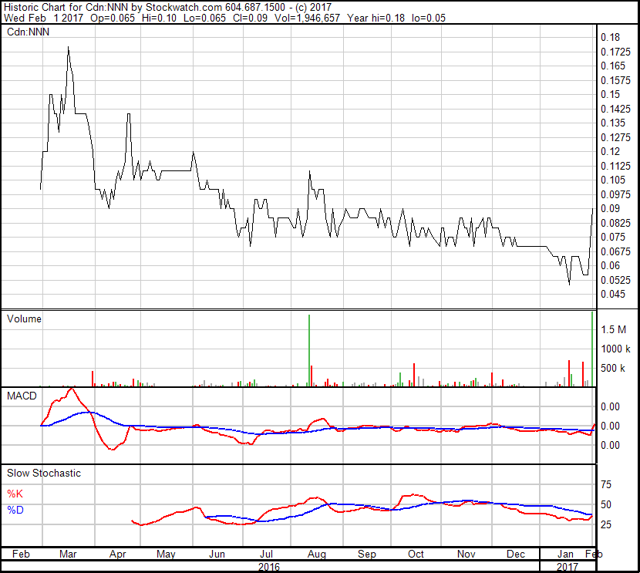 Canadian Symbol (TSX.V): NNN
Current Price: $0.09 CAD (02/01/2017)
Market Capitalization: $3 million CAD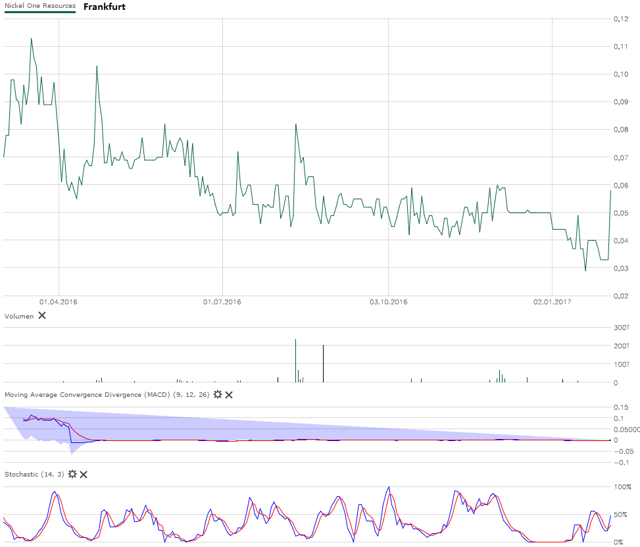 German Symbol / WKN (Frankfurt): 7N1 / A2AD3E
Current Price: €0.058 EUR (02/02/2017)
Market Capitalization: €2 million EUR
---
Previous Coverage
Research #7 "Lawrence Roulston joins Nickel One" (November 28, 2016)
Research #6 "Opportunity Knocks and Nickel One Answers: Major Advanced PGE-Nickel-Copper Deposit in Finland acquired by Nickel One" (August 11, 2016)
Research #5 "Nickel One strikes pay dirt with new drill results" (June 8, 2016)
Research #4 "Calandra is buying Nickel One as management may hit pay dirt again" (June 2, 2016)
Research #3 "Nickel One discovers potentially significant nickel deposit near surface in Ontario" (April 12, 2016)
Research #2 "Early Report on Nickel One: Drill Results Imminent" (March 22, 2016)
Research #1 "Nickel One starts trading and acquires the Tyklo Nickel-Copper Project near Hemlo in Ontario" (February 29, 2016)
Chris Berry "A Closer Look at Nickel: An Unsustainable Current Reality" (October 20, 2015)
Disclaimer: Please read the full disclaimer within the full research report as a PDF (here) as fundamental risks and conflicts of interest exist.
Disclosure: I/we have no positions in any stocks mentioned, but may initiate a long position in NKORF over the next 72 hours.