Investor sentiment
is just one of a list of key market factors that we monitor and analyze
to anticipate upcoming market direction
in US stocks and sectors, US interest rates and Treasuries, the US Dollar, and economically-influential commodities like copper, crude oil and gold.
The following
(green highlights)
is a short excerpt and one of the 15 charts that appear in our December 15th
Sentiment Survey
report. You can view a sample of this report, plus the other reports and services that we provide for our clients, by visiting the
Asbury Research website
.
---
Asbury's Research's Sentiment Survey
December 15th 2010
Chart 2 measures investor sentiment according to
mutual fund investors
, trend followers who tend to operate within an intermediate term, quarterly time horizon.
The chart displays the
S&P 500 (SPX)
in the upper panel (black bars), and the daily total assets invested in the
Rydex Inverse S&P 500 Strategy Fund (MUTF:RYURX)
in the lower panel (blue line) which, according to Rydex;
"...seeks to provide investment results that inversely correlate with the performance of the S&P 500."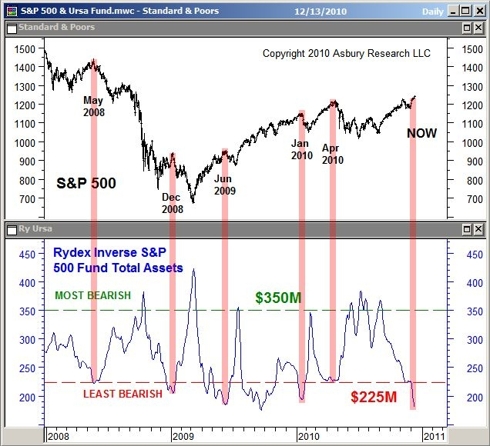 The green and red highlights in the lower panel define
most bearish
($350M or more invested) and
least bearish
(just $225M or less invested)
extremes in these assets
since 2008. The corresponding red vertical highlights across both panels show that
the fund is currently at a 2-year least invested, or least bearish, extreme that has coincided with or immediately led what have been the most important peaks in the US broad market
in recent history.
continued...
---
Our entire December 15th report, which
Asbury Research subscribers
can access by
clicking here
and entering your login information, also includes the latest investor sentiment data according to
brokerage and advisory firms, retail options traders and stock market newsletter writers
.
Disclosure:
I have no positions in any stocks mentioned, and no plans to initiate any positions within the next 72 hours.