The following is one of the 27 charts and corresponding commentary/analysis from our Thursday January 10th US Financial Market Chart Book.
"Chart Book" is one of 8 different reports that we produce for subscribers throughout the month. It is a monthly collection of key charts that focus on a broad array of US and global financial asset prices and related data that collectively convey our best investment ideas for the next one to several months in the US stock market and sectors, US interest rates, the US Dollar, and in economically influential commodities.
It includes a 20-25 minute video in which John Kosar, Director of Research, walks through each chart and discusses its directional implications for upcoming US financial market direction.
---
Excerpt From: our January 10th US Financial Market Chart Book
Category: Key Stocks This Month
Topic: Apple Computer (NASDAQ:AAPL)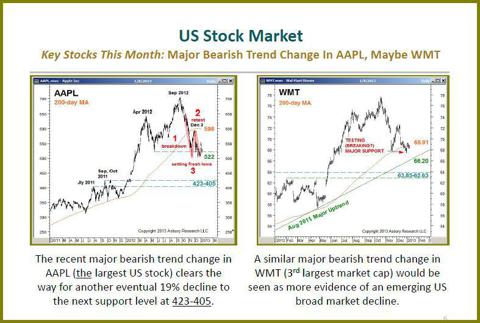 continued…
---
AAPL gapped below its $505.75 November 16th low on Monday January 14th, 2 business days after our January 10th Chart Book was distributed to subscribers. Gaps indicate immediate, collective urgency by investors.
Earlier in 2012, on October 9th, we wrote an Asbury Alert entitled Near Term Peak In AAPL? (access requires subscription). AAPL, which at that time seemed to be a bullet-proof stock, has since declined by $137 per share or 22%.