Like the rest of the financial community, we are watching Chairman Bernanke's first post-FOMC Meeting Q&A session. 
One comment that we found particularly interesting is that Bernanke said the Fed does not think gas prices will continue to rise at their recent pace, because our asset flow-related data suggest the same thing.
The following is a brief excerpt from our April 25th Keys To This Week (Asbury Research clients can click here to login and view the entire report),  a weekly report that includes a bullet-pointed list of key factors that are the most likely to influence the near to intermediate term direction of the US stock market and market sectors, US interest rates, and the US Dollar. 
---
Asbury Research's Keys To This Week
The Energy Sector
April 25th, 2011
Chart 4 displays our Rydex Energy Ratio in the lower panel (blue line) and a daily bar chart of the Energy Sector SPDR ETF (NYSEARCA:XLE) in the upper panel (black), both since 2005.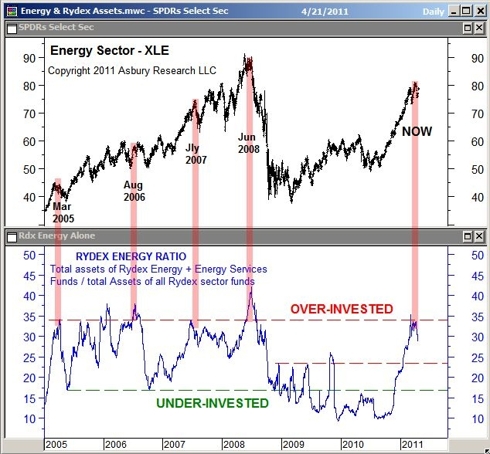 Energy Sector SPDR ETF and our Rydex Energy Ratio

The Rydex Energy Ratio is the total assets invested in the Rydex Energy plus Energy Services Funds divided by the combined total assets invested in all Rydex sector funds. It indicates what percentage of sector bet-related assets, as represented by these Rydex funds, are being allocated to Energy.
The red and green highlights in the lower panel define over- and under-invested extremes in the Energy Sector, according to our ratio, since 2005. The red vertical highlights between both panels show that the Rydex Energy Ratio is just starting to retract from an historic over-invested extreme, one that has previously coincided with most of the important peaks in the XLE since 2005.
continued...
---
Due to the tight and stable positive correlation between the XLE (shown in the upper panel above), the AMEX Oil Index and the NYMEX crude oil contract, a decline in the XLE should coincide with a decline in crude oil prices and, indirectly, in gasoline prices at the pump.
Professional investors can request more information about Asbury Research by either

clicking here

or by calling 224-569-4112.
Disclosure:
I have no positions in any stocks mentioned, and no plans to initiate any positions within the next 72 hours.