Excerpt From: US Financial Market Chart Book
Asset Class: Small Cap Stocks
Topic: Relative Performance
Date: April 2nd, 2013
Relative Performance: Small Cap Is Played Out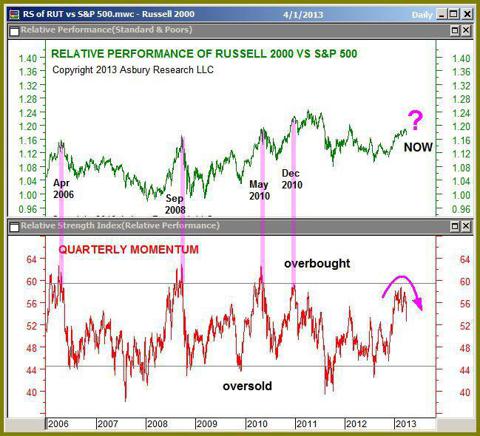 The Russell 2000, which has led the US stock market higher from the November lows, is quarterly overbought vs. the S&P 500 and vulnerable
to upcoming relative underperformance.
---
The chart shows that Small Cap stocks have led and fueled the current November advance in the US broad market as the Russell 2000 (RUT) has outperformed the S&P 500 (SPX) by 7% between November 13th and March 28th. However, the Russell has actually underperformed the S&P 500 by 2% during just the past 2 sessions, and remains vulnerable to more upcoming weakness.
This is important because if the Russell is through leading the broad market higher, another sector of the market must step up to take its place for the November broad market advance to continue. Put another way, without some new leadership - and soon - the current broad market advance will fail.
We discuss this market leadership issue in more detail including how we think it is likely to be resolved in the upcoming weeks, in our latest research.