The following (green highlights) is an excerpt and chart from our July 12th Investor Sentiment Survey report (access requires subscription).
---
Excerpt From: Investor Sentiment Survey
Asset Class: Commodities
Topic: Copper Prices
Date: July 12th, 2013
Chart 2 measures investor sentiment in copper prices according to the positioning of Commercial Hedgers in the COMEX copper contract, which are defined by the Commodity Futures Trading Commission (CFTC) as those holding 100 or more contracts that are "…engaged in business activities hedged by the use of the futures or option markets".
The red line in the upper panel chart plots the weekly net position of these Commercial Hedgers since 2002, with a corresponding weekly chart of the copper contract in the lower panel.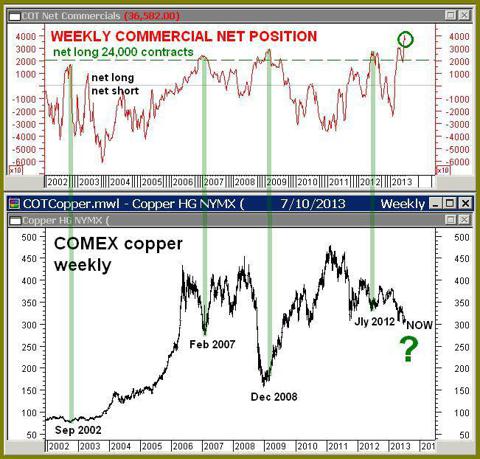 COMEX Copper & Commercial Net Long Position
The rightmost green ellipse in the upper edge of the chart points out that the Commercials were net long 39,801 contracts at the end of June, which is their largest collective net long position for copper in the 30-year history of the contract.
The other green highlights show that lesser net long extremes, of around 24,000 contracts, have closely led what have been the 4 most important bottoms in copper prices during the past decade. Accordingly, this metric suggests that economically-sensitive copper prices are either at or near another similarly important bottom now.
continued…
---
Copper prices are universally seen as a global economic barometer and, at least up until recently, have maintained a statistically significant and dependable 25 year positive correlation with the Dow Jones Transportation Index (DJT).
Thus, we view the current positioning by these Commercial Hedgers as an aggressive bet by the "smart money" on an upcoming intermediate to long period of global economic growth.
Disclosure: I have no positions in any stocks mentioned, and no plans to initiate any positions within the next 72 hours. I wrote this article myself, and it expresses my own opinions. I am not receiving compensation for it. I have no business relationship with any company whose stock is mentioned in this article.