The stock market itself is the ultimate clearinghouse for the collective wisdom, fear, and greed of all its participants, entities that not only have an opinion about asset prices but also have enough conviction to put their money where their mouth is. As such, price itself is the most sensitive, comprehensive, and meaningful evaluator of all known and unknown market factors that can affect your portfolio.
The red highlights on the chart below point out that McDonalds' (MCD) recent problems began between April 12th and July 12th, when the stock failed at four successive attempts to sustain an advance above its $102.22 per share January 2012 benchmark high. On the first three attempts, investors were initially willing to buy the new highs, but left skid marks at the first sign of weakness.
No conviction.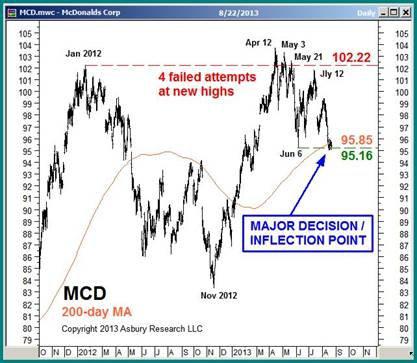 The stock's inability to sustain new all-time highs were validated, and exacerbated, on July 22nd as the fast-food giant reported second-quarter profit and sales growth that fell short of Wall Street expectations which McDonald's attributed largely to soft economies around the world. "We expect the dynamics of this cycle to persist in the near term," Chief Executive Don Thompson told investors. "The slowed growth in the restaurant industry, he said, will make it harder for McDonald's to raise prices and expand profit margins."
The Consumer Discretionary industry includes companies that respond to discretionary higher spending. Discretionary income is gross income minus taxes minus necessities. This type of spending is the first to drop when consumers have to save money.
In other words, when they get nervous.
Now, exactly one month later, the blue highlights on the chart point out that MCD finds itself at another major decision point, this time below the market, as it is currently situated at $95.31 per share and right in between major support levels at the 200-day moving average (a widely-watched major trend proxy) and the June 6th low (the stock's lowest level since the failed attempts to rise above $102.22 per share).
Although a breakdown below $95.85 to $95.16 is necessary to confirm it, our research suggests that an additional 6% decline in MCD is on the horizon - perhaps by late Q3/early Q4 2013. Should this decline occur, it would also indirectly suggest upcoming weakness in the Consumer Discretionary Sector, of which MCD is its 5th largest constituent stock, and could potentially coincide with a US broad market correction as nervous consumers adopt a more defensive posture.
John Kosar, CMT, has 30 years of experience and insight in covering the global financial markets. John spent the first half of his career on the trading floor of the Chicago futures exchanges, where he had the opportunity to learn how the US financial markets work from the inside out. This experience, early in his career, became the foundation for the unique analysis, insight and perspective that defines Asbury Research. John is frequently quoted in the financial press both in the US and abroad, and can be seen regularly on U.S. financial television. Follow him on Twitter at:@asburyresearch.