The following (green highlights) is a chart and a brief excerpt from our Monday October 10th Keys To This Week report.

Considering the Utilities Sector's long term, stable correlation with benchmark US interest rates, how Utilities fare in Q4 2011 can tell us a lot about what to expect from both benchmark US interest rates and the health of the US economy that they tend to predict.
---
Asbury Research's Keys To This Week
October 10th, 2011
US Stock Market Sectors: Utilities
Chart 5 measures the flow of investor assets in and out of the various sectors of the S&P 500 via a pie chart that displays the percentage of sector bet-related assets, as represented by the Rydex Sector Funds, that are invested in each sector of the S&P 500, as represented by the iShares Select Sector SPDR ETFs.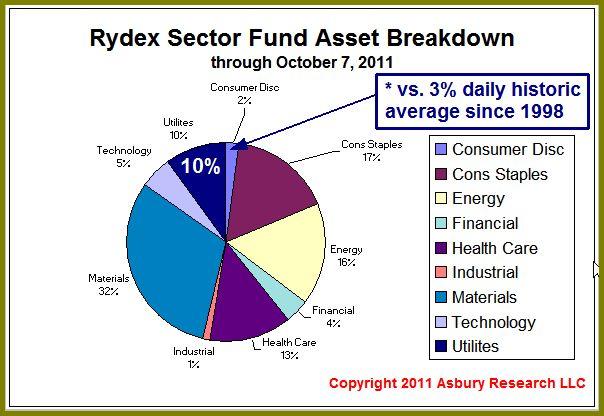 The chart shows that, through the end of last week, 10% of all sector bet-related assets were being allocated to Utilities – which is more than triple the 3% daily historic average since 1998 (when the Sector SPDR ETSs began trading).
These data indicate that Utilities are also severely over-invested versus the other sectors of the US broad market index — which has historically coincided with the beginning of multi-month trends of relative sector underperformance.
continued...
---
Asbury Research subscribers can view the entire report -- which also covers global stock markets, US interest rates, and the US Dollar -- by logging into the Research Center via the button at the upper right edge of this page.
 
Disclosure:
I have no positions in any stocks mentioned, and no plans to initiate any positions within the next 72 hours.