The following (green highlights) is one of the 13 charts and the accompanying analysis/commentary that were featured in Monday's (February 11th) Keys To This Week report.
Today's chart and analysis focuses on our own proprietary metric, which analyzes historic asset flows in US market sector ETFs to determine which sectors are attracting, and losing, investor assets.
Our work shows that this follow-the-money approach is what ultimately drives relative performance.
---
Excerpt From: Keys To This Week
Asset Class: US Stock Market Sectors
Topic: Investor Asset Flows, Consumer Discretionary Sector
Date: February 10th 2014
The long red vertical rectangle on the right edge of Chart 7 below, which is one of our new sector-related metrics, shows that the daily percentage of the "sector pie" that Consumer Discretionary comprises collapsed to just 6.8% through the end of last week, from 9.7% on December 5th.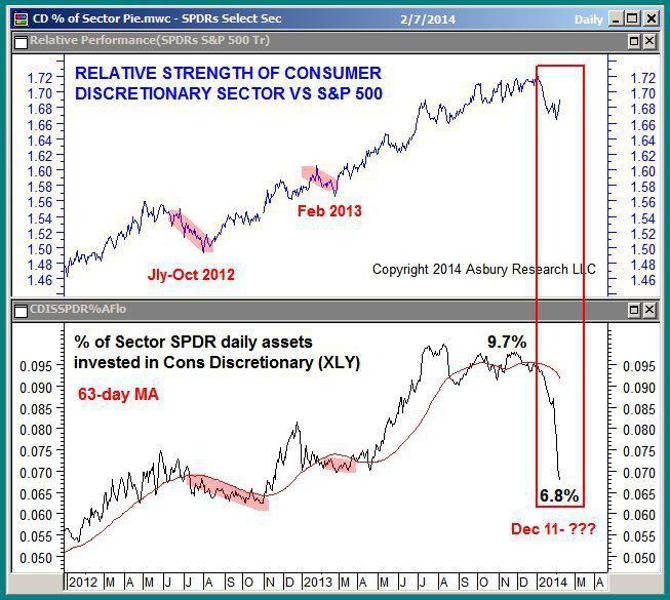 Asbury Research's Market Sector Asset Flow Metric
This frantic exodus of investor assets out of Consumer Discretionary really accelerated last week, as the percentage of all sector bets that the sector comprises declined from 8.0% on January 31st. As long as the percentage of the pie that Discretionary comprises continues to shrink, recent relative sector underperformance is likely to continue.
However, another factor to consider is that last week's flush of assets out of the sector suggests a capitulation that could eventually led into a rebound/recovery.
---
Our metric, plotted in the lower panel of the chart above, declined below its 63-day (one business quarter) moving average in mid December, indicating that the percentage of all sector bets within the universe of Sector SPDR ETFs being allocated to Consumer Discretionary was shrinking from a quarterly standpoint. The Consumer Discretionary SPDR ETF (NYSEARCA:XLY) actually peaked in relative outperformance versus the S&P 500 SPDR ETF (NYSEARCA:SPY) 2 weeks later, on January 2nd, and has subsequently underperformed the broad market index by 3% through the end of last week.
Consumer Discretionary outperformed the S&P 500 by 9% during 2013. However, if you were overweight Consumer Discretionary heading into January, you gave back all of the relative outperformance you had accrued since mid August in just 5 weeks.
More broadly, our asset flow metrics indicate that investors moved out of Consumer Discretionary and Consumer Staples last week, and into Materials and Technology.
Disclosure: I have no positions in any stocks mentioned, and no plans to initiate any positions within the next 72 hours.