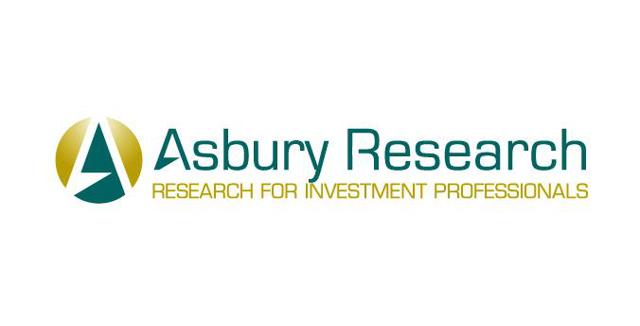 The following is the US Stock Market Sectors section of our Monday, March 24th Keys To This Week report. The report also includes sections that focus on the US Stock Market, US Interest Rates, and The US Dollar.
This section utilizes our own proprietary indicators that measure sector-specific ETF asset flows to anticipate upcoming relative sector outperformance and underperformance.
US Stock Market Sectors
Last week, the sectors with the biggest inflows from a week earlier were Financials (23.44% of all sector-related bets versus 22.82% a week ago) and Financials (10.89% from 10.32% ), per Table 2 below. The sectors with the biggest outflows were Health Care (12.47% versus 12.81% a week ago) and Utilities (6.67% versus 6.93%).

Table 2
Chart 7 below shows that, through the end of last week, Health Care comprised 12% of all SPDR ETF-related sector bets compared to 9% historically since 2006. Not shown is that, on an end-of-quarter basis, 12% is the largest percentage of the sector pie that Health Care has comprised in the history of these data. The only other instance of Health Care comprising 12% of all sector bets was at the end of Q1 2013, after which it peaked versus the S&P 500 two weeks later and subsequently underperformed the US broad market index by 4% over the next month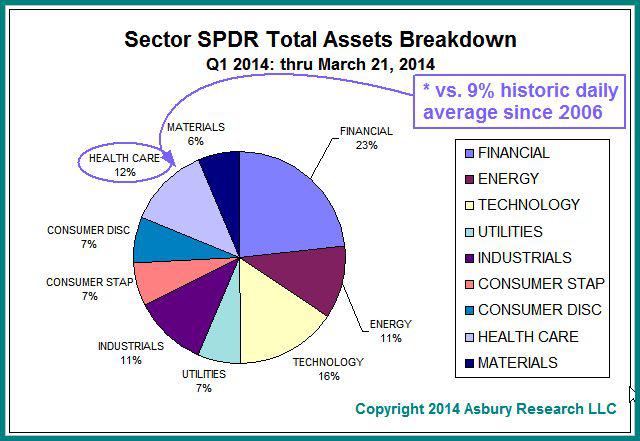 Chart 7
Chart 8 below plots the daily relative performance of the Health Sector SPDR ETF (NYSEARCA:XLV) versus the SPDR S&P 500 ETF (NYSEARCA:SPY) since July 2013 in the upper panel, with the daily percentage of these sector bets allocated to Health Care plotted by the black line in the lower panel along with its 21-day (monthly) moving average. The red highlights show that this daily percentage contracted below its monthly moving average at the end of last week, indicating a negative change in the trend of asset flows, and that the previous instance of this coincided with relative sector underperformance by Health Care between November 25th and December 17th as the percentage of sector bets that it comprises contracted to 10.6% from 11.5%. This metric suggests that the upcoming relative sector underperformance that Chart 7 warns of has begun.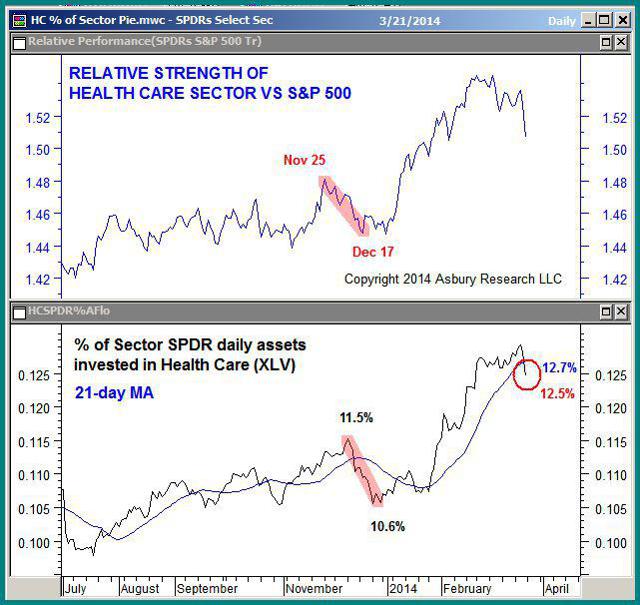 Chart 8
All Contents © Copyright 2005-2014 Asbury Research LLC. The contents of all material available on this Internet site are copyrighted by Asbury Research LLC. unless otherwise indicated. All rights are reserved by Asbury Research LLC., and content may not be reproduced, downloaded, disseminated, published, or transferred in any form or by any means, except with the prior written permission of Asbury Research LLC., or as indicated below. Members of Asbury Research LLC. may download or print web pages for personal or academic use, consistent with their user agreement. However, no part of such content may be otherwise or subsequently reproduced, downloaded, disseminated, published, or transferred, in any form or by any means, except with the prior written permission of and with express attribution to Asbury Research LLC. Copyright infringement is a violation of federal law subject to criminal and civil penalties.