The following (green highlights) is an excerpt from our Thursday March 15th Commentary entitled 5 Reasons For A Rebound In US Treasury Prices.
Commentaries, one of 8 different reports that Asbury Research produces for subscribers at various intervals throughout the month, are periodic in-depth reports that provide a comprehensive analysis of specific areas of the US financial landscape for the purpose of identifying emerging intermediate term price trends and the new investment opportunities that they may provide.
Asbury Research Subscribers can view the entire report by logging into our Research Center.
---
Asbury Research Commentary
5 Reasons For A Rebound In US Treasury Prices
Thursday, March 15th 2012
Summary
Favorable, if not ideal, conditions now exist for at least a near term rebound in long dated US Treasury prices as benchmark US interest rates decline. This shifts our January 23rd Negative bias on long dated US Treasury prices to Positive, to capture a +2 17/32nds, +2% gain on short positions basis the CBOT 30-year T-Bond contract in a little less than 2 months.
Introduction
This week's jump in yields has apparently brought the bond bears out of hibernation as, after months of the market being resigned to the inevitability of lower and lower benchmark US interest rates, analysts have seemingly been lining up on financial television this week to announce that US bond prices have peaked and are now beginning an appreciable decline. We think these analysts' timing may be a little suspect.
In today's report, we display and discuss 5 reasons to look for at least a near term bottom to emerge in long dated US Treasury prices.
Reason #3 of 5: Options Volume: The Market Is Too Fearful/Pessimistic
Chart 3 displays a daily bar chart of the CBOT T-Bond since 2005 in the upper panel, while the blue line in the lower panel plots the contract's call-to-put ratio. This ratio measures extremes in complacency/optimism (red highlights) and fear/pessimism (green highlights) by these futures option traders.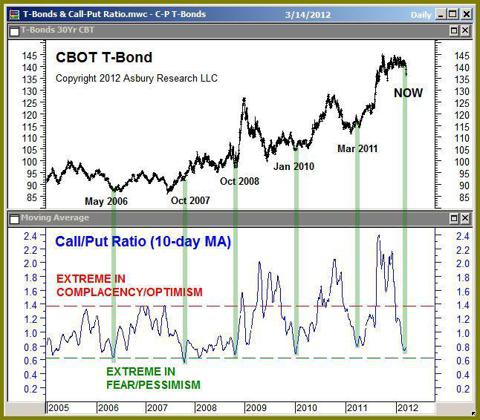 Chart 3
The green vertical highlights between both panels show that these traders have reached a multi-year extreme in fear/pessimism on the future direction of long dated US Treasury prices that, as a contrary indicator, has either coincided with or led what have arguably been some of the most important bottoms in the T-Bond since 2005.
These data suggest favorable conditions for another similarly important bottom to emerge soon, perhaps between now and the end of the month.
continued…
---
Since this report was posted to our Research Center on March 15th:
the CBOT 30-year T-Bond contract (US) has risen by +8 13/32nds or+ 6.2% between March 19th and April 27th
the iShares 20+ Year Treasury Bond Fund (NYSEARCA:TLT) CBOT 30-year T-Bond contract has risen by +8.72 points or +8.0% between March 19th and April 23rd
the yield of the US 10-Year Treasury Note has declined by 44 bps to 195 between March 19th and April 30th
A sample copy of our Commentaries, plus as samples of our other 7 reports, are available by clicking here.
Interested investors can request further information about our research by clicking here and completing the on-line form, or by calling 224-569-4112.