Here is an interesting chart that appeared in Monday's
Keys To This Week
report (
access requires subscription
).
Keys To This Week
, one of 6 different reports that
Asbury

Research
produces for subscribers, is a
weekly
report (distributed on Mondays) that provides a bullet-pointed list of
key factors that are most likely to influence the direction of the US stock market and market sectors, US interest rates, and the US Dollar
.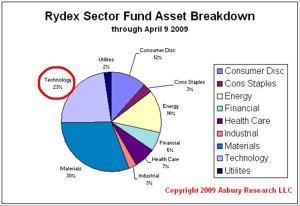 To construct this chart we took the daily assets invested in the 18 Rydex Sector Funds and then distributed them into one of the 9 Select Sector SPDR ETFs that they best pertain to. The end result is a proprietary investor sentiment indicator that we use to determine how over- or under-invested any one of these sectors are, relative to the other sectors of the S&P 500.
Here is the distribution of these "sector bet assets" as shown on the chart through the end of last week:
Materials: 30%
Technology: 23%
Energy: 14%
Consumer Discretionary: 12%
Health Care: 7%
Financials: 6%

Industrials

: 3%
Consumer Staples: 3%
Utilities: 2%
The key to understanding this data, and to using it to identify investment opportunities, is context. We produce this context by comparing the current percentage of assets invested in each sector to; 1) end-of-quarter asset distributions going back to 1999 (when the Select Sector SPDR's began trading), and 2) to historic averages for each sector. This tells us whether the percentages that appear in the pie chart and on the bullet-pointed list above are historically normal distributions, or if they represent over- or under-invested extremes.
This chart, and these data, also show where investor assets are moving from, and to. We have found that "following the money" via these data typically leads changes in broad market direction.
At 23% of all sector bet assets invested, the Technology Sector currently comprises its largest percentage of "the pie" since Q2 2000.
Professional investors can request further information, and a no-cost trial of our premium research (which discusses the data above in much greater detail -- and its implication for US financial market direction) , by either clicking here or by calling our office at 224-569-4122 .
You can learn more about Asbury Research by visiting our website at www.asburyresearch.com .