The following (green highlights) is a brief excerpt from our August 13th Keys To This Week report, focusing on one of the 12 market factors that our research suggests is key to US stock market direction this week. Click here for a sample copy.
Keys To This Week, one of 8 different reports that Asbury Research produces for subscribers throughout the month, is a detailed weekly outline of key market factors and corresponding charts pertaining to the US stock market and market sectors, US interest rates, and the US Dollar, that are most likely to influence US financial market direction during the upcoming week.
---
excerpt from Keys To This Week
The US Stock Market
August 13th, 2012
Key # 4 of 12> Options Volume: CBOE Put/Call Ratio. NEAR TERM BEARISH. Chart 2 shows that the CBOE Put/Call Ratio has now declined to an historic least bearish extreme on the US stock market that, in the vast majority of similar instances over the past several years, has coincided with or immediately preceded near term US stock market declines.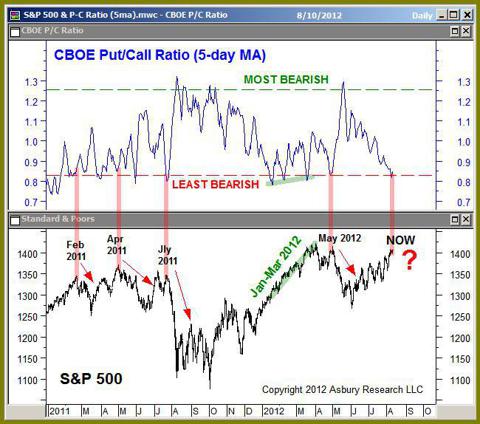 Chart 2
continued…
---
Interested investors can request further information about our research, including services and pricing, by clicking here and completing the on-line form or by calling us at 1-888-960-0005.