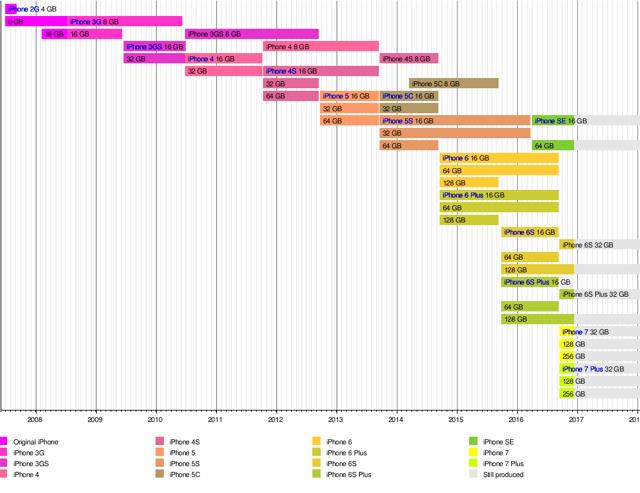 Source: Wikipedia
Investment Thesis
A major part of revenue for Apple (NASDAQ:AAPL) comes from iPhone sales. In 2015, iPhone sales generated 66% of Apple's revenue versus 63% in 2016, which is a 3% decline. The company sold 231.2 million iPhones in 2015 versus 211.8 million in 2016 which is an 8% decline. Any decline in iPhone sales is a threat for Apple, as they rely on iPhone sales as a main source of revenue. The company said in its 2016 annual report that their net revenue had decreased by $18.1 billion, mainly due to a decrease in iPhone sales and weaker foreign currencies against the U.S. dollar. This article focuses on iPhone sales forecasts, competition and its revenue growth.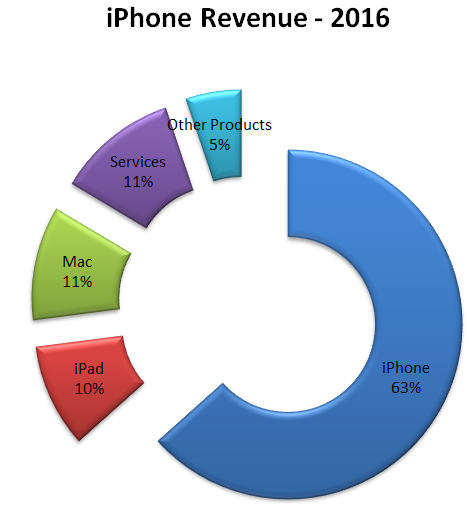 Source: Created by Author (data obtained from SEC filing)
iPhone Market Share
In Q3 2007, Apple had a 3.4% market share in the global smartphone market. The company's market share was constantly increasing and reached 23% in Q4 2011 and Q1 2012. Since then Apple's market share has dropped off and declined to 12.5% in Q3 2016.
iPhone Device Market Share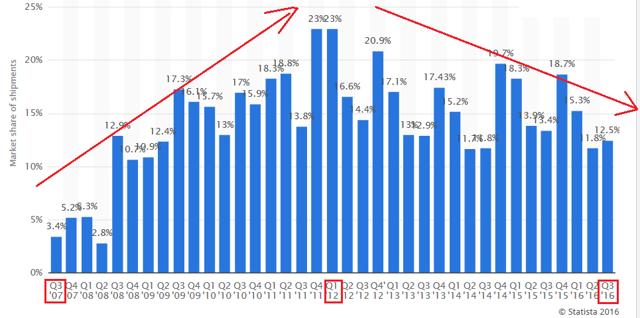 iPhone Operating System (iOS) Market Share:

Decline in iPhone sales
Apple's year over year growth has been in constant decline since the first quarter of 2016. In Q1 2016, revenue growth was 2% versus 22% in Q4 2015.
Q1 2016 : revenue growth declined to 2% from 22% previous quarter
Q2 2016: revenue growth declined to -13% from 2% previous quarter
Q3 2016: revenue growth declined to -15% from -13% previous quarter
Q4 2016: revenue growth rose to -9% from -15% previous quarter
Net Revenue in million (source:estimize)

In Q1 2015 & Q1 2016, the company did well, selling more than 74 million iPhones versus about 50 million iPhones in between those quarters. The question is: can they sell more than 74 million iPhones in Q1 2017?
What are the causes of this decline in iphone sales? As with most analysis, there is no single factor; rather a combination of factors are affecting the drop off in sales. Based on my extensive research, here is what I found:
Postpaid & Refurbished iPhones: According to the report, postpaid smartphone users tend to upgrade to a new phone every 18 to 20 months. In North America, more than 75% of smartphone connections are postpaid. Despite Apple introducing a new model annually, people are not replacing or upgrading their phones every year which is contributing to a decline in iPhone sales. And again, this is just one factor. According to ReCelluar, within a few years one-fifth of all smartphones sold in the US will be refurbished. In terms of loyalty, the report further says as follows:
Eighty-eight percent of current iPhone users were likely to buy another iPhone, and 10 percent were undecided.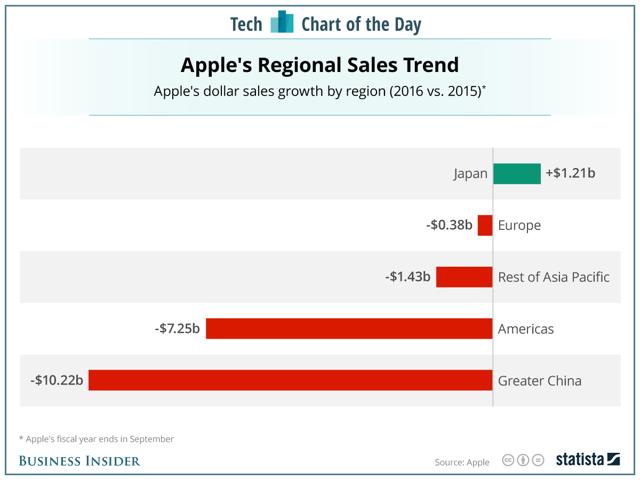 Very expensive: In China, Apple commanded about 17% of the smartphone market in 2015. According to Statista, local smartphone manufacturers such as Huawei and Oppo are gaining market share, while Apple is losing market share in recent quarters. It is not about quality; price is the main factor in the selection of smartphones in developing countries. Apple's smartphones are very expensive compared to Asian smartphones.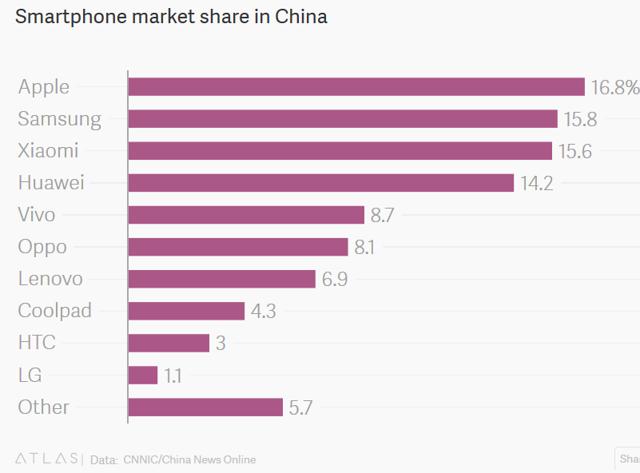 The percentage of mobile phone users using smartphones in India in 2016 is about 30%. According to India times, Apple shipped a record 2.5 million iPhones in India from October 2015 to September 2016. Smartphone users in India number about 292 million, with Apple accounting for 1% of the smartphone market in India. Again, price is the deciding factor when deciding what smart phone to buy.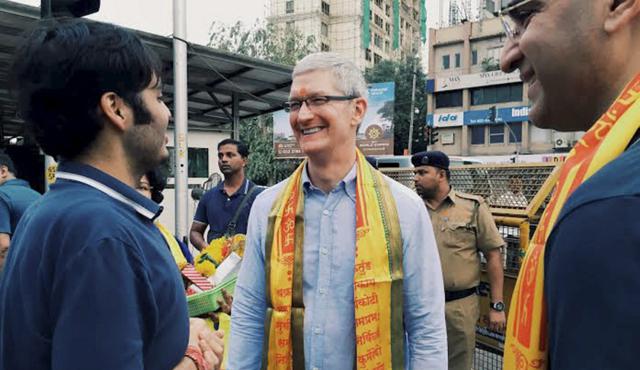 Source: Fortune (Apple's CEO Cook in India)
Over Production: An increase in smartphone supply is the other major contributing factor to declining sales. See my article "Smartphone prices will collapse soon" for further dissemination of this vast subject.
Screen Size Limitation: iPhones' screen size is smaller compared to its rivals Samsung, Lenovo and Huawei. According to Insider Monkey, in the first quarter of 2015, phablets (larger screen smartphones) accounted for 21% of all smartphones sold in the US.
Competition: With so many options to choose from in a highly competitive market, price sensitive smart phone buyers are avoiding expensive smartphones. There are more than 100 smartphone manufacturers worldwide and more than 10 best smart phones to choose from. This situation has created a buyer's market with the world's cheapest smartphone ringing in at about USD$4. The below table shows global smartphone manufacturers' current market share for Q3 2016 (data obtained from Statista):
| | |
| --- | --- |
| Smartphone Manufacturers | Market Share |
| Samsung | 20% |
| Apple | 12.5% |
| Huawei | 9.3% |
| Oppo | 7% |
| Vivo | 5.8% |
| Others | 45.4% |
It will be difficult for Apple to compete in Asian markets with the aggressively priced smartphones being offered by local manufacturers. According to Tech in Asia, there are 14 new Asian smartphone makers hoping to crush Samsung and Apple. The report quoted a Bob Marley song: If you are a big tree, we are a small axe - sharp and ready, ready to cut you down.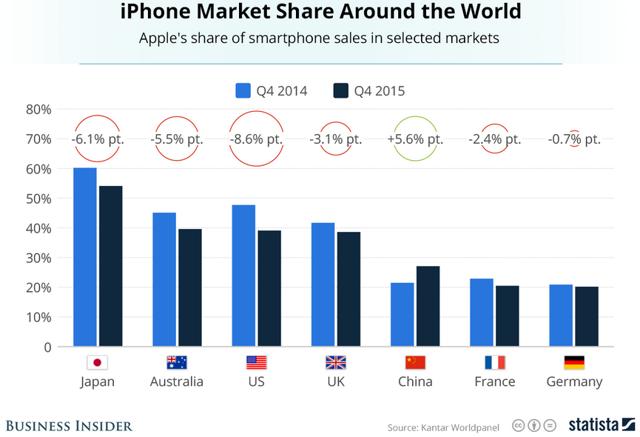 New Model iPhone Sales:
Traditionally Apple announces first week iPhone sales for every new model that is introduced. See the below sales figures (source: Tech Crunch):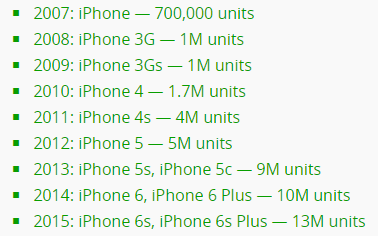 It is unusual that Apple decided not to disclose first weekend sales of the new iPhone 7. The company spokesperson said as follows:
The company decided to stop the practice because the number of phones sold during the period has become more a reflection of Apple's supply than demand.
It may be speculative, but past performance doesn't usually lie. As we can see on the iPhone device market share chart, iPhone sales have been trending downward, and in fact have been declining since Q4 2011. It is not possible to generate the same amount of revenue with declining iPhone sales. Apple said in its 2016 annual report as follows:
Net sales declined 8% or $18.1 billion during 2016 compared to 2015, primarily driven by a year-over-year decrease in iPhone net sales and the effect of weakness in most foreign currencies relative to the U.S. dollar.

Source: Tech Crunch
Positives:
If the new government reduces the corporate tax rate from 30% to 15% as promised during the campaign, Apple can generate more net income.
Negatives:
The trend shows that constant decline in iPhone market share We can expect a foreign currency sales hit due to the stronger USD
Conclusion:
Price is the key to survival in the smartphone market. The iPhone lost market share in most of the world in 2015, according to business insiders. As per the above chart Apple has been losing market share since Q4 2011, forming a definite downward trend. We should keep in mind that Apple relies on iPhone sales as a major part of their total revenue, with iPhone sales garnering 63% of Apple's total revenue in 2016. If this downtrend continues for another year, or if Apple does not reduce its smartphone price, their market share could well be pushed into the single digits (less than 10%).
In the wake of my previous article on Apple "What if interest rates go up", in fact, the federal bank did raise its key short-term rate to a range of 0.5%-0.75% from 0.25% to 0.5%. I reiterate again "the USD will strengthen further while other currencies weaken and when this happens Apple will see a sizable foreign-currency sales hit in its earnings."
There is no one-single factor causing the decline in iPhone sales, rather a combination of factors ranging from postpaid contract duration, refurbished smartphones, price, oversupply, to screen size limitation.
Overall negatives outweigh the positives.
Based on my analysis, I recommend Apple as a SELL
Here are the ETFs with major exposure to Apple: iShares U.S. Technology ETF (NYSEARCA: IYW), Technology Select Sector SPDR Fund (NYSEARCA: XLK), Fidelity MSCI Information Technology Index ETF (NYSEARCA: FTEC), Vanguard Information Technology ETF (NYSEARCA: VGT), iShares Edge MSCI Multifactor Technology ETF (BATS: TCHF), iShares Global Tech ETF (NYSEARCA: IXN), Recon Capital NASDAQ 100 Covered Call ETF (NASDAQ: QYLD), PowerShares QQQ ETF (NASDAQ: QQQ), iShares Morningstar Large-Cap ETF (NYSEARCA: JKD), iShares North American Tech ETF (NYSEARCA: IGM); First Trust NASDAQ Technology Dividend Index Fund (NASDAQ: TDIV); Vanguard Mega (NYSEARCA: MGK); iShares Russell (NYSEARCA: IWY); Fidelity Nasdaq (NASDAQ: ONEQ); iShares Global (NYSEARCA: IOO); SPDR S&P 500 (NYSEARCA: SPYG); Vanguard S&P (NYSEARCA: IVW)
Disclosure: I/we have no positions in any stocks mentioned, and no plans to initiate any positions within the next 72 hours.
I wrote this article myself, and it expresses my own opinions. I am not receiving compensation for it (other than from Seeking Alpha). I have no business relationship with any company whose stock is mentioned in this article.