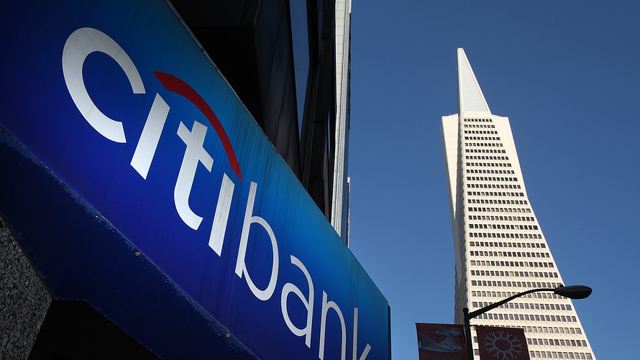 Investment Thesis
Citigroup's (C) stock has gained more than 60% this year. But its revenue growth is somewhat stagnant. It has been generating $17 ~ $20 billion in quarterly revenue over the last several years. Wall Street analysts expect Citigroup to post revenue of $17.73 billion in quarterly revenue and earnings per share of $1.28. I expect a slight pullback in the share price after the earnings report, due to profit taking and an unfavorable macro environment.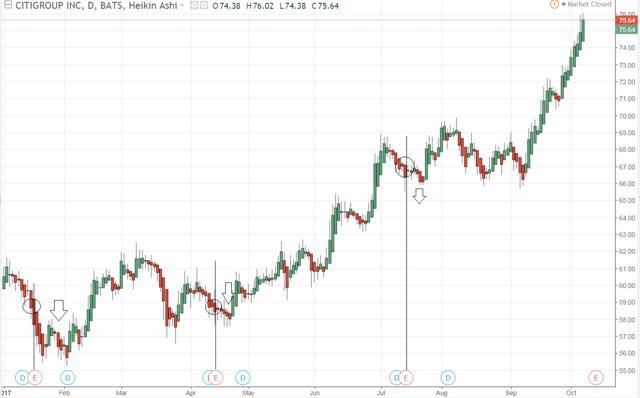 Source: Tradingview
Macro View
We can't ignore the past; the stock has a tendency to pull back after earnings results due to profit taking, as the chart above indicates. Geopolitical tensions aren't favoring the bank as North Korea potentially prepares to test a long-range missile. In these situations (fear), people normally prioritize gold over stocks. With market indices sitting at all-time highs, along with a very low unemployment rate and the Fed's decision to gradually increase interest rates, I suggest that a market correction is overdue. Citigroup has had a good run, but we can't guarantee that it will continue, given the current macro environment.
Citigroup is one of the four biggest U.S. banks, the others being JPMorgan Chase (JPM), Wells Fargo (WFC), and Bank of America (BAC). The Big Four's combined market value crossed $1 trillion after Trump was elected. Since the November presidential election, bank stocks have been trending up because of the sense that Trump would ease bank regulations and support business.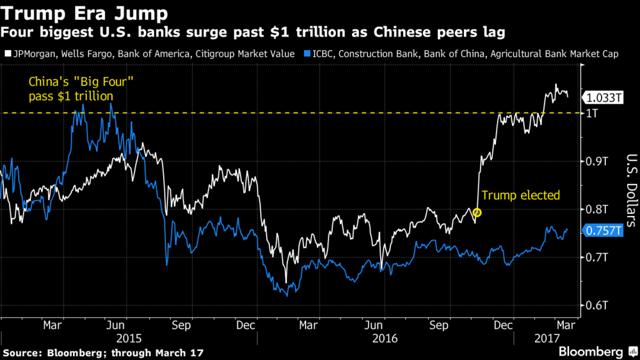 Since the beginning of 2017, the US unemployment rate has been steadily declining, obviously a good sign for the economy. Since 2016, interest rates have been going up gradually. As per the Fed's plan, there should be an interest rate hike in 2018 as well. Higher interest rates mean better profit for the banks; on the other hand, selling bank products could become more difficult. And again, a low unemployment rate is good, but if it is too low, it will be difficult for employers to find employees, thus forcing up wages and potentially decreasing hiring. In terms of a low unemployment rate and higher interest rates, too good is not good.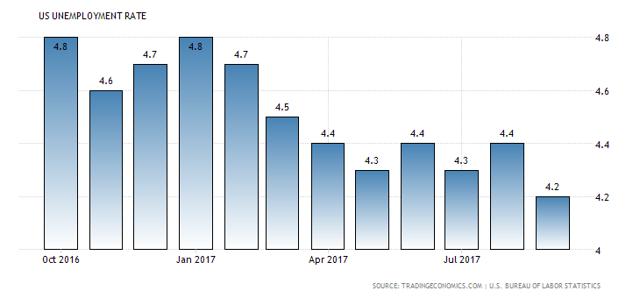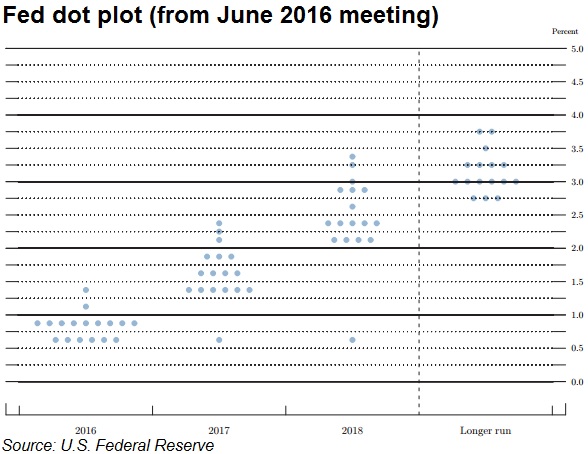 According to a 2001 report, unemployment had gone too low and the U.S. went into a brief recession. A very low unemployment rate and higher interest rates may not be optimal.
For Citigroup, litigation issues and possible new regulations may affect the stock's momentum.
Citigroup agreed Friday that it will give back $1.74 billion to the estate of [Lehman], the failed New York-based investment bank. Citigroup had kept about $2.1 billion that Lehman had on deposit with it for trades on everything from interest rates to corporate and sovereign debt at the time of the 2008 bankruptcy.

Citigroup has agreed to pay $550,000 to the Commodity Futures Trading Commission (CFTC), as penalty for violations in reporting swap transaction and absence of proper reporting procedure since April 2015 to December 2016. Citibank and London-based Citigroup Global Markets, two subsidiaries of Citigroup, have been charged for improper reporting of Legal Entity Identifier data for swap transactions.
Technicals
The stock's attempt to break $76 dollars failed, and it seems the bears are slowly taking over from bulls. The Stock Consultant see either a breakout or a pullbackas possible, but don't recommend a long position.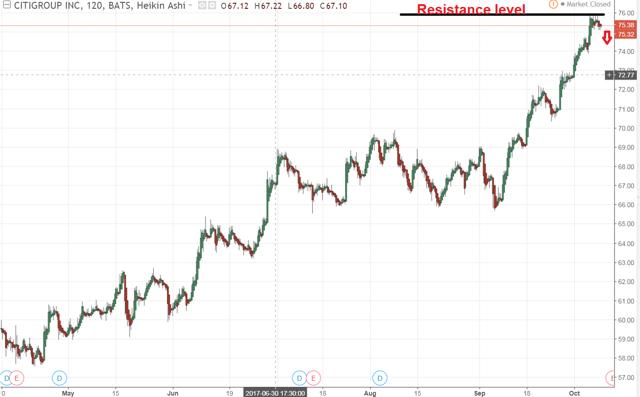 Conclusion
The stock is trading at $75.64. In terms of options trading activities, close to $2 billion "out of the money" call options were traded. Sentiment is positive, because traders are betting the stock may go up with positive earnings results.

Source: Optionsonar.com
Citigroup may post better earnings for Q3 2017. Yet the stock tends to pull back after earnings results. Therefore, I expect the stock may pull back after the earnings report of Oct. 12 due to profit taking. Based on my analysis , I recommend Citigroup as a SELL.
To read my previous articles, please click here.
Author's note: Get my articles as soon as they are published by clicking the big orange " Follow" button at the top of this page.
Disclosure: I/we have no positions in any stocks mentioned, and no plans to initiate any positions within the next 72 hours.
I wrote this article myself, and it expresses my own opinions. I am not receiving compensation for it (other than from Seeking Alpha). I have no business relationship with any company whose stock is mentioned in this article.