Another Achilles heel for China are water and food.  Before embarking on this, allow me to draw your attention once again to the Bloomberg article on Chinese mal-investment, especially the last paragraph quoting Mark Mobuis:
Still, even Mobius says investors have to be wary. He got rid of an investment in a Chinese food company after discovering that it was using funds to buy apartments instead of to process soybeans.
New Bloomberg article describes another wasted Chinese boom town, and fixing already fixed infrastructure.
Huaxi is also emblematic of the country's construction and real estate boom. Communist Party officials there are building one of the world's 30 tallest buildings, a 2.5 billion yuan, 328-meter (1,076-foot) tower. The revolving restaurant atop the so-called New Village in the Sky offers sweeping views of paddy fields, fish ponds and orchards.
So once again we see the problem: The Chinese economy is currently focused on quick-yuan speculation, gambling  and building  "big f'ing things," and vanity projects rather than necessary investments and sustainable elements. It seems obvious that China suffers from some  appalling cultural and social dynamics 
(read).
Cartoons from China on speculation, the gente don't like it.

 
The backdrop for the Chinese water and ag issues come from a fine report put out by Passport. It is building an investment theme centered around being long what China is short of.   In some sense, Passport's case is solid. I think China's problems in ag are critical; however, I'm concerned about the fallout of these whole ag and commodity trades in general to the unwinding of the China axiom (that China will experience good growth into the indefinite future) or worse civil strife.  It seems that funds in particular trade on quant modelling and not the qualitative method that individuals such as myself might use.   Thus, when the axiom goes awry, the fallout could be severe in almost all commodities and emerging markets that sell to China.  Therefore, I refer you to these Passport charts just to further illustrate China's problems described as:
-over-extraction of groundwater and a falling water table
-water conservation is considered widely inefficient
-poor water quality and large scale pollution
-Yellow River hasn't reached the coast in years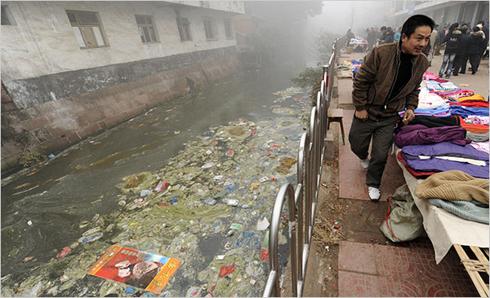 I am prevented from copying these charts, but China's water resource info can be gleaned from pages 22 and 23.
Passport alludes to the concept that China is actually capable of following the smart policies that Passport outlines on pages 22 and 30. However, building large empty cities in arid regions is just nutty, unsustainable policy and completely stupid.  Also critical to China's food and water issues is the 33 percent percent China's gente need to spend on food (see page 6).  If there is a bust in China, provided that it doesn't lead to total chaos and civil war, here is an idea of what food consumption might look in a depression-era environment like the US experienced during the 1930s (see page 20).
China's demand for food has resulted in significant additions of soybean growing acreage in Argentina and Brazil (see page 26). Most of this is in the Brazilian cerrado, where fertilizer costs are very high compared to the US (see page 27).  Clearly, if the cerrado continues to be developed and planted, then potash and phosphates will be in heavy use. The question then becomes what would a China bust do to Brazilian agriculture in the cerrado, which needs sustainable high prices of $12-14 dollars/bu to function (page 28).  The corn equivalent would be $4.80/bu.  If China does not come up with the money to support this level, then social upheaval could quickly emerge.
Although I appreciate Passport's case on this and will save this report for future reference, the test will come for ag and other commodities when the s**t storm from China comes in earnest.  Given that speculative interest in going long on ag is non-existent (corn) and (soybeans), there should be no liquidation as in other commodities.  There is risk that funds might attack or short the ags, but personally I think the China Bust is going to wipe out many if not most funds.  Ultimately China will prioritize feeding its people over recapitalizing its crooked banking system. Choices, choices. But that will have to be watched. Starvation and hunger have brought down more governments than just about anything.