Tax receipts reports through April 16th paint a not-at-all surprising picture of whatever the US economy is today.
Federal tax receipts through April 16 showed a year-to-year gain of 8.3% versus the same period in April 2009, which was a very easy comparison, with collections at disaster levels. Withholding was up 4% year/year. Most of the gain was in corporate taxes. Individual income taxes were actually down 5.8%. Total collections remained 13.8% below the 2008 level and 16% below 2007.
Coming back at it from another angle, we see the source of much of the corporate profits: financial firms. What a scheme. Starve savers, steer the Government towards insolvency and keep money easy so that one-trick-pony financial firms can bid on Bubbles while the real economy rots. So far the banksters have not been dipping into its largess to pay taxes, but hope springs eternal.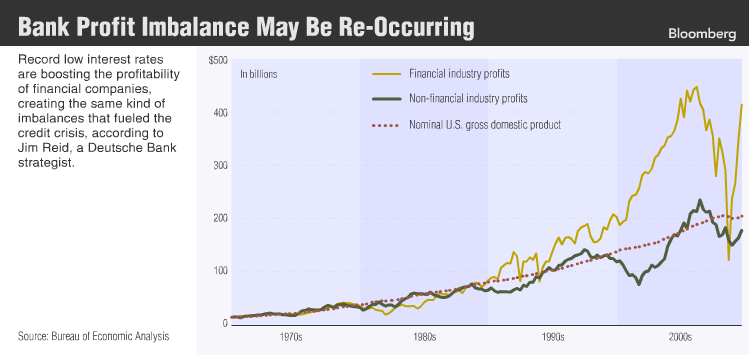 At least this five minutes, Government has found a minor partner to buy its overpriced offerings, even if they're not paying pay taxes. While we wait for the inevitable collapse of the Government-financial industry one trick pony, we can eyeball some of the assets that the two share. This in part is the backing of the low-risk spreads since pre-Lehman.  There are indications that the current wave of foreclosures involves more expensive, higher and mid-end homes, and thus larger mortgages.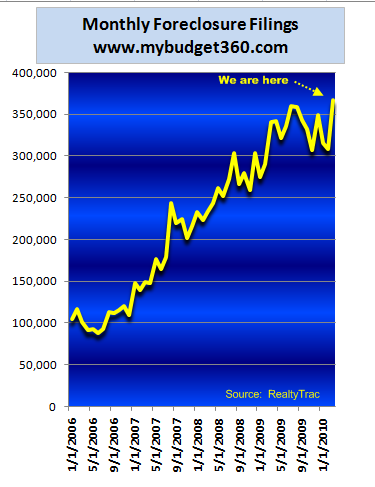 Home sales "stimulated" by the now expiring tax credit leaves the market unaffected and truly high and dry.  Fannie Mae concludes:
Despite the looming deadline of the second tax credit, which requires a signed contract by April 30 and settlement by June 30, builders saw no rush in new home buying. Both components gauging current sales conditions and traffic of prospective buyers fell.The component gauging sales expectations in the next six months also declined, which was to be expected given that the tax credit is scheduled to expire soon.
As the money flows into Bubbles, it is not too difficult to foresee a Wile E. Coyote kind of moment either.
John Hussmann weighs in on TBTF earnings and loss reserves:
It is notable that the "favorable" earnings reported by J.P. Morgan and Bank of America in the first quarter were due to reduced provisions for credit losses - charges that are largely discretionary. In the fourth quarter of 2009, J.P. Morgan charged $8.9 billion against earnings to provide for credit losses, but in the first quarter of 2010, it charged $7.0 billion. Thus $1.9 billion of the $3.3 billion in earnings reported by JPM reflected reduced provision for credit losses. Likewise, the main factor driving Bank of America's earnings was a reduction in loss reserves. Indeed, the provision for credit losses was $3.6 billion lower than it was a year ago (when delinquency rates and credit losses were running at a fraction of current levels).
It seems equally unwise to celebrate "favorable" bank earnings reports that are exclusively driven by reduced loan loss provisions, particularly when the volume of impaired loans has not declined proportionately. Keep in mind that Enron and Worldcom were able to report outstanding earnings for a while by adjusting the manner by which revenues and expenses were accrued. I suspect that the U.S. banking system has become a similar breeding ground for innovative accounting.
A solid WSJ piece on crony capitalism and "The Economy of Liars." As a point of reference, a BW article that'll just make you want to cry. We are so far down the wrong path and so late in the game, that I mention it simply as an  illustrative "coulda been."
Disclosure:
no positions
Disclosure:
no positions
Disclosure:
no positions