Wealthy people are leaving China. Many of them are kleptocrats, corrupt officals and financial criminals, and some are seeking havens in the U.S. and Canada. According to Ecn.cn, "On May 23, 2012, a conference focused on preventing corrupt officials from fleeing abroad was held in Beijing, gathering leaders from disciplinary inspection, judiciary and public security departments as well as the Ministry of Foreign Affairs. Last year, the People's Bank of China released a report on corrupt fugitives which shocked the public. The report, attributed to the Chinese Academy of Social Sciences (NASDAQ:CASS), said up to 18,000 officials had fled China between 1995 and 2008 with stolen assets totaling 800 billion yuan (US$125.7 billion)." Of late this trend and hot money outflows has been rapidly gathering steam.
China has gone full tilt into Ponzi schemes. Now that domestic stock markets are widely considered rife with fraud (China's eleventh richest businessman jailed for stock fraud), the con men in China have conjured up "wealth management" scams to fleece the public and on a rather colossal scale. These are actively marketed by large banks.
New York Times reports: "Absent from the product's prospectus is any indication of the asset underpinning Golden Elephant: a near-empty housing project in the rural town of Taihe, at the end of a dirt path amid rice fields in one of China's poorest provinces. 'They haven't even built a proper road here,' said Li Chun, a car repairman, who said he lives in the project. 'The local government is holding onto the flats and only wants to sell them when prices go up.'

"Golden Elephant No. 38 is one of thousands of 'wealth-management products," instruments aimed at monied investors, which have shown phenomenal growth over the last five years. Sales of them soared 43 percent in the first half of 2012 to 12.14 trillion yuan ($1.90 trillion), according to a report by CN Benefit, a Chinese wealth-management consultancy. China Credit Trust Co, one of the country's biggest trust companies, has disclosed that one of its wealth funds, Jinkai #1, is at risk of default because of money it lent to coal company Zhenfu energy Group. Zhenfu's boss has been arrested, amid reports he owed a total of 500 million yuan."
Now that the country has been looted, the ultra-wealthy are clearing out of China. Of the country's rich, 16 percent have already immigrated and another 44 percent plan to do so. Where the Chinese rat-line crowd ends up is another question and story. They apparently love malinvestment and misallocations.
The following chart of helicopter flights around plutocratic haunts is an eye-opener. There are a few plausible explanations: bad economic environment certainly, but perhaps some are no longer even in China. This hot money flight is showing up in money flow data. The rest of the indicators are covered here.
source: CEIC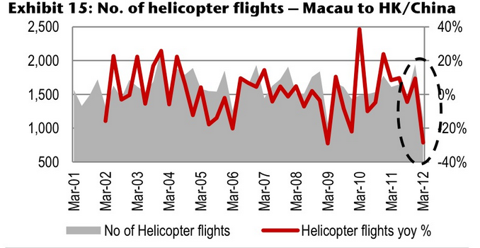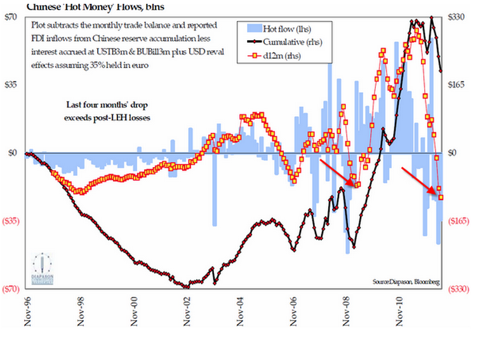 What I find fascinating about China is how official functionaries often call out bad practices, and this is largely ignored. That's because in reality, China is governed by local apparatchiks. Case in point, the China Banking Regulatory Commission says banks misclassified about 20 percent of their outstanding loans to local governments, understating the risk that slowing revenue will cut borrowers' ability to repay. Chinese banks have taken their bad lending practices to the U.S. and are making loans on New York City trophy properties.
Another unheeded critique was conducted by the National Audit Office. Typical of Ponzi debt cycles, China's $2.7 trillion credit boom accounted for a third of all global banking "profits." This is classic rat-line activity, no doubt dumping the fallout on government. The report said banks:
"Lend money for land acquisition purposes to companies that aren't in the real estate business. Engage in improper funding to real estate projects, with borrowers without sufficient capital or paperwork not done properly. Improper lending to local government financing vehicles (LGFVs). Provide trade finance for companies that aren't really in the business of trading. Also mentioned: use of Enronish 0ff-balance-sheet assets and liabilities, wrong financial statements, and poor auditing of the books for banks' subsidiaries. Some bank branches have poor risk management, with some lent money being lent outright stolen by borrowers. Asset qualities are not classified accurately."