Mother, do you think they'll drop the bomb?
Mother, do you think they'll like this song?
Mother, do you think they'll try to break my balls?
Ooh ah,
Mother, should I build the wall?
Mother, should I run for president?
Mother, should I trust the government?
Mother, will they put me in the firing line?
Ooh ah,
Is it just a waste of time?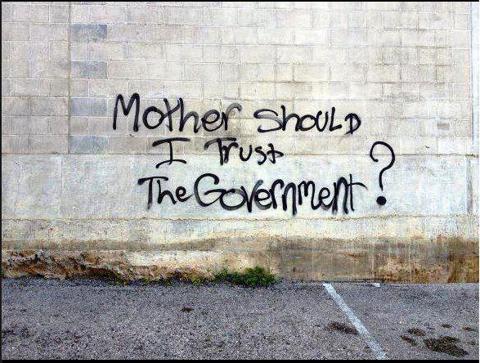 The lyrics to Mother had both a literal and figurative meaning for Roger Waters. He was literally describing his overprotective single mother (his father was killed in World War II) building walls to protect him from the outside world. The figurative meaning is Big Mother sending its boys off to war and using fear to control and manipulate the masses. At the time he wrote this song in 1979, the Soviet Union was thought to be at its peak of power and the Berlin Wall represented a boundary between good and evil. Nuclear war was still a looming fear. Waters has always had a dim view of totalitarian states and institutions (English schools). Having seen his Wall Tour performance this past summer at Citizens Bank Park with a diverse crowd of 40,000, ranging in age from senior citizens to teenagers, it seems this song has gained new meaning. He sang a duet with himself from 1980 projected on the Wall and when he sang the lyric, "Mother, should I trust the government?" the entire stadium responded in unison - NO!!! This revealed a truth that is not permitted to be discussed by the corporate mainstream media acting as a mouthpiece for the ruling class. A growing legion of citizens in this country does not trust the government. This is very perceptive on their part.
In part one of this two part series - Hey You - I examined how an invisible government of wealthy, power hungry men have utilized the propaganda techniques of Edward Bernays and lured the American people into a narcissistic, techno-gadget, debt based servitude. Over the last one hundred years they have created a totalitarian state built upon egotism, material goods, and fulfilling our desires through Wall Street peddled debt and mass consumerism. It has been an incredibly effective form of control that has convinced the masses to love their servitude. The ruling oligarchs correctly chose the painless, amusement saturated, soft totalitarianism of Huxley's Brave New World over the fearful, pain inflicting, surveillance state, house of horrors detailed in Orwell's 1984.
CLICK HERE TO READ MORE: