OUR TOTALITARIAN FUTURE - PART TWO
Please Note: Blog posts are not selected, edited or screened by Seeking Alpha editors.
Seeking Alpha Analyst Since 2008
James Quinn has held financial positions with a retailer, homebuilder and university in his 29 year career. Those positions included treasurer, controller, and head of strategic planning. He is married with three boys and is writing these articles because he cares about their future. He earned a BS in accounting from Drexel University and an MBA from Villanova University. He is a certified public accountant and a certified cash manager. These articles reflect the personal views of James Quinn. They do not necessarily represent the views of his employer, and are not sponsored or endorsed by his employer.
Summary
Brave New World.
Brave New World Revisited.
Totalitarianism.
In Part One, I asked questions your keepers don't want to answer truthfully, while providing the contextual setting for how our over-populated world is progressing relentlessly towards a future of war and totalitarianism.
Totalitarianism Now
"Where the republican or limited monarchical tradition is weak, the best of constitutions will not prevent ambi­tious politicians from succumbing with glee and gusto to the temptations of power. And in any country where numbers have begun to press heavily upon avail­able resources, these temptations cannot fail to arise. Over-population leads to economic insecurity and so­cial unrest. Unrest and insecurity lead to more con­trol by central governments and an increase of their power. In the absence of a constitutional tradition, this increased power will probably be exercised in a dictatorial fashion." - Aldous Huxley - Brave New World Revisited - 1958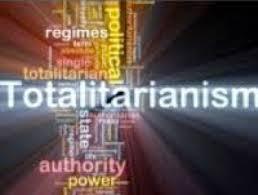 Huxley wrote his dystopian masterpiece in 1931 before the rise of Stalin, Hitler and Mao and their murderous totalitarian empires, sustained by torture, mass murder, surveillance, and fear. Orwell wrote 1984 in 1948, after living through the nightmare of World War II and witnessing the malevolent systematic terrorism inflicted upon innocent populations by psychopathic tyrants like Hitler and Stalin. World War II killed 65 million people. Stalin's purges killed 20 million Russians, and Mao murdered 45 million of his own people. It appeared that Orwell's gruesome vision of a future of brutality, surveillance, and fear would come true.
Instead, Huxley's vision gained ground in the post war world of cheap oil, mass production, consumerism, and TV advertising. It was found that government through terror works on the whole less well than government through the non-violent manip­ulation of the environment and of the thoughts and feelings of individual men, women and children. Propaganda, amusements, materialism, easily accessible debt, and relentless media messaging convinced the masses to love their enslavement and never dream of revolution. It worked as long as energy and debt remained cheap and plentiful.
The 4.4 billion increase (157%) in the world's population since Huxley's warning in 1958 is attributable to vast supplies of cheap easily accessible oil, natural gas and coal, which have allowed technological and agricultural advancements that have vastly expanded food production, water purification, global transportation, and medical advancements. With the peak in traditional worldwide oil production reached around 2005, and modest subsequent production increases obtained only by mining tar sands, fracking shale and drilling in deep water at much higher production costs, the era of cheap plentiful energy has come to an end.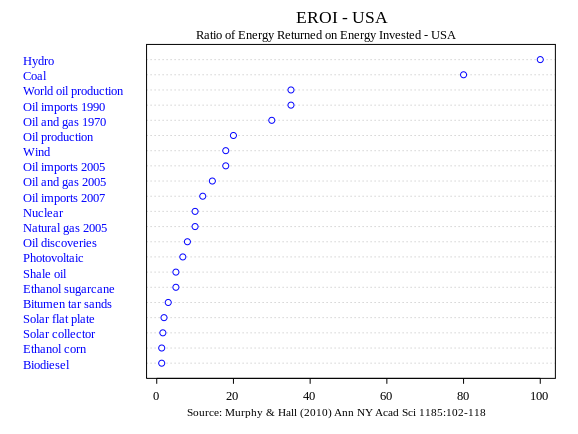 Propaganda and storylines about vast reserves and energy independence fail to acknowledge the concept of Energy Returned on Energy Invested (EROEI). Once it requires investing more than one barrel of oil in energy to extract one barrel of oil, the game is over. We are approaching the limits of growth because our remaining energy resources will require much more capital investment and higher prices for companies to make that investment. Oil prices were $25 per barrel when George Bush and the neo-cons launched their Iraq Freedom campaign in 2003. Eleven years later, with U.S. oil production at 44 year highs and consumption at 2000 levels, a barrel of oil is over $100 per barrel. The combination of increased demand from developing countries, vastly higher production costs, and global unrest in the areas of the world storing "our" oil under their sand will put a floor on prices, with spikes upward as resource wars flare up around the globe.
It is not a coincidence that the world economic system collapsed in 2008 after oil prices topped $140 per barrel. World food prices also spiked to all-time highs in 2008. The surge in food prices in 2011 to new highs was the impetus for the Arab Spring and social unrest across the Middle East and Africa. The FAO World Food Index spiked to levels only exceeded in 2011 earlier this year. Oil prices have surged as high as $106 and have averaged over $100 in 2014. Do you think it is just a coincidence that social unrest across the Middle East, Africa, Asia and Europe has surged in the last few months? Rising prices and the increasing scarcity of food, water and energy resources push the desperately poor towards revolution.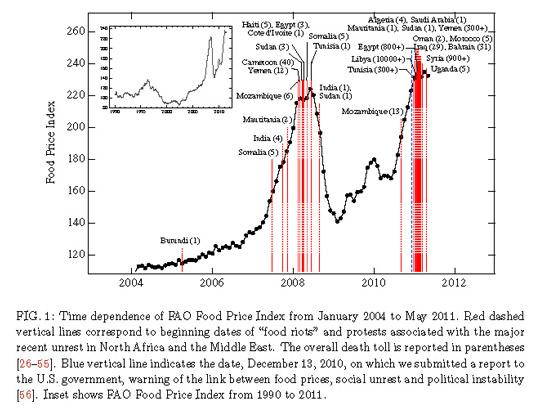 Societal strife, economic decline, poverty, lawlessness, and resource deprivation in third world countries result in dependency upon a central authority to sustain the masses. In the poorest countries without a long history of democracy, the people turn to a strong leader to save them. Before long too much power is accumulated in too few hands and totalitarian regimes are born. The world is awash in the blood spilled by dictators (North Korea, Egypt, Cuba, Saudi Arabia, Zimbabwe, Iran, Tunisia, Syria, Sudan) and presidents in name only (China, Vietnam, Nigeria, Turkey, Ukraine, Venezuela, Russia, Argentina).
Dreadfully poor people with no hope for a better future turn to radical religion, extremist ideas, and psychotic leaders. A full belly trumps freedoms and liberties. It is not surprising that despots proliferate in the poorest countries with the highest population growth rates. The so called developed world in the U.S. and Europe had been able to sidestep and even take advantage of these developing countries until the 2008 financial collapse. The oligarchs have treated the third world as slave plantations to be reaped, plundered and pillaged. Their banker solution to a crisis caused by the fraudulent issuance of debt products has been to redouble their looting and pillaging campaign through the issuance of even more debt in order to further enrich themselves at the expense of the many.
Huxley saw it beginning to happen even during the late 1950's:
"Meanwhile impersonal forces over which we have almost no control seem to be pushing us all in the direction of the Brave New Worldian nightmare; and this impersonal pushing is being consciously acceler­ated by representatives of commercial and political organizations who have developed a number of new tech­niques for manipulating, in the interest of some minor­ity, the thoughts and feelings of the masses." - Aldous Huxley - Brave New World Revisited - 1958
I think Huxley underestimated the lengths to which a minority of criminal wealthy bankers, their crony capitalist corporate co-conspirators, and feckless bought off politicians would go in their sociopathic manipulation of the masses to gorge themselves upon the world's resources and wealth. In 1958 the manipulators only had TV in its infancy and independent newspapers published by journalists who attempted to report the truth. They've come a long way baby.
The Deep State, Silent Government, Oligarchs, TPTB, or whatever term you want to employ to our Brave New World Controllers have mastered the art of propaganda, manipulation, distraction, and social engineering to such an extent the majority of Americans have come to love their techno-narcissistic, debt saturated, welfare/warfare, surveillance state. When a minority of evil minded men gain control of a nation's currency, own and control the few remaining propaganda news outlets, run the mega-corporations selling toxic poison processed food and iGadgets to the masses on debt issued by Wall Street banks, pay-off the politicians writing legislation and tax codes, and brainwash the youth through government controlled education, your Brave New World nightmare has arrived.
Huxley believed that over-population was not an immediate threat to the personal freedoms of Americans and Europeans due to their long history under democratic constitutions. Of course our national debt of $276 billion in 1958 was only 57% of our annual GDP of $482 billion. The population of 175 million could easily be sustained, with ample supplies of energy, food and jobs. The standard of living for families rose consistently and an economy based upon savings, capital investment, and producing things flowed wealth across all classes - raising all boats. Banks accumulated deposits from citizens and leant money to small businesses. There were no stock options, derivatives, stock buybacks, or trading profits. People borrowed sparingly and saved for the things they wanted.
Huxley predicted trouble by the beginning of the twenty first century if the population of the U.S. continued to outpace the available resources to support that population. He was right again. The party ended in 2000.The National Debt has soared to $17.6 trillion, or 104% of GDP in 2014. Why did the debt go up by a factor of 64 while GDP only advanced by a factor of 35? In 1958, prior to the blossoming of the welfare/warfare state, there were little to no unfunded liabilities. Today the total exceeds $200 trillion. A country adding debt at this astronomical rate is a country consuming far more than it is producing. Depletion of resources, overconsumption, and economic decline lead to debt expansion and centralized government control. When 20% of all households depend upon food stamps to survive, your country has too many mouths to feed and a failing economic system designed to serve the oligarchs and impoverish the peasants.
Consumer debt outstanding in 1958 totaled $48 billion, all non-revolving debt mainly for auto purchases. The credit card did not exist. Consumer debt outstanding today totals $3.2 trillion. Has this 6,667% increase in consumer debt benefitted the average person or Jamie Dimon and his ilk? Is it a rational choice of consumers in a free capitalist market or is it a result of coordinated actions by the banking cabal and their captured government benefactors to enslave the masses in debt while keeping them dumbed down and distracted by electronic gadgets produced in slave labor camps overseas under the guise of globalization? Huxley didn't anticipate Federal Reserve bankers and cowardly captured politicians purposefully inflating away 88% of the U.S. dollar's purchasing power as they expanded the welfare/warfare state through monetary manipulation, abandonment of gold backed currency and unfettered debt expansion. The result is real wages haven't advanced in the last 40 years, while corporate profits reach record heights and a small cadre of oligarchs reap the rewards of debt enslavement of the many.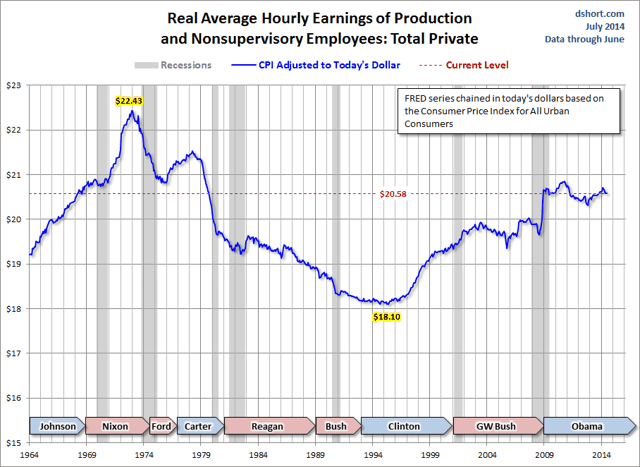 The Ponzi scheme system created by the invisible "leaders" of the supposedly free developed world required never ending growth to support the never ending issuance of debt in order to keep the fleecing of the masses operation running smoothly. This is where increasing population and resource depletion have thrown a monkey wrench into their printing press operation. The autocrats harvested energy and minerals resources from third world countries, while utilizing the catch phrase of globalization, as a cover for their wage arbitrage mechanism to continue their worldwide pillaging scheme. The Ivy League educated moguls are extremely smart when it comes to figuring out new and creative ways to screw the common folk, but their unparalleled hubris and arrogant disregard for humanity blind them to the ultimate consequences of their malevolent machinations. There will be blood and they will not escape unscathed. War is coming, but not the war they anticipate.
The definition of totalitarianism is a political system in which the state holds total authority over the society and seeks to control all aspects of public and private life wherever possible. Our two party farce of a political system is aligned to control our lives through laws, regulations, rules, bylaws, procedures, tax codes, taxation, inflation, and debt, enforced by government apparatchiks, bureaucrats, politicians, bankers, police state thugs, and when all else fails - the military. While the masses were distracted by facebooking, texting, twittering, instagramming, taking selfies, playing Words with Friends, engaging make believe enemies on their PS3 or Xbox, watching the Kardashians on one of their 700 cable TV stations, or shopping for Chinese produced crap at one of our 1.5 million cookie cutter chain retail boxes, those in control of this country covertly turned the nation into a surveillance state while militarizing local police forces. They know the endless growth story is over. Our oppressors fear the repercussions when the masses realize it's all been a big lie and they are left impoverished and hungry. They are attempting to instigate foreign wars, while preparing for the coming civil war.
The confusion, chaos, mayhem and war currently shaking the foundations of our planet are a direct result of too many people jammed into too small of a space with too few resources and too few opportunities for economic advancement. Poor, deprived, hungry people with nothing to lose begin to lose it. Revolution, civil unrest, radicalism, the rise of extremists and despots, and totalitarian regimes are the result. The invasion of Iraq was about oil. The overthrow of Gaddafi was about oil. The ongoing attempt to overthrow Assad is about a natural gas pipeline to Europe in order to isolate the Russians. The Ukrainian coup is about Russian natural gas and oil. The sanctions and saber rattling over Iran's nuclear program is really about their oil. The United States is utilizing their military industrial complex and CIA assets to instigate turmoil and war around the world in an effort to gain control over the dwindling energy resources in the Middle East and Africa. Russia and China are blocking U.S. efforts at every turn, as the world inches ever closer to a major resource war.
Huxley's Brave New World dystopian America had a good run from 1950 until 2000. Our keepers kept us fat, dumb, distracted, and in debt up to our eyeballs. Since 2000 Orwell's 1984 dystopian Surveillance States of America seems to be taking shape, under the watchful eye of our very own Big Brother, the NSA. Fear, punishment, slogans (See Something Say Something) and appeals to non-thinking patriotism have replaced freedom, liberty, individual rights, the Constitution, personal responsibility for our own lives and questioning authority. The propagandists created the War on Terror as a way to keep the ignorant masses fearful and cowering behind the skirts of Big Brother. The 2008 financial collapse was another crisis that couldn't go to waste. The Federal Government has expanded the spending of your tax dollars by 40% since 2007. The DHS concentrates on the internal enemy - you. The military industrial complex creates new foreign enemy threats every day - Hussein, Gaddafi, Ahmadinejad, Assad, and now Putin.
The monetary and fiscal policies of the country have remained in permanent crisis mode because the Ponzi scheme can't be maintained without a constant debt fix. As our permanent state of crisis devolves into war, our remaining liberties will be stripped away in the name of safety, security and unquestioned support of the state. Huxley knew that we would consume, obey and submit until dictatorship became almost inevitable. Will you sit idly by while a small cabal of power hungry men destroys our country? Will you send your sons off to wars manufactured by tyrants as cannon fodder to further enrich the military industrial complex? Will you make a stand when they begin to round up subversives, dissenters, and malcontents under the guise of protecting you from domestic terrorists? Will you choose liberty and freedom over repression and descent into captivity and totalitarianism? The choice is yours.
"But liberty, as we all know, cannot flour­ish in a country that is permanently on a war footing, or even a near-war footing. Permanent crisis justifies permanent control of everybody and everything by the agencies of the central government. And permanent crisis is what we have to expect in a world in which over-population is producing a state of things, in which dictatorship becomes almost inevitable." - Aldous Huxley - Brave New World Revisited - 1958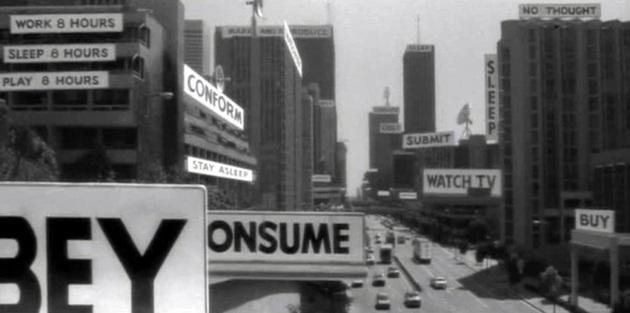 Are you a believer?
"One believes things because one has been conditioned to believe them." - Aldous Huxley - Brave New World
Or a truth seeker?
"You shall know the truth and the truth shall make you mad." - Aldous Huxley
Disclosure: The author has no positions in any stocks mentioned, and no plans to initiate any positions within the next 72 hours. The author wrote this article themselves, and it expresses their own opinions. The author is not receiving compensation for it. The author has no business relationship with any company whose stock is mentioned in this article.
Seeking Alpha's Disclosure: Past performance is no guarantee of future results. No recommendation or advice is being given as to whether any investment is suitable for a particular investor. Any views or opinions expressed above may not reflect those of Seeking Alpha as a whole. Seeking Alpha is not a licensed securities dealer, broker or US investment adviser or investment bank. Our analysts are third party authors that include both professional investors and individual investors who may not be licensed or certified by any institute or regulatory body.