ALL IS WELL, ALL IS WELL!!!!!!!!!!!!!!!!!!!!!!!!!!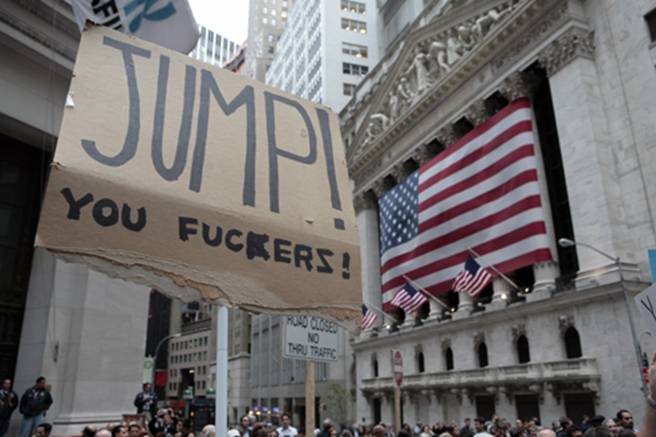 Sorry folks. All is not well. The fuckers on CNBC are lying to you. The 1,000 point drop was not some mistake. The whole fucking system is run by computer models. They were all written by the same fucking Harvard MBAs. They all do the same fucking thing at the same fucking time. The morons, knuckleheads, and numbskulls who occupy Wall Street are nothing but lemmings. If their fucking models tell them to sell, they all sell. They sell the country right off a cliff. Don't believe the spin tonight. The White House and Wall Street will roll out the usual criminal suspects to assure the American public that all is well. They are liars. You are a fool if you think this is going to end well. The Crisis is just getting going. The November elections mean nothing. Our system is broken. All the kings horses and all the kings men couldn't put Humpty together again.
I THINK A LITTLE MORE GAS AND WE CAN MAKE IT. FIRE UP THE PRINTING PRESSES BEN.
Dow Plunges Nearly 1000 Points; Video of Riots in Greece; Dollar Melt-Up Continues; Treasury Bears Slaughtered
Treasuries and the US dollar both rallied hard today as panic broke out in Greece and equity markets worldwide.
Video of Greek Riots
That video is from yesterday. Tensions rose again today.
At one point the S&P futures fell all the way to 1056 from an opening at 1163. I have seen these kind of days close green, but the treasury market sure isn't buying this rally.
Yield Curve as of 2010-05-06 3:15PM EST
Bullish Flattening of Yield Curve
That chart shows a bullish flattening of the yield curve as I expected. Those expecting a bearish flattening (yields rising) got their clocks cleaned today as treasury bears were slaughtered.
Mike "Mish" Shedlock
globaleconomicanalysis.blogspot.comglobaleconomicanalysis.blogspot.com/" target="_blank">