In Part 1 of this three part series I addressed where and how the net worth of the middle class was stolen. In Part 2, I will tackle who stole your net worth and in Part 3, why they stole your net worth. Now let's zero in on the culprits of this crime.
Dude, Who Stole My Net Worth?
"Thus far, both political parties have been remarkably clever and effective in concealing this new reality. In fact, the two parties have formed an innovative kind of cartel-an arrangement I have termed America's political duopoly. Both parties lie about the fact that they have each sold out to the financial sector and the wealthy. So far both have largely gotten away with the lie, helped in part by the enormous amount of money now spent on deceptive, manipulative political advertising." - Charles Ferguson - Predator Nation
When you dig into the charts and data supplied by the Federal Reserve generated report, the data which goes back to 2001 tells a story not addressed by the deceptive, manipulative, political propaganda that passes for investigative reporting by the captured mainstream media. The chart below compares the median versus mean income growth from the last three Fed consumer surveys. Overall, it reveals a lost decade of negative income growth for the average middle class family. In the early part of the decade the average middle class family made some progress as jobs were relatively plentiful and the internet crash mostly impacted the rich, who own most of the stocks in the country. This is why the median income rose while the average income fell. The wealthy have a large impact on the average because they own the vast majority of assets in this country. The stock market debacle was unacceptable to the oligarchs and their money printing puppet Greenspan.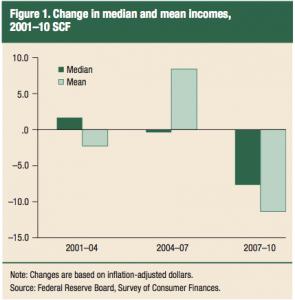 Both the liberal and conservative wings of the ruling oligarchy were in complete agreement. A new bubble needed to be blown in order to refill the coffers of the ruling class. Paul Krugman spoke for the liberal wing:
"To fight this recession the Fed needs more than a snapback; it needs soaring household spending to offset moribund business investment. And to do that, as Paul McCulley of Pimco put it, Alan Greenspan needs to create a housing bubble to replace the Nasdaq bubble."
Greenspan and his handpicked successor Bernanke represented the conservative wing by reducing interest rates to ridiculously low levels, failing to carry out their regulatory obligations, encouraging recklessness, and purposefully failing to acknowledge and deflate the greatest housing bubble in world history:
"American consumers might benefit if lenders provided greater mortgage product alternatives to the traditional fixed-rate mortgage." - Alan Greenspan - February 2004
"House prices have risen by nearly 25 percent over the past two years. Although speculative activity has increased in some areas, at a national level these price increases largely reflect strong economic fundamentals." - Ben Bernanke - October 2005
"With respect to their safety, derivatives, for the most part, are traded among very sophisticated financial institutions and individuals who have considerable incentive to understand them and to use them properly." - Ben Bernanke - November 2005
CLICK HERE TO READ MORE: