Trivago has experienced a sudden drop in Google Visibility with the website ranking distribution shifting to pages 8-10 on Google results.
Link Research believe the fall in ranking is due to excessive reliance on widgets, banners and image links.
Trivago's UK competitors' Google ranking has remained stable in 2014.
Trivago, the hotel search engine website owned by Expedia has suffered a sharp drop in Google visibility. The exact reason for the fall in rankings is not certain but Link Research Tools believe the biggest factor is Trivago's "excessive reliance on widgets, banners and image links." Google regularly updates its search algorithms, most recently called the Penguin update, and targets websites that breach the search engine's quality guidelines. Expedia paid $564m in cash along with 875,200 shares for 61.2% stake in Trivago. Trivago's 2013 revenues are projected to be ~$185m.
Using the search engine optimization (SEO) website Sistrix, Eagle Alpha illustrates the sharp fall in Trivago's visibility and how the distribution in rankings for keywords has shifted from pages 1-3 to 7-10. Trivago's competitors, lastminute,com, laterooms.com and travelsupermarket.com did not experience a drop in search ranking following the Google Penguin update.
Google introduced the first Penguin update in April 2012 to identify websites deemed to be spamming its search results, in particular sites buying links or obtaining them through link networks aimed at boosting Google organic rankings. Google remains the dominant search engine in the UK, with a market share of about 90%.
Overall Visibility
The below chart illustrates the Google visibility according to Sistrix. SEO visibility is essentially monitoring the search performance of a website. The Trivago visibility sharply dropped following a page layout Google update on February 16 2014. Selected keywords' ranking are monitored for a given search engine each week and compared against previous performance. More information on Google visibility is available here.

Ranking Distribution
The below bar charts illustrate the distribution of Trivago's keywords ranking in the first ten pages. The shift from in the majority of results from pages 2-3 to 8-10 shows Trivago's sharp fall in ranking.
Trivago.co.uk ranking distribution at 27/01/2014.

Trivago.co.uk ranking distribution at 14/04/2014.

Trivago Page ranking over time shows the sharp fall in keyword ranking over the last 2 months.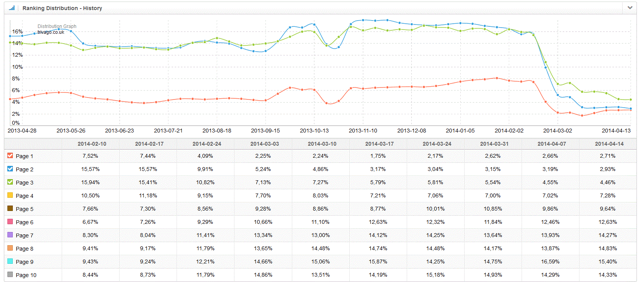 Trivago Competitors
According to a report from Link Research Tools none of Trivago's competitors suffered a similar drop in visibility though lastminute.com briefly saw a fall in ranking before recovering quickly.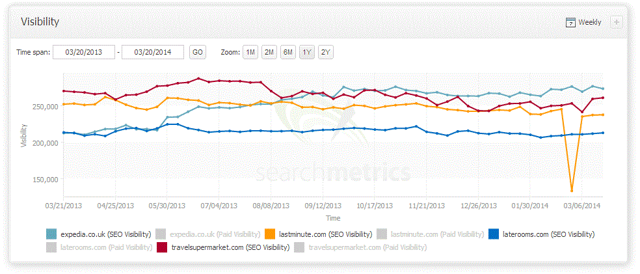 Disclosure: I have no positions in any stocks mentioned, and no plans to initiate any positions within the next 72 hours.