YouTube Video That Accompanies This Post
Receive What's Interesting, The SuperGrowth MultiBagger E-Newsletter In Your Inbox
To summarize our investment approach: SuperGrowth MultiBaggers are companies with a potent and rare combination: accelerating rates of revenue and gross profit growth, and accelerating — not simply improving — financial statement strength. Less than one percent of all public companies qualify. We accumulate positions on weakness. There's more on our approach in the Seeking Alpha article that accompanies this video, and on our website. It will put the following analysis in context.
Market Risk Assessment: Fairly high, new purchases 6% of cash position based on the current elevated market. The Risk Research portfolio is currently about 85% in cash.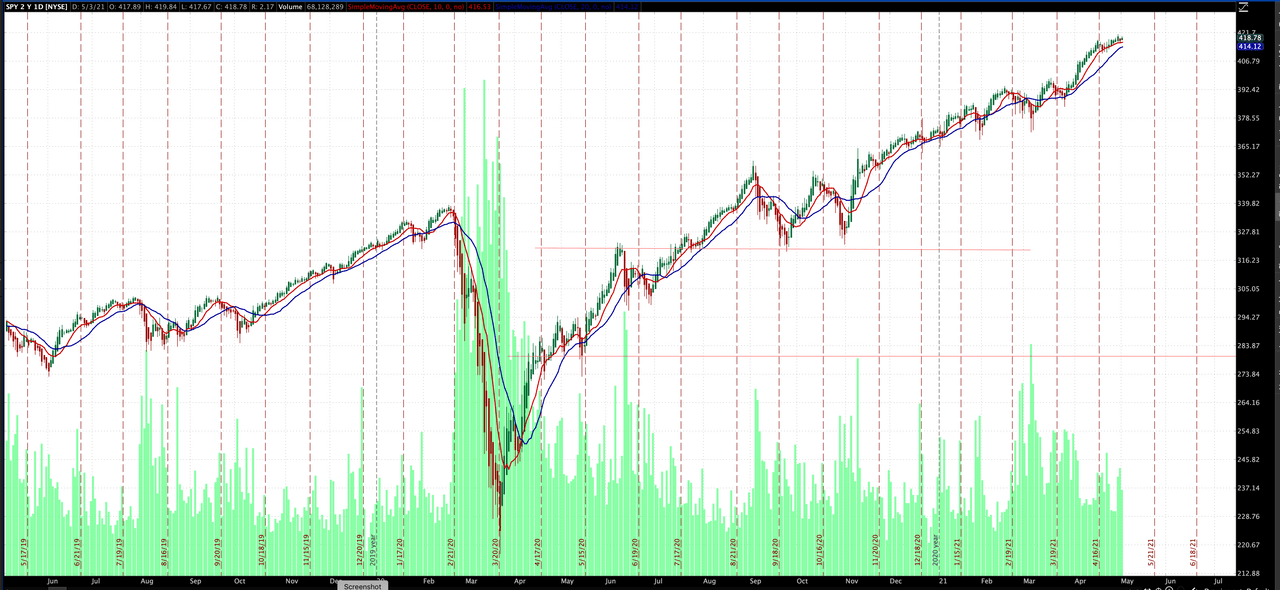 Source all stock price graphs: TD Ameritrade ThinkorSwim
Overnight however the market was weak.
S&P Hourly 10 day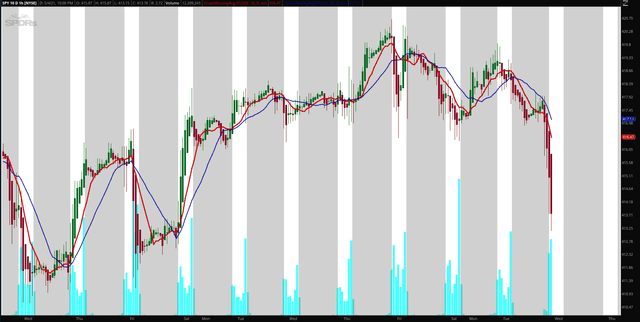 Quidel Corp (QDEL)
Quidel actually has the strongest overall financial statement trends of all public companies. The stock has been particularly weak over the last nine months, hitting a high of about $300 a share last August. Something's got to give — either financial statement trends will deteriorate or the stock will go up.
The stock has been weak lately due to lower management guidance:
The Company expects revenues in the first quarter of 2021 to be in the range of $374 million to $376 million, up approximately 114% from $174.7 million in the prior year quarter. . . The first quarter of 2021 was marked by the lack of a respiratory season, resulting in lower sales of influenza and other respiratory disease products. Influenza revenues for the first quarter of 2021 are expected to be $5 million, compared with $79.6 million in the first quarter of 2020. Additionally, gross margins are expected to be approximately 80% for the period...."
So revenue up 114% somehow disappoints the market. And influenza isn't going away. People were preoccupied with covid, wearning masks and staying home, resulting in a greatly diminished flu season. It'll be back.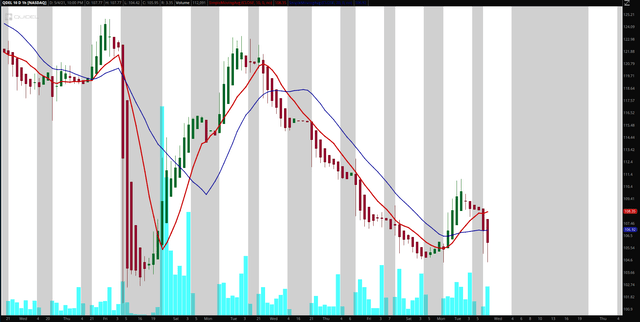 QDEL Summary Report
The company's financial statement trends are the strongest of any public company.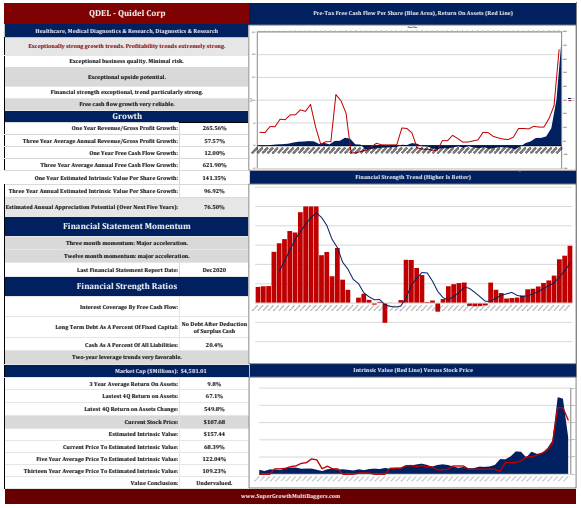 QDEL Momentum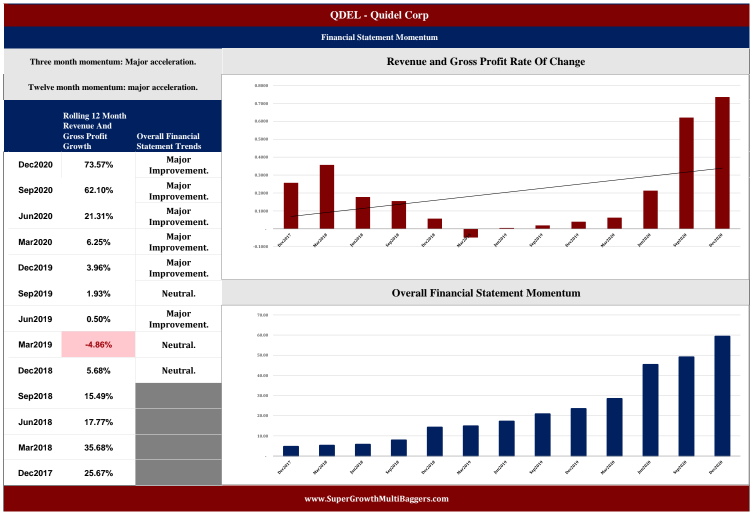 QDEL Growth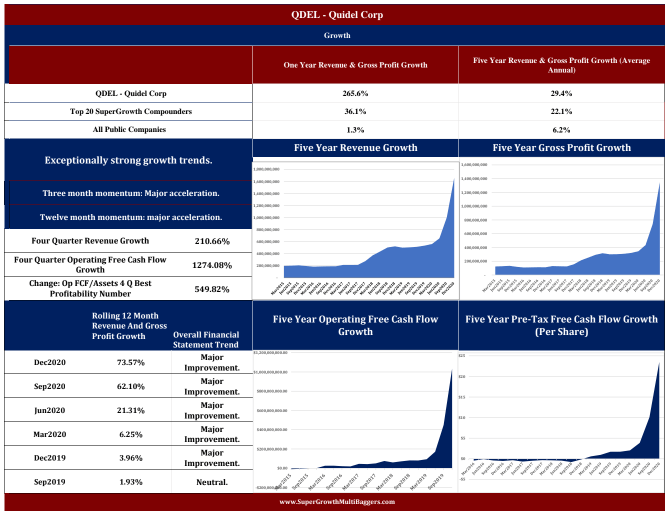 Meridian Bioscience Inc (VIVO)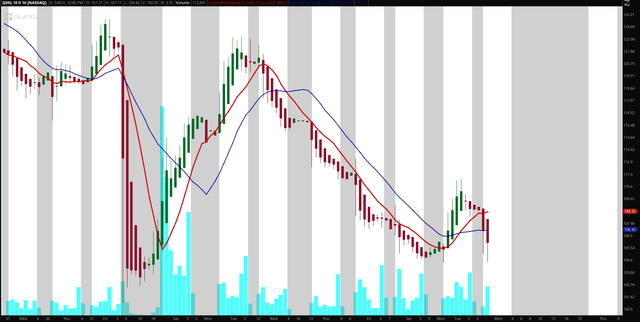 VIVO Summary
In terms of financial statement trend momentum, VIVO ranks number twenty of all public companies.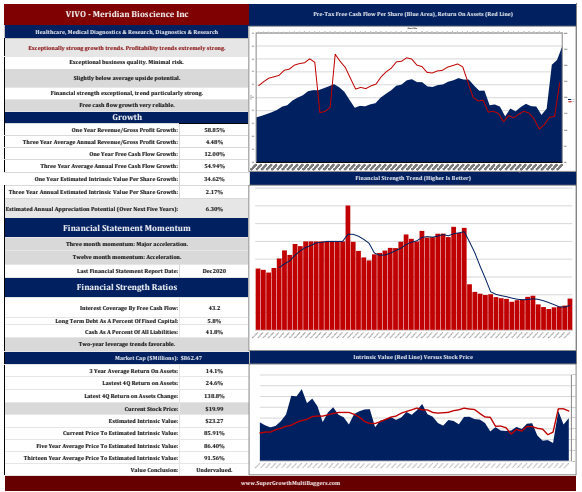 Momentum strong.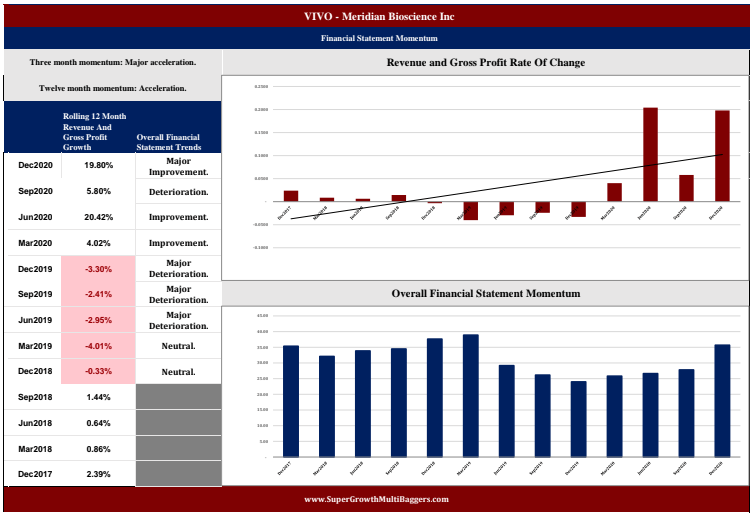 Growth trends appear to have recently broken out. The strong free cash flow trend is indicative of a company that has the ability to scale — make disproporately more money on each increased dollar of revenue.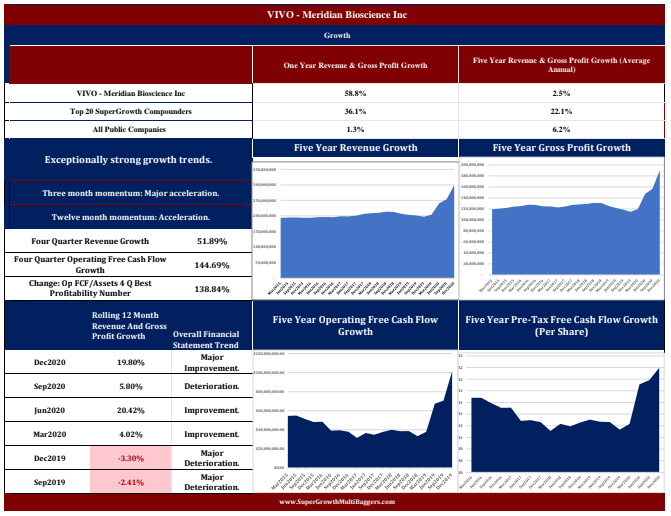 BioDelivery Sciences International Inc (BDSI)
The one year chart: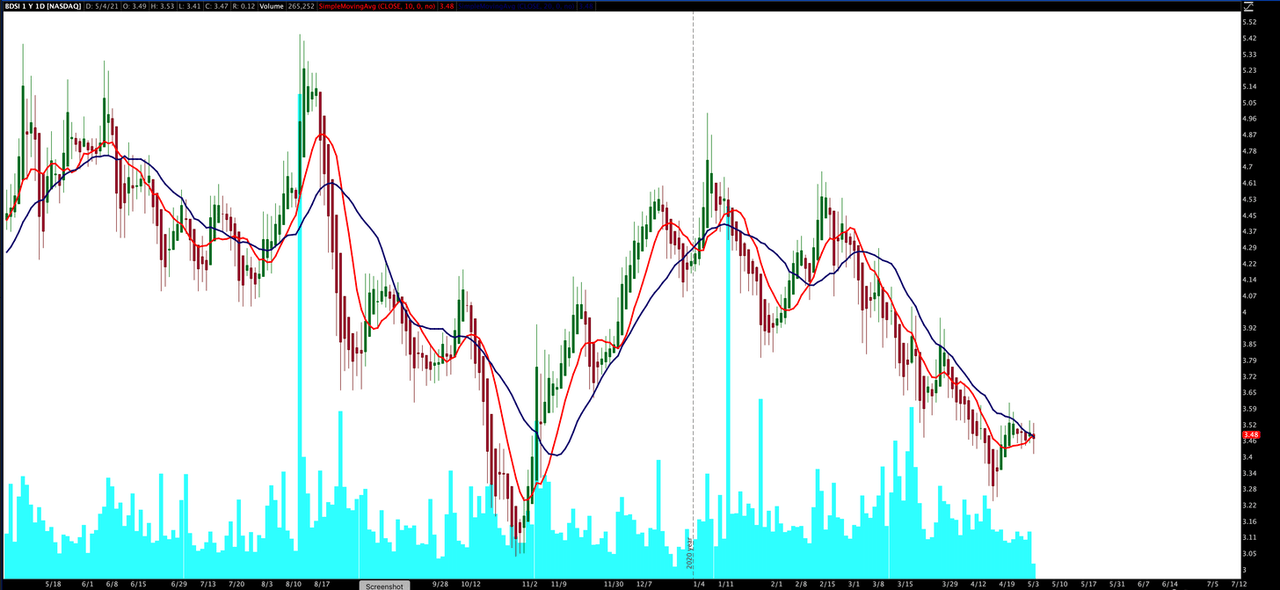 The ten day chart: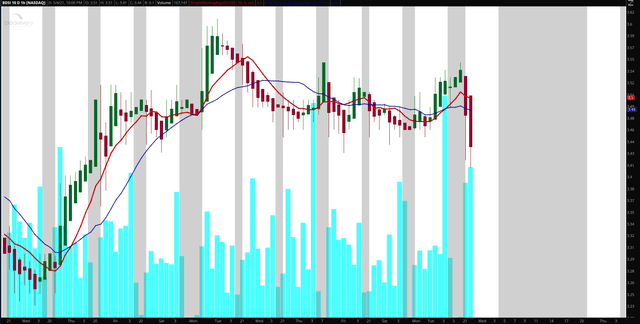 BDSI - BioDelivery Sciences International Inc ranks 101 out of all public companies in terms of financial statement momentum. It has the characteristics of a company that is passing a crucial inflection point, which often indicates major pending stock price gains.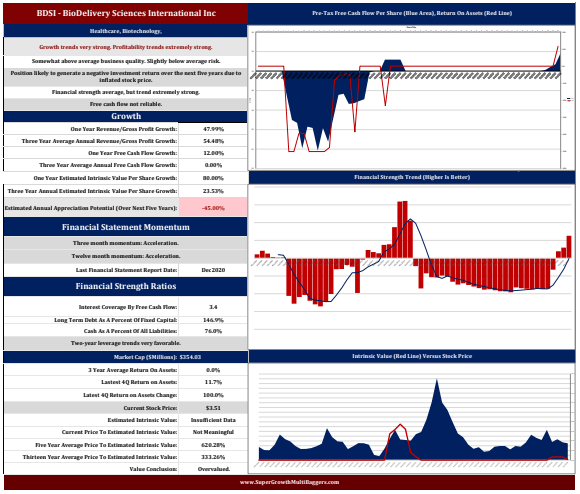 BDSI Momentum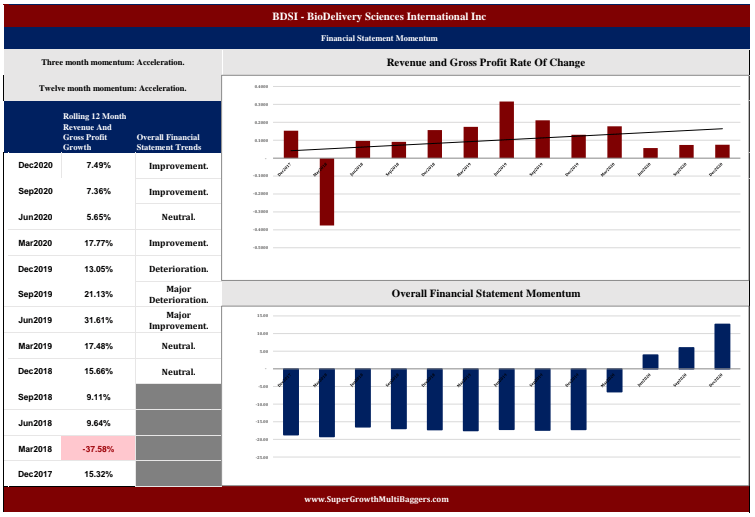 BDSI Growth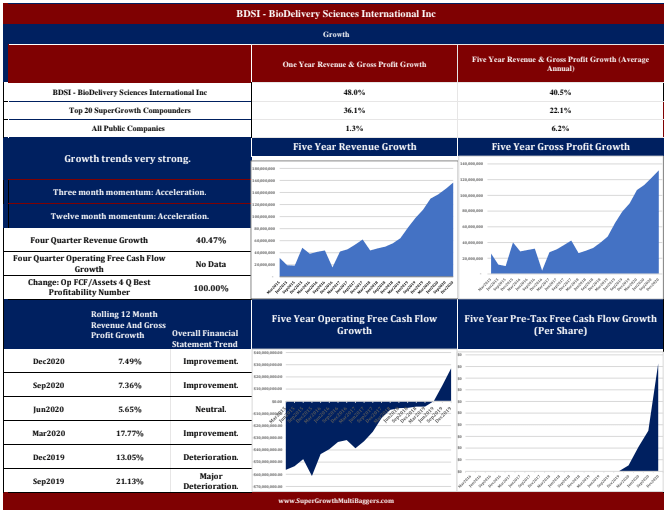 We'll report to subscribers on any companies removed from the SuperGrowth MultiBaggers later today. We seem to be having issues with the raw data feed.