Our Market Thermometer continues to be mixed. We continue to lean on the side of fundamental bearishness, but it's very difficult to point a finger at an overtly bearish indicator.
Furthermore, it's possible the next couple of weeks will see a capitulation sell off and a Santa Rally going into year end whose strength will allow us to gauge whether the bear market has started.
In this backdrop, we continue to like the Treasuries trade TLT as safe way of expressing our view of slow deterioration. If things get hairy enough, we make take a stab at fundamentally strong equity sectors such as Telecoms IYZ as well as a punt on High Yield HYG but only for a short-term trade. We may also try for some Gold GLD. For now, we'd avoid global growth sectors like Materials XLB, except maybe on the short side after a market rally.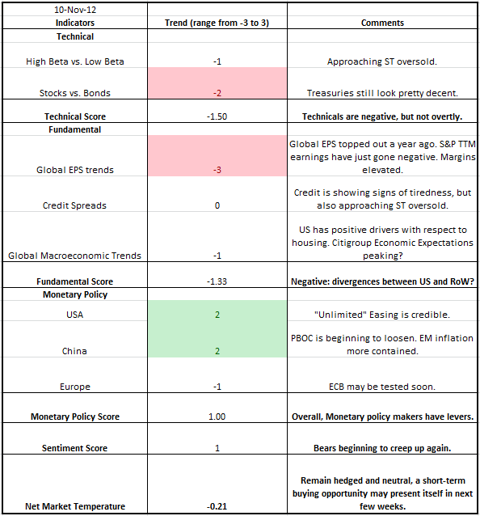 Disclosure: I am long TLT.