For the past two quarters, I've been eagerly watching the energy stocks come into a very appealing buy zone while watching in amazement how far investors were willing to bid consumer discretionary names.
No doubt in the past few weeks we've seen some pretty high profile misses from the CD space, and the charts are signaling an intermediate term inflection at the very least.
Meanwhile, on average, S&P500 energy names trade at approximately 20% below their historical valuation relative to the S&P500 and at 1/2 the valuation of their consumer discretionary counterparts. The last time they were this cheap was the Summer of 2010.
The XLE is the best macro way to take advantage of this compelling investment opportunity, but of course there are tremendous opportunities in the space from the Integrated Oil sector to the MLPs.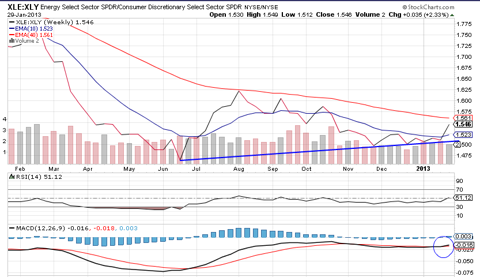 Disclosure: I am long XLE.