I am not a big fan of traditional technical analysis. As you know, I prefer to combine my own proprietary analysis with real macro fundamental analysis to come with a probability weighted solution.
HOWEVER, that being said, I just couldn't help myself with this chart. If you believe in the Head and Shoulders formation, the MSCI World Ex-US is on the verge of an utter meltdown which would ostensibly test the 2009 weekly lows. Didn't think 2008 could happen again? Hmmm...
The troubling aspect of this chart is that it does square with the macro analysis. If the global economy is going into a recession, then a 50% decline (from the April 2011 peak) in share prices would not be a multi standard deviation as many of the "savviest" money managers would like you to believe (as an excuse to justify their losses), but rather, a normal part of the market cycle. Putting my existential hat on, the mere fact that we need to debate whether the global economy is or is not in a recession, tells me that if we are entering a recession at the moment, then the market has not priced it in. I am positioned in the highest octane way, within acceptable parameters, in order to personally profit from this disconnect.
Figure: MSCI World Ex-US target $950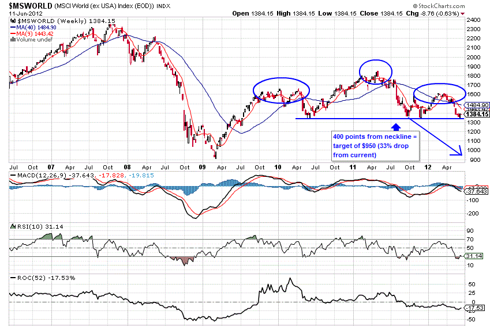 Source: Stockcharts.com
Disclosure: I am short EEM.