The short covering is putting in a very strong bid for Dex One. I know because I was slamming it with blocks of shares yesterday as I scrambled to sell Dex One (DEXO) above $1.80 and rolled that cash directly into SuperMedia (NYSEARCA:SPMD) at less than $3.40.
Look at the merger ratio history below. If you note that a Dex One share converts to a new share at a ratio of 0.2 and a SuperMedia share converts at a ratio of 0.4386, the merger ratio should be 0.45599. When the chart below is above that value, you should sell DEXO and buy SPMD and when it is below that value you should buy DEXO and sell SPMD.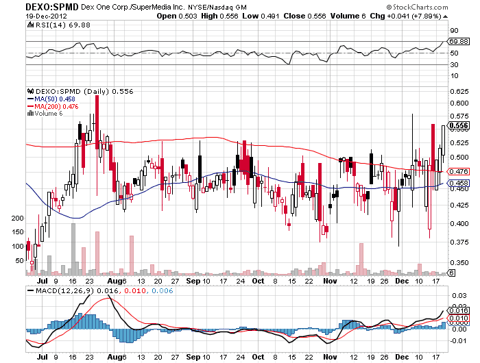 Right now, with a value of 0.556, you can get 21.95% more of the post merger company by selling Dex One and buying Supermedia.
Take the money and run! Thanks shorts!
Disclosure: I am long SPMD. I wrote this article myself, and it expresses my own opinions. I am not receiving compensation for it (other than from Seeking Alpha). I have no business relationship with any company whose stock is mentioned in this article.
Additional disclosure: I sold all of my Dex One and bought SuperMedia. I intend to sell back and forth between the two companies to maximize my future ownership of Dex Media.