My policy on silver is that as long as it keeps setting new highs, I am not going to sell. I'm not sure what the downside risk is of holding 1 day. Do you think that demand is just going to dry up? That's usually not how bubbles work. Honestly, I'm not sure if Silver is even in a bubble. One thing is certain, it has gone parabolic. But, the fundamentals have gone parabolic as well.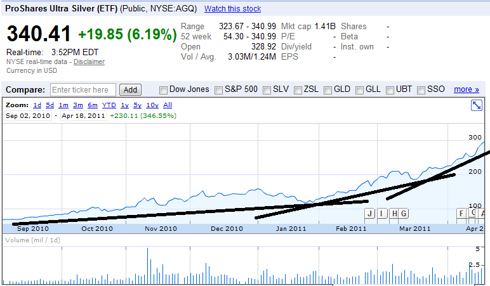 As long as the politicians do not make changes to the unsustainable system that is summarized in a Saturday Night Live skit titled, "Don't buy things you can't afford," the fundamental story for buying and holding commodities like silver is intact.

So, while the government is out there spending wildly, decreasing the purchasing power of the dollar, why shouldn't I be spending my dollars as fast as i can to buy something that will likely hold its puchasing power better than a dollar bill?



Disclosure: I am long SLV, AGQ.