Abbott Laboratories (ABT) is a worldwide health care products provider. This 72.5 billion dollar company (market cap) employs 69,000 employees worldwide. One of their well known products include FreeStyle, which is a blood glucose monitoring system. There are more products Abbott sell that I do not know but I am less concern about that. What struck me most about Abbott is its valuation and its inability to move up during the bull market. This may be because momentum traders are trading names like Research In Motion, Apple, or Freeport McMoran. The less momentum, the easier it is for me to buy.
The stock is trading around $47, 14 P/E, 10x cash flow, and 3.4% Yield. The stock is less than 15% above its yearly low. My model shows Abbott is undervalue around 3% yield or 13 P/E, 10x Cash flow or below $49. I weight more valuation on dividend yield and thus I believe the share is relatively undervalued at this price. One of the most impressive thing about this company was their ability to raise dividend by 11% in April. Payout went from $1.44 to $1.60.
The technical is another aspect I pay strong attention to prior to buying any stock. I wrote about Abbott's technical back on 6/8/09 and showed a possible reversal or head-and-shoulder pattern.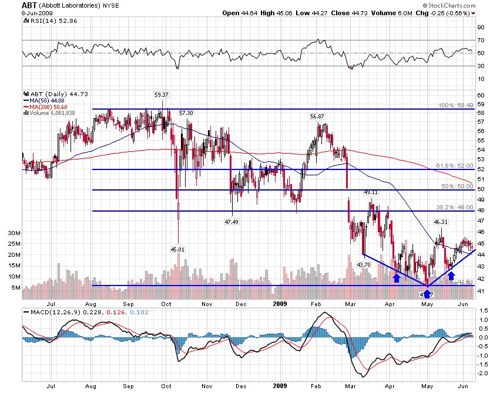 To follow up with what I am seeing today, I draw the chart below. Two strong pattern I see are the golden cross which is when short-term moving average crosses mid-term moving average and ascending triangle.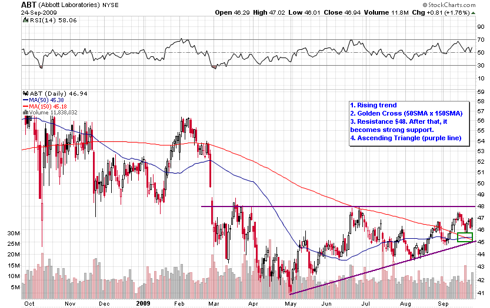 Another thing is the Altimeter which Dividend Inc. put together.
I believe Abbott is at the right valuation and urge you to start looking at it. Do your research before committing your capital.
Disclosure: I am long ABT.