Apple Suppliers - Leading into the pending iPhone 5 ( and "iTV" ) launch.
With the increasing news leading into pending iPhone 5 launch, and more speculatively iTV launch, I have once again taken a look at the suppliers behind the iPhone and iPad products. The listed was sourced from Apple's 2011 report (images.apple.com/supplierresponsibility/...)
From the supplier list, I have highlighted 24 names and mapped out basic fundamentals juxtaposed with the S&P and Nasdaq indices. See Below for Chart.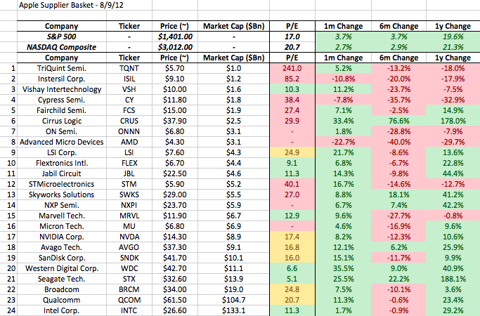 Rather than give an outright view on the listed names, my intent for this blog is to create an open forum to discuss some of the suppliers for the Apple products, and more importantly, thoughts on the impact the launches will have on their businesses among other variables. Common names that have been discussed in blogs and the media are names such as SWKS, TQNT, CRUS, and more, however, I wanted to open up the discussion to a broader range of equities.
I hope the material provided produces a meaningful discussion on how to best leverage the pending Apple launches.