Creative Edge Nutrition - Vertical Integration
In this article I initially intended to do some comparative analysis between 2 companies in the medicinal Cannabis sector that appear to have laid ground work for, or are directly involved in the field of THC and CBD based pharmaceuticals. However, after completing my last write up, there seems to be far more information that I find myself compelled to cover about Creative Edge Nutrition, and although my previous article attempted to delve "beneath" the surface, it seems I ultimately only just managed to scratch it.
In order to gain an informed, actionable opinion as an investor, I believe it is first necessary to paint a picture of the overall competitive environment in terms of US based investment opportunities directly related to this sector, and secondly to evaluate potential market value of the sector as a whole vs. the positioning of each of these companies, and finally to what extent a company may benefit from its respective position and how those benefits may correlate to the investor… but perhaps in no particularly certain order or all within the confines of this one particular post.
Competitive environment
Since we are still at the very early stages of the rebirth of this ancient industry (previously stifled by political and corporate agendas), there is certainly no shortage of opportunities in creating innovative products or companies. However many companies may still be facing a shortage of either investment money or talent. It's for this reason that, when writing, I prefer to focus primarily on companies who appear to have those first 2 bases well covered, and as such would be expected to have the resources and means necessary to secure a strong footing in the early stages of the global market. It is after all a well-known fact that the early bird does tend to catch the biggest worms, and as investors, we all want our birds to be extremely well fed.
While there are a handful of companies that do appear to have the pharmaceutical marketplace in their sights in at least some capacity, there are only 2 publicly traded companies that stand out as having a direct and actionable competitive edge in that regard. And while one of these companies is extremely well focused, specialized, and globally established (NASDAQ:GWPH), the other has evidently adopted a much broader corporate strategy (OTC:FITX) in order to capitalize on multiple revenue streams across various aspects of the Cannabis industry. Since these additional revenue streams also have the potential to accelerate the advancement of the company's pharmaceutical divisions, it is logical to seriously consider the company as a direct competitor and potential front runner in the pharma-cannabis space, as well as a potential front runner in any other area of cannabis production. Creative Edge Nutrition has also previously secured 20 million in funding and has gained some serious traction as a company as of late, and so I tend to feel that the company, being at a relatively low market cap in comparison, may be the better investment, or at least provide the most significant rate of return.
Elements of vertical integration - Overview
By stark contrast to GW Pharma, Creative Edge has positioned itself to capitalize on multiple aspects of the Marijuana and hemp industries in a vertically integrated business model. What does that mean? Well, in management and microeconomics, vertical integration is defined by the company owning its own supply chains, with each part of the supply chain producing a different market specific product or service, with all products combining to fulfil a common market need. So what the company specifically intends to do is meet every global market need that is directly relevant to all forms of the Cannabis plant, under one large controlling corporation. If successful, this may be the very first vertically integrated global corporation in history to invade this particular market.
But the focus is all here… for now.
Although there are wide variations in estimates, the total value of the world's marijuana market from several credible sources is estimated to be somewhere in the $100-$200 billion range, and according to the 2014 United Nations world drug report, between 125 million and 227 million people were estimated to have used cannabis in 2012, corresponding to between 2.7 and 4.9 per cent of the population aged 15-64 years old, although these numbers have been on the rise since. This same report by the UNODC states that;
"Expert analysis predict that the legalization of cannabis will most likely reduce production costs substantially, which would in turn be expected to put downward pressure on prices over time, although whether prices materialize in the first few years or only in the longer term in unknown. Since cannabis consumption responds to prices, the lower price will probably lead to higher consumption. It is estimated that for each 10 per cent drop in price, there will be an approximately 3 per cent increase in the total number of users."
While this may be a good indication of a price to consumption ratio based upon legalization, it may not be sensible to expect a consistently proportional trend as there are many factors to consider in various regions, such as controlled medical-only legalization regions and increase use for medical purposes after expanded research. However, the fact still remains that Cannabis legalization is spreading across the globe like a wildfire, which is in turn opening the door for significant profitability to be had by legitimate enterprises. This is important to consider, firstly because the company's that become front runners in a legitimate production capacity in legal or semi-legal environments will not only be positioning themselves directly in the path of a massive 100+ billion dollar shifting revenue stream, but will also capture the expanding market as the spread of legalization increases the number of patients organically. If a potential front runner such as Creative Edge Nutrition could capture just 1% of the global market share from the sale of marijuana alone, they would generate well over a billion dollars in revenue annually. However, a front runner could very well gain a much larger position in the market over time.
To help understand this concept, we could perhaps compare the market share of the world's largest brewer, Anheuser-Busch InBev who has captured a 25% global market share and 47.2% market share in the USA. Considering that Cen Biotech Inc. (subsidiary of Creative Edge Nutrition), may soon be licensed to produce up to 1.32 million pounds of dried medicinal grade marihuana annually for the Canadian and global population, with potentially $5-7 billion in revenues at full production capacity, one cannot overlook this aspect of their corporate strategy when considering the additional pharmaceutical component, and how those revenues could drive that component forward also, with each element in the vertical integrated model in turn connected to and supporting another branch of the corporation.
Science Defined
Creative Edge Nutrition also recently announced the purchase and build-out of a second marijuana facility for the purpose of research and development with respect to strain genetics, new grow techniques and bio-medical research, as well as the creation of 5 key research and development divisions that would address the company's vision in growing long term profitability through innovation and research. These divisions are: Genetic Engineering & Cloning, Genomic DNA Mapping & Strain Analytics, Extracts & Delivery Instruments, Pharmacogenetic & Clinical Trials, and Stem Cell & Tissue Proliferation. The R&D facility has been set up as a cGMP/ USP 797 facility with a similar workflow model to the main site ¼ mile away, which by contrast will soon be licensed to produce a substantial amount of dried medical marijuana for distribution to Health Canada patients. This R&D site includes a 25 acre lot which will be used for hemp growing and trials. Evidently this site that has been prepared to begin the company's journey into pharmaceutical research and development, which could prove to be just as significant a venture as the build out of the first facility, albeit for a different purpose. The R&D facility will be used to aid the discovery and development of disease treatments, wound healing, and other ground breaking cannabis based medical solutions.
Leading the companies R&D efforts, are a group of highly acclaimed Doctors and Scientists with Dr. David L. Felten (Chief Medical Director) who has received numerous honors and awards, including the John D. and Catherine T. MacArthur Foundation Prize Fellowship, and two separate 10-year MERIT Awards from institutes (Aging, Mental Health) at the National Institutes of Health and published over 200 peer-reviewed publications. Dr. Sam Alawieh (Chief Pharmacology & Acquisitions Officer) who happens to be an expert in the field of science based growing and various research and has developed important proprietary technologies. Dr. M. Kerry O'Banion (BOD), an internationally recognized scientist specializing in brain inflammation, epilepsy, brain radiation, and many neurological disorders who along with his colleagues were awarded patents in the development of Vioxx & Celebrex. And most recently, Dr. Jonathon Lakey (Chief Science Officer), who is perhaps the most prominent name in the field of diabetes research and was a key contributor in the development on the Edmonton protocol for patients with chronic type 1 diabetes and has several notable patents and a multitude of publications under his belt.
It is very apparent that Creative is gearing up to become a front runner in the pharmaceutical space as part of its vertical integrated model, and that by getting in now; we are essentially getting in on the ground floor. Perhaps with such a drastic change in the global climate currently under way, and a new found focus on top level research now being actionable, we may begin to see things like new cancer or epilepsy treatments, advancements in regenerative medicine, and more natural pain medications that avoid the negative side effects of more traditional means.
A world of hemp
The world does not yet understand, nor can it be fully educated on the potential value of hemp cultivation which Creative Edge happens to be setting up to capitalize on, in part, by the recent acquisition of Hemp Technologies Global, who is involved in a multitude of hemp related projects. Hemp Technologies is able to boast being the first company permitted to construct hemp houses in the USA. That's right, hemp houses, made of "hempcrete". Hemp can also be effectively utilized in a wide range of products for an enormous range of applications including fabrics and textiles, construction and insulation materials, auto parts, composites, yarns and raw or processed spun fibers, paper, carpeting, home furnishings, nanotubes, and biofuel.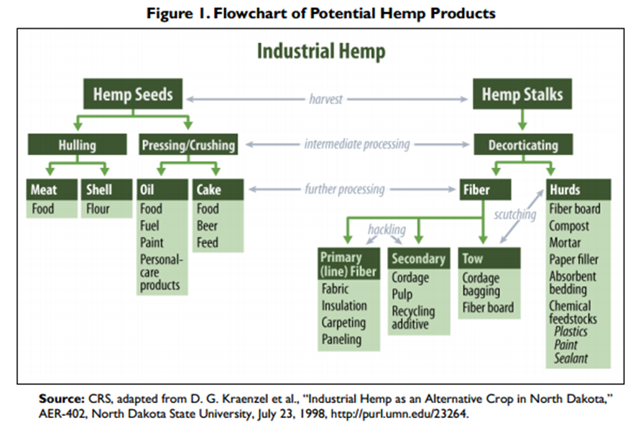 The Hemp Industries Association (HIA) estimates that the total U.S. retail value of hemp products in 2012 was nearly $500 million. Although that is about to change significantly, in part, due to the recently enacted farm bill with an amendment to allow industrial hemp research in the US. And according to one CRS Report for Congress RL32725, there are currently over 25,000 uses for hemp… that we know about. Hemp production also appears to have been increasing even before the recent changes in legality, and Creative Edge is positioning itself to capitalize on the entire global market, not merely the USA.
Hemp could quite literally cure world hunger, end deforestation, reduce our dependence of fossil fuel, and may even hold the keys to unlock a variety of disease treatments and cures.
Back to the beginning
At some point, when revenues begin to flow, and the CenBio project has had its beginnings, I believe it is safe to say that the supplement side of the business will then be able to flourish more freely, and in an impressive manor I might add. At that point I will be writing a very specific article covering that part of the business. But for now, I will leave you with a number, and a thought. If Creative Edge was able to capture just 5% of the global market share as an early mover in all proposed aspects of expansion, it is not completely unreasonable to propose that the company's annual revenues could reach the neighborhood of double digit billions, with a market cap in the neighborhood of say… $100 billion (543x current market cap), and a share price north of $30. However, even if we are able to achieve a small fraction of that, we may still be wildly successful in our investment. Here's to the future.
Disclosure: The author is long FITX.
Additional disclosure: The author has no affiliation with any company mentioned, and was not compensated in any way shape or form for this article or its content.