On September 19, 2012 (found here), we recommended that investors consider selling Abbott Labs (NYSE:ABT), at least the principal portion. At the time, ABT was trading at a split-adjusted $33. by October 16, 2012, shortly after our sell recommendation, Abbott rose as high as $34.67 or +5.06%.
After peaking on October 16th, ABT went into a decline all the way to $29.96 or -13.59%, by November 16, 2012. The decline of ABT took the stock price to the widely followed 200-day moving average.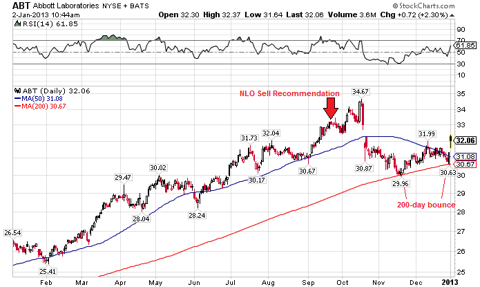 Ordinarily, a decline to the 200-day moving average is a make or break proposition for many investors. It seems that in the case of Abbott Labs, it was a move that "made" the stock as it bounced on the 200-day moving average on two occasions at $29.96 and $30.63. The spike in the price today, after the split of AbbVie (NYSE:ABBV), has given ABT renewed life as the stock exceeded the 50-day moving average by a wide margin, the first time since falling below the 50-day in mid-October 2012.
Unlike in the period since our accumulation of ABT shares, the stock price has languished for over 3 months. Dow Theory suggests that this is where a "line" is created, when institutions are either accumulating or distributing the stock. A "line" can last from months to years. We're taking the view that rising above $35 is an indication that institutional accumulation has won out and that much higher prices lie ahead. However, if the stock declines below the $29.96 level, we can only conclude that distribution is in effect and the price of Abbott has much lower to go.
In the meantime, those interested in a short-term transaction can expect ABT to retest the previous high. Our expectation is that ABT will achieve the $35 level, at minimum, which is +8% above the current price ($32.33). Even if the gain is only +5%, a healthy portion of the portfolio (20%-30%) could have a meaningful impact on overall returns. The downside risk is that you'll have a company that you wouldn't mind holding on a long-term basis with an ex-dividend date approaching in the next week or two.*
*The strategy recommended is best suited for tax-free and tax-deferred accounts.