Subscriber F.H. asks:
"[Have you] ever consider[ed] constructing a market trend indicator like Richard Russell's PTI?"
Our Response:
This is a great question and one that we've examined in the past.
We are familiar with Russell's Primary Trend Indicator [PTI]. In fact, we know the exact constituents of the indicator. According to Richard Russell, editor of The Dow Theory Letters since 1958( www.dowtheoryletters.com), the PTI is a "technical spectrum of the stock market" that cannot be manipulated. Russell goes on to say "…you can fool one or two of these technical items, but you can't fool all eight of them, and that's what the PTI is all about." The goal of the indicator is to provide solid indications of market direction that cannot be manipulated.
As a subscriber to Russell's Dow Theory Letters, you are well aware of the many times that the PTI was right and Russell was wrong about the direction of the stock market. However, we're more concerned with the fact of how much advantage does the PTI provide compared to simply using Dow Theory.
Here is what we've found. According to Dow Theory, on July 23, 2009 a new cyclical bull market began. At the time we recommended investing in the highest weighted stocks of either the Industrials or Transports index or the purchase of ETFs for the Industrials (NYSEARCA:DIA) or Transports (NYSEARCA:IYT) (article found here).
On the other hand, the Primary Trend Indicator [PTI] gave the first hint that we were in a cyclical bull market on August 25, 2009. In addition, the PTI didn't give the "all clear", in terms of being in a bull market, until November 30, 2009 (as seen in chart below). In fact, a good technical analyst would have had tremendous difficulty in getting a clear indication based on the PTI until after the December 8, 2009 rebound.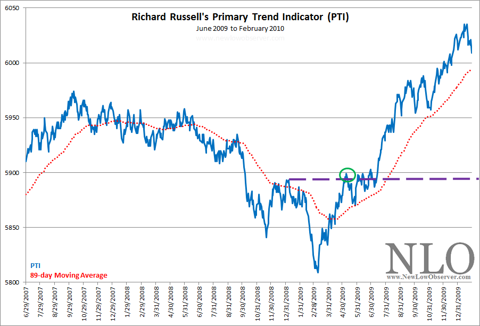 There is an alternative view on interpreting an earlier signal than the Dow Theory indication using the PTI. However, you would need to apply Dow's theory in order to properly achieve the earlier signal based on the PTI movement. Using the purple line above, an individual could have interpreted that a cyclical bull market tentatively started as early as May 4, 2009, when the PTI exceeded the January 2009 peak. Subsequent to the May 4th peak, the PTI did not decline below the 89-day moving average on May 27, 2009, suggesting that more upside existed.
However, when we refer back to Russell's June 3, 2009 issue there is no indication that a tentative new bull market was in play. No mention that May 4, 2009 or May 27, 2009 were possible indications of a new bull market in stocks. In fact, Russell commented that "…ridiculous but unseen green shoots is now repeated everywhere. I've stated that a true bear market bottom usually requires many weeks or even months before the crowd turns bullish." This comment along with the picture of a bear at the top of his newsletter was the only indication that we had that we were still in a bear market, according to Richard Russell.
Because we have studied the PTI in detail, we've determined that it is not worth including in our work. In fact, we've found that it is more noise on the market when compared to correct, albeit conservative, interpretation of Dow Theory. If we get Dow Theory right, then we don't need another indicator to follow that could potentially confuse our primary indications based on Dow's work. Yes, we will take in as many views as possible, however, we will rely on Dow Theory as the primary indicator for market direction.
Finally, to create an indicator that is supposed to be impervious to manipulation while at the same time practicing Dow Theory is doubling the effort necessary in watching the movements of the market. We've outlined in extensive detail the role that manipulation plays in the stock market and how the interpretation of Dow Theory mitigates the most extensive manipulation possible (found here).
Disclosure: I have no positions in any stocks mentioned, and no plans to initiate any positions within the next 72 hours.