Richard Russell's Dow Theory Letter Issue 854 was published on February 9, 1983. At the time, the Dow Jones Industrial Average (NYSEARCA:DIA) was at the 1,067.42 and the Dow Jones Transportation Average (NYSEARCA:IYT) was at the 473.95 level.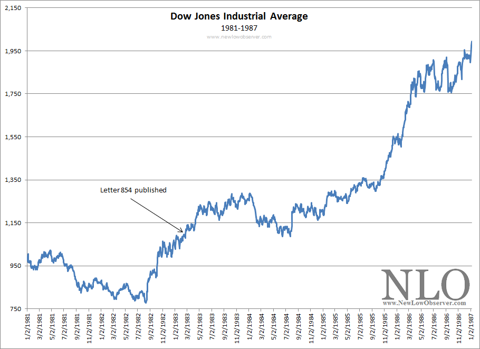 Economic events never occur in a vacuum. Usually there is a string of events that leads from one event to another. One big event can lead to an even bigger event that overshadows the prior calamities that triggered the "big" event. This issue of Richard Russell's Dow Theory Letters covers one market event that led to major crises that happened at different periods in time. The two events are joined at the hip based on the decline of oil prices. This led two separate major bailouts that resulted in structural shift in the way our brand of capitalism works.
Also, this Russell review will cover the topic of cycles in corporate cash and corporate indebtedness. We'll discuss, in brief, where we might be in this cycle.
Disclosure: I have no positions in any stocks mentioned, and no plans to initiate any positions within the next 72 hours.