On our November 2, 2012 Nasdaq 100 Watch List, we said the following of NetApp (NASDAQ:NTAP)(found here):
"On January 12, 2012, we assessed the points at which an investor could take advantage of the decline of NetApp (NTAP). At the time, NTAP was trading at $36.85 and we suggested that the stock would be a good buy at $30 and $23.47. Afterwards, NTAP increased +34.5% to the March high and the fell below the Jan. 12th price. After falling slightly below the $30 level, NTAP rose +20% to the September high. Anyone who has not participated in the $30 purchase price can do so at the current price and potentially at the $23.47 level."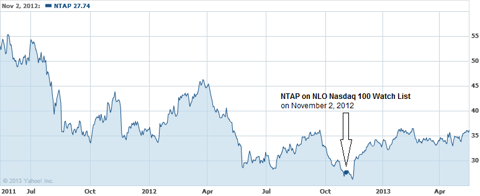 With a gain of +38% in 6 months, exceeding the historical average for stocks over any timeframe, we recommend selling NTAP. Those wishing to continue to participate in any additional upside should only sell the principal portion for a reasonable "risk free" return.