Below is Edson Gould's speed resistance lines [SRL] for Ancestry.com (NASDAQ:
ACOM
) which had an amazing run- in the last two years.  After the peak of $45.70 the stock fell to the upper range created by the SRL but shortly thereafter fell below the target level of $30.72.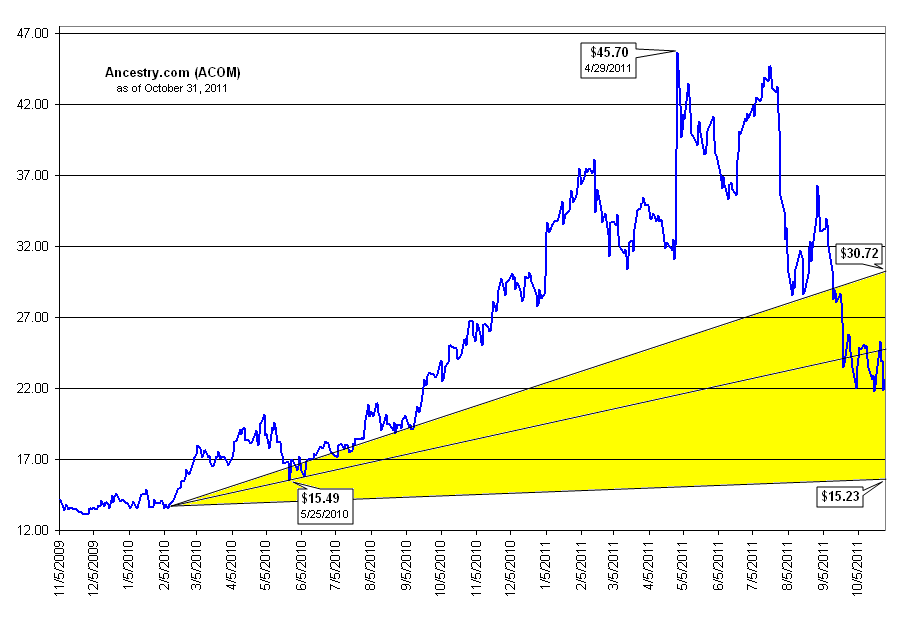 It appeared as though ACOM was doing everything it coud to close above the $15.49 pivot line.  However, the stock price has failed to stay above the pivot line in the last three attempts.  We believe that ACOM is going to retrace back to the extreme end of the range at $15.23.  Let's see how close the price falls to Gould's SRL extreme low.
What is a Speed Resistance Line?  Find out more
here.
  Help us find stocks that have had massive run-ups but haven't fallen yet.  We'll run the SRL for you and post them on this instablog.  We're trying to catch the stocks before the decline to see how accurate the SRL actually is at projecting downside targets.  Thanks.

Disclaimer: This piece is a continuation of the examination of Edson Gould's speed resistance line as explained in prior articles.  This is not an endorsement to sell short at the current levels nor buy these stocks once falling below the extreme downside targets since the stocks have been randomly selected, at best.