On September 26, 2013, we purchases a 19% position of Sysco Corporation (NYSE:SYY). Since that time, SYY has gone from near a 1-year low to a 1-year high all within three months. Today it was announced that Sysco Corporation would merge with U.S. Foods. The fair value target in our transaction alert on September 26, 2013 (found here) has been achieved but we expect that the stock will close below the fair value level on the day. Dow Theory suggests that SYY should re-test the fair value level at least once more.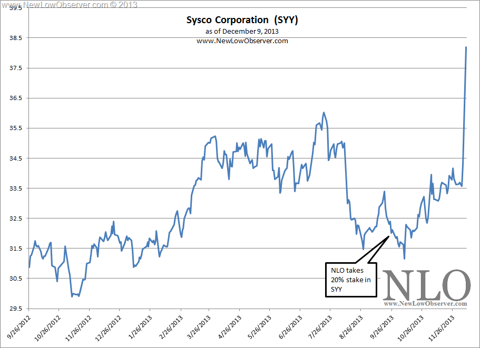 Our upside targets for SYY are substantial from a fundamental standpoint. However, we'd rather draw your attention to an article that we posted about companies in the industry and how Warren Buffett is utilizing similar companies as a hedge on the coming inflation. The article, titled "Warren Buffett Leverages Up on Inflation Hedge" (found here), outlines a longstanding thesis we have that if you believe inflation is coming then food processors, producers and distributors is the best way to take advantage of this trend going forward. We recommend considering related stocks once they hit our watch list as SYY at current prices are not as compelling as when we purchased the stock.
Disclosure: I am long SYY.